A car's paint is made up of multiple layers and, at a surface level, may seem completely smooth. However, the surface of a car's paint has many small pores that capture contaminants with fine particles, such as dust and dirt, as the car drives and sits.
Clay bar is a great auto detailing tool that is made up of a sticky resin compound that is able to pick up these small contaminants.
When a driver applies a clay bar to the surface of their vehicle's paint, the clay bar reaches into the paint's pores and picks up the small contaminants that rest in the pores with its adhesive residue, giving the vehicle a much better shine and appearance.
There are a number of great clay bar products on the market. Below, we've listed our favourite products to give you a starting point in your search. After that, we discuss the key things to keep in mind when selecting a clay bar kit.
Meguiar's Quik Clay Bar Starter Kit is a complete clay bar kit that includes 80 grams of clay and a bottle of Meguiar's detailing spray. The clay bar is non-abrasive and allows car owners to remove stubborn contaminants from the surfaces of their vehicle's paint.
Meguiar's Quick Clay Bar Starter Kit is applied in four steps and can be used for up to three vehicles. If your vehicle is coated with environmental contaminants, such as tree sap, the Meguiar's clay bar kit can help you detail your vehicle's paint and restore its smooth surface.
The Autoglym Clay Detailing Complete Kit includes several products; a spray bottle of Rapid Detailer, a bottle of Super Resin Polish, a clay bar, and a Hi-Tech Finishing Cloth.
There are five steps that are involved when cleaning a car with the Autoglym Clay Detailing Complete Kit. Many of the steps involve preparing and cleaning the surface of your paint.
The Hi-Tech Finishing Cloth is a high-quality microfiber cloth to dry your vehicle off after the cleaning process.
The Meguiar's C-2100 Professional Detailing Clay is a clay bar that is safe for use on glass, paint, metal, and plastic components.
The fine grade clay can effectively remove a variety of contaminants from your car's paint, like tree sap mist, water spots, brake dust, and dirt.
After using Meguiar's C-2100, your car's paint will have a glassy finish with a bright shine.
Mothers California Gold Clay Kit is one of the best-selling clay bar kits for very good reasons. This clay kit easily removes bonded and stubborn contaminants from the surface of car's paint.
Additionally, the kit allows drivers to remove common contaminants, like paint overspray and dirt, from the paint of their cars.
Two clay bars, a microfiber towel, and a bottle of Mothers California Gold Detailer are included in the kit. To use the kit, you will need to wash the surface of your car so that the mixture of water and Mothers California Gold Detailer serve as a clay lubricant for the kit's clay bar.
You will then need to slide the clay bar on the surface of your car's paint as needed. After you use the Mothers California Gold Clay Kit, you will need to apply a fresh coat of wax or sealant to your vehicle so that it achieves its best shine. The Mothers California Gold Clay Kit will remove any wax that is on your car while you apply it.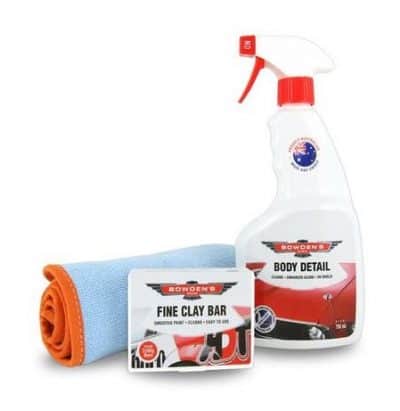 Bowden's Own Clay Bar Pack is a clay bar with a fine grade that is able to both smooth and clean any paint surface. This pack is great for older cars due to the fact that it can remove bonded contaminants that cannot be removed in a simple car wash or through any other washing methods. After using Bowden's Own Clay Bar Pack, your car's paint surface will be restored with a smooth finish.
The Clay Bar Pack is an all-inclusive clay bar kit that includes the Fine Clay Bar, Boss Gloss, the Big Softie microfiber cloth, and an instruction manual. Fine Clay Bar is a fine grade detailing clay bar. Boss Gloss is a detailing spray that works as a great lubricant for the Fine Clay Bar. The Big Softie microfiber cloth will allow you to smoothly dry your car off after you have finished cleaning and polishing it.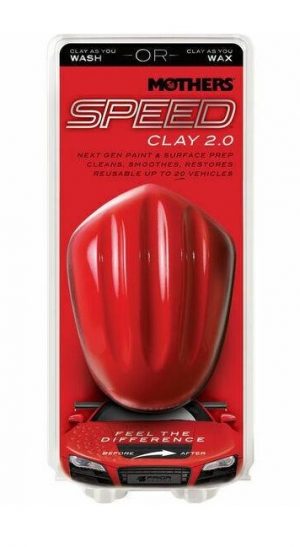 Mothers Speed Clay 2.0 is a surface preparation tool that is great for proper car care.
This product makes car detailing quick and easy by quickly disconnecting and removing contaminants from a car's paint. Speed Clay 2.0 effectively prepares cars for polish, wax, and protective coatings.
3M Perfect-It III Cleaner Clay is a popular traditional style clay bar.
This clay bar works great for car detailing, as it able to smooth the surface of paint so that the car can be properly waxed. A clean surface is necessary for wax to adhere properly to a car's paint.
Types of Clay Bars
Strength
Clay bars are split into three strengths; fine, medium, and heavy-duty. Fine grade clay bars are great to use on most paint surfaces and present the least risk for damage. Medium grade clay bars can be used for more-involved applications. Heavy-duty clay bars, however, should be used carefully as they are the most abrasive of the three types and pose the greatest risks.
Glass-cleaning clay bars
Glass-cleaning clay bars are designed specifically to use on glass. These bars can be used on windshields, side windows, rear windows, mirrors, and many other glass components. As with any other clay, however, lubricant needs to be applied when claying with glass-cleaning clay bars.
It is important to clay glass because glass collects contaminants as well. As with any other part, you can check for particles on glass by running your fingers on the glass when it is wet or by using the plastic bag method.
Clay bar mitts
Clay bar mitts are convenient products for detail. These products allow you to place your hand into a mitt and clay, providing you with more control as you detail. As with traditional clay bars, lubricant must be used with clay bar mitts.
RELATED: The Best Car Paint Protection
Benefits of using a clay bar
Clay bars remove contaminants that exist in the air and get trapped on the surfaces of cars. Even when new, cars often have flaws in the surfaces of their paint that can be corrected with clay bars.
In fact, brand-new cars commonly have rail dust on their paint from sitting in shipping yards before they are transported to their destinations.
By removing these contaminants, clay bars are able to restore the shine of cars and prepare the cars for any additional detailing that needs to be done.
How to use a clay bar
Using a clay bar is a simple process that you will learn quickly. You will first need to wash and dry your car so that its paint is properly prepared for the clay bar. Washing the car will remove large particles that can potentially scratch your car's paint as you clay the car.
Once you have washed and dried your car off, you will need to break your clay bar into a few pieces. If you drop a piece of clay bar, you cannot use it on your car, because the debris from the ground will scratch your car's paint. Therefore, having extra pieces of clay bar can come in handy.
Apply clay lubricant to a small section of your car's surface and slide the clay bar back and forth on top of the lubricant. As the lubricant dries up, continue to apply lubricant so that the clay bar can work effectively and so that the paint isn't damaged.
Continue working back and forth on the same section until the clay bar slides smoothly without picking up additional contaminants. You will then need to move onto another section of your car.
Continue the claying process until the surface is free of contaminants, which you will be able visibly see on the pieces of clay that you use.
Clay Bar FAQ
When Should I Clay Bar My Car?
You should clay bar your car any time its paint has contaminants on its surface. You can check for contaminants by running your fingers on the car's paint after you wash it or by placing your hand in a plastic bag and lightly running it on your car's paint. If you feel any small objects or particles on the paint, the your car needs to be clayed.
Do Clay Bars Remove Scratches?
Clay bars do not remove scratches due to the fact that they don't have abrasives that are sharp enough to even-out rough edges and uneven surfaces.
Does a Clay Bar Remove Wax?
Most clay bars do remove wax. The abrasives and stick resin of clay bars are able to lift and remove wax particles, making them great for preparing a surface to wax when detailing.
Does Clay Bar Damage Clear Coat?
Clay bars do not damage clear coats when used properly with lubricants. However, if a clay bar is contaminated with sharp pieces and is not applied with adequate lubrication, then it can damage the clear coat.
Can I Polish Instead of Clay Bar?
When detailing, polishing and claying are two separate processes. Polishing is a harsher process that cannot be used as a substitute for claying.
Can I Use Soapy Water with Clay Bar?
Soapy water can be a great lubricant if it works with your clay bar. Some clay bar can be damaged by soap, so check if it will work as a proper lubricant with a small piece of your clay bar or consult the manufacturer guidelines.