Does your car not shine like it used to? Has the sun taken a toll on your finish? Your car deserves the very best paint protection products so that it can stay looking like new for years to come. No matter if you have a brand new model or a classic, paint protection is a necessity.
UV rays, bird droppings, and even raindrops can all take a toll on your vehicle finish. A quality paint protection product can help keep your new car looking new, and the classics looking like the day they left the showroom.
To help you in your search for the best solution for your vehicle, we've put together a list of the best products from some of the most trusted names in the industry.
The Turtle Wax Hybrid Solution Ceramic Spray Coating Wax is our top pick because it offers great protection and is super easy to apply.
Turtle Wax makes this spray with carnauba wax and other polymers to give your vehicle a mirror-like shine. Further, its super hydrophobic formula means water will bead off your car with ease.
This product is simple to apply in just three easy steps and provides a high gloss finish similar to what you would get at a professional detailing center. Before applying, make sure your car is washed and dry. Then, shake the bottle, apply the spray coating to the vehicle one panel at a time and simply buff off with a microfiber towel.
When applied properly, the coating will add months of protection for your car paint. Its sealant qualities are similar to that of a ceramic coating several times the price. It can be easily applied to the car without the need for special polishing tools. Just a lot of elbow grease and a good towel.
Mothers is instantly recognisable as one of the best names in car paint protection. This liquid wax is made from yellow Brazillian carnauba wax, which gives your car superior protection from damaging UV rays or anything else your paint finish may come in contact with.
The wax also acts as a sealant after you wash your car. When used as instructed, the gloss of Mothers California God Pure Carnauba Liquid wax is up there with the best. It also provides long-lasting paint protection.
Chemical Guys car care products have become synonymous with quality. The JetSeal Sealant and Paint Protection product delivers a high gloss shield over the entire paint surface. JetSeal was designed exclusively for the aerospace industry and has since garnered a new following in the worlds of marine and automotive.
This product is easy to apply, long-lasting, and keeps your paint looking like new. Additionally, Chemical Guys JetSeal will help protect your car finish from some of the harshest environments on earth thanks to its anti-corrosion sealant properties.
The nano polymer makeup bonds instantly to the paint, creating a protective layer from outside contaminants such as UV rays, road grime, and water spots.
JetSeal is made with usability in mind and can be applied to your car, 4X4, boat, or bike by hand or with the help of a polisher. This easy-to-use formula can give you up to 12 months of protection when applied correctly. It can be used on a variety of surfaces including glass, plastic, paint, carbon fibre, and even aluminum surfaces.
CarGuys Hybrid Wax Sealant is made using advanced science and high-end compounds to give your car's surface a wet-like shine which also helps provide a protective layer.
The CarGuys Hybrid Sealant is not a wax, but a polymer sealant that will keep the vehicle protected around the clock. It offers some of the best car paint protection at a very reasonable price.
Give your vehicle a good wash and polish (if desired) and apply the product. Simply spray it on, wipe it off.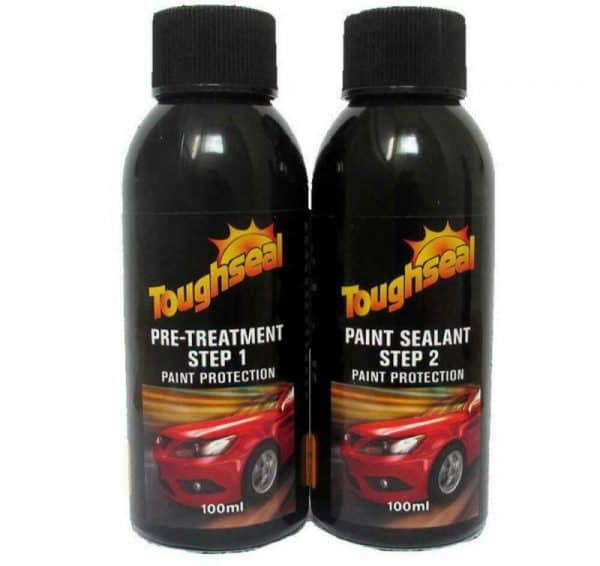 Toughseal has created this paint protection kit to keep your car's finish look good while providing a diamond-like protection level of paint protection. Your vehicle will not only look good but be able to stand up to the damage of everyday life such as UV-rays, bird droppings, acid rain, etc.
This two-step system consists of a pre-treatment solution and an 8% PFTE sealant meant for both professionals and DIY-ers. Unlike silicone and wax-based products, Toughseal products benefit from the sun's rays, which is great for those hot Australian summers.
Turtle Wax's line of products has been at the core of the car detailing industry ever since its creation way back in 1941. Car detailers have trusted the famous brand with not only helping protect their paint but also making sure their vehicles shine bright and look their very best.
Turtle Wax Ice Seal N Shine features a hydrophobic polymer formula that promotes water beading and helps drastically cut down drying time. It is formulated to help protect your vehicle's finish for up to 6 months. Unlike other products, Turtle Wax Ice can be used even in direct sunlight to give you a protective layer. Small scratches, scrapes, and paint swirls can all be prevented by using Seal N Shine.
Each bottle is infused with top-quality Carnauba wax to help give your vehicle that deep, high gloss finish. The product can even be used to help bring back old, tired paint back to its former glory.
Types of Car Paint Protection Products
It is important to know what kind of results you are looking to achieve when choosing a product. Do you want to bring out the best shine possible from your finish or are you wanting to protect the paintwork? Are you going to be using a microfiber towel or a variable speed polisher? These are all critical details that can help narrow down your decision and make the process efficient and enjoyable.
Polish
Car polish is a very important part of any car care routine and is the best way to remove scratches, oxidation, and other imperfections from your vehicles paintwork. It contains a small amount of abrasive to achieve this.
Polish can be applied by hand using a small amount of product on an application pad and applying it in a circular motion onto the vehicle or by using a powered buffer. A car should be polished and then a coat of wax should be applied on top.
Wax
Car wax is used to help give the paint a deep, glossy, wet look. Most waxes are applied by a polishing machine as it significantly cuts down on labor and makes the most of the product. Applying wax by hand is possible, but you are not going to get the same results that a variable speed polished offers. There are several types of wax that will help give you that rich finish so many are after, but the most notable is Carnauba wax.
Sealant
A sealant is made to keep the vehicle's finish look its best and help provide an extra level of protection. Good quality sealants will provide a protective layer on top of the wax that was previously added to the vehicle.
It is important to know the difference between a polish or wax and a sealant. They are different products that will do different things in terms of the overall finish. However, this is where it gets confusing. A good quality sealant will usually contain wax to help give the vehicle an added bit of shine, as well as polymers and other components that add long lasting protection.
It's important to know that sealants will not get rid of small scratches and paint swirls. Only a polishing compound will get rid of these imperfection.