Protecting your car's paint job is essential if you want to limit the effects of ageing and maintain its resale value. What's more, with the right product you can have your car shimmering in the sunlight and water beading off it in the rain.
There are, however, a plethora of car waxes available, each offering their own unique formula. To help you in your search, we've narrowed down a selection of some of the most popular and worthy of consideration.
Autoglym is one of the car care industry's most famous brands, and carries with it endorsements from the Queen herself for all their car care products. The Ultra High Definition Wax Kit comes with the paste wax itself, a foam applicator pad, and a microfibre towel (a Hi-Tech Finishing Cloth if you ask them). The UHD wax contains a purer, more refined grade of carnauba wax than Autoglym has ever used before.
It is an extremely beautifully-presented kit that just oozes quality, and it wouldn't be amiss in a cosmetics department. It's easy to use as well, simply requiring a clean and contaminant-free painted surface (Autoglym suggests using their Super Resin Polish to better prepare the surface prior to waxing).
You need only apply the wax with a damp applicator, ensuring the layer of wax is thinly and consistently spread over the panel; its soft consistency makes it easy to apply but also easy to overdo, on both the car and the applicator.
After allowing 10-15 minutes to cure, simply buff off with the towel, leaving a nice, glossy panel with excellent hydrophobic properties (the ability of a molecule or surface to repel water). Its ability to bead is excellent and arguably the best of any wax products here, at least after initial application.
Additional layers of wax can be applied for further protection, but one layer should see a month or two's driving in normal conditions.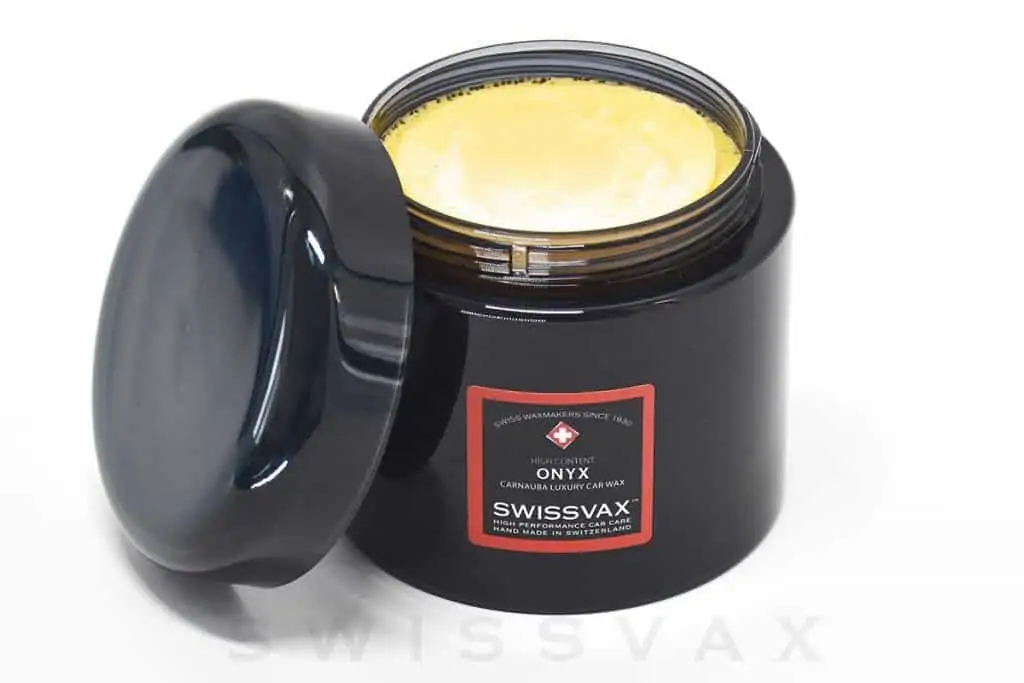 Swissvax has nearly 100 years experience in the business of car care, and its products are supplied to high-end automotive manufacturers like Lamborghini, Aston Martin, and Bugatti. Their range of car waxes covers a range of paint types and colours, and varying ratios of carnauba wax.
The Swissvax Onyx car wax is one of Swissvax's original products. Two sizes are available, a 50mL tin or a better-value 200mL and is suitable for all paints. It isn't a cheap product by any means, and is one of the most expensive here. That said, the larger tin is good for about 20 applications on your car which will be three or more years for even the most fastidious car owner.
Containing 30% natural carnauba wax, Onyx leaves a streak-free finish. Swissvax insists on preparing the car's paint with their own cleaner fluid beforehand so the car wax can properly bond with the paint (a polish from another brand will suffice as all you are doing is removing any pre-existing wax and other contaminants from the paint). It should be worth the hassle, as the protective layer of wax prevents sun damage to the paint and offers amazing hydrophobic properties as well.
Turtlewax knows a few things about paint protection, going all the way back to the 1940s and developing various products along the way. Offering liquid, paste, and spray wax solutions, as well as both natural carnauba and synthetic car wax products, there's something in their catalogue to satisfy the needs of every car owner.
The Ceramic Wet Wax here contains silica dioxide (SiO2), a chemical compound that when cures provides a protective coating on clear coat that is also hydrophobic for that impressive water beading finish.
This synthetic spray wax couldn't be easier to use either, requiring the car owner to simply spray on a just-washed car while it is still wet, and dry with a towel. Turtlewax says a couple of sprays per panel and minimal elbow grease to wipe off is enough to leave the paint protected and with a long lasting shine.
American firm Aero Cosmetics claim its Wash Wax All wet or waterless wax was one of the first such cleaning products available. While that may be disputed, what can't be is how easy it can be to clean your car simply using a spray bottle and two microfibre towels.
As the company's name suggests, Wash Wax All was developed for use on aircraft as a waterless, spray on wax primarily, and it continues to carry approvals from Airbus and Boeing that certifies its use on their planes. Aero Cosmetics say it can be used on all surfaces, be it glass, plastic, rubber, paint, even wood and leather.
As a wet-use spray wax, just treat it like any detailer; spray on a wet, freshly-washed surface, and dry with a towel. Apply and remove, that's it. As a waterless washing product, spray on one small area at a time, wipe gently with your "wet" towel, then go over the area a final time with your "dry" towel. Most of the dirt will be lifted off the surface by the wet towel, while the dry towel removes any excess product and streaks.
Wash Wax All is a biodegradable water-based formula containing no alcohol nor ammonia, so it is gentle on both the environment and your hands (if you're not washing with gloves). UV rays won't be as damaging either.
Los Angeles based Chemical Guys have been around since 1968, but they are as open to innovation as anyone. They cover all facets of car detailing, both internal and external, from washing to ceramic coating and everything between.
The Butter Wet Wax is one of the most traditional of their products, and is applied like any other paste or liquid car wax (thin coating applied in a circular motion on one panel at a time, then left to cure and buffed off).
Apart from carnauba wax, the Butter Wet Wax also contains various polishing agents to remove minor paint imperfections which would otherwise detract from the finished surface after waxing your car. This makes it a time-saving alternative to use when compared to other products requiring or recommending a clay bar treatment and polish beforehand. This is a liquid wax that seemingly does it all.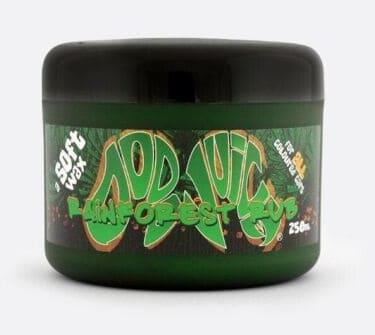 Dodo Juice is one of the newest names on the market for supplying car waxes, and since 2007 they've been battling it out against the established names to bring consumers a product that works and doesn't break the bank. In that time Dodo Juice has gone from five products to over 200 specialty products for interiors and exteriors. Their consumer focus is a reassuring breath of fresh air.
Rainforest Rub natural wax is one of the original products they launched with, and joins the other paste waxes reviewed here. It contains not only carnauba but also beeswax and candelilla wax, protecting the paint surface for two to three months and leaving a deep shine.
As a soft wax, it is easy to apply to the car's paint, but this also means its easy to over-apply. Being mindful of that, it offers similar performance to a hard wax and will last just as long. It is soft enough to be applied with your fingers, or you can use a foam applicator if you prefer.

Since 2006, Australian-founded FW1 has been selling a 3-in-1 car cleaning solution that is aimed at those time-poor individuals who still wish to keep their car looking clean. This is a waterless wash allegedly created with motorsport use in mind, where time is better spent on mechanics but with sponsorship and livery on race cars still requiring some attention.
As mentioned, FW1 Cleaning Wax requires no water; just apply and remove. Shake the can beforehand and spray a small amount of the product on one panel at a time, then with one towel lightly rub the product over the entire panel, before buffing off with another towel (a similar process to the Aero Cosmetics Wash Wax All). It is recommended to rinse the car beforehand so the worst of the dirt and grime is removed beforehand to limit damage to the clear coat and improve the Clean Wax's effectiveness.
FW1 suggest using the product in the shade on cool paint, which is really how all products here should be used irrespective of the type.
Car Wax Comparison Table
| | | | | | | | | |
| --- | --- | --- | --- | --- | --- | --- | --- | --- |
| Car Wax | Our Verdict | Product Type | Product Volume | Contains Carnauba | Ease of Use | Hydrophobic Properties | Lifespan (claimed) | Check Price |
| Autoglym Ultra High Definition | Best overall | Paste | 120g | Yes | 6/10 | 10/10 | 3-6 months | Amazon |
| Swissvax Onyx Wax | Premium pick | Paste | 50mL/200mL | Yes | 6/10 | 9/10 | 1-3 months | |
| TurtleWax Ceramic Wet Wax | Longest-lasting | Spray | 769mL | No | 9/10 | 7/10 | Up to 12 months | Amazon |
| Aero Cosmetics Wet Or Waterless | Best value | Spray | 473mL | No | 10/10 | 5/10 | 4-6 months | Amazon |
| Chemical Guys Butter Wet Wax | Most versatile | Liquid | 473mL | Yes | 5/10 | 8/10 | 1-3 months | Amazon |
| Dodo Juice Rainforest Rub | Best budget paste wax | Paste | 250mL | Yes | 7.5/10 | 7/10 | 2-3 months | eBay |
| FW1 High Performance | Easy to use | Spray (aerosol) | 496g | Yes | 10/10 | 5/10 | 1-2 months | eBay |
Car Wax Buying Guide
Natural or synthetic wax?
Choosing between natural waxes (like carnauba) and synthetic waxes (like silica-based varieties) is down to personal preference. Generally, the natural waxes won't last as long on the car as they are softer. That said, they are easier to apply, maintain, and reapply than most synthetic alternatives.
Paste or spray?
A spray wax will go on very thinly, so buffing it off requires next to no effort at all. Paste waxes can be easily over-applied, making removal difficult and curing time tedious. Experience suggests liquid waxes are more difficult again, as they more easily cake up on buffing towels, requiring a lot more attention when applying to the car along with frequent changing of buffing towels.
The benefits of using wax on your car's paintwork
There's a number of benefits to using a wax on your car:
UV protection – Sun has a very damaging effect on paint (and plastics and rubber seals) and the wax reduces this impact because it forms a barrier (however small) between the paint and UV rays.
Impact and contaminant protection – Dust and other particles in the air are a very fine abrasive which causes very light damage to the paint on your car, but the wax will reduce this. It also reduces the adhesion of contaminants like bird droppings, tar and iron deposits sticking on paint.
Hydrophobic (water beading) – This behaviour allows water to effectively run, or "sheet" off paint panels, which reduces water marks.
Aesthetics – The deep shine and wet look associated with a freshly-waxed car is as good a reason as any to do it frequently.
Less frequent washing – Because the wax reduces how much dirt stays on the car, washing can be less intense and frequent. A simple waterless wash once a week or fortnight will often be enough.
Less damage from automatic car washes – Again, that thin layer of wax saves your paint from the rough environment encountered by cars put through automatic car washes.
RELATED: The Best Car Wash Products
Surface Preparation before using a wax
The car's paint needs to be as clean as possible, and this is achieved by these basic steps:
Wash the car thoroughly – This will remove the worst of the dirt and grime.
Clay bar – Using a clay bar (and a lubricant so the clay bar glides smoothly over the surface) removes dirt and contaminants imbedded in the paint. Paint is actually very soft, like skin, and that rough feeling of tired paint is because of these contaminants.
Polish – Polishing the car removes any old products as well as the very thin and damaged layer of top clear coat. You can polish by hand, but a dual-action polishing machine will give more consistent and faster results. Be sure to practice using a very mild polishing product, because it is easy to be too aggressive and you cannot reverse any damage you cause.
Cool, shaded environment – Direct sunlight is a no-no as any product that dries on the surface is difficult to buff off, and the hot temperatures of a car baking in the sun means curing times for the wax are much longer.
RELATED: The Best Car Paint Protection
Waterless washing
Waterless washing comes with a big caveat; it will do more harm than good on anything that is dirtier than what occurs from the usual, daily commute. That is, light levels of dirt and dust. If you've been on the beach or out bush, a waterless wash is not for you. Well, not until you've washed your car by hand.
When trying a waterless wash, and to best care for your car's clear coat, wash as you normally would every month or so, and use the waterless wash product as instructed by the manufacturer every week or two. If you are in the habit of washing your car weekly (believe it or not, many car owners are, especially if they have a black car), this is an excellent way to save on water and time.
Just take some precautionary steps by checking for any tar or baked-on dirt beforehand to ensure you don't damage the paint accidentally.
Car Wax FAQ
What is better car polish or wax?
Polish and wax are two different things, though some products are available that are a hybrid of both. Polish is an abrasive product that removes both existing wax and imperfections like scratches and swirl marks from clear coats. Wax is a normally long lasting product that protects the paint that protects the paint from UV light and some contaminants, while providing a deep shine and hydrophobic (water repelling) properties.
What happens if I never wax my car?
If you don't care about the condition of your paint, nothing significant. It will still run and drive fine, but habitually washing and protecting your car's paint (using products like a natural or synthetic wax) will ensure it suffers less from UV damage (especially if parked outside in direct sunlight). Frequent washing is also a chance to inspect the car for damage, both minor, like stone chips, and major, like rust. Being superficial about looks is a good thing in this case.
Do you wax or polish your car first?
You polish a car before applying a wax coating, because the polish will also remove existing wax and paint imperfections, allowing the new wax to bond and cure well to the paint.
What wax do car detailers use?
The types of wax used are based on personal preference and belief in products' advantages and disadvantages. Many car detailers have moved away from waxes and instead use ceramic coatings, but these come with advantages and disadvantages, too. Once applied, ceramic coatings are incredibly difficult to remove because of their hardness and adhesion properties, and they are normally much more expensive. The benefits come with the length of time they remain effective at protecting the paint, their hardness, and amazing water-repelling ability.