Polish is an essential part of any car care routine and is the best way to remove scratches, oxidation, and other imperfections from your vehicles paintwork. This creates the perfect canvas to apply your wax and keep your car looking its best.
To help you in your search for the best polish for your vehicle, we've analysed the most popular products on the market and assessed them against a range of criteria including ease of use, effectiveness, and longevity. You can use these products at home to achieve professional results without the high price tag.
Car Polish Comparison Table
| | | | | | | | | | |
| --- | --- | --- | --- | --- | --- | --- | --- | --- | --- |
| Car Polish | Our Verdict | Size | Type | Contains Resin? | Contains Wax? | Contains Polymer? | Application Frequency | How To Apply | Check Price |
| Autoglym Super Resin | Best Overall | 1L | Liquid/ Cream | Yes | Yes | Yes | Every 2-3 months | By hand or machine | Amazon |
| NuFinish Once A Year | Great For Beginners | 473ml | Liquid/ Cream | No | No | Yes | Every 12 months | By hand | eBay |
| Meguiar's Ultimate | Best For Dark Colours | 473ml | Liquid/ Cream | No | Not listed | Yes | Every 1-2 months | By hand or machine | Amazon |
| The Last Coat | Easy To Apply | 455ml | Spray | No | Not listed | Yes | Every 6 months | By hand | Amazon |
| California Custom Purple | For Metal & Plexiglass | 355ml | Liquid/ Cream | No | Not listed | Not listed | As needed | By hand | eBay |
| Mothers Professional | Good For Imperfections | 355ml | Liquid/ Cream | No | Not listed | Not listed | Every 3-6 months | By machine | Amazon |
| Turtle Wax Polishing Compound | Great For Specific Scratches | 298g | Paste | No | Not listed | Free from silicone | As needed | By hand | eBay |
At the top of our list is Autoglym Super Resin Polish. This is a hugely popular option that has been tried and tested (and receives rave reviews) by thousands of car owners around the globe. We have chosen this as the best car polish as it offers excellent results and is great value for money too. As this is only lightly abrasive it is user-friendly and produces a glossy shine on all paint types.
This award-winning mix contains emulsifiers and conditioners that help to clean and condition the paint job to give the best results with ease. You can apply this by hand or with a machine and the treated surfaces are protected against environmental conditions including UV. When you apply this, work it in for a few minutes before buffing it with a clean microfiber cloth. You can apply multiple layers if necessary but one thin layer is enough to create a good finish and shine.
This polish is easy to use, as it is gentle it isn't easy to damage your paintwork when using it which is why it is suitable for everyone. You can use this to remove minor paint imperfections such as swirl marks or light scratches as well as unwanted residues and it leaves your car shiny and conditioned.
Another thing we love about the Autoglym Super Resin Polish is the fact that a small amount goes a long way. You don't need to use much per application and the shine and protection will last a long time. A good guideline is polishing with this every 2-3 months which is a bit more frequently than some of the other products such as NuFinish.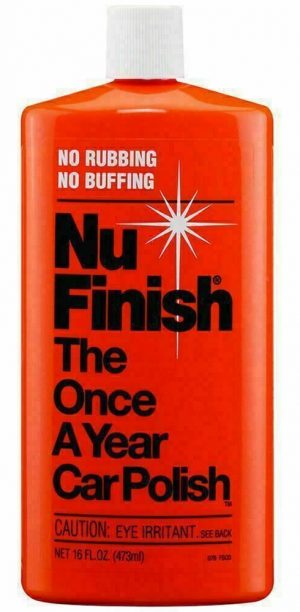 This car polish from NuFinish is ideal for beginners as it is versatile, long-lasting and can be applied to vehicle paint in direct sunlight. It contains polymers and is designed to provide all-weather protection. Unlike other polishes, this one does not contain any wax and can be used on everything from cars to RV's, motorcycles and even fibreglass boats.
As this can be used in direct sunlight it makes it as easy as possible to use and it produces a great finish. It leaves paint smooth and doesn't require a lot of buffing or rubbing, you simply rub it onto the paint with a damp cloth and then wipe it off with a clean cloth once it is dry. As this doesn't contain any wax the results may not appear as glossy as other options but the protection provided will last for months. If you are looking for a super glossy finish try Autoglym or Meguiars instead.
One of the best things about the NuFinish Polish is how long it lasts. It can handle all weather conditions and after the first 2 coats, you won't need to use it again for another year. This won't fix any imperfections in the car paint so it is best used on paint that is in good condition.
This is a user-friendly option that not only produces lasting results but can be used on so much more than your car's paint job. It is also competitively priced offering good value for money.
Meguiar's has an excellent reputation for creating effective car wax and polish. This Ultimate Polish is a glaze that produces incredible shine and prepares the paint job for wax. The inclusion of conditioning oils means this polish actually enriches the paint colours, this is especially effective on dark colored vehicles.
Meguiar's can also be used to remove very light scratches and swirl marks but this is not its primary use so anything more than a very light mark won't be sorted with this glaze. This should only be put on the car when in the shade, if you need something that can be used in sunlight try NuFinish instead.
This is the one to choose if you are going to be using it on a dark colored vehicle and you want to create a wet look that shines. Just like Autoglym polish, this can be applied by hand or with a machine. Another thing we love about Meguiars is only a small amount of polish is needed and it can be used on all glossy paints including clear coats.
This polish from The Last Coat comes in a spray bottle which makes it quick and easy to apply to the car. Each of the polishes we've reviewed so far has been a liquid or cream that needs to be poured onto a cloth before applying it to the paint, this is the only spray option.
This is a water-based mixture that contains no oil and no silicone. It is smooth and provides a layer of protection that can last up to 6 months. The finish is highly water repellent to keep your car well protected and glossy for longer. This is the upgraded version that offers increased durability and resistance to chemicals.
While this is perfect for use on cars it is also very versatile and can be used on any surface to produce mirror-like results. One of the great things about The Last Coat is that it cleans, shines and protects your car's paint job within 60 seconds of use.
It can be applied by hand and the surface can be buffed using a microfibre cloth, it doesn't require too much elbow grease to get excellent results. It can also be applied in sunlight if needed too. This is a 450ml spray but you can also get 50ml trial sizes if you wanted to test the polish before buying a larger size.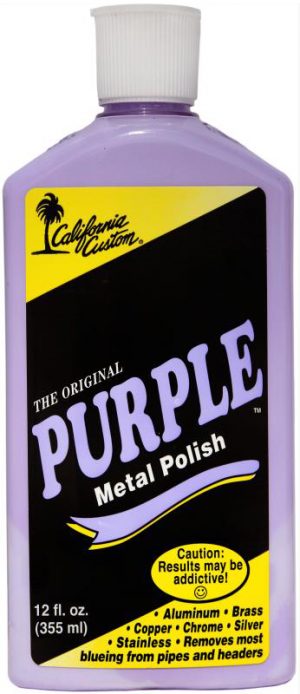 This metal polish from California Custom can be used on metal, plexiglass, motorcycle windshields and headlight covers. It is quick and simple to use and unlike other metal polishes, it requires minimal rubbing to be effective.
This is safe to use on all metal surfaces, it won't scratch, streak or damage the surface and can be used to remove light scratches. This polish can do a lot, it is effective in removing road film, acid stains and can remove rust on chrome too.
This is durable and produces a high shine.
This finishing polish is designed for use after a compound. It is great because it doesn't just polish the car it also removes imperfections at the same time.
Mothers Professional Finishing Polish is able to bring out a showroom shine in your car's paintwork but it takes time and effort to use. It can be tough to apply a coat of this by hand but the results are great.
Wax should be applied after use so the results will last longer.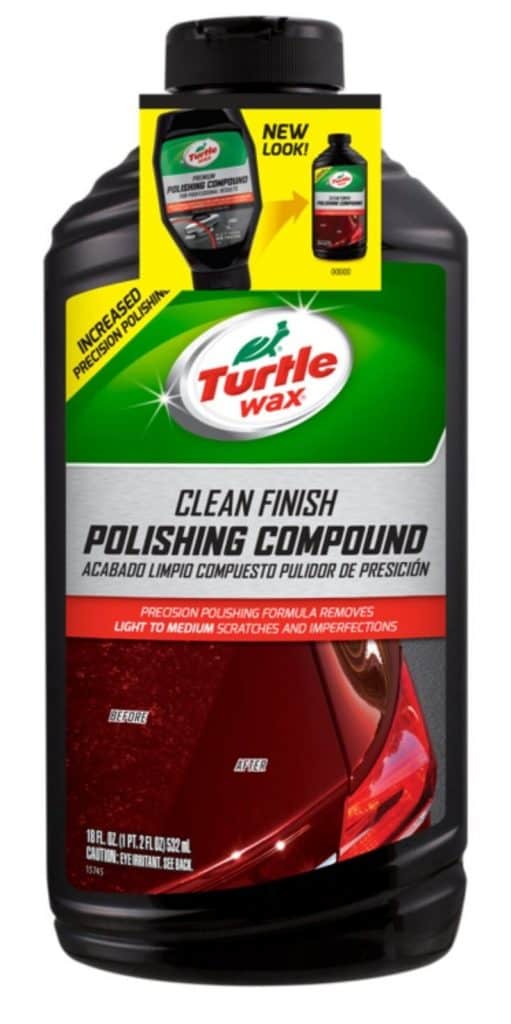 This is the only polishing paste that made it to our list, coming from well-known car care brand Turtle Wax, and is great for use as a pre-wax preparation. As this is a soft paste it is easier to control the amount of polish you use compared to the liquid options we discussed above. The thicker consistency makes this one of the best car polish options if you just want to use a small amount for a light surface scratch.
This compound is a light to medium cleaner that is designed for use on oxidized paintwork. It is effective in removing light scratches and oxidation as it contains micro compounds, this helps to restore shine and get the vehicle looking as good as new without too much effort.
This Turtle Wax Polishing Compound won't have an effect on deeper scratches as it is only a light cleaner. This makes it safe to use on all paint and the pot is easy to keep on hand for use on the go. This is a good option for dealing with specific oxidation issues rather than the whole car.
Car Polish Buying Guide
Polishing your car with a light abrasive polish can make the world of difference to its finish and shine. It is not something that you will need to do very often, particularly if you use a high quality product that gets the job done. This guide will help you find the best car polish for your vehicle and takes a look at the difference between car wax and polish products.
What To Look For In Car Polishes
Mild Abrasive
The liquid or paste should be mildly abrasive as this is what helps to clean and smooth the paint finish. This abrasive is a key factor to remove small swirl marks and scratches that have developed on the car over time. The polish works but smoothing out these imperfections and restoring the shine to make the paint look new again. If you want to enrich and protect your vehicle without an abrasive product (if there are no scratches to remove for example) you may find a carnauba wax treatment is all the is needed.
RELATED: The Best Car Scratch Remover
Application Method
The quickest and easiest way to use polishing products is with an orbital buffer which uses power to buff out the scratches. Many products can be applied by hand or with a buffer while some are better suited to being applied by hand. Many liquid products can easily be applied to an application pad while paste and sprays are often designed for manual application.
Ease Of Use
Before you use any polishes you will need to give your car a wash with water and car cleaner. Once dry, you can begin applying the product. Some options can be applied in direct sunlight, these are often the products such as NuFinish that don't contain any wax. Other options can only be applied in the shade.
Another factor is how long the polish will take to dry or cure or how long you need to wait before applying car wax. Some polishes are dry in minutes while others may need several hours. Look for the best car polish for your requirements.
RELATED: The Best Car Wash Products
Are All-in-One Options Worthwhile?
An all in one car polish usually contains abrasive as well as car wax to produce results faster and in fewer steps. This may be quicker but we recommend carrying out the polishing and waxing stages individually with specialist products rather than relying on a product that says it will do it all at once. The main reason for this is because while the results can be great they don't tend to last a long time as your car won't receive the same level of protection it will when you use a specific car wax.
To get the best results and a longer-lasting finish consider applying carnauba wax or another high-quality car wax to the paintwork after polishing. This will help protect the paint so you won't need to polish and wax the car again too soon.
Car Polish vs Wax
Car polish is used to clean and smooth vehicle paint leaving it enhanced and shiny. Polish can help remove light surface scratches, rough patches from oxidation and other light marks. It contains a small amount of abrasive to achieve this. It can be applied by hand using a small amount of polish on an application pad and applying it in a circular motion onto the vehicle or by using a powered buffer. A car should be polished and then a coat of wax should be applied on top.
Car wax is used to improve and protect the paintwork. Like car polish, car wax helps to make the paint shine but it also creates a long-lasting protective layer on top of the clear coat. Car wax tends to come in a paste or liquid form and is non-abrasive. This means it will protect rather than restore or repair damage to the paintwork.
Polish and wax are both important products when it comes to car care. The polish should be used first and wax should be applied afterwards. Using both polish and wax will help you get the best results as the clear coat on your vehicle will be both restored and protected to a high standard. However, you can apply wax more often than you apply polish. Every time you polish your car, apply wax but you can wax your car every month or two in between polishes to help keep the paint protected.
RELATED: The Best Car Window Cleaners
Car Polish FAQs
How do you polish a car?
Wash and dry the car thoroughly then apply a small amount of car polish to a cloth or foam pad and begin spreading this around the paintwork in a small circular motion. Do this until it is rubbed in and only a light haze of product remains visible. Once the car polish has dried it can be buffed with a clean microfibre cloth. A car wax should then be used to protect the paint.
What car polish do the professionals use?
Finding a professional-level car polish is easier than ever. Meguiar's Ultimate Polish is one of many car polishes that is easily accessible and used by professionals. Many professionals also use a clay bar to remove contaminants from the vehicle's surface and will apply carnauba wax to get that deep shine finish that we all know and love. These little tricks can go a long way to getting a professional-looking result at home.
Is wax or polish better for your car?
Car polish is best for removing defects and restoring the paintwork while wax is best for protecting the top layer and creating a shiny finish. Polish should be used before wax is used. It is important to take care when polishing your car as it is designed to be lightly abrasive to help remove imperfections but incorrect use (for example being too aggressive or using polish too frequently) may cause damage.
What is the longest lasting car polish?
If you are looking for a car polish that lasts a long time try NuFinish's Once-A-Year polish as this is easy to apply and doesn't need to be regularly re-applied to be effective. The results of any polish can be extended with the use of car wax as this helps to repel water and protect against environmental factors to continue caring for the paint even after going through a car wash.