A car amplifier has the power to transform your sound system. However, it's important to know what makes an amplifier effective. Otherwise, you risk paying for something that produces distorted, poor-quality audio and may even damage your existing components.
A great amp will improve your car audio and bring out the best of your favourite music. Let's take a look at some of the top car amplifiers currently on the market.
Car Amplifier Comparison Table
In the table below (and reviews that follow) we've rounded up some of the most popular amplifiers on the market, analysed them against key criteria, and ranked them in order of preference (top pick first).
If you need clarification on any of the specifications, check out our buyer's guide later in the article.
| | | | | | | |
| --- | --- | --- | --- | --- | --- | --- |
| Amplifier | Class | Channels | Power (RMS) | Max Power | Ohms per Channel | Check Price |
| Alpine R-A60F | D | 2 – 4 | 100W x 4 or 300W x 2 | 1200W | 2- 4 | My Deal |
| Kenwood KAC-PS702EX | AB | 2 | 70W x 2 | 500W | 2 – 4 | eBay |
| BOSS Audio R1100M | AB | Mono | 825W x 1 | 1100W | 2 – 4 | Amazon |
| Alpine X-A70F | D | 2 – 4 | 120W – 175W x 4 | – | 2 – 4 | Amazon |
| JVC KS-DR3004 | AB | 4 | 60W – 90W x 4 | 800W | 2 – 4 | eBay |
| Rockford Fosgate R150X2 | AB | 2 | 50W – 75W x 2 | – | 2 – 4 | eBay |
| Clarion XC2110 | D | Mono | 200W – 300W | 400W | 2 – 4 | eBay |
| Alpine R-A75M | D | Mono | 500W – 750W | 1500W | 2 – 4 | My Deal |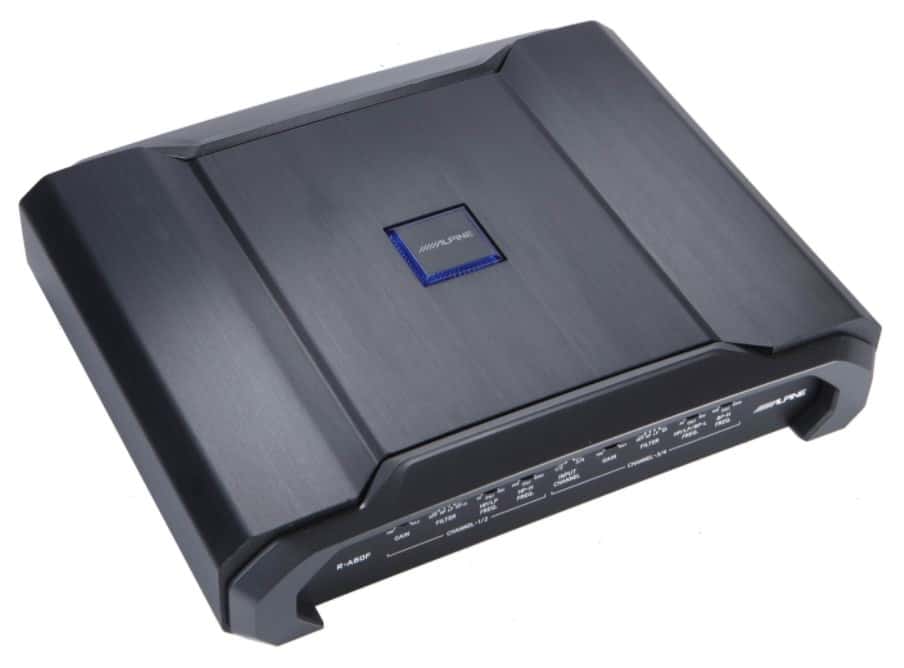 This high-end car amp offers incredible performance and can be tuned to emphasize the speaker and subwoofer characteristics. It is a Class D 4-ohm unit that is compact and user-friendly.
This is a 4 channel car amplifier that produces a lot of power for an exciting audio experience. The R-A60F is easy to install and can handle low and high power signals. It has a variable low pass filter and variable high pass filters so you can adjust the filters as needed.
The Alpine R-A60F also features a built-in bandpass filter so you can improve the sound quality and power each component as you like. This is an efficient amp with enhanced dynamic range and excellent sound accuracy. It's one of the best car amplifier systems available in its price range.
If you're looking for excellent sound quality at an affordable price, this Kenwood amplifier is a great option. It is perfect for amplifying 2 speakers or a subwoofer. It has 2 channels with a low pass filter and can be configured to suit a range of audio setups.
The Kenwood KAC-PS702EX key features include input sensitivity adjustment, low-level input methods and high-level input methods. For ease of installation, the set comes with screws, input harnesses and a blade fuse as well as an instruction manual.
This amplifier is housed in a smart aluminium case and is sleek in size making it easy to store and fit. The integrated signal-sensing automatic turn-on feature helps to reduce the amount of power used and improve safety. The KAC-PS702EX offers a 500W peak total power rating, it can produce 2 x 70 watt RMS output (4 ohms unabridged) or a single 180-watt output (4 ohms bridged).
This BOSS Audio Amplifier is a powerful option with several key features. It can handle high-level inputs and low-level inputs so can be connected to your car's factory radio or aftermarket radio. This is a great option if you need a subwoofer amplifier.
The 2 Ohm mono amplifier lets you customize the sound using a variable bass boost so the low bass can be adjusted to the range you like. There is also a low pass crossover that removes all notes below the filter's frequency setting. This way you can set the amplifier up to sound exactly how you want it to.
The BOSS R1100M Monoblock Car Amplifier is small in size (9.1″ x 10.4″ x 2.3″) meaning it can easily be installed in various places. This amp is high quality and comes with an impressive 6-year warranty.
The Alpine X-A70F is a high-resolution, efficient and accurate amplifier. It is a high-performance option that ensures music sounds as it should. This unit is effective and offers an extended frequency range from 10Hz-60kHz.
The cast aluminium heat sink keeps the amp cool to allow it to operate at peak power levels for longer periods of time.
Installation is quick and easy thanks to the compact size and lossless connectivity that provides stable connections. This amp offers excellent control and accurate sound with virtually no distortion. It's a great option for low-frequency output.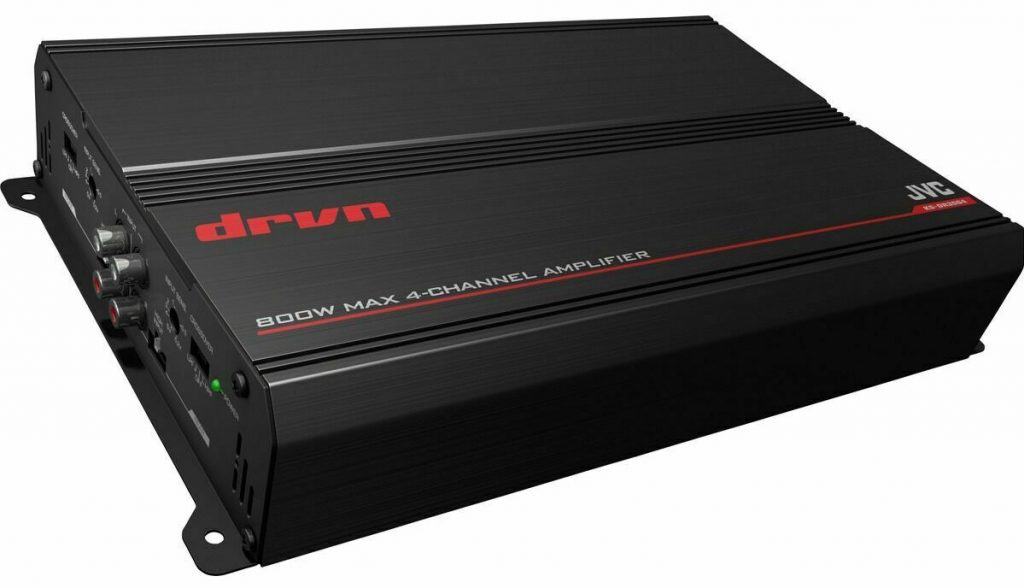 This four-channel amplifier from JVC is suitable for powering up to 4 car speakers or 2 speakers and a subwoofer. It offers 800 watts peak total power and produces 4 x 60 watts RMS outputs (4 ohms unabridged) to 2 x 180 watts RMS Output (4 ohms bridged).
The high and low pass filter makes this a great amp for use with tweeters, speakers and subwoofers. For ease of use, it also uses integrated signal sensing to automatically power on.
This amp has a wide frequency range of 5Hz -50kHz meaning it can offer bass, mid and treble amplification. The RCA inputs make it easy to install the KS-DR3004 and this 4 channel amplifier can be configured to suit a range of setups.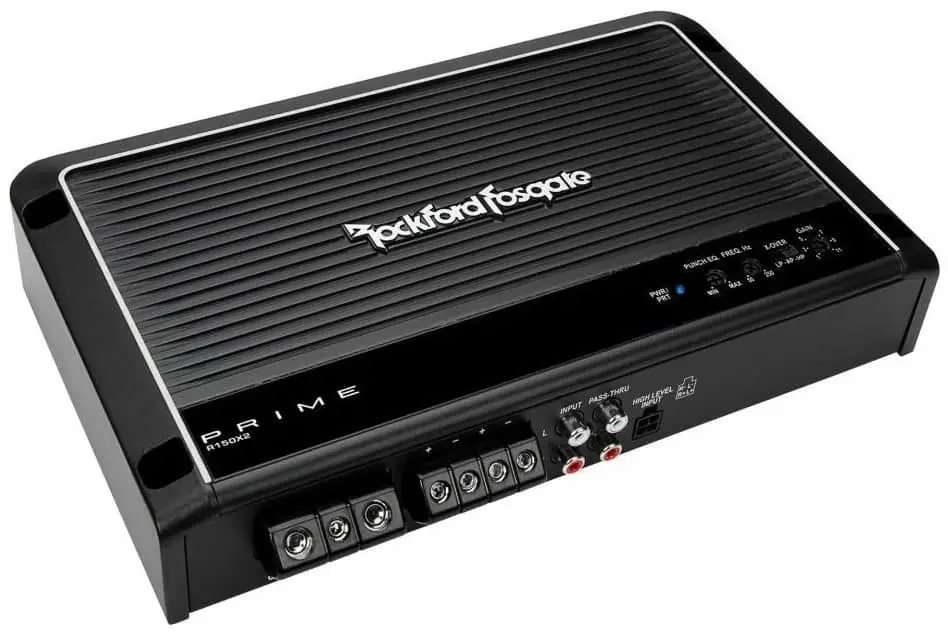 If you're looking for an amplifier that can be used to power full-range or component speakers the Rockford Fosgate R150X2 is a great option. For use with subwoofers, the amp can also be used in bridged/ mono mode.
This is a 2-channel amp and it can offer 75W in both channels at 2 ohms. It features a cast aluminium heatsink, on-board Punch EQ, high-level input and real-time output.
This audio system amp offers great value for money. It has a few safety features built-in including over current protection and short circuit protection. The Rockford Fosgate R150X2 comes with a 1-year warranty too.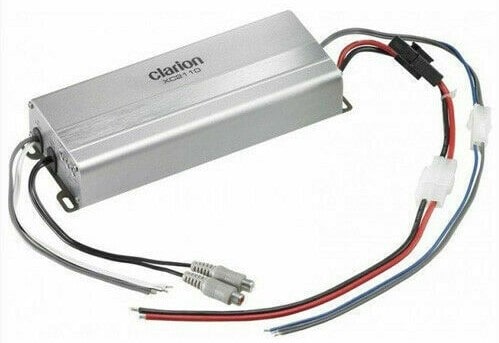 This small and mighty amplifier from Clarion is compact and easy to install. It has a small touchscreen making it simple to use and control.
This Class D amplifier offers a maximum power output of 400 watts, a continuous 300 watts output at 2-ohms or a 200 watts output at 4 ohms. This is a high-quality system that needs very little space and offers great value for money.
This amp offers minimal distortion to give the best listening experience. It uses RCA and high-level speaker inputs and has a ground loop isolation input circuit too. You can configure a subwoofer system with ease thanks to the low pass filters.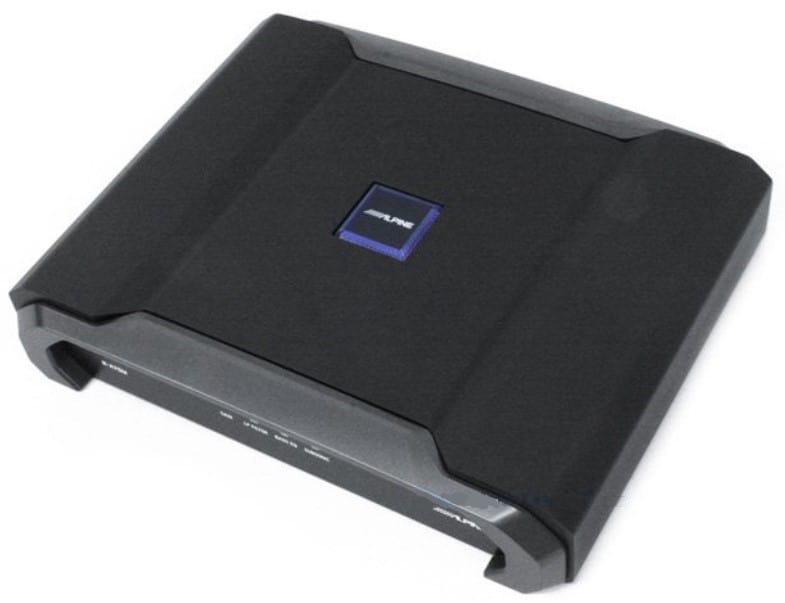 The Alpine R-A75M is a compact mono channel amplifier with easy access controls. Its key features make this a great option for use with a subwoofer.
It offers an output of 500 watts RMS at 4 ohms or 750 watts RMS at 2 ohms. This model has preamp outputs and preamp and speaker-level inputs. It has variable high/ variable low pass filters as well as a bandpass and subsonic filter.
This is an effective and efficient amplifier. It comes with a higher price tag but produces excellent sound, is bridgeable and offers a wide selection of features.
Car Amplifier Buying Guide
As you can see from the reviews above, there is a wide range of amplifiers available and lots of features and settings to think about. When choosing the best amp for your car think about the system you currently have (or the one you plan to build around the amplifier) to help you choose an amp with the appropriate power outputs and features.
The amp needs to work hand in hand with your audio system so don't buy one without considering the rest of your audio set up. This guide takes a look at everything you need to know when buying an amp.
Why Choose A Quality Amplifier?
It may be tempting to choose a low-cost amp to save money but it's best to go for quality over cost. A high-quality amp will produce superior sound quality and will be able to power upgraded speakers or a subwoofer without distortion or compromise. It's a great way to add some power to your car stereo without needing to change your full set up.
Channels
One of the first things to consider is how many channels your sound system requires. This depends on the number of speakers you are using as each channel powers one speaker.
The options include:
Mono Amplifier – this is a single channel that is designed for use with a subwoofer. The mono amp includes a low-pass filter and bass boost for low-frequency sound. A subwoofer amplifier is usually a class D amplifier but can be class A or class B too.
2 Channel Amplifier – if you have a component or full-range speaker system then a two-channel amplifier is needed. A two-channel amp is a practical option for powering a pair of speakers. It is ideal if you want to power your vehicle's two front speakers. To be able to work effectively the amp needs high-pass filters.
3 – 4 Channel Amps – if you are powering 2 speakers and a subwoofer, look at a 3 channel option. A 4 channel setup can also be used in this situation as 2 channels can work together for the sub. If you want to give yourself room for future expansion, go for a 4 channel car amplifier.
5+ Channel Amp – if you want to power a full audio system from one unit, look at 5 channel, 6 channel, or even 8 channel amplifiers. These are high-powered options that provide a convenient, all-in-one design.
Amplifier Classes
When it comes to a car amplifier, there are a handful of suitable amplifier classes. These are the common options you will come across and what they mean:
Class A – this is an analog amplifier that is best suited to high-end car audio systems. They offer accurate output, good high-frequency response and no crossover distortion. The downside to Class A amplifiers is that they are usually large, heavy and expensive. They are also inefficient and generate a lot of heat.
Class B – a class B amp is an analog amplifier that reproduces audio with a push/pull method. It is inefficient (but more efficient than Class A) and results in good audio output quality. The downside to Class B amps is there is a lot of crossover distortion and they are expensive. These are not often used for car audio setups.
Class A/ B – this is a mixture of A and B amps to create a hybrid amp that is more efficient and doesn't have too much crossover distortion. This option is expensive.
Class D – this is a digital amplifier and is the most common option for a car amp. A Class D amp is inexpensive, small in size and is much more efficient than Class A amplifiers. It also generates less heat but it does generate some crossover distortion. Reducing this distortion can have an impact on sound quality.
It's best to choose a high-quality Class D car amp to get the most from the system.
Power Output
RMS – RMS stands for Root Mean Square Power and refers to the amount of continuous power the amplifier uses. The power of the amplifier needs to match the power of the speaker or subwoofer.
Peak Power – this is higher than the RMS value and it shows how many watts the amplifier can handle during a short, sudden sound/ power increase.
Keep an eye on the RMS value rather than the peak power rating. Lots of amps will list high watt values but this is actually referring to the peak power rather than the RMS power.
Amplifier Power Guideline
If you are driving component or full-range speakers then look for a power rating of at least 50W RMS at 4 ohms per channel. If you are driving a subwoofer look for a minimum of 150W at 4 ohms.
Make sure you use an amp that has RMS power ratings no higher than the top RMS rating of the speakers. If you are buying new speakers, choose ones that are equal to or higher than each amps top RMS output.
Ohms
Ohms (also known as impedance) is the measurement of resistance being added to the circuit. The lower the ohms of a speaker, the easier it is for the amplifier to power it. Full-range speakers, mid-range speakers and tweeters are usually 4 ohms but 8 ohms and 16 ohms are also common. It's a good idea to match the amplifier and speaker impedance to avoid experiencing reduced output.
Key Features
Speaker level inputs – these inputs mean the amplifier can handle a high-level signal. This can make installation easier as you won't need additional components for the setup to work.
Audio Filters – an amps electronic filters can be fixed or variable. Fixed filters have one setting so they cannot be adjusted. Variable filters can be adjusted meaning you can choose which frequencies are being filtered.
Filter Types – there are 3 main filter types found on amplifiers. These are high pass, low pass and subsonic. High filters focus on higher frequencies and mute lower frequencies (below the set frequency). Low pass filters focus on the lower frequencies and mute frequencies higher than the set frequency. A subsonic filter can help reduce the workload of the sound system by muting ultra-low frequencies.
Adjustable input/ output levels – choosing an amplifier with adjustable levels gives you control over the strength of the signal sent from the stereo to the amp and from the amp to the speakers. Being able to choose the levels lets you ensure there is minimal distortion and no overheating. Adjustable output levels also help prevent your speakers from being overdriven.
Digital Signal Processing (DSP) – you may see DSP listed as a feature on some amps. This lets you get the best sound by tuning the amplifier to the vehicle using the EQ, Phase and Signal Delay.
Audio Quality
Choosing high-quality amplifiers helps to ensure your sound system can reach its full potential. A wide frequency range helps to get the most out of the system. A good amplifier that is properly connected can bring your audio experience to the next level. If the audio is not sounding as good as it should you can check the:
Wiring
Connection quality
Speaker model
Installation
Fitting amplifiers can be quite complicated as there are several wires and connections that need to be considered. The best places to install an amp in a vehicle are:
Passenger side firewall – this location allows you to use short wires and it is easy to install here as you won't need to move seats or anything. This area is only suitable for small amps.
Under a seat – installing an amp under a seat lets you position it closer to the head unit. This means shorter cables can be used and the amount of noise/ signal degradation is reduced. It will also be easier to run the wire to the speakers and the unit won't get in the way. This space is only suitable for small amps and it is best if it is protected against water as water can be brought in on shoes etc. You may have to remove a seat to install the amp so it can turn into a bigger job.
In the boot – the other common place to install an amp is in the boot. This area has lots of space making it suitable for larger amps. It is a good position for accessing the amp controls but it does mean using longer wires and sacrificing some cargo space.
Warranty
The final thing to consider is if the amplifier comes with a warranty. A longer warranty period often comes hand in hand with a higher quality unit and can give you peace of mind. Some amplifiers don't come with a warranty, it's best to look for a model with at least 1 year of coverage. The Boss R1100M is covered by an impressive 6-year warranty.