Upgrading your car speakers is one of the most cost-effective ways to improve sound quality. There are lots of speakers on the market, and an increasing number of brands entering the space.
With this review, we aim to make it quick and easy for you to find the best option to suit your car and head unit.
We've analysed the most popular car speakers on the market and have assessed them against a range of important criteria including speaker type, sensitivity rating and sound quality. Use this guide to help you find the best car speakers to breathe life into your stereo system.
Want to learn more about the different types of car speakers? Click here to jump to our Buying Guide where we break down the difference between Coaxial, Component, 2 Way, and 3 Way speakers.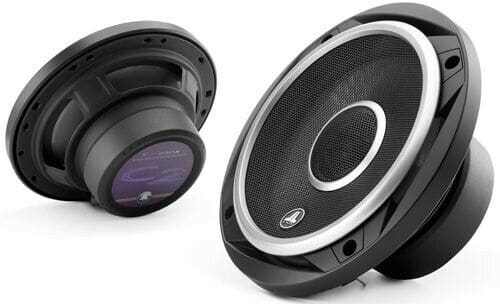 The JL Audio C2-650x is a smartly built speaker system that produces high-end sound quality without costing too much. These speakers are easy to install, look great, and offer dynamic car audio.
Coaxial speakers are known for being easier to install than component speakers and these JL car speakers do not disappoint. They are 6.5 inches and offer a direct fit format for most vehicles, the frame also has multiple mounting patterns for easy installation. The C2-650x manual is very informative and helpful so if you are unsure about setting up the speaker system in your car it's worth reviewing.
The C2-650x includes silk dome tweeters with ferrofluid cooling. Ferrofluid enhances the performance of a speaker so the fact the JL Audio uses this in these car speakers gives us a good indication of their quality. The speakers also feature a dome tweeter that has dampening properties to reduce ringing and ensure a smooth high-frequency is produced. This helps to improve the overall balance of the audio.
In addition to being able to handle the higher frequencies, these speakers have a deep bass response that is excellent for all but the deepest notes. The frequency response is 59Hz-22KHz so is broad but not quite as broad as the Hertz MPK163.3 Mille Pro or the Polk Audio MM571 speakers.
The woofers on these speakers are precision engineered and offer excellent sound quality. They also look great, with black grille trays combined with silver accents and of course, the JL Audio logo. Once installed in the door panel, these look clean, sleek and professional.
We like these speakers because they are rugged and the sound produced holds both definition and clarity. They are dynamic, well built and give a high-end car audio experience.
They offer a 60W continuous power handling (RMS) and peak music power of 225W and have a sensitivity rating of 91dB which is pretty impressive for 2-way coaxial car speakers.
The R165X3 from Rockford Fosgate are a great choice for replacing your car's default factory speakers. They offer a combination of style, value and function.
These 3-way speakers include a mid-range woofer, mid-range tweeter and a standard tweeter. This means you can enjoy good audio quality with crisp high and mid frequencies. Unfortunately, these aren't the most impressive when it comes to bass so if you are looking for an option that is great for deep bass this may not be the best system.
Like the JL Audio C2-650x, these speakers are also 6.5″ making installation quick and easy. They boast a compact size combined with smart aesthetics and for longevity, they have a steel frame and rubber around the speaker. They feature polypropylene cones and an integrated tweeter crossover.
The RMS of these speakers is 45W and the peak power is 90W. They have a sensitivity of 91dB so are energy efficient and are best suited to comfortable listening volumes rather than being cranked all the way up.
The R165X3 offer crisp, clear sound and offer an improved sound quality compared to the old R165 2 way speakers. These car speakers are efficient, attractive and are affordable making them a suitable budget option for switching out your factory speakers rather than splashing out for a speaker upgrade.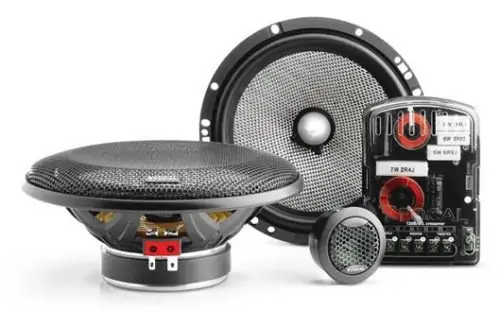 The Focal 165AS component kit directly connects to the car's head unit, it comes with multiple fitting options and includes a 3-position tweeter adjustment so you can set it up to produce the best sound stage for your vehicle.
As these car speakers are part of the Focal Access line they combine performance and affordability to produce great, full-range sound quality.
This pack includes 2 subwoofers, 2 tweeters and 2 external crossovers. The dual fibreglass cone system delivers mid-bass, midrange and deep bass incredibly well. The tweeter is an aluminium inverted dome that disperses high frequencies which helps to enhance the sound and create the best listening experience.
The speaker size is 6.75″ so that's slightly larger than the 6.5″ speakers we have looked at so far. The speakers should still fit well in the car but it is worth double-checking before buying.
As the system uses external crossovers it makes installation more challenging but helps to ensure the distribution of frequencies is seamless making the audio sound more natural.
The speakers have all-weather durability to ensure excellent sound quality regardless of heat and humidity. The Focal 165AS Access has a peak power rating of 120 Watts and an RMS of 60 watts.
They are high-sensitivity, high-power handling speakers that make an excellent speaker upgrade in any car.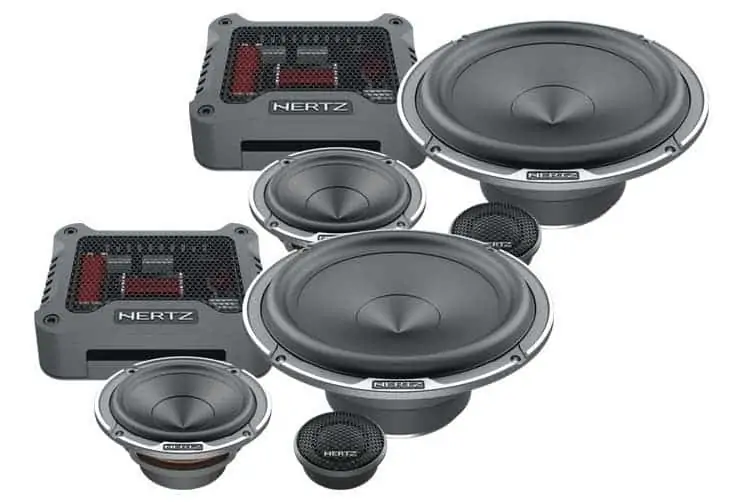 If you are looking for the best car speakers to give you incredible sound whatever the audio, these component speakers from Hertz are a worthy investment. The set includes 2 woofers, 2 midrange, 2 dome tweeters and 2 MPCX crossover networks as well as everything you need to install the system (clamps, brackets etc.).
As this is a component speaker set the installation isn't going to be as quick and easy as installing the R165X3 3-way coaxial speakers we looked at earlier. However, once the system is installed you can enjoy a more immersive sound system as you are not just limited to the door panel, you can position the speakers wherever you want.
These speakers can handle up to 150W of continuous power and 300W of peak power and the sensitivity is 92dB. These are fantastic full range car speakers that have been made to handle a wide range of frequencies as well as possible.
There are many impressive design features on these car speakers including the pressed pulp and cotton fiber woofer that moves air accurately and the V-cone shape that helps to create better dispersion to improve the lower sounds. This design is also seen on the driver to ensure midrange frequencies are high quality too.
The damping helps to reduce distortion and the adjustable level controls help to create highs and mids that match your system. As this is a 3-way system you can expect the audio to be high quality and sound more natural than a 2-way audio system.
This component speaker system can handle one of the broadest frequency ranges of this entire list, 40Hz – 22.5KHz. Combine this with the separate drivers and customisable nature of a component speaker and you can enjoy some of the best-sounding car audio with good bass response.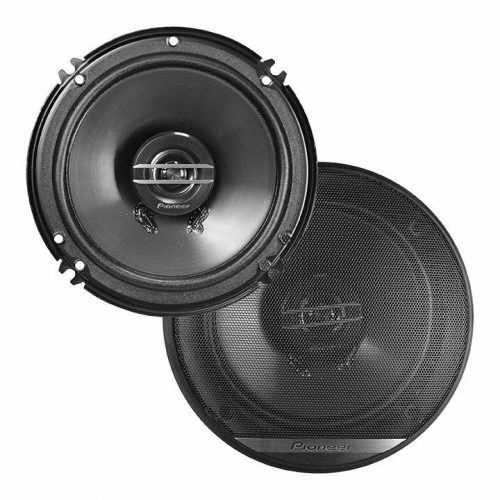 If you want speakers that sound great but are also low cost and easy to install, try the Pioneer TS-G1620F car speakers. These are ideal if you want to replace old or broken factory car speakers.
They aren't going to produce the same level of sound quality (particularly when it comes to bass) as the Hertz MPK163.3 speakers so don't expect them to. With that said, the sound quality is very good thanks to the woofer cone and balanced dome tweeter.
These speakers can handle 40 watts RMS and 250 watts peak power. They are strong, lightweight and are designed with a shallow mounting depth to make installation easy. These coaxial speakers can fit into most vehicles with ease and they look good too.
The Pioneer TS-G1620F are high quality, low distortion speakers so even if you turn the volume up you can still enjoy the music. The sensitivity is 89dB so don't expect too much from them.
Go for these if you are simply looking for quality replacement speakers for your car rather than an expensive speaker upgrade. If you want to upgrade the speakers so you can enjoy a full range audio experience then you'll be better off choosing the Focal 165AS Access speakers or one of the others discussed above.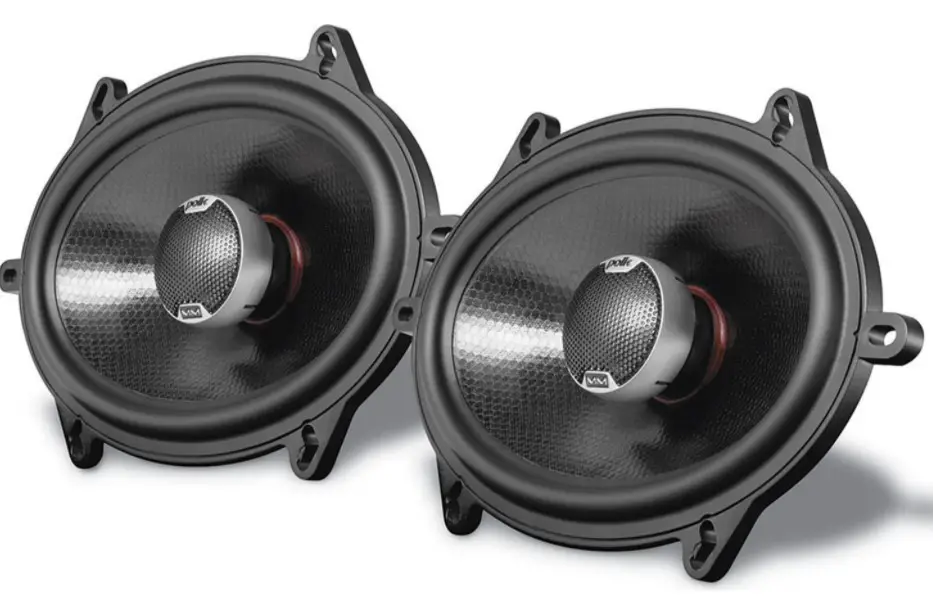 One of the most versatile speakers available is the MM571 from Polk Audio. They can be used on a car or boat, are lightweight, strong and are compatible with pretty much all speaker systems. They are small in size and feature a low impedance design to safely pull extra power from your amp or stereo.
The sound and audio quality of these speakers is bound to get you excited. They boast a frequency response of 38Hz – 25KHz, offer 90 watts RMS and 200 watts peak power and have a sensitivity rating of 92dB. This all comes together to create an amazing sound.
Some of the key features of the MM571 speakers include the woven honeycomb glass fiber composite woofer cone with a butyl rubber surround which responds quickly to produce clean and powerful sound. The speakers also have a silk composite dome tweeter and a super tweeter, the addition of the super tweeter makes this a great sound system for audio enthusiasts as it helps to enhance the high-frequency sounds.
As this is part of the Polk Audio Mobile Monitor series, the MM571 include all the features seen on the MM speakers including a Klippel Distortion Analyzer to optimise the audio performance, large-diameter voice coils for more reliability and a small neodymium magnet that is lightweight and powerful.
If you are looking for coaxial speakers that can handle whatever you throw at them and will be able to keep the sound quality high as you turn up the volume, go for the MM571 speakers.
The final speakers on our list are the Kicker CSC654. These 2-way speakers are reliable, easy to install and fit nearly every car. They offer a low protrusion tweeter and a neodymium magnet to help keep the speakers compact while offering excellent quality.
These speakers are a great option for most people. In terms of power, you're looking at 100 watts RMS power and a peak of 300 watts. The frequency range is 40Hz – 20KHz and the sensitivity is 90dB so you can enjoy your favourite music without compromise.
These speakers have a poly-foam surround that protects them to ensure they are long-lasting and always performing their best. It also has a heavy-duty motor with an extended voice coil that is not found in stock speakers.
Lower frequencies are handled by the polypropylene woofer and a balanced dome tweeter handles high frequencies. The polypropylene cones are tough and UV-treated to ensure they are reliable and will handle repeated use.
The CSC654 speakers were made to sit flush in your car without interfering with factory grilles. These speakers are brilliant on their own but to get the most out of them consider pairing them with an aftermarket car stereo or amp as this helps the system provide a more detailed quality of sound.
Car Speaker Comparison Table
| | | | | | | | | |
| --- | --- | --- | --- | --- | --- | --- | --- | --- |
| Speakers | Our Verdict | Size | RMS | Peak Power | Sensitivity | Frequency Range | Component or Coaxial | Crossover Type |
| JL Audio C2-650x | Best 2 Way Coaxial | 6.5″ | 60W | 225W | 91dB | 59Hz- 22KHz | Coaxial | Passive |
| Rockford Fosgate R165X3 Prime | Best 3 Way Coaxial | 6.5″ | 45W | 90W | 91dB | 52Hz – 20KHz | Coaxial | Integrated High-pass |
| Focal 165AS Access | Best 2 Way Component | 6.75″ | 60W | 120W | 91dB | 60Hz – 20KHz | Component | 2 External |
| Hertz MPK163.3 Mille Pro | Best 3 Way Component | 6.5″ | 150W | 300W | 92dB | 40Hz – 22.5KHz | Component | 3 Way Passive |
| Pioneer TS-G1620F | Best Budget Speakers | 6.5″ | 40W | 250W | 89dB | 31Hz – 18KHz | Coaxial | Passive |
| Polk Audio MM571 | Most Versatile | 5 x 7″ | 90W | 200W | 92dB | 38Hz – 25KHz | Coaxial | 2 Passive |
| Kicker CSC654 | Universal Option | 6.5″ | 100W | 300W | 90dB | 40Hz – 20KHz | Coaxial | Passive |
Car Speakers Buying Guide
If you are new to buying car speakers you may be wondering what a few of these terms mean, or maybe you're wondering how important they really are for your car sound system.
This buying guide goes through the key factors to consider when buying speakers. The best car speakers for you will depend on your requirements, existing setup and priorities.
Types of Speaker
Coaxial
These are speakers that are in one position and usually use a built-in crossover. If the coaxial speaker is 3 way it will have a more complicated crossover system which may make at home installation more challenging and time-consuming. A coaxial speaker system is ideal if you are on a budget and want a system that requires minimal time and effort to set up.
Coaxial speakers are also referred to as full-range speakers as they have all the necessary components incorporated into one speaker.
Component
These are speakers that can be positioned in different locations as they use separate drivers. Having the speakers separate allows for more accurate frequencies and a much better sound. A component system uses an external crossover circuit, this makes the system more customisable but also makes it more complicated to install.
If you choose a component system for your car, it requires more than simply linking it up to the head unit so you may want the system to be installed professionally.
2 Way
2-way speakers have a woofer and a tweeter in one basket. This woofer and tweeter combination can cover most sound frequencies which makes these speakers a suitable, low-cost option for car audio.
3 Way
A 3-way speaker system has a woofer, tweeter and a mid-range speaker. This combination covers a wide range of frequencies, this is broader than the frequency response of a 2-way system. A 3-way system produces a more natural sound which is preferred by most people.
RELATED: 2 Way vs 3 Way Car Speakers
Subwoofers
A subwoofer handles the low range frequencies including bass. If you are looking for the best sounding bass for your car, look for a system that includes a subwoofer as this will add a lot of depth to your music. Most car speakers include woofers and tweeters so special attention should be paid to the specs if you want a subwoofer.
Woofers
Woofers handle the mid-range frequencies. They are found in almost all car audio systems, some cars have a large and a small woofer. In this case, a large woofer handles lower frequencies better while a small woofer is better at handling high-end frequencies.
Tweeters
Tweeters are very small in size and handle high frequencies. They are found in the middle of the woofer and help to make sure you enjoy the full range of sounds.
Build Quality
Now you know a bit more about each part of the speaker, let's take a look at how you can judge if a car speaker is of good quality or not. First, take a look at the build quality. Factory woofer cones are often made from paper which degrades over time. Look for woofer cones that are made to be durable but lightweight such as fibreglass.
The tweeter should be a poly, textile or silk dome that produces refined and mellow sound. If you want the highs to be snappy, consider choosing a metal tweeter rather than a soft one.
A rubber surround is most common and this provides excellent performance and longevity. Some car speakers offer foam or cloth, these cost less but remain effective.
Size
The most common size for car door speakers is 6.5 inches. There are also 3.5 inch, 6.75 inch, 6×8 inch, 5×7 inch and 6×9 inch options available. The larger speakers often offer more oomph and better sound. When you are looking at the size of the speaker, it is important to factor in the speaker depth too.
If you're not sure about size, most stores can tell you which speakers will fit in your car make and model. Many coaxial audio systems are relatively quick and simple to install as it is usually a case of removing the existing grilles and panels, unscrewing the old speaker and connecting the new speaker. This will involve wire crimping or soldering but it should be a straightforward task if you have some experience.
Component systems on the other hand are more complex. They have more drivers to install as well as external crossovers. If you're not confident in installing the car speakers yourself get them fitted professionally.
Power
An aftermarket speaker often uses more power than factory stereos. The more power used, the louder and more detailed the music is. As long as the speaker is high quality you can experience loud, accurate audio without any distortion. When looking at the power of a speaker also look at the sensitivity.
Power Handling
Power handling is measured in watts and is split into peak and continuous (RMS) ratings.
RMS – this is the amount of power the speaker can continuously put out without getting damaged.
Peak – this is the maximum amount of power the speakers can handle over a short period.
Both of these values are important and should be taken into account. Make sure you check the power handling specs so you know if the rating is RMS or peak. Many speakers will clearly display or list the peak figure which may initially grab your attention as it shows a higher power rating to a competitor but always check so you know which rating you're looking at and what this means for the rest of your audio system.
Sensitivity
Sensitivity measures the efficiency of the speaker, or how much sound the speaker produces from the power it is using. A high sensitivity rating is well suited to low-powered factory speakers while lower sensitivity ratings should be considered for aftermarket stereo systems or external amplifiers as they provide excellent sound quality.
An average sensitivity measurement is around 88dB and ideally, you should avoid speakers with a sensitivity rating of below 84dB. 92dB or higher is considered the best sensitivity and these speakers are going to give you the best results.
Compatibility
While on the subject of power, it is worth checking your amp to see if the speaker is compatible in terms of power handling. Once you know the impedance your amp is compatible with you can find suitable speakers. Some speakers such as the Polk Audio MM571 have a low impedance design to ensure they can work with most setups.
This also goes hand in hand with knowing the RMS and peak power ratings. If you are comparing or matching your audio kit then focus on the RMS rating as matching these will help you get the best out of each part of your system.