Vehicles as popular as the Toyota Hilux have a wide range of uses and as work and recreational vehicles, and its varying tasks often labour it with the need to tow a wide range of loads.
This leads many HiLux owners to the question of, what is the towing capacity of a Toyota HiLux, and what limits the towing weight?
In this article, we will clearly outline the key things you need to know about the towing capacity of the HiLux.
We also analyse the numbers and the considerations that need to be taken to determine whether or not the HiLux is competitive as a tow vehicle, and what improvements can be made to make life easier when towing.
HiLux maximum braked towing capacity
The 7th generation (2005-2014) HiLux range has a braked towing capacity of 2,250kg for most models, no matter if it is 4×2, 4×4, petrol or diesel.
Some 4×4 models, with either the 4.0L V6 or 3.0L turbo diesel, have a maximum braked towing capacity of 2,500kg, a useful 10% extra.
Braked towing capacity refers to the maximum weight that your vehicle will be able to tow when the trailer you are pulling is equipped with its own braking system. In this case, your vehicle will connect through a cable to the trailer's brake system.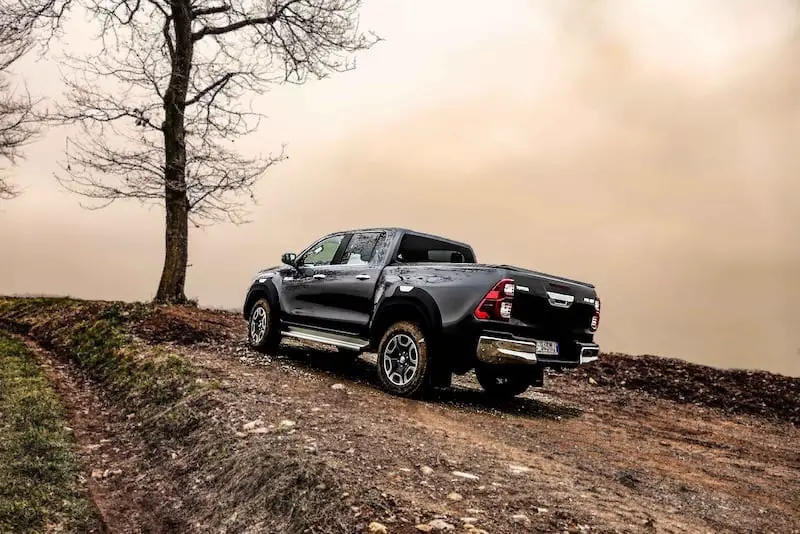 The current generation HiLux has been around since 2015 and with it came a sizeable improvement in towing ability for the dual cab 4×4 with either the 2.4 or 2.8L diesel engine, increasing to 3,500kg.
Some models, like the 4×2 Workmate and Hi Rider, make do with 2,500kg and 2,800kg respectively, which is still a decent increase when compared to the previous model.
This improvement comes with a big increase in gross vehicle mass (GVM) and gross combined mass (GCM), but HiLux kerb weights have also crept up with the current model, while in some cases it is up to 150kg heavier like-for-like.
GVM versus GCM
Kerb weight, payload, GVM, and GCM are all linked and changing one can have an impact on the others.
Even though its a ute and maximum payload capacity is an important consideration, drivers rely on vehicles like the HiLux to be many things, and towing a trailer is often just as important as the ability to carry a load in the tray.
Knowing the key weights is essential if you want to stay safe and legal.
Gross vehicle mass (GVM) is the maximum operating weight of the vehicle. This includes fuel, passengers, accessories, payload, and tow ball weight.
If your 4×4 is loaded with a bullbar, winch, canopy, drawers, driving on big tyres, and loaded with camping gear, it's going to get close to that GVM once passengers are seated and you're fuelled up. You might not even be able to use its advertised full payload if the car is loaded with accessories and passengers.
Gross combined mass (GCM) is the maximum weight of the vehicle and trailer together. This is not just the GVM plus the maximum towing capacity; don't make a mistake by assuming it is. If you're using one of these popular utes as a tow vehicle, and you've kitted it out, you've possibly also reduced how much weight can be towed.
GVM and GCM upgrades
In some cases, a vehicle owner won't be able to legally tow a particularly heavy trailer without extensive suspension upgrades. There are companies in Australia that offer this service though, and it can add hundreds of kilograms more to the limit originally allowed by the vehicle manufacturer.
Lovells and Pedders are two such businesses offering these upgrades for the Toyota HiLux (and many more cars). An independent assessment is required and, depending on whether or not the modifications are carried out before or after initial registration, a federal or state compliance plate will be attached to certify the new legal GVM/GCM increase.
It is essential to consult your own state's transport authorities about the law concerning GVM and GCM changes. It is our understanding that in Queensland, for example, an increase in GVM/GCM from factory is not allowed. In other states, like Victoria, New South Wales and South Australia, it is allowed. Check your state's requirements and make sure a reputable company carries out any such upgrades.
RELATED: What Seats Fit A HiLux?
ATM versus GTM
Aggregate trailer mass (ATM) is the maximum allowable weight of the trailer, uncoupled from the vehicle. It is the weight of the trailer when resting on its jockey wheel.
Gross trailer mass (GTM) is the maximum weight of the trailer when it is hitched to a tow vehicle. It is important to not exceed either the ATM or GTM in any circumstances.
Towball weight
Maximum towball weight (or mass) is the maximum permissible weight on the towball itself, and it is normally around 10% of the maximum towing capacity for the car.
Going further, with a balanced load a trailer should only load 10% of its weight on the towball (so if the total weight is 2,000kg, then the towball mass should be 200kg).
You should not have too much weight forward of the front axle (or behind the rear axle for that matter) because it will adversely affect the handling of the tow car.
You can start to see how all these weights start to come together and make sense when you look at the maximum towing weights of the utes in the table below.
Towball weight can be measured easily with a tool called a ball weight gauge or scale, which will easily tell you how much mass is exhibited on the towball. If you're travelling with loads that are always changing, this is a must-have tool.
Braked capacity
In Australia, the maximum unbraked trailer towing capacity is 750kg, something like a fully-fuelled jetski on a trailer. Many cars will manage that, even medium-sized hatchbacks. Most camper trailers and caravans will be much heavier and thus braked capacity becomes the limiting factor.
Today's dual cab utes are suitable for towing anything up to 3,500kg, before looking at aftermarket upgrades to increase GCM.
RELATED: How To Fit 33 Inch Tyres To A HiLux
Essential systems, tools, and accessories
Trailer sway control
Trailer sway control, or trailer stability assist (TSA), is an additional active vehicle system. By working in conjunction with the electronic stability program (ESP), it reduces or eliminates trailer sway through the use of the vehicle's brakes. It is standard equipment on many new dual cab utes, like the Toyota HiLux, Triton, and D-Max.
Trailer brake controller
A trailer brake controller is a cabin-mounted device to electrically apply the brakes of the trailer. Some systems calibrate the trailer brakes automatically while others need manual calibration. Sometimes adjustment is required to ensure the vehicle stops effectively (up to the maximum extent of the trailer's braking system), and there is often a manual brake activation button in case of an emergency.
Towing mirrors
Towing mirrors are an essential upgrade for most utes, not just the Toyota HiLux. They're useful even if you have a canopy, let alone if you tow a trailer or van.
RELATED: MSA vs Clearview Towing Mirrors
Reversing camera
Almost all new utes these days have a reversing camera for pedestrian safety reasons, but they make backing up to hitch a van a breeze. If your car hasn't got one, installing a camera is a straightforward process and money well spent.
HiLux competitors
Arguably the most competitive vehicle sector in Australia, drivers are spoilt for choice when it comes to 4×4 utes.
The latest generation pick up trucks are versatile propositions and, even when standard, offer great towing ability, and never at the expense of driver comfort.
| | | | | | | |
| --- | --- | --- | --- | --- | --- | --- |
| Vehicle (4×4 versions) | Factory GVM | Factory GCM | Factory braked towing capacity | Maximum Towball load | Upgraded GVM | Upgraded GCM |
| Toyota HiLux (2015+) | 3050 | 5650-5850 | 3500 | N/A | 3500 | 6550 |
| Toyota HiLux (2005-2015) | 2810-2835 | 4750-5335 | 2250(4×2)-2500(4×4) | N/A | 3300 | N/A |
| Mitsubishi MQ/MR Triton (2014+) | 2900 | 5785-5885 | 3000-3100 | 300 | 3100(MQ)/3200(MR) | N/A |
| Ford PX Ranger (2011+) | 3200 | 6000 | 2500-3500 | 350 | 3500 | 6600/7100* |
| Nissan D23 Navara (2014+) | 2910-3150 | 5910 | 3500 | N/A | 3070 (some models) | N/A |
| VW Amarok | 3040-3080 | 5550-6000 | 3000-3500 | 300 | 3285-3305 | N/A |
| Isuzu D-Max (2013+) | 2950-3100 | 5950-6000 | 3500 | 350 | 3600 | 6900*(RT)/7000(RG) |
* with cooling system upgrades
Ford Ranger
The Ford Ranger Wildtrak has brought about a real renaissance in the 4×4 ute sector and has been the toughest competitor ever for the Toyota HiLux.
With either the 2.0L 10sp or 3.2L 6sp engine/transmission combos, 3,500kg is possible. There's a lot to be said about the modern engine, and displacement doesn't seem to be so important anymore.
Mitsubishi Triton
The MQ and MR Triton may lack some of the street cred of the Toyota HiLux, but it more than makes up for it by offering far better value and only marginally less ability.
With a maximum braked capacity of 3100kg, it is shy of the Toyota HiLux and other models here but will easily do the job for most drivers.
Isuzu D-Max
For the last decade the D-Max has been one of the strongest tow vehicles out there while its competitors played catch up.
The previous and the new models can both handle 3,500kg and the previous model has been a reliable truck, so big things are expected from the current model.
The Navara is one of the few utes available with a multi-link, coil spring rear end, not just a leaf-spring rear. Either set up can handle 3,500kg.
VW Amarok
Frequently rated one of the greatest, if not the greatest, towing utes to land on our shores, the Amarok deserves to be known as the daddy when it comes to pulling a trailer.
The V6 has a maximum braked towing capacity of 3,500kg, which is matched by a number of competitors, but the Amarok arguably does it with greater ease thanks to that 3.0L engine with plenty of power and torque.