Buying tyres that are both safe and suitable for their purpose is money well spent.
4×4 vehicle owners want a tyre that will wear evenly and get great mileage. But at the same time, they want something that thrives in off-road conditions.
Today we compare two popular all-terrain (AT) options from Toyo Tires and BFGoodrich.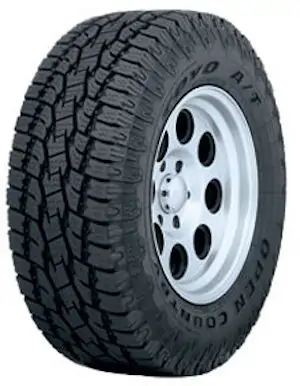 The Toyo Open Country A/T II sits smack bang in the middle of Toyo's 4×4 range, and with that in mind, it tries to blend the benefits from tyres offered on either side of it.
With claims of low road noise and high stability, it is ideal for plying away on the open road.
Toyo mentions that the Open Country A/T II will get you around Australia 5 times (or about 125,000km). Many reviews from drivers back this up and report mileages upwards of 100,000km, which is great tread life.
The tread pattern backs up claims of supreme highway performance, and the tread blocks are joined by tie bars to maintain good handling and braking on paved roads. They also improve tread wear to maximise tyre life.
While it has an on-road bias, concessions to off-road work are made with a chunky tread block and deep grooves for better grip in dirt and mud.
The Open Country A/T II is available in a range of popular sizes between 15-inch and 20-inch diameters, but mostly in the 16-inch and 17-inch range, and with a load rating suitable for vehicles as heavy as the 200-series LandCruiser.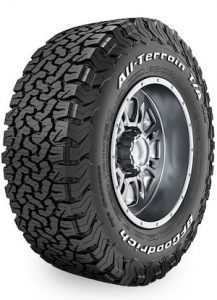 BFG claim this is the toughest AT tyre they've produced, and it is easy to see why just looking at it.
The tread pattern is off-road focused and the staggered shoulder block design means better traction and better performance on most off-road surfaces.
Stone ejectors limit the chance of punctures occurring, and the tyre's footprint claims to better distribute stress for even tyre wear.
BFG claims the KO2 will wear 15% better on tarmac than the original KO.
An aggressive sidewall design is perfect for off-road protection and makes for a good-looking tyre, too. It highlights the KO2's balanced, 50:50 split between tarmac and off-road.
The BFG comes in over 50 sizes from 15-inch to 20-inch wheel diameters.
RELATED: Falken Wildpeak AT3W Vs BFG KO2
Key Similarities
Light truck construction
The Open Country and KO2 are available in either passenger car and more durable light truck (LT) construction (depending on the size).
While some sacrifices are made in ride quality, the LT tyre is less likely to be damaged, especially off-road.
Sidewall protection
The two tyres here offer good sidewall protection for improved puncture resistance and durability off-road.
Stone ejection
Both tyres have a stone-ejector system incorporated into their designs to easily dispense with any sharp stone that can be picked up on gravel roads.
All-terrain classification
Both tyres are each manufacturer's version of an AT, and both offer versatility across tarmac and different terrains.
Key Differences
Tread pattern
In isolation, you'd say the Open Country is a relatively aggressive tyre, but when compared to the KO2 you can see the Toyo will be happier on the road than off it.
It has a tread pattern that more closely resembles a road tyre and its straight central grooves, whereas the BFG's zig-zag, interlocking tread block design is more akin to a mud-terrain.
Off-road focus
The BFG is more at home off the tarmac than the Toyo, thanks to that more aggressive tread pattern.
While the Toyo can definitely work off-road, it needs to work harder.
Be it gravel, mud, or snow, the BFG will handle it better and be a better choice for a serious off-road vehicle.
On-road noise and comfort
If you're spending the vast amount of your time on-road, the quieter Toyo is going to be the best choice.
It has better traction on the road and of the two tyres is the most comfortable.
The KO2 will generate more road noise and sacrifice some outright performance and traction on wet or dry pavement.
Imperial options
BFG stays true to its American origins by offering the popular imperial options across a range of big or small wheels.
Toyo, in Australia at least, offers just three genuine imperially-sized options (a pair of 15s in 30″ and 31″, and a 17-inch 35).
Available sizes
The BFG KO2 is available in a wider range of sizes than the Open Country A/T II.
The Toyo Open Country covers most popular sizes in the 16-inch and 17-inch range but is limited outside that window.
Weight difference
Of the two tyres, the BFG KO2 is consistently the heavier rubber (sometimes as much as 5kg per tyre).
When you consider the Toyo is more touring-biased, it makes sense it is also lighter.
Comparison Table
| | | |
| --- | --- | --- |
| Tyre | Open Country A/T II | BFG T/A KO2 |
| Rim Size | 15-20″ | 15-20″ |
| Road Handling | 7 | 6 |
| Off-road Handling | 5 | 7.5 |
| Mud/Snow Performance | 5 | 7 |
| Noise & Comfort | 7.5 | 5 |
| Durability | 6 | 7.5 |
| Check Price | Tyroola | Tyroola |
Best Alternatives
For a full list of options, check out our guide to the best all terrain tyres in Australia.
For this specific comparison, here are our top picks:
If the Cooper above imitates the Toyo, then the Falken Wildpeak imitates the BFG KO2. It has a sidewall design optimised to dissipate heat (great for heavy loads), and rigid tread blocks for better handling on tarmac. The Falken offers great traction in mud and will handle worse terrain than the Toyo and other road-biased ATs.
We like the Cooper AT3 range, and in this comparison the AT3LT is a great option. It has LT construction and a similar road-biased design to the Toyo. The Cooper is a great choice for those who spend most of their time on-road but still want something that can safely navigate fire roads and sand dunes. Cooper has an 80,000km warranty across most of their range which should make most drivers extremely happy.
Check for best price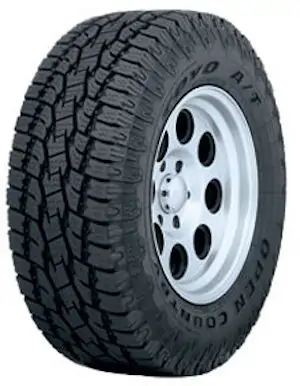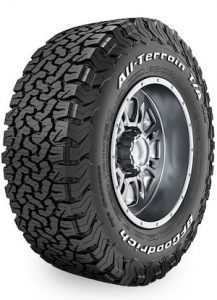 FAQ
How long do Toyo Open Country A/T II tyres last?
Toyo claims 125,000km is possible with the A/T II, and going from the hundreds of reviews easily found online, many owners report such mileages from a set. Tyre life ultimately still comes down to good tyre maintenance (pressures and rotation), and driving style and conditions.
Are BFGoodrich tyres noisy?
Tyre noise is difficult to quantify because it is dependent on the vehicle and tyre itself. All-terrain tyres are noisier than high-way terrain tyres due to their more robust construction and tread pattern. The KO2 here will be noisier than others because it has a greater focus on off-road performance. The Trail Terrain T/A is a quiet option from BFG that will still work when not on sealed roads