Comparing headlight options for your 4WD can be a daunting task.  
There are many options out there and each one appears to be as good as the next.
To help you in your search, we've done some of the homework for you on two of the most talked about brands: Stedi and Kings.
Specifically, we're going to focus on the following four products, being the premium 4WD spotlights from each brand:
Stedi Type X Pro
Stedi Type X Sport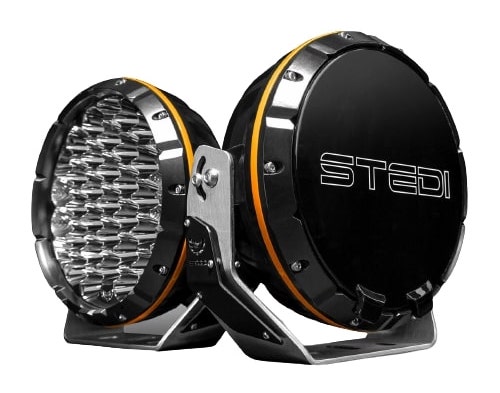 LED Type
Stedi Type X Pro: Osram Oslon High-Flux
Stedi Type X Sport: Osram Oslon
Kings Laser MKII: Osram Oslon
Kings Lethal Premium: Osram Oslon + Osram Osconiq
Winner: Draw
Both Stedi and Kings use best-in-class LEDs. All of these headlights employ Olson LEDs from market leader Osram.
Osram's Olson LEDs offer many benefits: a uniform illumination pattern, thermal stability, brightness and high robustness. Importantly, their slim design allows for compact headlight systems.
Why is it important?
LED chips used in headlights are an important factor in determining just how effective and reliable your headlights will be.
Not all LED chips are created equal, and some manufacturers produce their lights using chips that simply aren't going to last as long or perform as well over time.
When you're buying a new headlight, you should always look for one that uses Cree or Osram chips. These are the highest quality LED chip choices available, with lifespans of over 50,000 hours before needing replacement.
Brightness
Stedi Type X Pro: 15,870 Lumens (Pair), 1 Lux @ 1155M (Pair)
Stedi Type X Sport: 14,950 Lumens (Pair), 1 Lux @ 1050M (Pair)
Kings Laser MKII: 11,870 Lumens (Pair), 1 Lux @ 1972M (Pair)
Kings Lethal Premium: 21,840 Lumens (Pair), 1 Lux @ 1342M (Pair)
Winner: Kings
The two sets of Kings lights appear to take the prize here.
The Kings Lethal Premium pump out an impressive 21,840 Lumens while the spot beam Kings Laser MKII boasts 1 Lux at almost 2km.
Why is it important?
There are two key numbers when measuring the brightness of spotlights: Lumens and Lux.
Lumens are important – they measure visible light. However, lux is often considered a more real-world measurable unit of measurement
One lux equals the amount of light produced by one candle, one metre away from the candle, illuminating a surface one square metre in area.
The better a vehicle's spotlight performance, the greater the distance ahead it can illuminate. But this isn't as important for a flood pattern as it is for a spot pattern.
IP Rating
Stedi Type X Pro: IP68
Stedi Type X Sport: IP68
Kings Laser MKII: IP68
Kings Lethal Premium: IP68 & IP69
All of these lights meet the IP68 rating, which means they fully sealed from dust and particles and are waterproof up to 3 meters.
However, the Kings Lethal Premium Driving Lights have been tested to the IP69K standard, meaning they are also resistant to high-pressure jets of water.
Why is it important?
The IP (Ingress Protection) rating of a product is a measure of how well the product is insulated against dust and liquids.
Specifically, the first number in the IP rating tells you how dust resistant it is, while the second tells you how water resistant it is.
In order to determine what their products are rated, manufacturers test them in labs where they have to survive varying tests including immersion in 1 meter or 10 meters of water (depending on if they're looking for an IP67 or IP68 rating), as well as being sprayed with pressurized jets of water.
The aim of these tests is to simulate the stresses the product will face in the real world.
Beam Pattern
Stedi Type X Pro: 6 x Spread 31 x Pencil Beam
Stedi Type X Sport: 4 x Spread 32 x Spot Beam
Kings Laser MKII: 24 x Spot 1 x Laser Module
Kings Lethal Premium: 17 x Spot 13 x Spread
Winner: Draw
There's no one size fits all with beam patterns, and the best option for you will be determined by your personal preferences along with your existing light set-up e.g. are you pairing your spotlights with a light bar?
Why is it important?
Beam pattern is one important consideration when you're shopping for off-road driving lights. There are many different beam patterns, and the one you'll need depends on how you plan to use your lights.
Spot beam – The long-range, spot beam—or pencil beam—provides the most capable deep-penetration type of beam, but it leaves a lot to be desired when it comes to lighting anything on the side of the road or trail. Its focused circular pattern is typically useful for high-speed off-roading, as it allows drivers to see at great distances.
Spread Beam – A spread beam tends to be brighter, wider, and even taller than other driving beams. A spread beam is well-rounded for a range of 4WD scenarios.
Colour temperature
Stedi Type X Pro: 5700K
Stedi Type X Sport: 5700K
Kings Laser MKII: 14886K
Kings Lethal Premium: 5185K
Winner: Draw
Why is it important?
The colour temperature of your headlights is measured in Kelvin (K).
Light bulbs of different temperature ranges produce different colours: yellow fog lights are around the 2000-3000K range, and what you are also likely to see for interior lighting, is described as a warm white.
The lower the number, the warmer the light (more yellowish) and the higher the number, the cooler (more blueish).
You generally want to aim for about 5000K – 6000K, which is considered daylight colour temperature.
This one mostly comes down to personal preference. We tend to like a more cool white as it makes us feel like we're driving under natural daylight, but this is purely subjective.
Warranty
Stedi: 5 Years
Kings: 2 Years
Winner: Stedi
Why is it important?
As with any product that uses electronics, there can be an inherent risk of failure at some point in their lifespan.
The type of LED you buy and from where you buy it are important factors when it comes to ensuring they are as reliable as possible.
You should also look into the level of support provided by the manufacturer or supplier before you buy your new lights – this will come down to what warranty they offer.
Given that LEDs are complex electronic devices, any warranty offered should cover LED failure and other issues such as water ingress or manufacturing defects.
It's a good idea to go through the small print before making a purchase to make sure it covers everything you'd need if anything went wrong with your lights.
Price
Winner: Kings
When it comes to price, the Adventure Kings Headlights are indisputably the better value.
At the time of writing, the Kings Laser MKII (the most expensive headlights from Kings) are available for around half the price of the Stedi Type X Pro.
But, if you have the cash, we wouldn't discard Stedi. The Australian company makes exceptional quality headlights that receive rave reviews. Their products have proven themselves to be durable and reliable, and are backed by an impressive 5 year warranty.
However, if you need to keep some money in your pocket for other off-roading goodies or upgrades, opt for the Kings.
Stedi Type X Pro
Stedi Type X Sport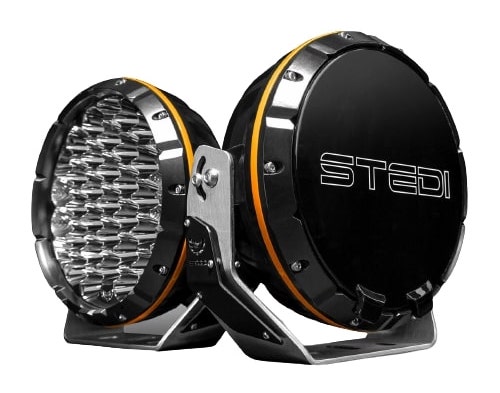 Stedi vs Kings Comparison Table
| | | | | |
| --- | --- | --- | --- | --- |
| Lights | Stedi Type X Pro | Stedi Type X Sport | Kings Laser MKII | Kings Lethal Premium |
| Size | 8.5″ | 8.5″ | 8.5″ | 9" |
| LED count | 37 | 36 | 24 | 30 |
| LED type | Osram Oslon | Osram Oslon | Osram Oslon | Osram Oslon + Osram Osconiq |
| Lumens | 15,870 (Pair) | 14,950 (Pair) | 11,870 (Pair) | 21,840 (Pair) |
| 1 Lux @ | 1155M (Pair) | 1050M (Pair) | 1972M (Pair) | 1342M (Pair) |
| Amp draw | 10.4A @ 13.2v (each) | 9.8A @ 13.2v (each) | 10.97A @ 14.4V (Pair) | 15.90 @ 14.4V (Pair) |
| Power draw | 137W | 129W | 157W | 228W |
| Beam pattern | 6 x Spread 31 x Pencil Beam | 4 x Spread 32 x Spot Beam | 24 x Spot 1 x Laser Module | 17 x Spot 13 x Spread |
| IP Rating | IP68 | IP68 | IP68 | IP68 & IP69 |
| Colour temp (cct) | 5700K | 5700K | 14886K | 5185K |
| Voltage compatibility | 12v & 24v | 12v & 24v | 12v & 24v | 12v & 24v |
| Weight | 2.860kg (each) | 3.35kg (each) | 3.0kg (each) | 3.0kg (each) |
| Operating temp | -40°C to 60°C | -40°C – 60°C | n/a | n/a |
| Warranty | 5 Years | 5 Years | 2 Years | 2 Years |
| Check price | eBay | eBay | Adventure Kings, 4WD Supacentre | Adventure Kings, 4WD Supacentre |
| | | | | |