Repairing a car's paintwork is a long, laborious process. That said, doing such repairs at home is possible with the right tools and supplies.
The quality of the end result is reflected in the preparation, so using products fit for purpose is essential.
Knowing when to use spray putty and primer filler ensures the repair will be a high standard.
In this guide, we talk through some of the finer points to help you make the right selection.
Spray Putty
Spray putty is a high-build, easy-to-use product that is perfect for small scratches and repairing other minor imperfections.
Characteristics include high flexibility, good flow and filling properties, and fast-drying time.
It's perfect for DIY repairs of car-park scratches, dings, and dents. It can fill in stone chips and other minor imperfections, or be used as an intermediate step if painting to fill low areas and pin holes.
Spray putty is best when used over the top of a primer, as most manufacturers recommend not spraying directly onto bare metal.
Primer filler
Primer filler is exactly as the name suggests; it is a thicker, denser high build primer that will fill in small imperfections left from surface preparation, like sanding scratches or pits.
It leaves enough build on car body panels to be able to sand smooth and level before painting over it with a guide coat or top coat.
Most primer fillers offer great surface flexibility, and can be used on a range of surfaces.
That said, it should not be used on surfaces that come in direct contact with heat, or are exposed to high temperatures (mufflers, engine blocks, and exhaust headers for example).
Spray putty vs primer filler: Key Similarities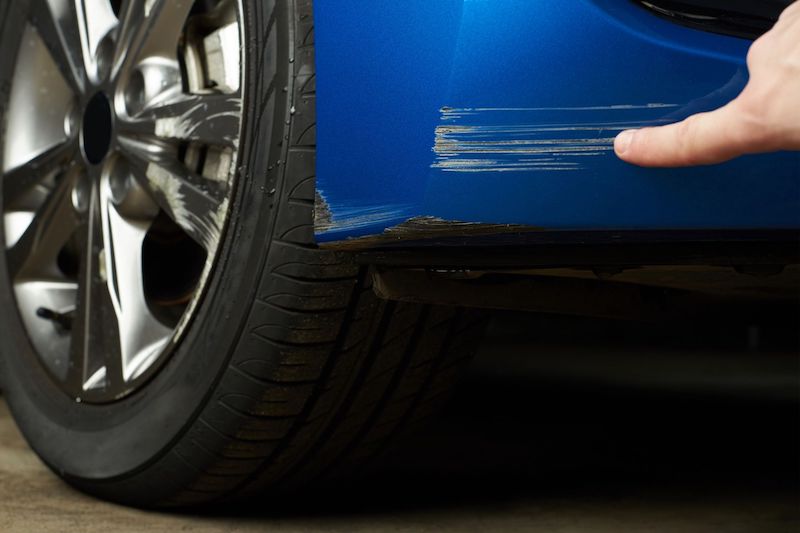 High build properties
Both products have high build potential, meaning less body panel work is required to achieve an even enough surface before applying a primer or base coat.
DIY ease of use
Spray putty and primer filler products are readily available from every auto shop or paint supplies distributor.
Either can be bought for use with a spray gun or in a ready-to-spray aerosol can.
Both exhibit good adhesion properties and can be used on a range of surfaces like metal, fibreglass, and even wood.
Surface preparation
This is arguably the most important part of any paint repair. Removing all traces of rust, grease, dirt, and dust on the surface to be repaired is essential.
You need a perfectly clean black canvas. Any contaminants under either product threaten to ruin the integrity of your work and compromise the end result.
Small repairs
Generally, manufacturers recommend either product be used for smaller repairs or minor surface imperfections.
For bigger jobs, a denser body filler might be required beforehand.
RELATED: How To Fix Deep Scratches On A Car
Spray putty vs primer filler: Key Differences
Faster drying
In keeping with the DIY nature, both products are generally fast-drying, allowing for small repairs to be completed in a matter of hours, rather than days.
Spray putty generally dries faster (touch dry in 30 minutes compared to 45 minutes or more when sprayed from an aerosol).
Ideally, the work is done while the temperature is above 15°C, but if it is cooler more time is required for drying.
Scale of repair work
Spray putty is ideal for minor work, like touching up bumper bars that are scratched or chipped.
Primer filler, while also suitable for such tasks, can also be used on a larger scale without detriment to the end result, like during the preparation of fibreglass panels or filling car park dents.
There is still a fair bit of interchangeability between either product though.
Which one to choose
For small repairs when time is short, spray putty is the one to go for as it dries faster and can be painted over with little final prep work.
If you have some more time or working on a surface that has more imperfections than stone chips or fine scratches, then primer filler can get close to achieving a factory finish.
RELATED: How To Touch Up Car Paint
Tips and Hints
Preparation
Preparation is key. Be it before or after using either of the above products, it is essential to have a surface that is clean.
Painting indoors is advisable as well, if possible. Masking off areas before making any repairs is also time well spent.
PPE
Wear the correct personal protection equipment. A mask with a respirator is a must, especially if working indoors, and all exposed skin should be covered with gloves and long-sleeved coveralls.
Time
Allow plenty of time to do the job. Don't rush it by spraying coats that are too thick, or not allowing enough time for drying between coats.
The final finish is a reflection of the time used beforehand when preparing the surface, filling, sanding, priming, and painting.
Less is more
In line with the above, using more thinner coats will yield better results than fewer thicker coats, regardless of the product.
This applies to top coats and clear coats as well and reduces the risk of runs and orange peel.