When driving in the dark, having the road ahead illuminated across a wider area increases safety.
We're big fans of auxiliary driving lights, and the options today are endless. LED technology has broadened the choice massively, while companies continue to develop traditional lighting options.
If you are new to four-wheel-driving, or want to upgrade your current setup, this guide should help you decide which is the best option.
Spot lights
The term spot light is (often incorrectly) used to describe a driving light but the terminology is actually a beam pattern.
Driving lights have either a spot (in the distance), flood (wide illumination area), or combination beam pattern.
They use either halogen, high intensity discharge (HID), or LED methods for illumination, and the housing is plastic or aluminium.
Older clear lenses were made of glass, but these days a more durable polycarbonate is used instead. While most are round, rectangular or square lights are also out there.
The very best spotlights illuminate beyond one kilometre, so the traditional style doesn't come with night vision compromises.
Light bars
A light bar is a style of driving light that can come in an array of beam patterns, length, and brightness.
Their popularity stems in part due to their streamlined packaging (thanks to light-emitting diodes), requiring little more than a place to mount one or more brackets.
They can be hidden behind bull bars for a very minimalist look, and when turned on are as bright as daylight.
RELATED: Curved vs Straight Light Bars
Spot light vs light bar: Key similarities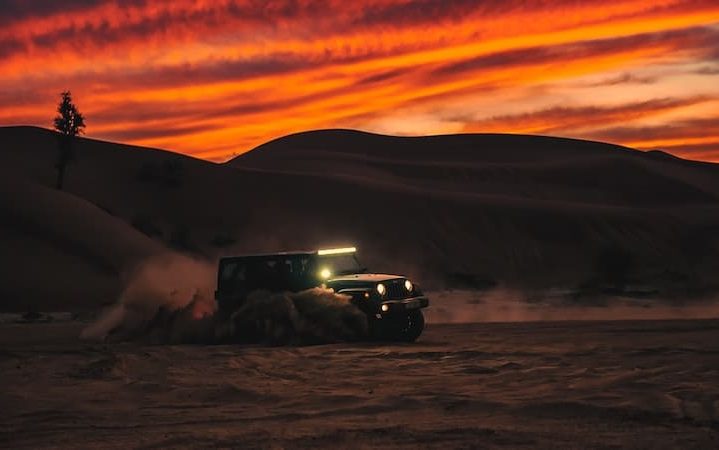 Price
Like most accessories, dirt-cheap options are readily available. It is also possible to spend over $1,000 as well, depending on the size, brightness, and manufacturer.
Quality products can be found for as little as $200, be it LED bars or spotties.
Materials
Housing materials are largely the same, with aluminium and polycarbonate dominating the market. Hardened glass is used on some spot light lenses. Brackets will be either steel or aluminium.
Installation
Many driving lights come as complete DIY kits with wiring harnesses. Lighting mounts (either as bolts or brackets to go around bars) on spot lights and light bars are designed to make installing them straight forward and secure.
Illumination
Light bars and spot lights deliver similar lighting performance. While most light bars can come as a combination of spot and flood pattern, a pair of spot lights (where one is a long distance spot and one a flood) can do the same job.
That said, LED spot lights can also be had in combo patterns, which highlights the versatility of LEDs and what they have been able to bring to the market.
Our research showed lighting distance (for example, 1Lux@ 900m) wasn't dependent on the style of light, as either light bars or spot lights are capable of illuminating the road at a distance of over 1,000 metres in front of the vehicle.
Spot light vs light bar: Key differences
Illumination source
LED is all you'll find for light bars, but spot lights can be purchased in more lighting varieties.
Halogen lights are increasingly difficult to find (but still out there if you desire).
HID is brighter and is a better option for some enthusiasts, but the popularity of the light-emitting diode (LED) continues to grow.
Given you don't need anywhere to hide a ballast igniter (as required with HIDs), LEDs have a practical packaging advantage, too.
Aesthetics
Traditional round spot lights will remain popular as long as people continue to drive older model vehicles. Light bars can look a little incongruous on old 4x4s, so a pair of round lights will attract customers.
LED light bars have a modern look and this will appeal to most with newer trucks.
Packaging and mounting options
This is an obvious difference. Light bars integrate very well on a bull bar or roof rack, and the wide range of lengths means finding one that fits is easy.
They offer more flexibility thanks firstly to the wide-ranging dimensions and their slim profiles. They can easily be mounted behind bull bars and grilles and be even better protected from damage.
It doesn't stop there with light bars; they can even be integrated into the bull bars themselves which provides a very clean look for any vehicle.
Most spot lights are mounted in front of the vehicle on a bull bar or nudge bar. Smaller examples can be integrated into bumper bars but the sacrifice in brightness due to the smaller reflector cup makes this unappealing.
However, since many bull bars come with the provision for auxiliary lights and companies are more than happy to offer suitable options.
Dimensions
Another obvious one. Round spot lights are generally within the 6-inch to 8.5-inch (150mm-215mm) range, with some smaller and larger exceptions.
Light bars 6 inches (150mm) in length are available but sacrifice a lot of lighting performance.
Moving up to anything longer drastically improves as you increase the number of LEDs. A 50-inch light bar is the ultimate option if you can accommodate one.
Tips and Hints
Correct installation and how the additional driving lights are wired up is very important.
Other drivers are going to be dazzled when any of these are on. You will also get in trouble with the law if you can't turn them off separately from your low beam headlights. They are strictly for off road use and should only come on when using high beams.
The increased current draw and power requirements from additional lighting can be an issue.
If you plan on off roading with loads of extra lights, an older vehicle's power supply might struggle with the greater demand. A new (or upgraded) alternator and battery could be a worthwhile investment.
A halogen bulb can be prone to damage from vibration and impact, so a couple of spares in your toolkit are worthwhile when going out into the country. HID lights are more reliable but ensuring ballasts are installed high and dry means less heartache when it gets wet.
Many lights come with clip-on protectors. For those whose car spends most of its life around town, having them installed protects them from damage.
Conclusion
This battle comes down to two major points; aesthetics and packaging.
Old school owners will probably prefer round spotties while many will love the modern look of an LED light bar.
The mounting flexibility of a light bar has its advantages, too (especially when you can mount them behind certain bull bars).
This choice, perhaps more than any other, comes down to personal preference. The best performers are almost always going to be LED lights anyway, and just as well since LED driving lights dominate the market.