Snorkels are a popular addition to any 4WD vehicle as they reduce the engine's ability to ingest potentially harmful elements and maintain optimal engine performance. Dust and water can cause a litany of catastrophic problems and a snorkel provides some assurance that this risk is reduced (when installed correctly).
Safari 4×4 Engineering has had skin in the 4×4 accessories game for over 40 years, and their popular snorkels offer a range of benefits that enhance the performance and reliability of any vehicle they are installed on.
In this article, we compare their Armax and V-Spec snorkels to provide you with the information required to make an informed decision on which of the snorkels is best for you and your 4×4 vehicle.
Safari Snorkel Armax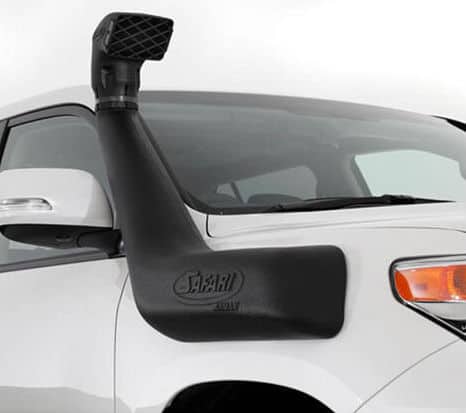 Safari Snorkel V-Spec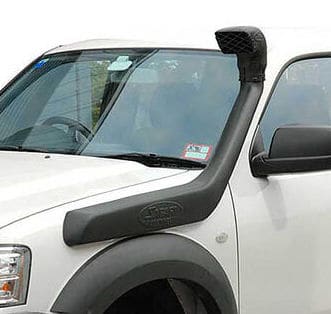 Key Similarities
As to be expected, there is a lot in common between the two Safari snorkels.
Proudly Australian-made
Both the Safari V-Spec and Safari Armax snorkels are designed, moulded, and manufactured in Australia. Supporting local R&D and manufacturing is a worthy consideration for any consumer and generally makes it easier for any potential repairs or replacement parts needed further down the line.
Materials
Polyethylene is a sturdy and light plastic that is used to make a wide range of products, like basic plastic shopping bags, sports water bottles, children's toys and homewares.
The industrial spec UV-stabilised polyethylene used to make Safari's Armax and V-Spec snorkels ensures they can withstand the baking Australian sun, damage from impact, and weight is kept to a minimum.
Safari's R-Spec snorkels, available for older vehicles, are made with a recreational spec polyethylene.
RELATED: Stainless Steel vs Plastic Snorkels
Hardware and installation
What is required in order to install either of the two Safari snorkels to your vehicle is the same. Installation is fairly simple and requires just time, patience, and a few specialist tools.
Lifetime warranty
Safari 4×4 Engineering stands by both its Armax and V-spec snorkels with a lifetime warranty, providing the best peace of mind to customers and underlining a commitment to sell a quality product that offers the durability required to handle extreme Australian conditions.
While not the focus of this article, the R-spec snorkels are sold with a still-reasonable 5-year warranty.
Cleaner and cooler air
Both Safari snorkels mount the ram air intake high on the vehicle, avoiding the hot and dirty air down low at the front.
Wading depth
The high air ram doesn't just provide cool air; it stops water from being sucked into the engine, too.
Providing a correct watertight and sealed installation, Safari snorkels reduce the likelihood of water ingestion during high water crossings, something that can cause catastrophic engine failure.
RELATED: Tough Dog vs Outback Armour
Key Differences
Performance
Armax snorkels seek to not only provide cleaner and cooler air to the engine but also more of it. The design of the Armax is focused on improving airflow to increase engine performance.
The V-Spec snorkel is designed to simply flow the same amount of air as a standard vehicle.
Safari claims the Armax snorkel can provide up to 40% more airflow over a standard intake.
A vehicle fitted with the V-Spec snorkel can still potentially outperform one utilising a standard air intake in extremely hot and dusty conditions because all engines, be they petrol or diesel, benefit from lots of clean and cold air.
RELATED: The Best Bull Bar
Design and dimensions
The Safari Armax snorkel is larger in most of the key areas to help increase airflow.
The air ram on the Armax is 4 inches in size, versus 3.5 inches on the Safari V-Spec.
The design of the Armax snorkel hose is also slightly altered to smooth out (and maintain a higher velocity for) the air flow into the vehicle's airbox, with a larger outlet fitted to the airbox than the V-Spec snorkel's hose.
Fast and smooth airflow is crucial for an engine to run at its full potential.
Aesthetics
While certainly similar, the larger ram air intake and overall size of the Armax snorkel gives it a different, arguably tougher, look to any 4×4 it is fitted to.
Availability
The Armax snorkel has a limited range that focuses on the most popular current-model vehicles like the Ford PX Ranger, HiLux models from 2005-onwards, and 100- and 200-series LandCruiser (plus the V8-powered 70-series LandCruiser and V6 Amarok).
The V-Spec snorkels have been designed for more vehicles including the ones above and additionally for vehicles like the Nissan Navara (D22, D23 and D40) and Patrol (GU and Y62), 120- and 150-series Prado, 4-cylinder Amarok, and popular models from Jeep, Mitsubishi, and Land Rover. While there are some older exceptions, the focus is still predominantly on current model vehicles from the last 10 to 15 years.
Safari still caters for less-popular and older models sold in Australia (and internationally) with its R-Spec range.
Price
The Armax snorkel is, unsurprisingly, more expensive than the V-Spec, but given the difference isn't huge, it's hard to imagine most customers wouldn't stretch for the pricier alternative.
RELATED: Best LED Light Bars
Making your Selection
Safari Snorkel Armax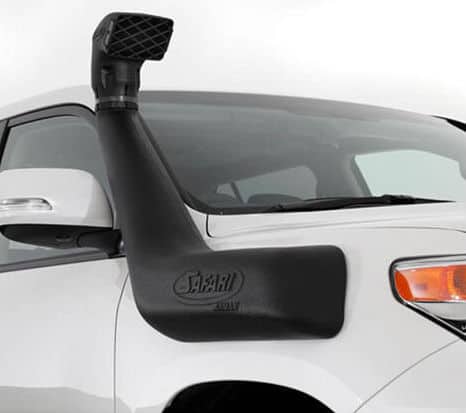 Safari Snorkel V-Spec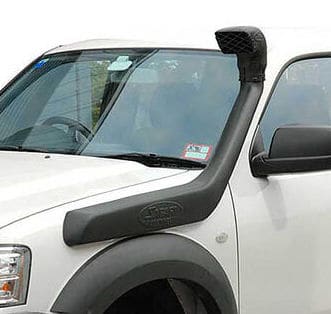 If money is no object, it seems like a no-brainer to buy the Safari Armax snorkel if it is offered for your vehicle.
For not a lot more money (when considered in the context of 4×4 gear), customers can potentially get a nice boost in performance and an increase in fuel economy.
While performance claims can sometimes be too good to be true, the simple fact is any internal combustion engine will thrive on cooler, oxygen-dense air (especially if it's turbo diesel) and the Armax prioritises airflow over cost.
Whatever choice you make, both the Safari V-Spec and Safari Armax snorkels are built to a high quality standard and backed by a lifetime warranty.
4×4 Snorkel FAQ
Does a snorkel improve performance?
Yes, if it is designed to enhance air flow. The very nature of a snorkel is to provide a 4×4 with the cleanest and coolest air possible; that big air ram is mounted high and away from where the standard air intake sucks air from (like the hot engine bay and the front of the vehicle). Cool air is more dense than hot air, which means more oxygen, which in turn means more power thanks to better engine performance, especially for a turbo diesel.
Less dust means less filter cleaning (or potentially less frequent replacement), and improved engine reliability.
How do I know which Safari snorkel is which?
Safari 4×4 Engineering have made it easy for consumers to identify which snorkel is which by simply checking the end of the product number:
HP is used for the Safari Armax range
HF is used for the V-Spec range
R is used for the widely-available R-Spec range
Can I install a snorkel by myself? Are any special tools required?
If you are brave enough to cut into the front wing of your pride and joy, you can certainly install a snorkel. Safari suggests three to four hours is required depending on the vehicle (we suggest allowing for at least half a day), but the tools required may put most people off. A reciprocating saw is probably the most unlikely to be found in your shed, but that aside most people will have a drill, pop rivet gun, and a caulking gun. Appropriate drill bits and hole saw attachments can be easily found in your local hardware store, and a reciprocating saw is the kind of tool you wish you'd bought earlier.
Safari snorkels come complete as a kit with templates to ensure all cuts can be made accurately, making the installation as easy and painless as possible. Some vehicles have easy access and straightforward layouts to work with, while some are a bit more involved and time-consuming. Safari provides the installation instructions for each vehicle on their website so you can get a good idea of what is required before purchasing.
Is stainless steel better than plastic for a snorkel?
The market would suggest no, based on the fact the vast majority of snorkels available are made from resilient polyethylene. Aesthetics may play a part in your choice to go with a stainless steel snorkel but the plastic option will be lighter, just as robust and, in the case of the V-Spec and Armax snorkels, expected to last as long as the 4WD it is fitted to, be it a Toyota HiLux or a Nissan Patrol.
The only benefit the stainless steel snorkel might have over polyethylene is UV resistance (a valid point in sunny Australia), but most of the big brands offer a minimum of five years warranty on their plastic-based products, so sun damage isn't a huge concern it seems. We'd argue in favour of the plastic options.
Can a snorkel damage my engine?
The chances of this happening are virtually zero; no changes are being made to how the engine works. All a snorkel is doing is providing a reliable source of air to the airbox. If it is poorly designed (and doesn't allow for rainwater to drain away) or is left unsealed (which makes zero sense to us) there is a potentially greater risk for foreign material being ingested into the engine. That said, the filter and air box should still prevent the worst from happening.
A high-quality Safari snorkel (or one from any other established manufacturer) should give you trouble-free driving with greater peace of mind.