It's no surprise the bulk of a 4×4 vehicle's time will be spent on the road, and while road noise may be a secondary concern for many buyers it should nonetheless be taken into consideration.
Tyres are responsible for a lot of the road noise you hear in the cabin and, while vehicle design plays some part in suppressing road noise, tyre design and construction is as important, if not more.
Below, we compare what we believe to be the quietest all-terrain tyres on the market to help you make an informed choice.
While many factors make a car's journey quiet or not, these tyres will be a step in the right direction.
RELATED: The Best All Terrain Tyres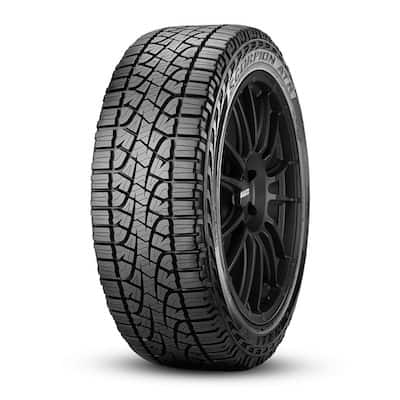 We've talked before about the Scorpion ATR and for good reason. Even though it isn't the most hardcore AT tyre, it makes up for those shortcomings by being a comfortable and quiet option for a wide range of SUVs and more serious 4x4s.
They are a popular choice for owners who tow, tour, or just for the occasional weekend off-road or on the beach.
Pirelli believes the aggressive road-biased pattern is optimised to deliver a quiet ride (along with strong braking and resistance to aquaplaning).
The traction on wet or dry bitumen is very good, and since they are offered in a wide range of sizes between 15 and 22 inches most owners are covered.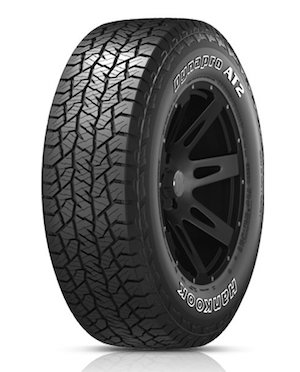 We're big fans of the Hankook Dynapro. The construction cleverly minimises road noise with features like Hankook's step block edge technology, trapping most of the sound waves in the tyre's tread before they can be dispersed and heard from within the cabin.
It's clearly more on-road than off, but it remains a strongly-featured tyre that can still hack it on gravel tracks and sandy stretches.
That said, the road performance it exhibits makes it a compelling choice for those realistic about how often they really use their 4×4 away from the tarmac.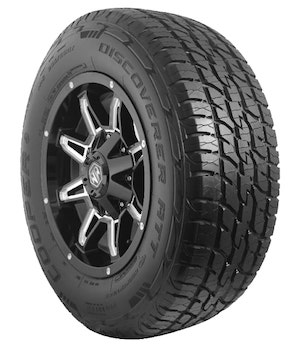 The ATT has plenty of features to keep you going off-road, but it is still very much an on-road-biased AT.
What this particular comparison is really interested in is Cooper Tires' Whisper Grooves; these little rubber bars (they look like wear indicators) between the blocks on the outer shoulder essentially create a barrier to trap sound waves and make for a quiet ride.
Given the other features present on the ATT, like light-truck (LT) construction and a tread design that assists in all facets of off-road performance (including stone ejector ledges to reduce the chances of stones sticking between tread blocks), while still being predominantly an on-road tyre, the Cooper is definitely worth shortlisting for a 4×4.
Finally, it comes with a 60,000km warranty and sizes in the range of 16 to 18 inches.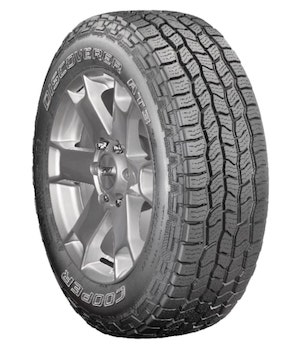 We continue to like what we see with the AT34S.
Designed to be an all-season tyre in countries that deal with cold and snowy winters, it is still a supreme choice in Australia, but especially in colder climates like the highlands and Tasmania.
It has similar features to the Discoverer ATT, like Whisper Grooves and Aqua Vac channels to reduce aquaplaning, and high tensile light truck body ply for greater damage resistance and load capacity.
Seeing as the AT34S is only available in 15″, 16″, 17, and 20″ sizes, some drivers may have to consider the similar ATT above.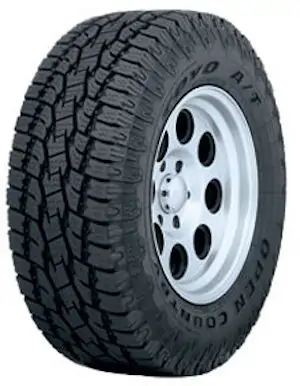 Toyo's updated Open Country A/TII is a famed touring tyre thanks to its excellent tyre wear.
In this new iteration of the tyre, there are tie bars between the tread blocks to not only improve braking performance but reduce uneven tyre wear (thus also reducing tyre noise).
It isn't the quietest all-terrain tyre here, but is well-reviewed and known for its long-distance potential, which also bodes well also for acoustic comfort.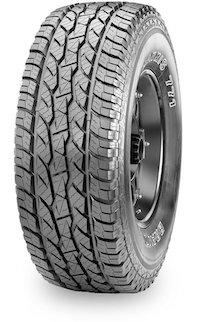 Being a genuine AT tyre, the Bravo 771 has great on-road performance but, thanks to durable construction and tread design to enhance grip, stability, and handling, it still more than holds its own in this company. It has one of the most aggressive patterns here.
The Bravo deals with tyre noise by possessing a multi-pitch tread pattern; the tread blocks (or tread pitch) are very slightly altered in both size and shape to change how the tyre strikes the road surface at any given point, thus changing the sound waves that are subsequently created.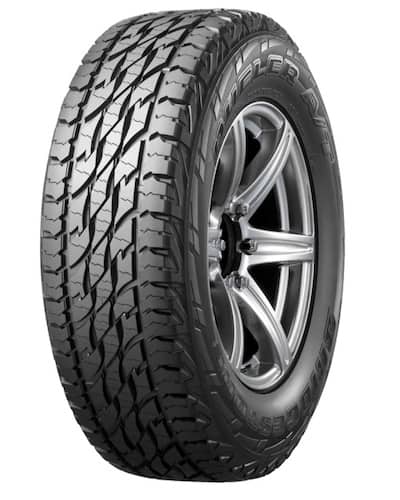 The evergreen Dueler A/T 697 from Bridgestone remains a popular choice amongst 4×4 enthusiasts with its good on-road manners and excellent durability.
Its puncture resistance is without peer and, like more and more tyres, it features a non-directional pattern which helps reduce noise.
While it may not be the quietest amongst this company, it is consistently well-reviewed by many drivers across many factors including road noise.
What makes a quiet tyre?
Tyre development has to encompass many conflicting requirements; tyre wear, comfort, and noise, and often-opposing requirements like wet and dry performance on and off the road, and steering feel and feedback.
Like anything, it's hard to be all the tyre for all the people, but modern tyres really are becoming a Jack-of-all-trades.
Tyre noise can be broken down into two parts; external factors, and the tyre itself.
External factors
Vehicle speed
Speed has the single-biggest influence on the amount of noise created, and the faster you drive, the more noise you generate.
In some parts of the world (Germany, for example) speed limits are lower in order to reduce vehicle noise (though this is a combination of tyre and power unit noise, as well as noise caused by wind resistance).
Road surface
Fresh, smooth tarmac? Comfortable, quiet ride. Old, coarse-chip country road? Noisy, unpleasant experience.
In many urban areas, resurfacing is sometimes the result of complaints from residents about vehicle noise. It's not just the surface texture, but also the surface material and its condition, that cause more or less noise.
Concrete has become popular for many major highways around Australia for its durability and strength, but it isn't the quietest surface.
Tyre features
Construction
How the tyre is made has a great influence on if it is quiet or not, as well as how it handles load and damage resistance.
Most off-road tyres are a 2-ply or 3-ply construction (made from either nylon or steel), and many also are given a light truck (LT) designation to highlight how these attributes are further enhanced.
LT tyres can generally run at lower pressures without significant sidewall deformation (a big benefit when off-road), but the trade-off with an LT is normally in being louder on the road.
Tread pattern
The tread pattern has a huge effect on what you can hear, and a pattern designed to avoid simultaneous tread block impacts means the sound waves have a tough job to be transmitted away from the tyre (which means less noise is heard by passengers).
Tread patterns are also designed around a concept called pitch sequencing; tread blocks of different shapes and sizes are arranged to ensure that a range of frequencies is transmitted to reduce that telltale tyre roar or hum.
Greater tread block stiffness can also be attributed to greater noise, so hardcore off-road tyres like mud-terrains (MT) which are designed to grip in mud and withstand punctures in gravel will generally be louder than AT or HT (highway-terrain) variants.
Void ratio
Void ratio is the amount of space between the tread blocks and the grooves; a low void ratio has more tread (found on a highway-terrain tyre) and tread blocks grouped more closely together, while a high void ratio (found on a mud-terrain tyre) has large and more prominent grooves with larger gaps between the tread blocks.
A low void ratio will normally mean a quieter tyre.
Compound
Typically, a very soft compound will be quieter than a hard compound (but there are always exceptions and if you have ever driven on a semi-slick, racing-style tyre, you'd appreciate that soft tyres can still transmit a lot of noise).
Tyre size
Wider tyres generally generate more noise than narrower tyres, simply because they have a wider footprint with which to generate noise on the road; less contact, less noise.
Tyre noise ratings
For a number of years in Europe, tyres have been sold with an information label detailing the tyre's rolling resistance (which is a direct correlation to fuel consumption and efficiency), wet braking performance, and noise levels. A tyre's label is a good place to start when trying to research how noisy it might be.
All Terrain Tyre FAQ
How do I stop road noise on my tyres?
With the tyres you already have, simply keeping tyres correctly inflated can have a positive effect on the amount of noise they create. Also, worn tyres often create more noise than fresh tyres because the shallower tread is less able to suppress any sound waves created, so replacing tyres should see a reduction in noise.
If road noise is a big issue, sound deadening in key places around your car's cabin can lead to massive improvements (focus on areas like the floor and lower parts of the doors).
What causes loud road noise from tyres?
Aside from a poor tyre design, uneven tyre wear and poor surface quality can cause loud road noise from a tyre. Less aggressive HT tyres are going to be quieter than AT or MT tyres, as well as offering greater comfort, road traction, and fuel economy. It will be harder to avoid certain roads, though, but driving slower on poor surfaces will definitely make a difference.
Do tyres get noisier as they wear?
Yes, they do, because a deep tread pattern helps to suppress the sound waves created by a rolling tyre (the lesser distance between the road and the steel belts also means more noise), Additionally, uneven wear causes more noise, and this is why frequent checking of tyre pressures and tyre rotation can help to not only increase the life of your rubber but keep them quieter for longer.