Polishing metal is as much an art as it is a science, so really a combination of the two is the way to go when it comes to achieving a result you are happy with.
The product, while very important, is probably secondary to the tools and technique used. However, the focus of this article is on two popular products that are the go-to options for a range of metal polishing tasks.
Autosol Metal Polish is a product synonymous with metalwork, and the German-made metal polish has been around for some 90 years.
California Custom was only established in 1990, but in that time has gained a strong following for its Purple Metal Polish and its ability to bring up a shine with very little effort.
While both products claim to achieve similar results, depending on the specific task and the user technique, results can vary considerably. To help you decide which product is right for you, below we cover the key similarities and differences, as well as their respective advantages and disadvantages
Key Similarities
Both Autosol Metal Polish and California Custom's Purple Metal Polish share a number of features that suit most users:
Range of metallic surfaces/materials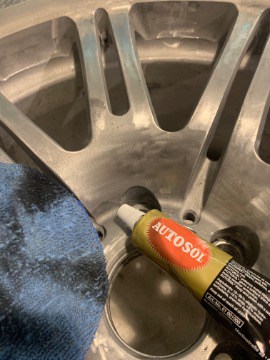 Both products can be used on most metallic surfaces, like stainless steel, polished aluminium, brass, chrome-plated, and copper.
The list of surfaces that either can be used on is extensive; auto parts like engine head covers, alloy and chrome wheels, exhausts, and around the home like balcony railings and brass fittings.
The food-safe Autosol can even be used on the kitchen sink and utensils.
Plastic restoration
Purple Metal Polish can be used on plastic, removing fine scratches and blemishes from things like plastic headlight covers and motorcycle windscreens.
Autosol, even though it isn't claimed to, can also remove light scratches on plastic surfaces (it is an abrasive paste after all).
Surfaces to avoid
It is recommended to NOT use Purple Metal Polish on gold-plated or silver-plated surfaces, and while Autosol's Metal Polish is also not recommended for use on electroplated surfaces, a specific gold and silver polish is on offer.
Additionally, any surface that has a brushed finish should not be polished; brushed aluminium or brushed stainless steel requires a lot of knowledge and patience to maintain. Autosol does sell products specifically for this purpose, though.
End result
Both products claim to leave the surface with a deep shine and some sort of protection from the elements. How long it lasts depends a lot on environmental conditions and use.
Key Differences
While on paper and in some applications they are similar, there are some major differences that are worth noting:
Rust and oxidisation removal
Autosol is designed right off the bat to remove rust and oxides from the majority of metallic surfaces and is a truly all-in-one offering.
On the other hand, it is recommended with the Purple Metal Polish to use California Custom's Aluminium Deoxidiser beforehand.
To rub or not to rub
Purple Metal Polish's claim to fame is how little elbow grease is required to achieve a glossy, brand new finish with a deep shine. Simply apply a deoxidiser on the surface until it is coated in white, then with another cloth lightly rub the metal polish onto the surface and watch as it gets black. It is stressed over and over to not overdo the force when rubbing the product on. Finish by buffing off with a clean towel.
Autosol is different; it is a heavy-duty product and designed to be used on surfaces that are exposed to extreme conditions. A lot of rubbing work can be applied to the surface that needs to be polished. Autosol even suggests a polishing machine can be used for bigger applications, like rims or bench tops, or surfaces with worse-than-normal corrosion or rust. I've personally had some success using a cordless drill with a buffing pad when applying Autosol.
Superficial or heavy damage
Autosol is the heavy-duty option, and the product from California Custom is certainly meant for superficial, lightly-corroded surfaces be it chrome, alloy, or plastic.
If dealing with a light scratch and there isn't much time to correct it, Purple Metal Polish might be just enough to fix it.
Which is Right for You?
When to choose Purple Metal Polish
For surfaces that are nearly new, or just with slight deterioration on the surface, Purple Metal Polish is ideal. In conjunction with the deoxidiser, the effort required to bring a shine is minimal and no doubt its greatest strength. It is just simply easy to use.
As an ongoing maintenance product in your car care arsenal, it is perfect for use when keeping on top of things like cleaning alloy wheels, steel or alloy engine components, chrome motorcycle parts and so on. If the surface has a fine scratch, it'll probably be removed just fine and with little fuss. That it doubles up as a plastic and chrome polish as well makes it very versatile and practical.
When to choose Autosol
If dealing with surfaces or parts that have heavy corrosion, surface pitting, rust, or oxidation, it is hard to look past the Autosol Metal Polish. Yes, it requires more work, but then it is dealing with a tougher job if you need to remove rust, surface pitting, and scratches. Note that neither product will repair anything severe as gutter rash on wheels.
I tried Autosol on an alloy wheel I bought that had been poorly painted (and after removing the paint I could see it was covering up a bad restoration attempt), but just by hand the fine scratches were removed with relative ease and the surface was certainly more lustrous. With a drill and a buffing pad, the results were better; not perfect, but with some more time there would be some more improvement.
RELATED: The Best Car Scratch Remover
Metal Polish FAQ
How do you use Purple Metal Polish?
California Custom say you just need to firstly rub on some aluminium deoxidiser first, then rub on the polish gently and in several directions until a black residue is produced. Use a fresh towel to buff the black residue off, and you're done. They provide a video that highlights how it is easily done.
Does metal polish remove oxidation?
If the product has the right ingredients, then certainly. Polish generally has abrasive components that will remove surface corrosion and oxidation. However, polishes are normally a close-to-finishing product, so if the oxidation is particularly bad, you might need a more aggressive product and technique.
Polishing is as much about managing material removal as it is about "shine and gloss". If you remove enough material, you'll ultimately remove anything like rust or corrosion. However, depending on the part, that might also mean irreparable damage, so always be cautious and start conservatively.
Does metal polish wear off?
Yes; just like paint polish, over time with use and exposure to the environment, the polish (and its protective properties) wears off. These products don't have an endless life. Frequent use of a product like Purple Metal Polish is an excellent way to maintain a high quality finish and shine on car wheels and aluminium products.
Does Autosol metal polish remove scratches?
Yes; fine scratches are certainly no match for Autosol and, with some time and effort, deeper scratches can certainly be reduced if not totally removed.