For nearly two decades now, Australians have in larger numbers been buying SUVs, 4WDs, and light commercial vehicles. And of course, tyre manufacturers like Bridgestone and Pirelli have responded by bringing to market a range of suitable tyres.
Pirelli's Scorpion ATR and Bridgestone's Dueler A/T tyres blend on-road and highway performance with useful off-road ability, as well as meeting typical Australian demands in tyre mileage and price.
RELATED: The Best All Terrain Tyres
Pirelli Scorpion ATR vs Bridgestone Dueler Comparison Table
Pirelli Scorpion ATR
Bridgestone Dueler A/T 693
Bridgestone Dueler A/T 697
Rim Size
15" – 22"
16" – 18"
15" – 18"
Dry Weather Handling (Road)
Good
Fair
Good
Wet Weather Handling (Road)
Good
Fair
Fair
Dry Weather Handling (Off-Road)
Fair
Good
Good
Wet Weather Handling (Off-Road)
Fair
Good
Fair
Wear/Useful Life
Good
Very Good
Very Good
Durability/Puncture Resistance
Good
Good
Very Good
Noise and Comfort
Very Good
Good
Good
Check Price
Tyroola
eBay
Tyroola
eBay
Tyroola
eBay
What to consider when selecting All-Terrain 4WD tyres
For most drivers, mileage and price are the highest priorities when buying tyres, but aside from that the type of conditions you drive the most should largely determine the tyres you buy.
Tyres are the most important component of your vehicle and contribute significantly to the safety of you and your passengers.
Tyre Type
Never going offroad? Then you probably don't need a tyre with Light-Truck (LT) construction nor a chunky, off-road focused option, as the sacrifices in on-road performance are often too great, not to mention they're noisy and less comfortable.
All-Terrain tyres are meant to be the Jack-of-all-trades, do-anything option, but tyre manufacturers aren't stupid and know most SUVs and 4x4s rarely if ever leave suburbia. So, the focus of most AT tyres is on-road behavior with some concessions for light-medium off-road ability.
Comfort & Durability
If you live out bush and surfaced roads are a luxury, something tough with strong puncture resistance should be a priority as you don't want to be left stranded. That said, a tyre with good acoustic characteristics and low road noise is going to make for a very pleasant driving experience, in addition to a tyre that has a pliant and imperfection-absorbing ride.
Handling
A road-biased A/T tyre will have better handling traits than a tyre more focussed on gravel and off-road duties.
Wet-weather handling can be dramatically different from dry-weather ability, so this should play a part in your decision-making too.
Tread pattern
Tread pattern differs greatly amongst tyres but they have the same thing in common; providing grip in various road and off-road conditions.
Tyres with big tread blocks and grooves will be great off-road but handling on bitumen will be reduced.
An asymmetrical, non-directional pattern aids in reducing road noise, while sipes cut into the blocks of a tyre help increase traction in wet and icy weather but adversely affect handling in hot and dry weather.
Pirelli Scorpion ATR Overview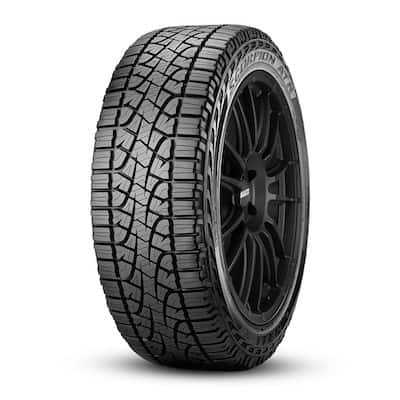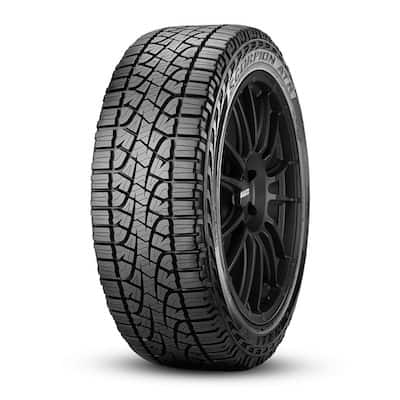 The Scorpion ATR is a highly-rated option that, despite having an on-road bias with its tread design, can also perform gravel and light-duty off-road work if needed. Its ability to resist aquaplaning is a standout feature in the segment, while the tread design also ensures low tyre noise for better driving comfort.
The Pirelli comes in a wide range of sizes, from 15" all the way through to 22", meaning it is an option for virtually every SUV or 4×4 on the market. It won't go as far off the beaten track as other tyres it competes with, but can still perform dirt and gravel work well enough when asked.
Bridgestone Dueler A/T D693 Overview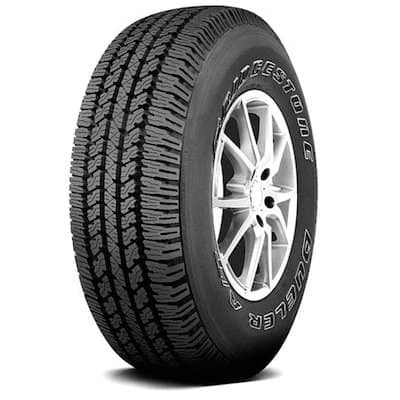 The D693 is a popular OE (original equipment) tyre, fitted as standard to vehicles like the Hilux and Patrol and, as such, a good all-rounder in most conditions.
Bridgestone has chosen to make a tyre here that is equally at home on the bitumen or on the gravel track, with its jointless cap ply contributing to a quieter and more comfortable ride, and a chunky, aggressive tread design to aid in off-road grip.
The D693 has a narrow range of available sizes, from 16" to 18", and it doesn't necessarily excel in any particular area, but that is the life of most OE tyres in this segment. That said, most drivers will be satisfied that they can go most places with little stress and discomfort.
Bridgestone Dueler A/T D697 Overview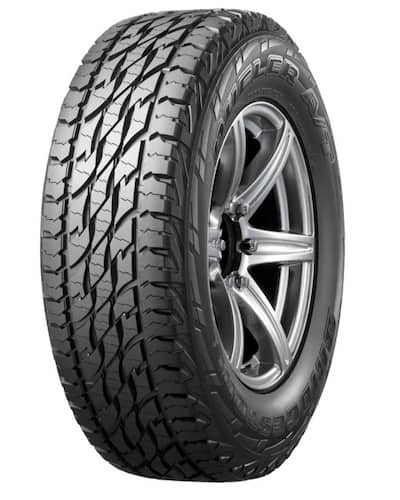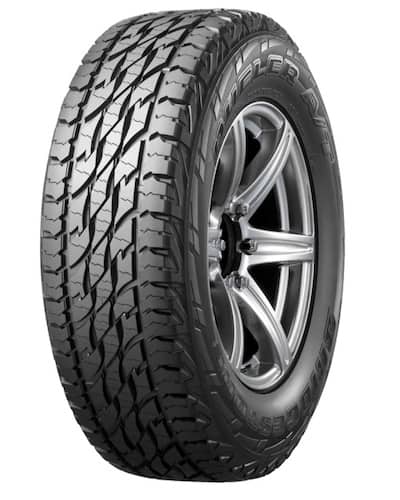 Bridgestone claims the D697 is one of the toughest A/T tyres on the market, with excellent puncture resistance and treadwear, thanks mostly to its large tread blocks and fewer shoulder sipes. Most sizes are LT construction, so that stronger tyre carcass should give peace of mind when you're miles from home.
The D697's dual-compound tread gives it great durability in hot conditions and, in sizes between 15" and 18", it covers most of if not the top-end of the SUV and 4×4 market.
Pirelli Scorpion ATR vs Bridgestone Dueler – Key Similarities
Tyre life
All three tyres claim to offer excellent mileage thanks to great treadwear characteristics, reinforced carcass design and features in their respective tread patterns.
Noise & comfort
The Bridgestones D693 and the Pirelli share similar road comfort and noise advantages, highlighting the benefits of choosing them for largely suburban and highway work.
Pirelli Scorpion ATR vs Bridgestone Dueler – Key Differences
Available sizes
The Scorpion ATR is available in a wider range of sizes, from 15" all the way through to 22"!
The Dueler range focuses more on the typical 4×4 sizes, between 15" and 18" for the D697, and an even narrower range of 16"-18" for the D693. 
Tread pattern
The 693 is the most traditional AT-style tyre here and more capable off-road than the others, thanks largely to its big, blocky tread design.
The Scorpion ATR looks more like a road-going tyre and performs as such.
The D697 falls somewhere in the middle, looking a little more sporty than its Bridgestone brother but being more off-road-ready than the ATR.
Road handling
The Scorpion ATR is the most road-biased option here, and it shows with its better handling in both wet and dry conditions. Both Duelers offer a little less outright performance on the road.
Durability
The D697 is a clear stand-out here, being arguably the most puncture-resistant tyre in the segment, along with its resistance to cutting on unsealed surfaces.
RELATED: The Best LED Light Bars
Alternatives
Pirelli Scorpion AT Plus
This is a development of the ATR, with both enhanced on- and off-road performance, though at the expense of some noise and comfort. It comes in sizes from 16" to 20" and has a tread pattern offering excellent self-cleaning ability, making it a good choice for those travelling more frequently to the bush or beach.
Cooper Tires' AT3
The AT3 range has both a road-biased, quieter 4S model and a more off-road-friendly LT alternative (there is also an AT3XLT that goes up to 20" sizes). Again, your options are linked to the types of conditions you are likely to drive, but both offer a road-biased design for better handling on the road, while still being suitably tough enough for gravel track and beach work.
RELATED: Bridgestone Dueler D697 Vs Cooper AT3
Making Your Selection
It is almost too close to call between these tyres, and it really depends on your local driving conditions. If you spend a good amount of time on gravel and unsealed roads, the AT D697 is probably the best choice given the development work Bridgestone has undertaken, but if you spend most of your time on sealed city streets and highways, the Scorpion ATR makes the most sense with its more comfortable ride and lower noise levels.
If your tyres are correctly inflated (hugely important for both safety and a tyre's integrity and performance) and rotated frequently, then tyrewear should be pleasingly high for all three, as this is a focus of both Pirelli and Bridgestone.
RELATED: Toyo Open Country AT2 vs BFG KO2