Pirelli and Michelin are renowned for making some of the best tyres on the market.
The Dragon Sport was reviewed in our performance tyre report, but since then Michelin has released the long-awaited Pilot Sport 5.
So, how does the older Pirelli compare with the new kid on the block?
| | | |
| --- | --- | --- |
| | Dragon Sport | Pilot Sport 5 |
| Release Date | 2016 | 2022 |
| Rim Size (inches) | 17-20 | 17-21 |
| Speed Rating | W and Y | Y |
| Treadwear Rating | 400 | 340 |
| Dry Handling | Good | Very good |
| Wet Handling | Very good | Very good |
| Noise & Comfort | Good | Very good |
| Tyre life | Very good | Excellent |
| Price | Check price at Tyroola | Check price at Tyroola |
Pirelli Dragon Sport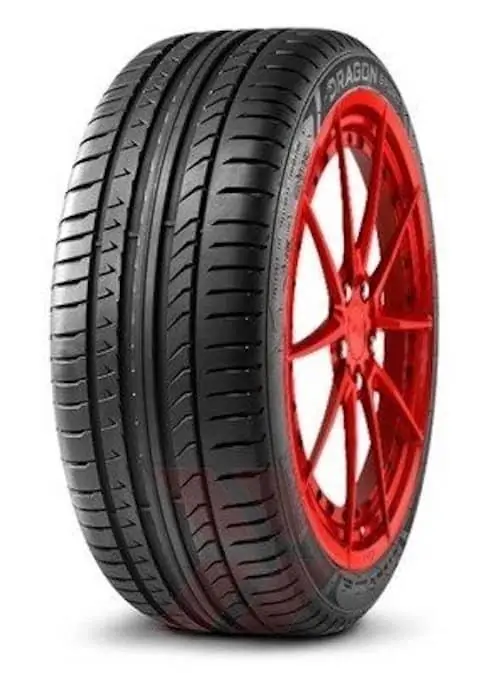 The Pirelli Dragon Sport was developed specifically for the Australasian market. It is ultimately a touring-oriented performance tyre.
Outright handling is sacrificed somewhat for comfort and more predictable handling, while also offering better mileage than its stablemate, the P-Zero.
Its silica compound enhances dry and wet grip. Four broad circumferential grooves further improve wet performance. Its development also focused on fuel saving and ride comfort.
When released, it set out to compete directly with one of the Pilot Sport 5's predecessors (the PS3). The Dragon Sport still comes in a range of 23 sizes, from 30- to 50-profile.
Michelin Pilot Sport 5
Is this the new benchmark for ultimate high performance (UHP) tyres? Based on international media, it is certainly up there near the top.
The PS5 continues on where the Michelin PS4 left off, offering sporty performance without ruining driver comfort. With very few negatives (aimed mostly at driver involvement), the PS5 is still one of the best choices for any driver with sporty driving in mind.
The PS5, like the older PS4, has a little more comfort in mind than the PS4S or older Pilot Supersport. Its unique Dual Sport Tread Design is intended to benefit drivers in both wet and dry conditions.
The PS5 isn't the ultimate performance tyre, but it is as close to a jack-of-all-trades as you can get.
The Michelin is available in a large range of sizes from 17 inches. Even cars with relatively non-sporty 50- and 55-profile sizes are catered for.
Key Similarities
Target Market
Both these tyres are aimed at drivers looking for a mix of sporty handling and comfort. Good touring ability is also desirable but not the highest priority.
Touring and sporty balance
Neither tyre here sets out to be a track-day hero. Here, ability in the wet (and dry) is just as important as how much noise they make. Both aim to be perfect for a daily driver. Outright performance is not necessarily the focus, so they strike a good balance for most drivers.
Aesthetics
This is totally subjective; both tyres have very nice, sporty-looking sidewalls with good attention to detail. The bold lettering on the Dragon Sport and the velvet-like finish on the PS5 help these tyres stand out.
Comfort
Difficult to measure, but the PS5 is arguably one of the most comfortable performance tyres out there. Likewise, the Dragon Sport is normally reviewed as being very comfortable for performance-oriented rubber.
Key Differences
Sizes
Pirelli offers 23 different tyre sizes from 17-inch to 20-inch. Michelin's PS5 is offered in over 40 sizes from 17-inch through to a single 21-inch option.
Age
There's no getting past it; six years is a lifetime in terms of tyre development. Since 2016 tyres have come a long way and the Dragon Sport is old. Michelin has learnt a lot from previous tyre designs and incorporated many new features into its 5th-generation Pilot Sport.
Treadwear rating
The Pirelli's rating of 400 is 15% more than the Michelin's 340. Theoretically, the Dragon Sport should be capable of 15% more mileage than the PS5 if driven in the same conditions.
Grip levels
The Pirelli's higher treadwear rating means it is a harder tyre. This can adversely affect outright grip. The slightly softer compound of the PS5 enhances dry grip in comparison.
Best Alternatives
Goodyear Eagle F1 Asymmetric 6
This, like the PS5, is the kind of tyre you recommend to your mate with a fast car. The latest Eagle F1 does everything expected of it; handling, driver involvement, and overall performance. It does it all.
After several previous iterations, the Asymmetric 6 has finally become one of the best UHP tyres on sale. Its wet-weather braking and handling performance are excellent but none of that comes at the sacrifice of how it handles in the dry.
Aside from questionable comfort levels in some tests, it is a firm favourite amongst reviewers and drivers. It is one of the best performance tyres available.
Hankook Ventus S1 Evo3
A hidden gem that is often overlooked for the pricier premium options. This is a very safety-oriented tyre with excellent wet and dry braking performance, and low noise as well.
It isn't renowned for being overly sporty. It is, however, a great option for those not looking for the last word in driving dynamics or feel. More touring tyre than UHP tyre.
Conclusion
This isn't really a fair contest. Even though the Pirelli Dragon Sport is still a popular tyre, it is being usurped by many newer competitors. The Michelin Pilot Sport 5 is just the latest tyre to move the goalposts even further.
The Dragon Sport drags back some ground by offering potentially better mileage. The PS5 has an unbelievable balance between handling and safety attributes plus higher limits than the Pirelli.
Lastly, the sportier Michelin is still comfortable and relatively quiet, making it great for touring. The PS5 wins this comparison easily.
Check out our complete guide to performance tyres.
Pirelli Dragon Sport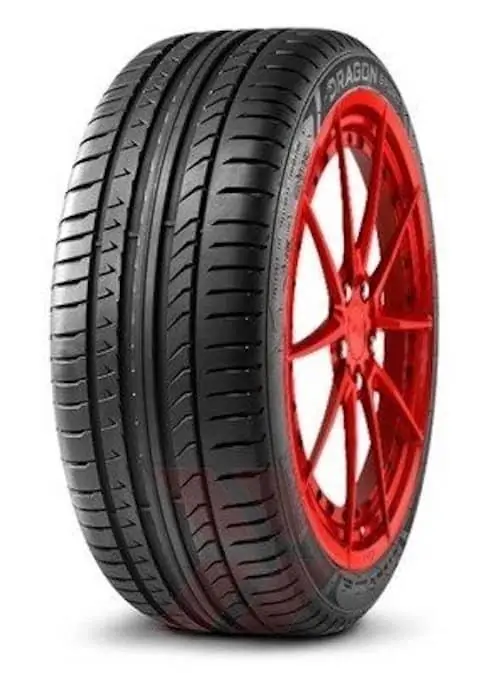 Michelin Pilot Sport 5