Ultimate Wet and Dry All-Rounder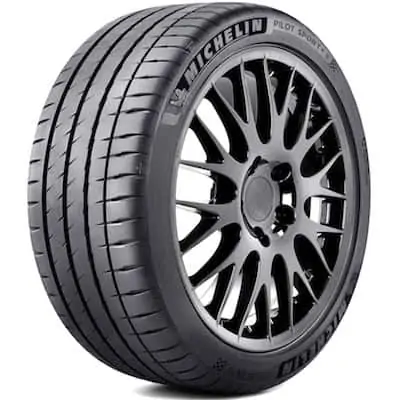 Michelin
Pilot Sport 4
Efficient High-Performance
Goodyear Eagle F1 Asymmetric 5
Performance for a Wide Range of Rim Sizes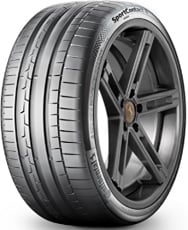 Continental PremiumContact 6
When it comes to choosing performance rubber, drivers are spoilt for choice. However, amongst a segment with many great options, there are three that stand just a little bit taller than the rest.
The Michelin Pilot Sport 4, Goodyear Eagle F1 Asymmetric 5, and Continental PremiumContact 6 are some of the best performance tyres available, and if safety and driving dynamics are your priorities, these three tyres should be at the top of your list.
The needs of a performance tyre are very different from a touring tyre, and these tyres some of the best in the business when it comes to the former.
Michelin, Continental, and Goodyear use their motorsport heritage and extensive R&D to give consumers a tyre that will handle the most-extreme conditions imaginable on the road.
In this article we've conducted a side-by-side comparison of these tyres to help you decide which is the best fit for your vehicle, driving style, and personal preferences.
Comparison Table
Michelin Pilot Sport 4
Goodyear Eagle F1 Asymmetric 5
Continental PremiumContact 6
Rim Size
16"-21"
17"-19"
15"-22"
Dry Weather Handling
9/10
8/10
8.5/10
Wet Weather Handling
8.5/10
8.5/10
8/10
Fuel Efficiency
6.5/10
7/10
7/10
Wear/Useful Life
6.5/10
6.5/10
7/10
Noise and Comfort
6/10
5.5/10
5/10
Check Price
Tyroola
eBay
Tyroola
eBay
Tyroola
eBay
What to Consider when Selecting Performance Tyres
Handling
This is the key focus for a performance tyre, with most if not all having a clear bias to outright pace in dry and wet weather. Tyre compounds and tread patterns determine how a tyre handles, and finding a compromise is a constant battle for manufacturers.
Driving Feedback
Driving at or near the limits of the tyre means the driver needs to know when those limits are being approached. When a tyre starts to slip, as in it has moved beyond its maximum grip level, ideally that moment is communicated to the driver.
A tyre devoid of any feel or feedback makes it difficult for the driver to feel comfortable when pushing on, and can make it less enjoyable to drive. Tyre performance and feedback don't necessarily go hand in hand.
Tyre Wear and Comfort
While nobody wants a tyre that hums and drones constantly, some concessions are made in the comfort department in this segment because drivers are generally more focussed on outright speed and handling.
Likewise tyre wear; while no driver wants to replace tyres every year, it would be unfair to expect the same mileage from a Pilot Sport 4 as its eco-minded sibling, the Energy XM2+.
Michelin Pilot Sport 4 Overview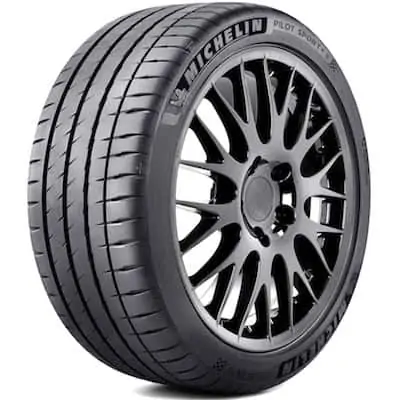 Since 2016 and the introduction of the Pilot Sport 4, virtually no tyre has been able to compete on such an all-round level as the Michelin wonderkind.
Equally capable on both wet and dry tarmac, and still five years later able to compete and perform better than newer offerings, the PS4 continues to be a benchmark to which others are compared.
Using its proprietary Dynamic Response Technology, the PS4 is reinforced with a high-density aramid and nylon-hybrid belt which is five times stronger than steel and thus reduces high-speed tyre deformation. This ensures the tyre has a greater contact patch on the road.
RELATED: Check out our comparison on the Michelin Pilot Sport 4 vs 4s vs 5.
Goodyear Eagle F1 Asymmetric 5 Overview
Replacing the Asymmetric 3 in 2019, the latest iteration of Goodyear's acclaimed F1 Asymmetric series brings with it improvements in virtually every area.
The manufacturer claims wet braking is improved some 4% over the previous generation tyre, thanks in part to a contact patch designed to extend when braking.
Reduced tread pattern flex improves both turn-in and grip levels, along with greater driving feedback. This all culminates in a tyre perfectly placed to appeal to the keen driver.
Continental PremiumContact 6 Overview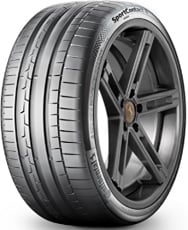 In 2017 the PremiumContact 6 replaced both the PremiumContact 5 and the SportContact 5, marking a direction whereby comfort and efficiency as well as sporty attributes like outright handling and driving feedback are brought together.
With 5% lower rolling resistance than its SportContact 5 predecessor, Continental claims the newer tyre offers 15%-improved fuel economy as well. A new silica compound makes the PremiumContact 6 a superbly-balanced tyre in both wet and dry conditions.
Key Similarities
Silica-rich Compounds
All these tyres use various amounts of silica in their construction, to aid especially in the areas of wet braking and tyre wear.
Dry and Wet Handling/Braking
No secrets here; these three tyres focus on extracting the most grip possible to maximise driving performance. There isn't much between them, and several tests consistently place this trio in the top 3 or 4 positions.
Wet or dry, subjectively and objectively, these three tyres are close to the pinnacle.
This of course means in emergency situations the tyres will stop sooner, and swerve-and-avoid faster (with more control) than tyres in other categories.
Tread pattern
All tyres here have a similar, asymmetric tread design, featuring wide circumferential grooves for fast water clearance, and large outer tread blocks for superior cornering grip.
Relatively low void ratios (the amount of open space in the tread) aids in traction; the lower the number, the more rubber on the road.
RELATED: Michelin PS5 vs Pirelli Dragon Sport
Key Differences
Available Sizes
There is a wide discrepancy in the available sizes for these tyres. The Goodyear F1 is the most limited in available sizes (25 currently) from 17" to 19", while the Michelin is offered in 84 different sizes between 16" and 21".
Continental has approximately 40 sizes, uniquely from a 15" all the way through to a 22".
Alternatives
Pirelli P Zero (PZ4)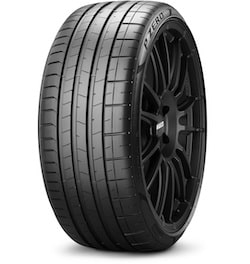 The latest P Zero takes it up to the above trio in every way, with excellent resistance to aquaplaning for secure wet driving, dry handling and braking as good as its competition, and a tyre construction designed to maximise steering response.
The tread pattern incorporates S-shaped grooves to reduce road noise. Available from 17" through to a whopping 23"!
Kumho Ecsta PS71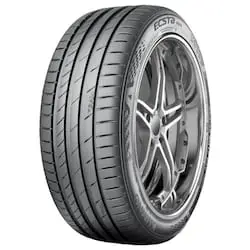 The Ecsta PS71 tows the line with the rest of the competition, using also a high-dispersion silica compound to give good wet performance and reduced wear. Available in a range of sizes between 16" and 20".
Making Your Selection
If you were to replace your old rubber with one of the tyres above (or their alternatives), the only regret you'll probably have is not having done it sooner.
If you drive a car with sporty ambitions and want to maximise its ability, there's no way around the fact that choosing a quality high-performance tyre is an investment in not just driving enjoyment, but also your and your passengers' safety.
It isn't often such a high performance tyre is available in sizes as small as 15", as that end of the market prioritises comfort, economy, and price over performance and fun. However, Continental sees potential to offer drivers such an option. Ultimately, the PremiumContact 6 will be one of the best tyres in terms of handling, braking performance and feedback for those smaller diameters.
Based on driver feedback, the Pilot Sport 4 and the Eagle F1 Asymmetric 5 are the options most likely to be bought again, but the Continental is only marginally less favoured in this regard.
If mileage and economy are strong considerations, the PremiumContact 6 might still win you over with its slightly-better wear characteristics and low rolling resistance.
There is so little between these tyres that a decision will come down to availability, budget, and possibly also brand bias.
They share such similar traits that whichever is the cheapest when the time comes to purchase in the sizes you are looking for will more than likely be the tyre to go with.
All three tyres have been showered with praise from drivers and reviewers over the years and that continues to be the case today.