It's no secret we love the outdoors and taking a 4×4 off-road, but from the factory, a vehicle isn't normally capable of handling the extreme conditions Australia has to offer.
Luckily there is a healthy aftermarket sector, but who provides the best components for your 4×4?
In this article, we compare the product range from two Australian companies; Sydney-based Tough Dog 4WD Suspension (established 1985) and one of the (relatively) new kids on the block, Brisbane's Outback Armour (established 2012).
Outback Armour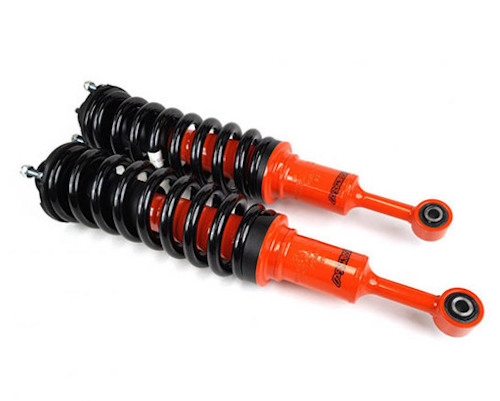 Tough Dog
Key Similarities
You'd expect a few key points to be similar between the two manufacturers, and that is definitely the case here.
Pricing
Comparing apples with apples, pricing is largely similar, with a difference of no more than a couple of hundred dollars depending on the level of specification.
Of course, the price increases depending on the amount of lift and adjustability you want or need for your 4×4, but the two manufacturers are pretty competitive here.
Wide range of choice
Thanks to the large range of accessories available for just about every 4×4 out there (bullbars, winches, canopies, drawers and so on) the need to offer very specific suspension upgrades is well covered by both manufacturers.
A lift is one thing, but load-specific suspension is another. These days it isn't just a matter of heavy-duty leaf springs and leaving it at that.
Tough Dog and Outback Armour give 4WD owners the option of not just lift and load-specific suspension kits but also between constant or adjustable damping; it just depends on how much you're willing to spend on these kits and what you really need.
Adjustable shocks
While on the topic of adjustability, both tough Dog and Outback Armour offer adjustable damping for the front and, more importantly, rear shocks.
This helps you dial in ride quality and handling depending on how your 4×4 is loaded with weight or if it's required to tow.
Online guide
Outback Armour and Tough Dog make it very easy for customers to select their ride and choose from each option (one can easily choose between which coils and shocks to go for based on the weight carried in the rear and if there's a bullbar on the front).
They have really helped take the guesswork out of buying gear for your truck.
Upper control arms
Tough Dog and Outback Armour are as well informed as any manufacturers about the cons that are the result of a big suspension lift.
As such, both companies sell upper control arms for some vehicles (though it isn't exhaustive and you're best to check what's available for your 4×4, but HiLux and Ranger owners are covered at the very least).
Recovery gear
It's all well and good going into the bush, but not getting out again makes it less than enjoyable.
Every off-road enthusiast knows the importance of a recovery kit with snatch straps and shackles that are appropriate for the heavy weight of a bogged vehicle.
Warranty
The ultimate peace of mind for most car owners is the warranty offered, be it the vehicle itself or any accessories fitted. A suspension upgrade is no different, and each brand offers similar warranties on their major components.
Outback Armour offers a 3 year/unlimited-kilometre warranty on shocks, springs, and U-bolts and shackles (some components like UCAs and strut mount bushes only have one year).
Tough Dog 4WD Suspension has a slightly better 4 year/unlimited-kilometre warranty for recreational use on most shocks, springs, and UCAs (for some components it is a 3 year warranty and is the case for commercial use).
Each company's recovery gear comes with a 3 year warranty.
Key Differences
Vehicle range
Outback Armour covers most popular 4x4s and trucks (HiLux, Ranger, Triton and so on), but Tough Dog (possibly because it's been around for a good while longer) goes much further.
Cars that were always niche or less popular like the Hyundai Terracan and Land Rovers can also be optioned with some quality aftermarket components.
Damping settings
While Tough Dog gives you 9 stages of damping on their adjustable shocks, Outback Armour more than doubles that with 20, giving vehicle owners an incredible amount of flexibility for fine-tuning their suspension.
Steering dampers
For solid-axle 4x4s a steering damper can be a godsend, but Tough Dog seems to have the wood over Outback Armour by giving customers a choice of dampers for certain models.
Tough Dog pride themselves on their R&D and the return-to-centre and adjustable dampers are two cases in point.
Upper control arms (Part 2)
Something worth noting is Outback Armour sells adjustable UCAs (giving drivers greater adjustment for wheel alignments and geometry correction), while the Tough Dog options are fixed length and position.
International customers
Obviously, customers in Australia are well catered for by both brands, but internationally Tough Dog takes home the chocolates with a dealer network across Europe, Central and South East Asia, and even as far afield as South Africa, Colombia, and Mauritius.
Outback Armour, like Tough Dog, has dealers in the Middle East, North America, and New Zealand.
Making your Selection
This isn't an easy one, and really it comes down to just a few factors; vehicle model, delivery time, and price.
Honestly, it is hard to be biased in either direction because both brands offer such a wide range of products that any vehicle can be modified and fine-tuned so well it will undoubtedly be better than standard, in terms of ride and off-road ability.
Outback Armour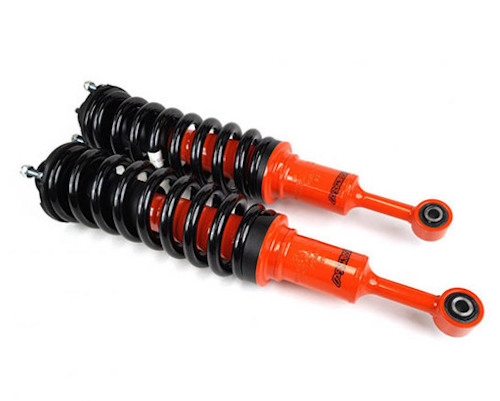 Tough Dog
Your best bet is to read some model-specific reviews for real-world experience. In our opinion, both these companies have a good understanding of the market and are very customer-focused.
4×4 Suspension FAQ
What accessories affect my suspension choice?
For the front, it is if you have a bull bar and what material it is made from, plus whether or not you run a winch. For the rear, it depends on the maximum weight you carry and if that load changes. A Goldilocks solution isn't always possible, especially for the rear, which is why adjustable shocks and ride height have become so important.
How long should suspension last?
It depends on the specific components and the use of the vehicle. Coil springs and leaves can potentially outlive the vehicle (though in extreme use it isn't impossible to snap a coil spring or a leaf shackle).
Shock absorbers are a different matter entirely. Shocks are subject to enormous loads and temperature ranges, so if you spend your holidays driving out bush on badly corrugated roads, the fluid inside the shocks gets incredibly hot and can cause the valves and seals to fail. There is no hard and fast rule as to when shocks should be replaced (or rebuilt) but if they've started to leak or show signs of corrosion, move them on.
Where are Tough Dog shocks made?
Tough Dog is a 100% Australian Family-owned business. Their products are manufactured both locally in Australia and in other locations around the world including Taiwan, USA, China, Japan, and Vietnam. All parts are batch tested in Australia before final assembly in Tough Dog's Sydney facility to be distributed in Australia and around the world.
Where are Outback Armour shocks made?
While they say their shocks are designed and engineered in Australia, they are not made in Australia.