Bull bars are one of the most popular 4×4 vehicle modifications.
They increase the protection of a vehicle's vital components, are better for off-roading, and offer a base for mounting other popular accessories.
But is a nudge bar a better choice if you spend the bulk of your time in the suburbs?
Read on to learn about the key differences and determine what the right choice is for you and your vehicle.
Bull bars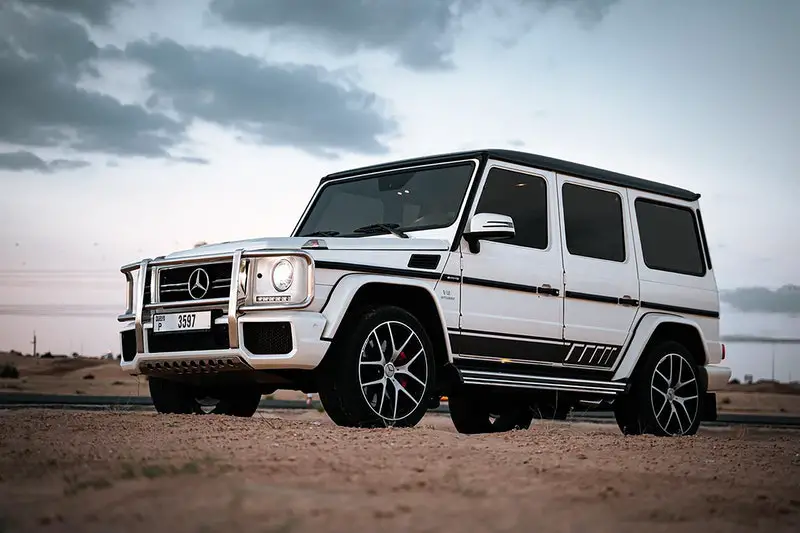 A bull bar (more appropriately termed a Vehicle Front Protection System, or VFPS) is an accessory fitted to the front of a vehicle to protect it and its passengers from impact damage.
Most people imagine the typical "triple-loop" design when they think of bull bars.
While originally made from steel, alloy bars have become more and more popular. Light and durable polyethylene has also been an option in Australia for over 25 years.
The main purpose of a bull bar is to prevent damage from animal strikes. They absorb shock and deflect small and large animals away from the vehicle. Damage to things like radiators, oil coolers, and headlights is avoided.
Early bull bars were very large and not particularly well integrated with the styling of any vehicle.
Thanks to cheaper manufacturing processes, computer-aided design (CAD), and more competition, today's bull bars are sleek, sporty, and offer much greater aesthetic appeal than ever before. They are also designed to be compatible with airbags and other sensors installed in the front of the vehicle.
Nudge bars
A nudge bar is a minimal form of vehicle front protection. They are a single loop that stands in front of the standard front bumper.
Nudge bars are more popular for small SUVs thanks to easy installation, and they still offer protection in minor accidents to the front of a vehicle.
They allow for the fitment of accessories like 4×4 driving lights, and are generally made from lightweight aluminium tubing.
Bull bar vs nudge bar: Key similarities
Materials
Steel and alloy dominate the market, but we have sung the praises of Smartbar's clever products in the past, which employ polyethylene.
Alloy and polyethylene are lighter than steel, which can help with staying under gross vehicle mass (GVM) levels. Reduced fuel consumption is also worth considering.
Mounting accessories
Bull bars and nudge bars both allow for a range of accessories to be fitted, be it a light bar or UHF antenna.
A bull bar just provides more mounting options, thanks to its size.
ADR and airbag compatible
You need to buy a bar that meets ADR regulations.
This ensures it conforms to AS4876.1-2002, along with airbag-related standards like ADR 69/00 (Full Frontal Impact Occupant Protection) and ADR 73/00 (Offset Frontal Impact Occupant Protection).
Suitable for a wide range of vehicles
Even though owners of serious 4x4s are the typical customers, SUV and conventional passenger car owners don't miss out.
If you're driving cross-country in a Commodore, Camry or other car, you have some choices as well.
… but vehicle-specific
Bull bars and nudge bars are designed for a specific vehicle.
Nudge bars may appear to be universal, but mounting brackets will differ and clearance around the front varies on each car.
Bull bar vs nudge bar: Key differences
Aesthetics
This is one of the biggest differences.
A classic triple-loop bull bar is the full width of the 4×4 and often higher than the front of the bonnet. Single-loop bars like this do exist, but they still replace the front bumper.
Nudge bars are just a single loop that mounts under, and comes up in front of, the bumper.
Otherwise, the vehicle remains largely standard.
Protection
A bull bar best prevents vehicle damage. Animal collisions are better deflected, and they can also be installed with side rails and rock sliders for maximum protection.
A nudge bar is only as wide as the radiator grille and lower than the bonnet (some high-loop options exist though).
The protection nudge bars provide is minimal and is only in front.
A steel bull bar will also withstand sharp objects like tree branches. These can pierce softer plastic bumpers.
Nudge bars offer protection for the radiator in front-end accidents, but leave the corners unprotected from other collisions. While they provide minimal protection compared to bull bars, in low impact situations they can still prevent more expensive damage.
Nudge bars fitted with lower skid plates can be a solid investment if you intend to drive on unsealed roads.
Front-end clearance
A big benefit when fitting a bull bar is the improvement in approach angle for off-road work.
Since most nudge bars leave the front bumper alone, and are installed below it, they reduce the approach angle.
Weight
This is an obvious one, but nudge bars are lighter than bull bars.
Nudge bars weigh as little as 1/4 the weight of a bull bar.
A steel bull bar is as much as 80kg (and more with a winch), and this contributes to increased fuel consumption. Worse still, that additional weight means upgrading the front suspension.
It is possible to buy steel nudge bars, but the vast majority are lightweight stainless steel or aluminium. They're installed on lighter vehicles spending more time in cities.
Winch installation and recovery points
A winch normally requires the installation of a bull bar (but options exist that do not).
Additionally, bull bars come with recovery and jacking points. A nudge bar is of no help here.
Price
Bull bars can cost upwards of $3500, plus fitting.
Nudge bars come in at well under a grand, so they are a very affordable accessory.
Pedestrian safety
It should come as no surprise that, with the exception of Smartbars (mentioned earlier), bull bars increase the risk of serious injury to pedestrians. The sharp edges of earlier bars are another concern.
Nudge bars are more pedestrian-friendly, but still pose an increased injury risk.
Conclusion
Cross-country and off-road adventurers
If you never drive in rural areas, nor take off-roading seriously, there is little need for a bull bar. They look the business, but for driving around town they make little sense.
If you drive lots of rural miles or are regularly driving between dusk and dawn (when hitting a wild animal is most likely), a bull bar might be the difference between life and death.
The extra clearance, recovery points, and flexibility of installing a winch are also strong determining factors.
City slickers
Nudge bars protect the most sensitive part of an engine (the cooling system) and can be used to mount accessories.
If you drive in more urban areas, and the risk of minor collisions with other cars is a concern, a nudge bar may give you some peace of mind.