Clearview Towing Mirrors
MSA Towing Mirrors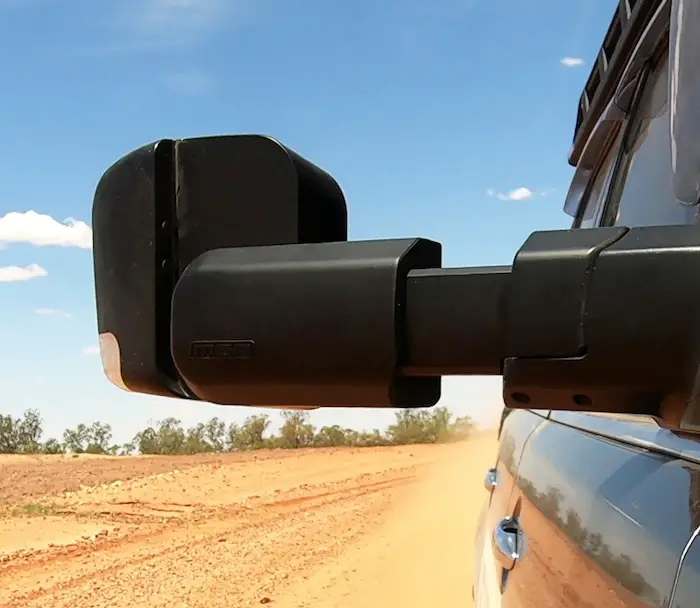 Travelling with a caravan is one of the most popular forms of holidaying in Australia.
Before the COVID-19 pandemic, caravan sales were already on an upswing, with a 26% increase over the five years up until the end of 2020.
In 2020 alone, the Caravan Industry Association of Australia reported a 4% increase in caravan registrations, despite the fact that much of Australia was in some sort of lockdown and resale trading was limited.
What it points to is a recreation sector that is ticking over nicely, and companies involved in the aftermarket want a piece of the pie.
Owners want and need a range of quality accessories that make towing a caravan safe and simple, and let's not forget about tradies towing a trailer to and from site on a daily basis.
Being able to enhance vision behind the vehicle is a key safety component every driver should consider.
In this post, we compare two popular brands manufacturing towing mirrors we think represent the pointy end of the market; MSA 4×4 and Clearview.
Key Similarities
As you'd expect, MSA 4×4 and Clearview offer products that share a number of similarities dictated by market demands and requirements.
Full-replacement wing mirrors…
Both manufacturers offer a towing mirror solution that replaces the standard mirror of the vehicle in question.
There is no need to think about mounting and removing temporary mirrors; just remove the standard mirrors, install the vehicle-specific towing mirror, and never worry about them again.
… as long as they're black (or chrome)
As Henry Ford once said about his first Model T, you can have any colour you want, as long as it's black.
But Clearview and MSA know 4×4 owners sometimes like a bit of bling and, as such, their towing mirrors can be had in either a black or flashier chrome finish.
ADR compliance
ADR compliance is assured for both the MSA 4×4 and Clearview, so installation will not void the roadworthiness or insurance of your vehicle.
Extension slide
Both towing mirrors (importantly) have an adjustable arm function to optimise mirror position while towing (or not). Both give a maximum extension of approximately 200mm.
Since they're adjustable, it also means the mirrors can be retracted to reduce the chances of any damage during everyday driving or parking.
Electric lens adjustment
The mirror lens can be adjusted via your existing mirror adjustment switch from inside the vehicle.
If that wasn't an option on your specific car, it can still be retrofitted (the lower convex lens on the Clearview is only manually adjustable).
Integrated indicators
Of the various options offered for these towing mirrors, integrated indicator lights is another that is shared.
It's beneficial because it helps surrounding traffic see your intentions sooner as a wing mirror-mounted indicator is arguably better placed for other drivers to see (these also act as puddle lights on the Next-Gen mirrors from Clearview).
Heated
Both the Clearview and MSA 4×4 extended towing mirrors can be optioned with heating elements, so converting from your standard mirrors doesn't mean losing this nice feature (if your car didn't come with heated mirrors from the factory this feature can still be wired up with some work).
Blind spot monitoring
Modern cars have had this invaluable safety feature for years and the modern day truck has also started to include it. This feature isn't lost with your new towing mirrors from either brand.
DIY installation
For most customers, they'll be able to install the mirrors themselves on their vehicles with a range of basic tools and a couple of hours of time (Clearview claim each mirror can be installed in as little as 15 minutes!).
It only gets tricky if trying to retrofit features such as electric glass adjustment and heating if your car or truck didn't come fitted with these from the factory.
Key Differences
There are a few differences between the MSA 4×4 and Clearview mirrors that are well worth keeping in mind.
Vehicle availability
Clearview has the upper hand here, offering a product for more vehicles.
While MSA 4×4 caters for most of the popular towing and 4WD trucks sold today, Clearview goes further still (covering various Land Rovers and even Ford's superseded Territory).
Construction
The MSA 4×4 mirrors are made from plastic and die-cast aluminium, while Clearview uses steel for the telescopic arms.
Mirror arrangement
Clearview Original and Next-Gen mirrors come with a second lower, wide angle convex lens to further eliminate blind spots and enhance rear vision when changing lanes and parking.
The MSA range comes with a large single mirror (like the Clearview compact option).
Extended operating options
The MSA mirror body can be rotated outwards from a vertical to a horizontal position to further extend its reach to 200mm and improve rear vision while driving with a caravan or trailer.
Due to the mirror arrangement, this isn't available on the Clearview mirrors and they can only stay in a vertical position (though they still extend to approximately 200mm as well).
Mirror arm extension infills
If you're towing trailers more often than not, you can fit some infills on the extension slide of the MSA mirrors to better integrate the mirror design when in its extended towing position.
More aesthetic than anything else, it will appease some drivers. This isn't available on the Clearview range (possibly due to its twin-arm design).
Power fold
Clearview mirrors come with the option of electric power fold, but this is also in development for MSA 4×4 items.
360-degree camera
Clearview already has this option (but only for vehicles that have a 360-degree camera from factory) but MSA 4×4 is following with this availability in the near future (along with other niceties like puddle lighting).
Mirror style options
Clearview gives its customers the choice between their original style, "Next Gen", and compact mirrors.
MSA 4×4 sticks with the same style for every vehicle.
Price
Clearview mirrors span a wider price range than MSA 4×4, due mainly to the fact they've got the smaller compact mirror up to the larger original, full bells-and-whistles options that come with power fold, heating, memory, and indicators.
If mirrors from each brand are compared with the same options, the prices are not so far apart.
Making your Selection
Clearview Towing Mirrors
MSA Towing Mirrors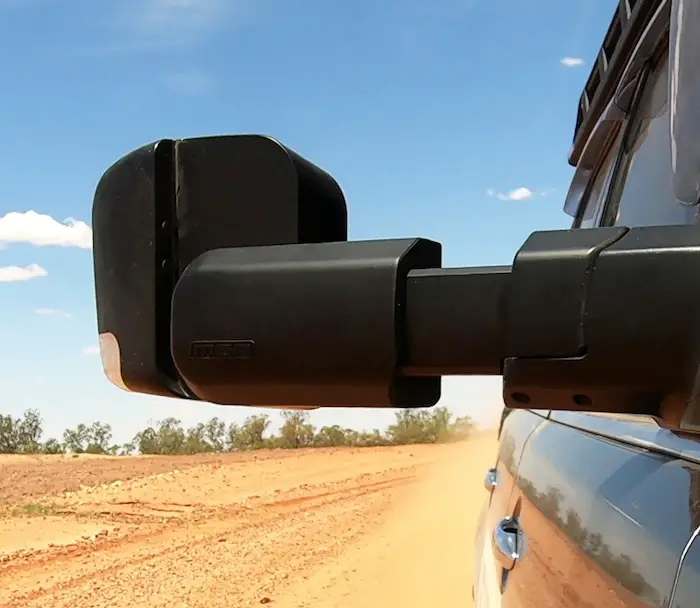 Honestly, there isn't much between the two aside from design aesthetics and some advanced features (though that gap will be eliminated soon according to MSA 4×4).
What it will probably come down to is vehicle availability, and here it is Clearview who wins out by offering a range of mirrors for more vehicles.
We think the Clearview mirrors offer a little bit more as far as full-feature replacements (at least at the moment) and, if you like the larger size (of the original and Next-Gen), we think it is an excellent choice.
If driving with a caravan isn't something you do on a regular basis, the smaller MSA 4×4 mirror might be the better option for you.
Both can be extended to different lengths and as such suit an endless range of trailers and caravans.
towing mirror FAQ
Is it illegal to tow without towing mirrors?
The short answer is yes, because it is a legal requirement to have mirrors fitted that are wider than the trailer (or caravan) being towed. Australian Design Rule 14/02 covers everything needed to know legally, but in summary, the driver is required to be able to see the entire length of the trailer or caravan, plus 20 metres further behind while driving.
When such simple yet effective options like Clearview and MSA 4×4 mirrors are available, drivers have little excuse to not buy them and stay safe while towing.
Do towing mirrors make normal driving unsafe?
Absolutely not. With an increase in mirror size (and an additional blind spot mirror in the case of some designs), towing mirrors only enhance vision behind the vehicle.