The Michelin and Bridgestone brands are two of the biggest names in the tyre industry. They are widely known for their excellent rubber donut offerings all around the world. Their tyres are often costly, but they do measure up and live up to the mark.
The Pilot Sport 3 from the former has proven to be one of the most reliable performance tyres to hit the market. The Adrenaline range, on the other hand, has been around for a while featuring three incarnations, including the RE003.
Both are great options for those looking for performance oriented tyres, and choosing between them certainly isn't easy. Below, we take an in-depth look at the two and what they have to offer.
RELATED: The Best Performance Tyres
Michelin Pilot Sport 3
The Pilot Sport 3, commonly referred to as PS3, is a high-performance tyre with good wet and dry handling. It is designed for use in passenger cars, sports vehicles and can also be fitted on large sports-oriented saloon cars. The tyre was developed as an upgrade to the Pilot Sport 2 and was recently replaced by the Pilot Sport 4.
The tyre's tread design helps it keep perfect contact with the ground when cornering and gives it a relatively shorter braking distance. It performs well in wet, just as in dry conditions, because of its high level of grip. In addition to an excellent response, the tyre produces only minimal road noise. The PS3 is also fuel-efficient and durable as well thanks to its good tread life.
Bridgestone RE003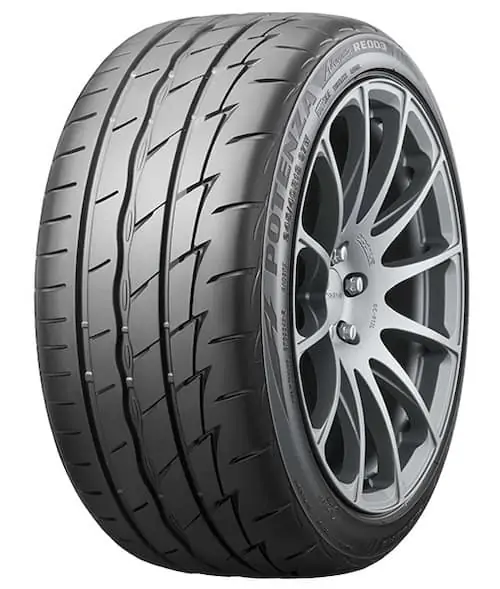 The Adrenalin RE003 is a max performance tyre that was introduced to succeed the Adrenalin RE002. It is designed for use in sports performance cars. The tyre's design includes strategically set tread grooves that contribute to good steering response. It sports a broad centre rib that improves cornering performance and aids handling.
The main groove adopts a wavy pattern for better anti-hydroplaning performance. It additionally features an advanced tread compound for good traction both in dry and wet conditions. The tyre also has lower rolling resistance and better braking in the wet compared to its predecessor. Like the PS3, it has been replaced by the next incarnation of Adrenalin – the Adrenalin RE004.
Michelin PS3 vs Bridgestone RE003 Comparison Table
| | | |
| --- | --- | --- |
|   | Michelin PS3 | Bridgestone RE003 |
| Rim size | 15" – 20" | 15" – 20" |
| Dry weather handling | 9/10 | 9/10 |
| Wet weather handling | 8.5/10 | 7.5/10 |
| Fuel efficiency | 8/10 | 8/10 |
| Wear/Useful life | 7.5/10 | 7/10 |
| Noise and Comfort | 8/10 | 7.5/10 |
| Check Price | Tyroola |  Tyroola |
Michelin PS3 vs Bridgestone RE003 – Key Similarities
Size
Both tyres are available in the same rim size range, starting at 15″ to 20″ on the upper end.
Dry handling
The PS3 and Adrenalin RE003 tyres both have good dry handling abilities. The latter features connection blocks that improve handling and traction in dry conditions. The Michelin PS3 has an excellent grip that excels in these conditions.
Sidewall
Both tyres have stiff sidewalls that play a role in the overall cornering performance. That said, between the two, the Adrenalin RE003 has much stiffer sidewalls.
Michelin PS3 vs Bridgestone RE003 – Key Differences
Wet handling
The Michelin PS3 has an excellent wet grip that translates to great performance in wet conditions. The RE003s, on the other hand, appear to have more of a dry-bias, based on user reports. This means they may fall short when cornering or switching lanes at high speeds in the wet.
Comfort
The PS3 tyre has a higher ride comfort level than the Adrenalin RE003.
Noise
The Adrenalin RE003 tyre produces more noise, unlike the PS3 that is considerably quiet. The PS3, however, loses this advantage and starts making noise after a while, which is common with many tyres.
Aquaplane performance
The PS3 tyre comfortably outshines the RE003 here because of its better aquaplaning resistance. It also gives a more composed feel.
Price
For the same size, the Pilot Sport 3 tyre is on average $15 to $30 more expensive than the Adrenalin RE003.
The Best Alternatives
Michelin Pilot Super Sport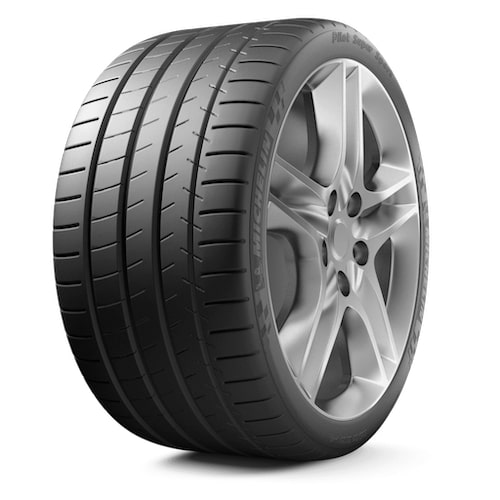 The Michelin Pilot Super Sport tyre was developed as an upgrade to the Michelin Pilot Sport PS2. This high performance tyre is designed for use in passenger cars, ticking all the right boxes from wear to comfort. The tyre boasts of superb handling and performs excellently in dry conditions. It also has a better wet grip than the RE003 and is available from size 17″ – 23″ rim diameter.
Hankook Ventus S1 Noble2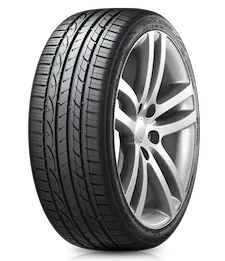 The Hankook Ventus S1 Noble2 tyre is another great performance tyre option for your passenger car. It is the perfect choice if you're looking for a blend of performance, noise, and cost. In addition to good handling, the Ventus S1 Noble 2 offers high road comfort level. It  is available from rim size 16″ to 19″, so you'll need to consider other options for a bigger diameter.
What to Consider when Selecting Performance Tyres
It is important to get the right tyres for your car from the get-go. This is because you'll likely be stuck with your choice for a while. Several factors go into selecting the ideal performance tyres, and here are the most important:
Comfort
The set of tyres you affix on your car contribute to the overall experience you get when driving. A good tyre should be able to manage the terrain you mostly drive on without causing you discomfort. It should also be quiet and give you a better feel when negotiating corners.
Handling
Performance tyres inherently come with great handling capabilities to match the vehicles they are fitted to. However, the different ranges under this category have varying wet and dry handling ratings – a factor that you should keep in mind.
Durability
Durable tyres have a longer life which means you won't have to replace them frequently. That said, performance tyres generally don't last as long as other tyres because of the driving conditions they are subjected to.
Tread pattern
Tread pattern is a key consideration for the manufacturers designing performance tyres as well as the car owner. The design employed determines the cornering performance and overall traction.
Making Your Selection
Although the Adrenalin RE003 competes well, it is hard not to see the Michelin Pilot Sport 3 as the overall winner. It matches the RE003 in many aspects and even outshines it in a few others. If you're on a budget, the RE003 is still an excellent choice; otherwise, you are set with the PS3.
Michelin Pilot Sport 3
Bridgestone RE003