I bought Scratch X 2.0 on the recommendation of a friend; I had read about it on a forum years ago (and seen some remarkable results) but never pulled the trigger. That was a mistake, as Meguiar's Scratch X 2.0 has been a revelation since being added to my car care and detailing arsenal.
Scratch X is a polishing product designed to be used by hand or with a polisher, to safely remove light blemishes and superficial marks in paintwork. It can also be used to improve paint damaged by oxidation, remove various surface and clear coat imperfections, and remove old layers of wax in preparation for renewing paint protection.
RELATED: The Best Car Scratch Remover
Who is Meguiar's Scratch Remover for?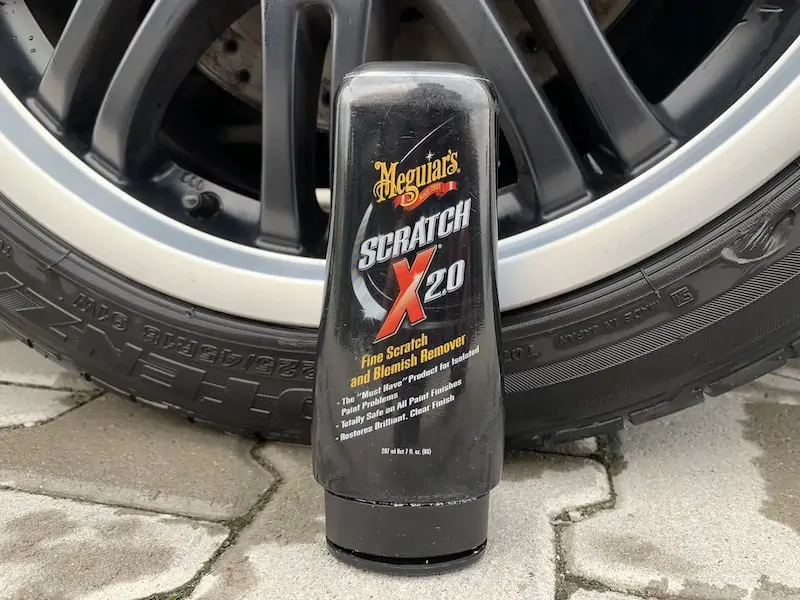 Meguiar's Scratch X 2.0 is exactly the sort of product made for people with good detailing intentions, but no overwhelming desire to equip themselves with detailing-specific tools or to devote the time to learn the art (more on this later). If you're inclined to be a little bit lazy, this product is for you.
If your car has fine scratches, some paint transfer or scuffs from other cars touch-parking, swirl marks from automatic car washes, or you just want to take a small step towards greater car care, Scratch X will lead you gently in the right direction to improving the paint's finish.
Scratch X is for use on cars with a conventional clear coat. This product should not be used on vehicles with matte and satin paints.
Use on older cars with a single-stage finish (which is simply a mix of colour and clear) is possible, but care has to be taken to not be overly aggressive, especially when using the product with a machine; it is easier to rub through the finish and colour.
Buy Scratch X 2.0 at eBay
Buy at Automotive Superstore
Getting Started with Meguiar's Scratch x 2.0
Using Scratch X and getting worthwhile, visible results is as simple as starting with a clean car and a microfibre towel.
A dual-action polisher is also useful, and results will be achieved faster and with a lot less effort. But the bulk of my use with Scratch X has been by hand and I am always supremely happy with the result.
Scratch X by Hand
Firstly, you have to wash your car. Afterwards, I'd suggest using a clay bar to remove as many impurities as possible, at least on the panels you plan on polishing with the Scratch X.
Simply apply some of the product on the towel, and gently rub it on a small area of the panel you wish to work on (or the area with the imperfection) and initially smear it over the panel.
Then start to rub away with moderate elbow grease. I prefer to work in small circles, though depending on the damage I will also work vertically and horizontally to generate more friction.
Periodically check your work by buffing off the product and seeing what difference has been made, if any.
While I think Scratch X is superb, it isn't a miracle worker (but it is as close as a product is likely to get). Deep scratches that have gone through the clear coat to the colour itself are not going to truly disappear; you may improve the overall appearance (by softening the edge of the scratch and blending it with the surrounding paintwork) but the damage will still be there.
Scratch X with a Machine
While Meguiar's suggests using a dual action polisher, perfectly acceptable (nay, astounding) results can be achieved with a power drill and various foam applicator pads.
Smear a drop of the product over the entire applicator pad and, at a low speed initially, begin to polish the surface, one small area at a time. You should see a result much faster than you would polishing by hand.
Only the deepest scratches through the clear will be potentially unaffected. A little more product, a higher speed on the drill or the polishing machine, paying caution to not overworking the area and taking too much clear off, might be enough to reduce the obviousness of the worst scratches.
I'd suggest finishing your work with a paint protection product, be it a wax or a ceramic coat, to protect it from future damage.
Features And Benefits
The "exclusive micro-abrasive system" in Meguiar's Scratch X 2.0 will remove most, if not all, minor blemishes from the surface of your vehicle; swirl marks, scuffs, paint transfer, and damage due to bird droppings.
There are only a few products on the market that have the effectiveness of Scratch X when using by hand. The ease with which one can use it- simply grab the bottle, a microfibre cloth and away you go- makes it an essential addition to your car detailing collection.
One example I used the product on was bird droppings that left what appeared like a paint run on the roof. I'd used a different product previously, to no avail, but the Scratch X managed to remove the worst of the offending "run line". It wasn't deep, but the way it had damaged the paint was significant, so I was very impressed, especially when it was by hand and not much more than moderate pressure.
Another improvement in appearance is enhanced shine; smoothing out the paint by removing swirl marks, scuffs, and other minor imperfections means the light doesn't refract and bounce off in random directions, so instead of appearing dull, it will have a very reflective, glossy finish.
Recently, I attempted to rejuvenate the hazy and yellowed headlight lenses on my vehicle; they'd gotten so bad lighting performance was reduced, and you could barely see the projector bulbs. After no more than five minutes of polishing and buffing by hand with the product, the improvement was clear (excuse the pun). I also applied a UV protector to the lenses to try and slow down their deterioration.
RELATED: The Best Headlight Restoration Kits
Alternatives
Like Meguiar's, Turtle Wax has been around a long time, and their Scratch and Swirl Remover is a similarly-performing product to Scratch X. A microfibre cloth or a foam applicator to apply the product is all you need, and with just the pressure from your hand, you can get results that will surprise you.
Safe for all surfaces, the product's various polishing agents makes it effective at restoring plastics like headlights and painted surfaces to like-new condition with a generous shine. It isn't aggressive, so deeper scratches will be a tough ask.
3M's answer to Scratch X is, at first glance, a more complicated kit to use. I haven't personally used this kit, but I have used something similar with an abrasive pad (like very fine sandpaper) and various compounds.
It can a little fiddly with such a small abrasive pad, and I believe other people will be a little intimidated with the thought of "sanding" the paint on their car. Nonetheless, the instructions are clear and the steps are easy; you are just starting with a coarse grain then getting finer. The results can be just as good or perhaps even better than Scratch X, but a little more time and patience are required (and a lot more rubbing).
Conclusion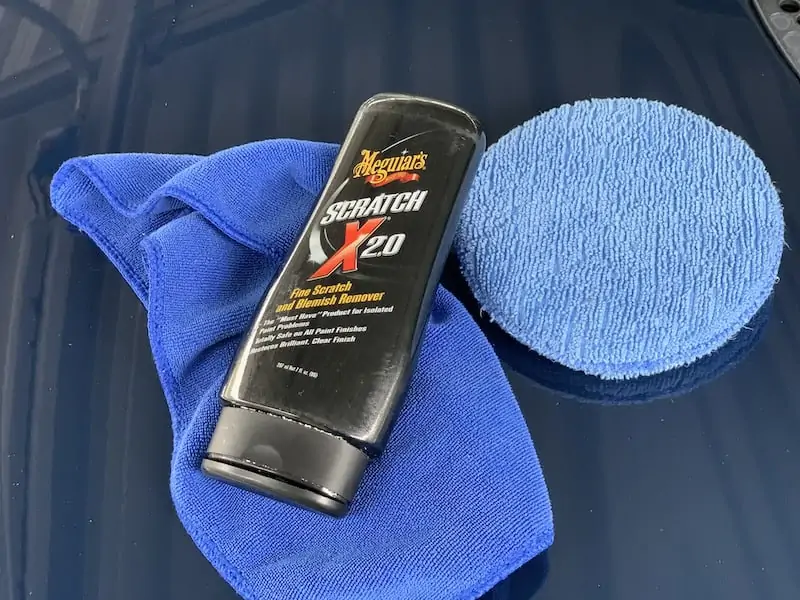 For the results that can be achieved, Scratch X 2.0 is definitely worth considering before taking your car to a detailer for a paint correction and polish, or investing in hundreds of dollars for tools and detailing products.
For the minimal outlay, given the results that can be achieved, you'd be crazy to not at least try it.
Buy at eBay
Buy at Automotive Superstore
FAQ
Will Meguiar's Polish remove scratches?
Yes. As long as the scratches aren't deeper than the clear coat, you can expect the scratches to be removed. On cars with older, single-stage paint (where the colour and clear is mixed together, pre-1990s), you just have to be careful to not be too aggressive to not rub through to the primer.
How do you use Meguiar's Scratch Remover?
You can use it by hand, with a microfibre towel or applicator, or with a drill and foam applicator or a DA polishing machine.
Why can't I use Scratch X on matte paint?
The final coat (normally clear but in this description a matte result) used on cars to give a matte finish is rough and absorbs some of the light, making it less reflective (and giving it that matt finish). If using a polishing product, you will smooth and level out the final matte coat and leave it looking glossy. Even too much pressure when washing can damage it. Matte and satin paint is best left to professionals for repair.