Karcher and Gerni are two of the most reliable and well-known brands in the world of pressure washers. Each has a very strong reputation and there isn't much that separates their products which can make choosing between them difficult.
A good pressure washer is designed to last for years so finding the right one is important. The best pressure washer for you will offer enough water pressure, will come with the necessary accessories, and will feature a high-quality motor and pump. This Gerni vs Karcher comparison will help you decide which pressure cleaner is going to be the best option for you.
RELATED: The Best Pressure Washers in Australia (Buying Guide)
Brands
Karcher is a German family-owned company that has a global reputation for producing a range of cleaning products including pressure washers and floor care products. They have been in business since 1935 and are known for their innovation. Their pressure washers vary widely in price and purpose so suit a range of budgets and applications.
Gerni is an Australian brand that specialises in pressure washers. They have been a household name for over 50 years and their products are known for being high-quality, durable, and user-friendly. They offer a range of pressure cleaners to suit both domestic and professional use.
Karcher K3 vs Gerni 5000 Pressure Washers
Below we've prepared a comparison of two of the most popular mid-range Gerni and Karcher washers, the Karcher K3 and the Gerni 5000, to help you get an idea of the key similarities and differences.
Karcher K3
Gerni 5000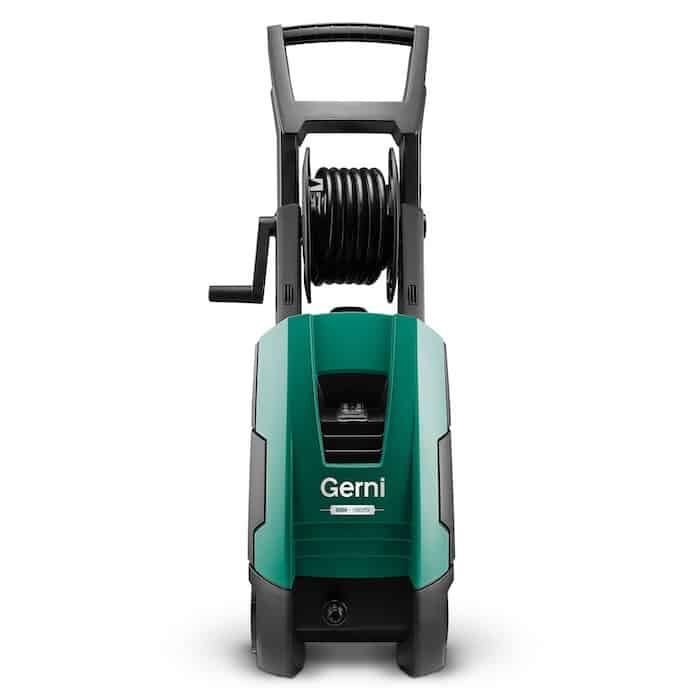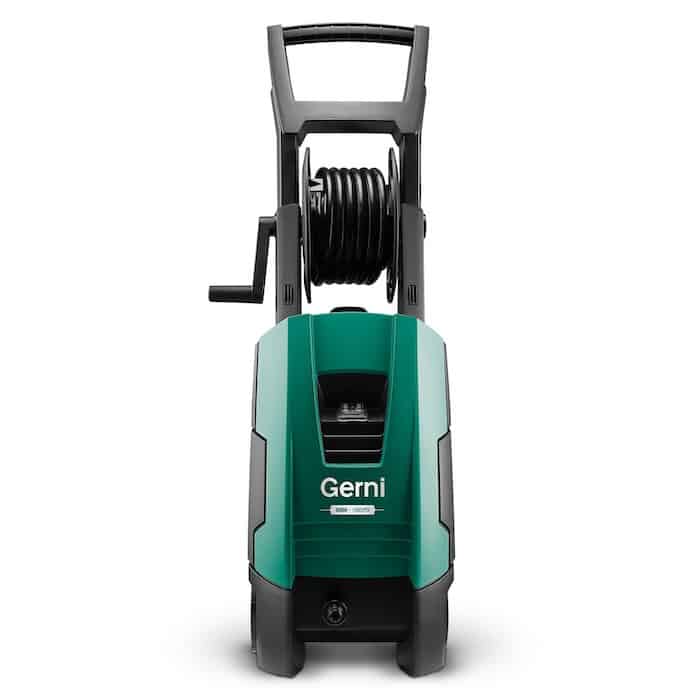 Pressure (PSI)
The water pressure of the Karcher K3 is 1950 PSI, which is slightly more than the Gerni 5000 at 1885 PSI. Both of these pressure washers offer around the same pressure and you can expect them both to pack a punch when cleaning. This level of pressure is great for cleaning a car, motorcycle, boat, bricks, gutters, fences, wood and more.
Water Flow Rating (LPM)
The water flow rating is how much water is used in one minute. It can help you determine the amount of time spent cleaning as a higher water flow rate will take less time to clean an area than at a lower rate.
The LPM is also around the same for both pressure cleaners. The Karcher offers 6.3 LPM while the Gerni has a minimum of 5.8 LPM and a maximum of 8.7 LPM, offering an average water flow rating of 7.25 LPM.
Pump Material
The Gerni 5000 comes with an aluminium pump which is durable and long-lasting. A metal pump is a top feature to look for as it is hardy and considerably more durable than plastic. Many entry level pressure washers use plastic which helps keep down the weight and cost of the product but a unit with a metal pump is the better option.
The Karcher pressure cleaner features a pump housing made from polymide (a type of plastic) and glass fibre. Karcher states this is rust and corrosion free and as strong as steel. However, some users have reported issues with the housing splitting, causing water to leak, indicating it may not be as sturdy as the aluminium found on the Gerni model.
Accessories
The K3 comes with an 8m high-pressure hose, a spray gun, water filter, and safety valve to prevent pressure overload.
It features a quick connect system to make it easy to click the hose in position. The K3 also has a clean tank solution which is a practical tank for using detergent. There's a range of accessories you can buy to go with the K3 including brushes and extension hoses but these cost extra.
The Gerni 5000 comes with a mid patio cleaner, an accessory with variable spray adjustment designed for cleaning decks and patios. It also comes with a soft bristle wash brush, a variable nozzle, 8m high-pressure hose and a foam sprayer.
With these included accessories, this is a full kit that's perfectly suited to tackle a range of cleaning tasks from cars to patios to outdoor furniture.
Size & Weight
The Karcher is the more compact of the two. It is 248mm x 279mm x 803mm and weighs 5.8kg. It also has two wheels and two handles, making it easy to manoeuvre.
The Gerni 5000 is a bit bulkier. It measures 370mm x 287mm x 878mm and weighs 8.7kg. Although the cleaner is larger and heavier, it also has wheels and a large handle to ensure the weight is manageable and the pressure cleaner can be moved around with ease. The 360 handle rotation feature makes it easy to change direction and work with the length of the hose without needing to move the unit around all the time too.
Warranty
The Karcher K3 comes with a 2 year manufacturer warranty while the Gerni one is 5 years (this is a combination of the 2 year standard and a 3 year online extension).
Other Considerations
Both of these pressure cleaners are offered at around the same price point. At the time of writing, the Karcher K3 is available at $290 and the Gerni 5000 at $299. They are both excellent entry level options that are high power and great value for money.
The Gerni features a hose reel that makes it easy to neatly store the hose when not in use. The Karcher does not have a hose reel but does offer a hook so you can wrap the hose length around it and store it off the ground.
Making Your Selection
Gerni and Karcher are both leading brands that offer high-quality, reliable pressure washer models. A unit from either one will make cleaning and working around the garden and house as easy as possible.
As you can see with this comparison, the Karcher K3 and Gerni 5000 offer similar features and are available in the same price range.
The Karcher K3 is smaller, lighter and offers slightly higher pressure than the Gerni 5000. It also has a detergent tank for using cleaning products and has wheels and handles to make it easy to move around the garden, house or patio. Users have, however, reported issues relating to the plastic pump housing. Also, the K3 doesn't come with any additional accessories as standard so if you want a brush or a different spray nozzle then it will cost extra.
The Gerni pressure cleaner is a great option for a range of cleaning jobs. The long warranty, high flow rate and range of accessories make it an excellent option. The hose reel is a great extra as it is user-friendly and offers a handy storage solution. Our choice would be the Gerni as it offers excellent value for money, is covered for 5 years and it's a complete kit so you don't need to buy anything extra to start working on a range of surfaces.
See our top-rated pressure washers in Australia: