In our extensive all-terrain tyre test, we compared 13 different 4×4 tyres. With such a large choice, there was likewise a lot to consider between tyres.
This time, we have selected two very popular options from that test to compare side-by-side.
The Falken Wildpeak AT3W and BFGoodrich T/A KO2 both compete for the same A/T tyre buyers.
There are, however, some important differences that may influence your choice when buying new 4×4 rubber.
Falken Wildpeak AT3W vs BFG KO2 Comparison Table
| | | |
| --- | --- | --- |
| | Falken Wildpeak AT3W | BFGoodrich T/A KO2 |
| Release Date | 2015 | 2014 |
| Rim size (inches) | 15-20 (37 sizes) | 15-20 (57 sizes) |
| Road Handling | Very Good | Good |
| Off-road Handling | Good | Very Good |
| Mud/Snow Performance | Good | Very Good |
| Noise & Comfort | OK/OK | Good/OK |
| Durability | Very Good | Very Good |
| Price | Check at Tyroola | Check at Tyroola |
Falken Wildpeak AT3W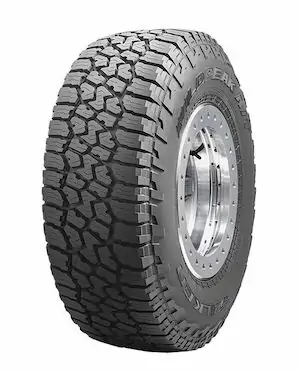 The AT3W has been around for a few years. In that time it has become a popular choice thanks to some innovative features.
Its name hints at what Falken has focussed on during its development; wear, winter, and wet performance.
Its sidewall incorporates heat diffuser technology. This enhances safety while towing and driving with reduced tyre pressures.
The tread blocks with distinctive support ramps improve stability and also prevent rocks from becoming trapped in the tyre's grooves.
BFGoodrich T/A KO2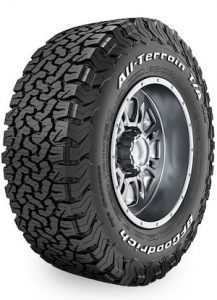 The KO2 is the second generation of BFG's all-terrain tyre. One of the biggest improvements is a 20% more resistant sidewall than the previous generation.
Its tread design maximises not only manoeuvrability in soft conditions like snow and mud but also reduces tyre wear. 
BFG's own CoreGard technology is said to offer better resistance to sidewall splits. It should also last twice as long on gravel and 15% longer on the road than the previous KO tyre.
Key Similarities
Closer to MT than HT
ATs are the Goldilocks, do-it-all choice. Both these tyres are a 50:50, on-road: off-road balance. They blend many mud-terrain elements in their overall designs, and look the part.
Chunky patterns and aggressive side biters help maintain traction on slippery, muddy tracks. If you really plan on frequent trips in the bush, these promise to be a great option.
3D sipes
Sipes are little slits in a tyre's tread blocks that improve grip in wet or icy conditions (they are a common feature of winter tyres).
The tyres here have 3D sipes to assist in keeping the treadblocks interlocked to improve tyre wear and handling.
Sidewall protection
Each tyre markets it differently, but both offer above-average sidewall protection. This reduces the risk of damage and splitting from rocks or sticks.
BFG calls it an extended shoulder shield, while Falken says it is an "aggressive upper sidewall".
Offset shoulder blocks
Shoulder block design is a core component of off-road performance, especially with low tyre pressure. Designed well enough, like on these two tyres, and they further add to the protection of the sidewall.
Snow performance
Both tyres meet the criteria for the Three Peak Mountain Snow Flake (3PMSF) symbol. This means both should handle snow and ice without much drama.
It isn't that relevant for Australians, but it is for Americans or Europeans.
Company-backed tyre wear commitment
While neither have a mileage guarantee in Australia, in the USA the BFG KO2 comes with a 50,000-mile limited warranty, and the Falken Wildpeak has a slightly higher 55,000 miles.
What use is this then in Australia? Both companies expect drivers to get many years of service out of a set of correctly-maintained tyres.
Key Differences
Available sizes and imperial options
In Australia, the BFG sells 57 different sizes, with six imperial sizes for a 15-inch rim.
Falken offers just the 37 different sizes and only the single 15-inch rim 31 imperial tyre.
BFG 6-year warranty
Even though the KO2 doesn't have a mileage commitment in Australia, it still comes with a 6-year warranty against design and material defects, and workmanship errors. There are plenty of exclusions to read through of course.
Some Falken tyres have a guarantee but unfortunately, the Wildpeak HT is the only off-road tyre that has one.
Groove depth
The Wildpeak AT3W has 18mm-deep grooves, allegedly the deepest grooves for an AT tyre. The KO2 grooves are 15mm deep, which indicates less ability to disperse water.
This likely contributes to some of the difference in the mileage guarantees mentioned above.
Speed ratings
Most KO2 tyres have a speed rating of either R (170km/h maximum speed) or S (180km/h maximum speed). It comes in only a few sizes with a Q and T rating.
The Falken Wildpeak also has select sizes limited to a 160km/h Q speed rating, but many more rated T (190km/h) and even H (210km/h).
Conclusion
If you're never planning on doing more than an Easter beach trip, these tyres aren't for you. The compromises in daily road driving are significant and not worth it. The noise and road handling are not ideal, and are poor compared to some other AT tyres.
However, if you frequently go bush bashing, there are a lot of positives to be had here. 
Your tyre size might force your hand, and the BFG KO2 covers many more sizes than the AT3W. But it's got a lot of off-road tech that makes it a tough and durable choice.
The Falken has a few aspects that make it an appealing choice, too. Its deeper grooves point to potentially more mileage and better performance in mud and on wet roads.
Not only that, it has attributes that lend itself to better on-road manners.
While the deeper grooves may contribute to more road noise, it's a trade-off many 4×4 owners can live with for better on-road performance, especially in the wet.
Falken Wildpeak AT3W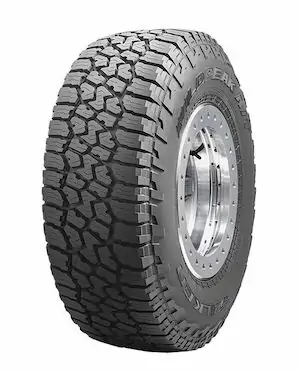 BFGoodrich T/A KO2