No tyre brand comes to mind ahead of Bridgestone at the mention of quality and reliability. The Japanese tyre brand has earned a high reputation in and out of Australia thanks to its best-in-class tyres. The brand's Potenza RE050A and S001 tyres rank highly among the best performance tyres available in the market.
Both tyres are designed to offer excellent performance, and it is no surprise many car owners struggle to decide which one to go with. In this guide, we explore their features, suitability, and overall performance to help you choose one that fits your ride.
RELATED: The Best Performance Tyres In Australia
Bridgestone S001 vs RE050A Comparison Table
| | | |
| --- | --- | --- |
| Feature | Potenza S001 | Potenza RE050A |
| Rim size | 16" – 20" | 15" – 20" |
| Dry weather handling | 9/10 | 8/10 |
| Wet weather handling | 8/10 | 7/10 |
| Fuel efficiency | 8/10 | 8/10 |
| Wear | 7/10 | 7/10 |
| Noise and Comfort | 7/10 | 6/10 |
| Check Price | Tyroola | Tyroola |
Bridgestone Potenza S001 Overview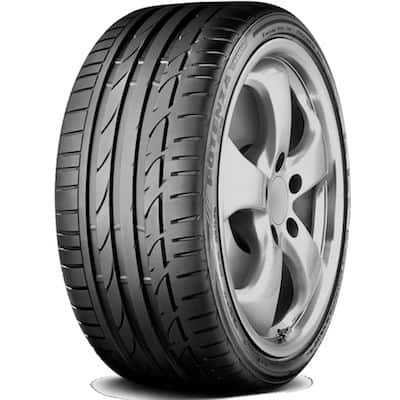 Hailed as Bridgestone's cream of the crop at the time, this tyre was launched as a replacement for the Potenza RE050A. It has three grooves and features an advanced asymmetrical tread pattern. Combined with its high angle, this tyre efficiently lowers the risk of aquaplaning.
This high performance tyre is fitted as standard in the two-seat LF-A from Japanese automaker Lexus and the 458 from Italy's luxury carmaker Ferrari. It delivers excellent performance in all conditions thanks to its good dry and wet handling. It comes with three heat controlling technologies that help lower heat production.
The tyre also offers good traction and braking derived from its slanted lugs. The Potenza S001 is available in different tread width and rim sizes – the latter starting from 16" to 20". It is generally designed for use in sports rides.
Bridgestone Potenza RE050A Overview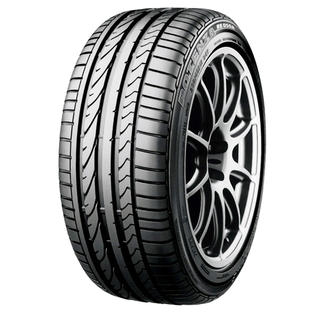 The Potenza RE050A high-performance tyre was born from a collaboration between Bridgestone and Formula 1. It is the choice of original equipment for a wide range of automakers, including Porsche and Ferrari owing to its top-notch handling.
Its jointless cap ply and high grip tread blend into an asymmetrical tread pattern to optimize performance design. The latter helps disperse water efficiently, whereas the large tread blocks and stable shoulder provides high-speed stability in dry conditions. The manufacturer adopted circumferential grooves for the tyre to give it near perfect traction in rainy conditions and aid aquaplaning resistance.
The incorporated 3D surface block technology means you get to enjoy a quiet and smooth ride when using this tyre. It is available in five different rim sizes i.e. 15" and from 17" to 20" with a minimum and maximum thread width of 175 and 305.
Bridgestone Potenza S001 and RE050A – Key Similarities
Asymmetrical tread pattern
Both tyres have an asymmetrical tread pattern that aids in water dispersion when driving in wet conditions. The Potenza S001 has an advanced asymmetrical design that also helps in dry handling.
Good grip and traction
The Potenza S001's slanted lugs and stiff high grip shoulder blocks give it excellent traction and quick braking. The circumferential groove tread design on the RE050A enables the tyre to achieve good traction as well.
Durable
Both tyres have good durability. It is, however, important to note they are performance tyres, and as such, they are not as long-lasting as other types of tyres like all-season.
High speed rating
As you'd expect with performance tyres designed for sports and luxury cars, both fall in the wider Z category. Note that the different rim sizes have varying speed ratings, with the smaller ones [15" and 16"] predominantly being V-rated and the larger 20" ones Y-rated.
Available in run flat
In certain sizes, the Potenza RE050A is available in run-flat. The Potenza S001 is also similarly manufactured in run-flat.
RELATED: Michelin Pilot Sport 3 vs. Bridgestone Adrenalin RE003
Bridgestone Potenza S001 vs. RE050A – Key Differences
Dry handling
The Potenza S001 is an upgrade to the RE050A and comes with good dry handling, which is absent in the latter.
Rim size
The Potenza RE050A is available in rim size 15" whereas the rim size for Potenza S001 starts at 16".
Heat generation                                 
The redesigned Potenza S001 features three heat controlling technologies that help lower the heat generated – a feature not present in the RE050A.
Void ratio
The Potenza S001 has a distinctively higher void ratio than the RE050A and hence better wet handling.
Alternatives
Goodyear Eagle F1 Asymmetric 3
Goodyear's Eagle F1 Asymmetric 3 max performance tyre is one of the best alternatives to both the Potenza S001 and RE050A. It features the latest technology underneath with excellent grip.
It has impressive handling in both dry and wet conditions thanks to UHP cool cushion and asymmetric bottom layers. The Eagle F1 is also durable, and its optimised tread pattern allows the treads to last longer.
Michelin Pilot Sport 4S
Michelin incorporates dynamic response technology to its ultra-high performance Sport 4S tyre range to achieve great responsiveness and handling. It has a solid centre rib running throughout the tyre coupled with four wide circumferential grooves.
The tyre has good wet and dry traction as well as superior cornering performance. The overall design of the Sport 4S also helps reduce hydroplaning. Like the Goodyear Eagle F1, this tyre is available in rim size 21" and 22" in varying thread widths.
RELATED: The Best Tyre Shine
What to consider when selecting car tyres
Tyres are crucial components in determining the performance of your vehicle. They determine how your car accelerates, brakes, and its overall fuel consumption. This is why it is important to make sure the tyre set you buy is right.
Admittedly, choosing the right set is confusing, but it doesn't have to be. Here are the key things to consider when you go shopping:
Tyre type
There are several types of tyres available in the market, each suited for different cars. Some of the common ones are all-season, all-terrain, summer, winter, and high-performance. If you drive a sports car, for instance, you'll need a high-performance set like the Potenza brand.
Comfort & durability
In addition to safety, the right tyres should guarantee you a comfortable ride as you speed or manoeuvre your way through different terrains. They should also be reasonably durable, so you don't have to change them often. This also goes a long way in helping you save money.
Handling
Choosing the best tyres for your car doesn't end at rim size and price. Tyres have different dry and wet weather handling capabilities, so check that they are responsive to the degree you would like.
Tread pattern
The tread pattern of your car tyres impacts their noise generation and water dispersion. Tyres with a symmetrical pattern feature narrow treads set in a wave-like pattern. They produce the least noise but are poor when it comes to water dispersion.
Directional tread patterns, on the other hand, offer the best rain performance as they are designed to disperse water efficiently. They also deliver a good road grip, but their design makes them noisier.
A blend of the two known as asymmetrical offers the best of both ends – noise reduction and rain performance. These are suited for sports and performance cars, but they tend to cost more.
Making your selection
Both the Potenza S001 and RE050A are good fits if you're looking for max performance tyres. The latter came first and was replaced by the S001 which has itself been replaced by the Potenza Sport. 
They both have good grip and traction, with the S001 having better dry handling and reduced heat generation. It is, therefore, a better option if you want high-performance tyres for your car.
Bridgestone Potenza S001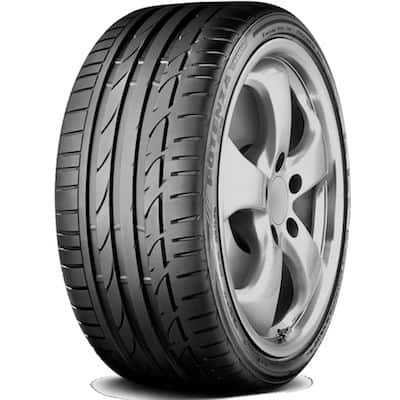 Bridgestone Potenza RE050A