For many Australians, fuel consumption and tyre wear are some of the biggest considerations when buying new rubber. Chasing lap times or the last few percentage points of grip in spirited driving simply isn't a factor, and so the market has met these demands with a segment of tyres focussing on economics, rather than outright dynamics.
Two of the most promising tyres in this segment are the Bridgestone Ecopia EP150 and the Michelin XM2+. This guide will help you select the best option to suit your needs by discussing each tyre's features, dynamic attributes and driving qualities.
Bridgestone Ecopia EP150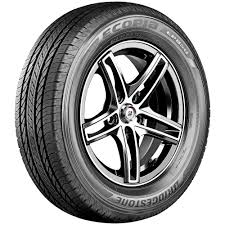 With low rolling resistance, and a design to maximise fuel economy and noise levels while maintaining excellent safety standards, Bridgestone has brought to market a product worth considering by every driver. 
The EP150 is made using a process called Nano Pro Tech, which allows rubber to bind well with silica, and this in turn allows the silica to be distributed evenly through the tyre's rubber, rather than its usual tendency to clump together unevenly. The result is improved fuel economy, wet grip, and durability.
The four circumferential grooves, plus the lateral grooves and sipes in the EP150's tread, keeps a greater contact patch on the road by effectively deflecting any surface water.
Michelin XM2+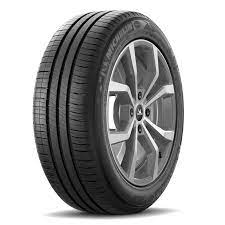 Michelin's Energy XM2+ is updated from its predecessor with an advanced full-silica compound. Improvements in wet braking and grip, along with tyre mileage said to be as much as 25% better than the competition, are big selling points.
With a side tread designed to push water out quickly, aquaplaning is significantly reduced. Michelin also claims that the XM2+ offers almost the same braking performance even at the end of its tyre life with no significant drop-off, wet or dry. This focus on achieving great performance throughout the tyre's life is testament to how important tyres are in terms of safety.
Bridgestone Ecopia EP150 vs Michelin XM2+ – Key Similarities
Tyre Compound
Both tyres here are high in silica content, which improves wet performance and tyre wear.
Most Common Sizes
These tyres share a range of sizes from 13" up to 16", in common passenger car widths and profiles.
Fuel Economy-focussed
Both tyres claim strong fuel economy figures thanks to their respective designs and low rolling resistance.
RELATED: Michelin PS 4 vs Goodyear Eagle F1 Asymmetric 5 vs Continental PremiumContact 6
Bridgestone Ecopia EP150 vs Michelin XM2+ – Key Differences
Tread design
The EP150 has a symmetric tread pattern which means the inner and outer tread blocks have the same design, so the tyres can be mounted on any side of the car and offer more tyre rotation options (which can help extend a tyre's mileage).
The tread pattern on the Energy XM2+ is an asymmetric design, so the inner and outer tread patterns differ and thus the tyre has a unique outside and inside. This asymmetric pattern gives the Michelin a wider-ranging performance envelope than the Bridgestone, which helps it perform slightly better in most conditions.
17" tyres
Only the Ecopia EP150 comes in a 17" size (a 215/55 R17), so drivers may need to look elsewhere within the Michelin range if they want to stick with the Gallic manufacturer.
Expected Mileage
The biggest difference that will concern buyers between the two is the Michelin's greater likely mileage, with many tests showing the XM2+ lasting tens of thousands of kilometres more than many competitors, with claims the Michelin will go 25% to 29% further.
Noise and Comfort
Our research has shown that the Ecopia Ep150 just edges out the Energy XM2+ for overall comfort, generally delivering a quieter driving experience and more comfortable ride.
RELATED: The Best Mazda 3 Tyres
Bridgestone Ecopia EP150 vs Michelin XM2+ Comparison Table
| | | |
| --- | --- | --- |
| | Bridgestone Ecopia EP150 | Michelin XM2+ |
| Rim Size | 13"-17" | 13"-16" |
| Dry Weather Handling | 7.5/10 | 8.5/10 |
| Wet Weather Handling | 6.5/10 | 7.5/10 |
| Fuel Efficiency | 7/10 | 8/10 |
| Wear/Useful Life | 6.5/10 | 8.5/10 |
| Noise and Comfort | 7.5/10 | 7/10 |
| Check Price | Tyroola | Tyroola |
Alternatives
Continental EcoContact 5
The Continental EcoContact 5 is available in a wider range of big sizes (14" to 18") than most other competitors in this segment, taking advantage of the trend of increasingly-larger wheels. One of the lowest rolling resistance tyres available means good fuel economy is virtually guaranteed, along with better-than-average tyre wear. In many tests it recorded some of the best wet-braking performances in the segment.
Hankook Kinergy Eco 2
Available from 13" to 16" diameters, the Kingery Eco 2 has a similar bias towards fuel economy, ride comfort, and driving safety thanks to a high silica content. It is as well-rounded (excuse the pun) as a tyre can be, with equally-sound ability in dry and wet handling, noise, comfort, fuel economy, and tyre wear. This is down to a well-thought out tread pattern taking into account water drainage thanks to lateral shoulder grooves, centre tread block stiffness and wide circumferential grooves, and noise-reducing tread block sizes.
What to Consider when Selecting Low-Resistance Car Tyres
Fuel Economy
Bridgestone and Michelin are just two manufacturers who have invested heavily in low rolling-resistance tyres. Improvements in fuel economy are a high priority, and this has in part been achieved by using rubber compounds with higher silica content.
Tyre Wear
The maximum mileage drivers get from tyres is just as important as the fuel economy for many. The type of rubber compound and the tread pattern play the biggest parts in determining how a tyre will wear, after the actual driving conditions; aggressive driving is detrimental to a tyre's longevity, obviously.
Noise and Comfort
Manufacturers trial many different tread patterns to determine how quiet or loud they are. The circumferential grooves around the tyre help reduce noise, and tread blocks of inconsistent size change the relative sound frequencies that are heard (same-sized, uniform tread blocks would otherwise create a constant drone of the same sound frequency).
Handling and Braking Performance
Tyres in this segment aren't designed around a handling focus, so at maximum attack there will be better options. However, they still need to provide safety while driving in the event of emergency maneuvers or coming to a sudden stop.
The grooves and sipes in a tread pattern are designed to clear water away so the tread blocks can remain in contact with the road. Likewise, the move towards using more silica in a tyre's compound has served to improve wet-weather braking and handling dramatically.
Making Your Selection
For the increased driving performance over its rivals, even when nearing its tread depth limit, it is hard to go past the Michelin Energy XM2+. While the Ecopia EP150 has its advantages, especially in terms of noise and comfort, overall the XM2+ meets or surpasses what the Ecopia is good at, and continues to outperform the Ecopia for the duration of its life with better braking and handling traits regardless of the weather.
Bridgestone Ecopia EP150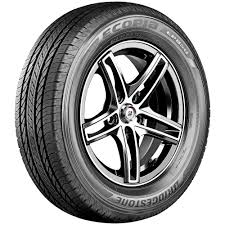 Michelin XM2+