Tyres are some of the most critical items you will ever buy for your car. More important than almost anything else, tyres are the only things actively keeping you on the road (or safely off it), and the demands bestowed upon them (temperature, weight, water, and road conditions to name a few), are significant.
4×4 and SUV owners often have more stringent and extreme requirements than drivers of passenger vehicles, and all-terrain (AT) tyres have more pressure on their shoulders than most. Expected to do and be everything, finding the tyre that is least compromised is a challenge both Cooper and Bridgestone hope to achieve with the Discoverer AT3 and the Dueler D697.
In this article we break down the key differences between these popular all terrain tyres to help you make the right choice for your vehicle.
RELATED: The Best All Terrain Tyres
Dueler D697 vs Cooper AT3 Comparison Table
| | | | | |
| --- | --- | --- | --- | --- |
| Tyre | Dueler D697 | Discoverer AT3 4S | Discoverer AT3 LT | Discoverer AT3 XLT |
| Rim Size | 15-18″ | 15-20″ | 16-18″ | 15-20″ |
| Road Handling | 7 | 8 | 7.5 | 6 |
| Off-road Handling | 6.5 | 5 | 6.5 | 7 |
| Mud/Snow Performance | 6 | 5 | 7.5 | 7.5 |
| Noise & Comfort | 6 | 8 | 6 | 6 |
| Durability | 8.5 | 6 | 7 | 8 |
| Check Price | Tyroola | eBay | eBay | eBay |
Bridgestone Dueler D697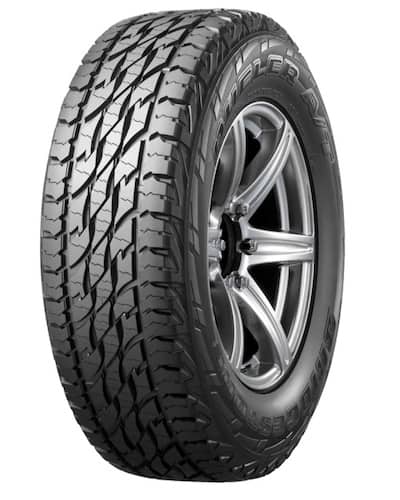 The D697 has been around for many years now, having been introduced to the market as a replacement for the evergreen D694 way back in 2012. Given the popularity of the tyres, it is no wonder they are still for sale today.
One of the D697's greatest claims is puncture resistance. Take it with a grain of salt if you wish, but the results in the promotional video below do highlight the stark difference between tyres across different brands.
Punctures are one of the major causes of damage to an off-road tyre, so it pays to have rubber that can handle such abuse.
Cut chip resistance and off-road traction is high thanks to its good-looking pattern, and its dual compound construction better manages heat extremes, a must in Australia.
Cooper Discoverer AT3
Cooper's AT3 range was released back in 2018 and comes in three distinct flavours; the SUV-biased 4S, the more rugged LT, and the more off-road-focused XLT tyre. Like most tyres these days, the compound is rich in silica content to maximise wet weather performance and tyre wear.
The 4S is meant to be the most civilised of the trio from Cooper, with better ride comfort, less noise, and more poise on the bitumen. It has Cooper's R Tech (Response Technology), which is simply more bead filler in the sidewall to improve lateral stability. The benefits obviously focus on handling and better steering response.
Every AT3 tyre incorporates what Cooper calls Gentle Whisper Groove shields in the tread between the blocks, which Cooper believe reduces tread pattern noise by up to 20%.
Both the LT and XLT feature Cooper's Super Tensile Light Truck steel belts, which are 15% stronger than high-tensile belts and thus provide better impact strength and puncture resistance.
The whole range uses a High Tensile Light Truck body ply, strengthening the sidewall and protecting it from abrasion and damage.
Key Similarities
All-terrain versatility
Both the Bridgey and the Cooper AT3 tyres are very much AT rubber, with a bias to on-road use but still maintaining off-road function as well.
With a split of 70%-80% on-road or sand, and 20%-30% off-road, they are ideal for most drivers who spend the bulk of their time on the tarmac or navigating sand and gravel roads.
Tread patterns
The AT3 and the D697 both use reasonably aggressive tread patterns to give good traction in loose and slippery surfaces. Additionally, sipes have been cut into the tread blocks to further assist traction in extreme conditions like mud and snow.
The trade-off is normally an increase in noise and fuel consumption, but most owners accept this when fitting ATs.
RELATED: The Quietest All Terrain Tyres
LT construction
Not to be completely outdone by Cooper offering a light truck option, most of the D697 sizes are also LTs.
It goes some way to explaining why the Bridgey is such a tough customer. It is also common to see LT construction for vehicles requiring a tyre with a higher load rating.
Key Differences
Available sizes
The D697 covers typical sizes in rim diameters from 15-inches to 18-inches, but it can't hope to match the versatility a model line of three can offer.
The Cooper AT3LT may have just 20-odd sizes between 16-inch and 18-inch tyres, but the 4S (20 sizes) and XLT (26 sizes) can lay claim to offering the widest range of diameter options, from 15 inches all the way through to a large 20 inches.
Mileage Warranty
Not many tyre manufacturers offer any sort of mileage warranty, and for good reason; it is incredibly difficult to judge what is fair or otherwise regarding appropriate wear and tyre life. Cooper is not your usual brand, and their 80,000km is rather unique in the market.
Cooper doesn't claim to replace your tyres for free if they don't reach 80,000km; that would be ridiculous. What they will do, however, is a pro-rata warranty, based on the shortfall of kilometres (the difference between the kilometres guaranteed and the actual kilometres achieved).
You can find out all about it here.
Range of patterns/construction
Cooper has covered most bases by giving customers the choice of three unique (albeit similar) tyres, depending on the individual needs and wants.
If you want to stick with a Bridgestone tyre but don't like what you see with the D697, you can look elsewhere in the Dueler range.
RELATED: Pirelli Scorpion ATR Vs Bridgestone Dueler AT
Alternatives
Yokohama Geolandar A/T G015 and X-AT G016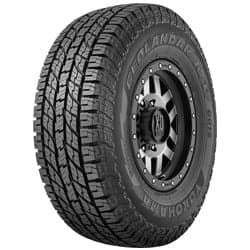 Yokohama's entrants into a congested AT tyre market tow two different lines; the relatively conservative (for an AT) G015, with its focus on fuel economy and quiet on-road comfort; and the relatively aggressive (for an AT) X-AT G016, with a tread pattern more akin to a mud-terrain (MT).
Interestingly, two different sidewall designs are made available for the X-AT; Protector (as the name suggests, for greater tyre protection) and Lug (for enhanced grip in extreme off-road conditions).
Yokohama claims long tread life is assured thanks to the silica-rich compound it is using, which also aids in wet-weather performance. Available from 15-inch to a huge 22-inch diameter, and in LT construction, there's bound to be a size ready to fit your 4WD.
Maxxis 771 Bravo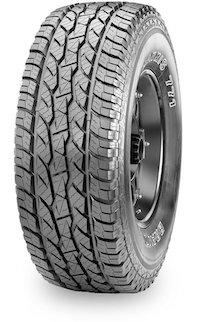 We wrote about the more aggressive Razr AT811 in our AT Tyre Guide, but the 771 Bravo is a better fit for the tyres here, with a tread design that is more suited to on-road performance and incorporating little things like a multi-pitch tread pattern design to reduce tyre drone and road noise.
It is still a nice-looking pattern like the Razr, with meaty tread blocks maximising stability and staggered shoulder lugs to better bite into loose surfaces when off-road.
With over 30 different sizes, between 15 and 20 inches, it could be added to any shortlist.
FAQ
Are Bridgestone Dueler tyres good?
The Dueler range from Bridgestone is an original equipment (OE) tyre on many cars, including the Toyota Prado and HiLux, Mazda CX-9, Holden Colorado, Mitsubishi Triton, and Nissan Patrol. The development that both tyre and vehicle manufacturers complete together leads to a product that best suits the expected use for the tyre. The reviews for the Dueler range are generally very positive, too.
How long do Bridgestone Dueler AT tyres last?
Like all tyres, it depends on their use. Lightly-laden SUVs travelling up and down the highway will see as much as 80,000km from a set of AT tyres, while a heavy 4×4 traversing the country on gravel tracks could see as little as half that. Maintaining correct tyre pressures and frequent wheel alignments will help maximise tyre life.
Is the Bridgestone Dueler HT directional?
The Dueler HT range of tyres is non-directional, which helps reduce road noise and makes tyre rotation a much easier task.
What is the difference between Cooper AT3 and AT3 4S?
The Cooper AT3 is a range of tyres, starting with the more SUV-focused 4S and progressing to more off-road-focused LT and XLT tyres. Differences in construction and tread pattern contribute to better on-road manners for the 4S, and more durability and off-road prowess for the LT and XLT rubber.
See our top-rated all-terrain tyres in Australia: