Wiper blades are an essential part of any vehicle but they experience wear and tear over time meaning they need to be replaced. Good quality wiper blades remove water from the windshield without leaving streaks or marks, they are durable, aerodynamic and fit perfectly with the make and model of your vehicle. 
The following reviews take a look at some of the best wiper blades on the market. Whether you have a car, 4WD, truck or SUV, these wiper blades will make sure your windscreen is kept clean and clear whatever the weather.
The Bosch Aerotwin Blades are aerodynamic, durable and long-lasting. The high-quality blades can fit with a wide range of vehicles making them a convenient option. 
The wiper blades come with a fully enclosed tension spring. They have a natural rubber wiping edge to efficiently clean the windscreen leaving it clear and streak-free. The all-steel frame is durable and able to withstand all weather conditions. These replacement car wiper blades from Bosch are high quality, well-designed and offer great value. 
Another excellent option from Bosch is the Evolution Windscreen Wiper Blade. These blades are high performance and able to hold their own all weather conditions. They feature unique tension springs and wind spoilers that divert the airflow to improve contact between the blade and the windshield. This improved contact results in better performance and visibility, even at high speeds. 
The Bosch Evolution Wiper Blades also have patented brackets that work effectively against snow and ice buildup. The dual steel springs are durable and make sure the blades apply uniform pressure along the blade length. The specially blended natural rubber wiping edge serves to remove all droplets of water with each wipe. 
These wiper blades are ideal for heavy rain and extreme weather. They are also easy to install thanks to their simple but secure locking connectors. 
The Rain-X Latitude Car Wiper Blades offer 2-in-1 clearing and cleaning. They not only clean the windshield they also offer water repellency thanks to the Rain-X water repellent blade coating. The blades are contoured to perfectly fit the curve of a vehicle windshield to ensure no spots are missed. 
These blades are built to last and are designed to offer universal vehicle compatibility, this means they can be used with almost any vehicle. The Rain-X Latitude Blades offer all-weather performance and leave the windscreen clean and streak-free.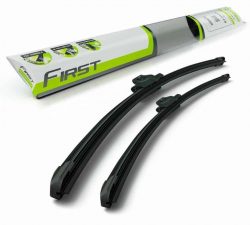 Valeo is a well known and trusted brand with a reputation for producing innovative windscreen wiper blades. The Valeo First Car Wipers don't disappoint with their flat-blade technology and airflow spoilers. These blades are OEM certified, offer one-click installation and while the wipers are not a universal fit they can be bought with additional components so the wiper fits various vehicle makes and models. 
The wiper edges are durable and can handle all weather, they are made from TEC2 rubber and silicone so are built to last. As long as these blades are bought with the relevant components to fit your vehicle they are an excellent, innovative and user-friendly option. 
These Braumach OEM wipers are highly resistant, durable and effective. They are made with heat-treated steel and natural rubber to offer high performance and longevity. Thanks to the even pressure distribution the windscreen is always clean and streak-free. These wipers have been designed to produce great results in all seasons.
These are OEM direct fit wipers so it is important to choose the blades that match your vehicle's make and model. The blades are quality, produce very little noise and come with a 12-month guarantee. If you're looking for wipers that are reliable, made to fit your vehicle and provide good value for money, these Braumach blades are a great choice. 
The Bosch Icon are durable wiper blades that are good for use in hot and cold weather. This is a 2-pack bundle that comes with driver and passenger side replacement blades. Installing the wipers is simple and they offer a secure fit so hold their position well. 
The patented beam style is ideal for keeping the rain away and the FX dual rubber edges ensure the windscreen is left streak-free with excellent visibility. Bosch is known for producing high performance, long-lasting products so it may not be a surprise that these are slightly more expensive than other options. However, they are built to last and can withstand any weather thanks to their durable rubber edge.

Wipertech blades are best for anyone looking for smooth, streak-free cleaning. The blades are quiet and won't stick, shudder or stutter as they sweep across the windshield. They have aerodynamic properties, offer quiet operation and they look great too. 
These blades are durable and can handle all types of weather. These are suitable for most vehicle makes and models but not all so make sure they are suitable for your car or van before purchasing. The Wipertech blades are able to provide smooth and efficient windshield clearing. 
Wiper Blade Comparison Table
| | | | |
| --- | --- | --- | --- |
| Wiper Blade | Blade Material | Features | Check Price |
| Bosch Aerotwin | Synthetic rubber | One-piece beam design | Amazon |
| Bosch Evolution | Natural rubber | Aerodynamic, quiet | Amazon |
| Rain-X Latitude | Synthetic rubber | Water repelling coating | Amazon |
| Valeo First | Synthetic rubber | OEM supplier, easy install | eBay |
| Braumach | Natural rubber | 12-month guarantee | eBay |
| Bosch Icon | Natural rubber | Effective in snow & ice | Amazon |
| Wipertech | Natural rubber | Added Teflon for smooth wipe | |
Wiper Blade Buyer's Guide 
Good wiper blades are essential for every vehicle. There are a few factors and features that are worth considering before buying new wiper blades. Use this guide to make it easier for you to find the best wiper blades for your needs. 
Vehicle Make & Model 
Some wiper blades are designed to have a universal fit meaning they can be used with almost all vehicle makes and models. Others are OEM specified meaning they will only match certain makes and models. It is usually best to find wiper blades that will specifically fit the make and model of vehicle you have. 
Location 
It might sound strange but it is a good idea to think about the weather conditions in your region before you buy wiper blades. If you live in an area where it is very hot and dry then it is best to look for a wiper blade that uses a natural rubber edge as this is more durable against UV impact. If you live in an area where heavy rain, snow and ice are often experienced it is best to look for extreme weather blades. 
Value 
As wiper blades are such an integral part of a vehicle it is essential to find ones that are high quality, durable and built to last. While a low-cost model may seem like a bargain on first glance, consider the materials and quality as you want to invest in wipers that offer good value rather than wipers that are simply cheap. 
Key Features 
As you can see with the above reviews, different wiper blades offer different features. The features that are important for you comes down to personal preference. The features listed below are ones we find to be most helpful and contribute to producing the best results in cleaning and clearing the windscreen. 
Straightforward Installation – the wipers should be easy to secure in position. Make sure you buy wiper blades that are compatible with your vehicle's make and model. 
Even Pressure – the blades need to be effective and efficient in clearing water off of the windscreen. One of the best ways a blade can do this without leaving behind streaks is if it maintains even pressure with the windscreen. Some wiper blades have tension springs that help with this. 
Aerodynamic Design – when you are driving at speed you don't want your wiper blades to be vibrating, shuddering and sticking. Choose blades that have an aerodynamic design such as spoilers or a curved shape. An aerodynamic design improves wind resistance to provide better results. 
High-Quality Blade Edge – the blade edge is what is coming into contact with your windscreen. It is best if this is made from natural or synthetic rubber or silicone as these are durable and can effectively clear the windscreen.
Price – there are windscreen wiper blades available across all price points but generally you get what you pay for. Low-cost options don't last and don't produce great results. As the windscreen wipers impact how well you can see out of the windscreen we'd recommend spending a little more to buy a higher quality, more reliable product. 
Are Silicone Wiper Blades Better? 
Silicone blades are a great option in cold weather conditions. They are able to handle snow and ice and tend to be more flexible. There are some wiper blades that are made from a silicone and rubber blend which gives you the best of both worlds – versatility, flexibility and durability. 
If you live in a warmer climate you may find that natural rubber is a better wiper blade material to choose. Natural rubber is able to perform well in hot weather and can last a long time, even under high UV exposure. 
Rubber wiper blades are able to withstand changes in temperature without deteriorating too so if you are going to be driving in a range of weather conditions rubber is a great material. In fluctuating weather conditions, go for rubber or a rubber and silicone blend.