A windscreen chip can quickly worsen if you do not repair it as soon as possible. A windshield repair kit is an inexpensive way to fix the problem at home but its important to choose quality over price. To help you in your search we have analysed the most popular windscreen repair kits on the market and assessed them against a range of important criteria so you can find the best product to help with your windshield repair.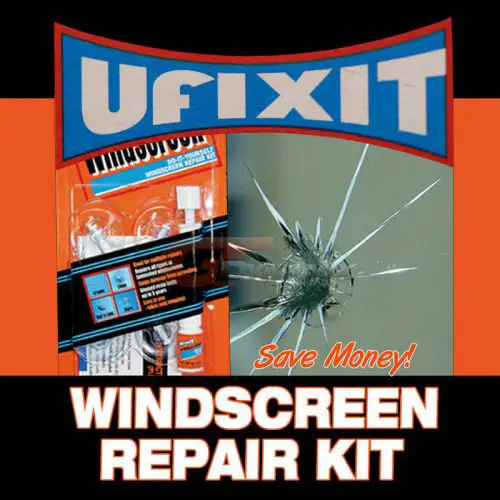 This DIY windshield repair kit is effective for small chips up to 30mm in diameter and small cracks up to 100mm in length.
The kit comes with a razor blade, an applicator base, a resin chamber, a pressure driver and curing strips. This windshield repair kit has everything you need to carry out a high-quality repair at home. It has the right tools to remove the air from the damage and fill it with high-quality resin.
This kit also comes with enough resin to repair 1-5 chips depending on the size of the damage. The applicator is also reusable. As well as this, the resin will last up to 5 years after opening. This makes Ufixit an excellent value for money option.
Overall, the instructions are easy to understand and it takes around 20 minutes to fix a chip or crack. This is a fantastic windshield repair kit for anyone to use.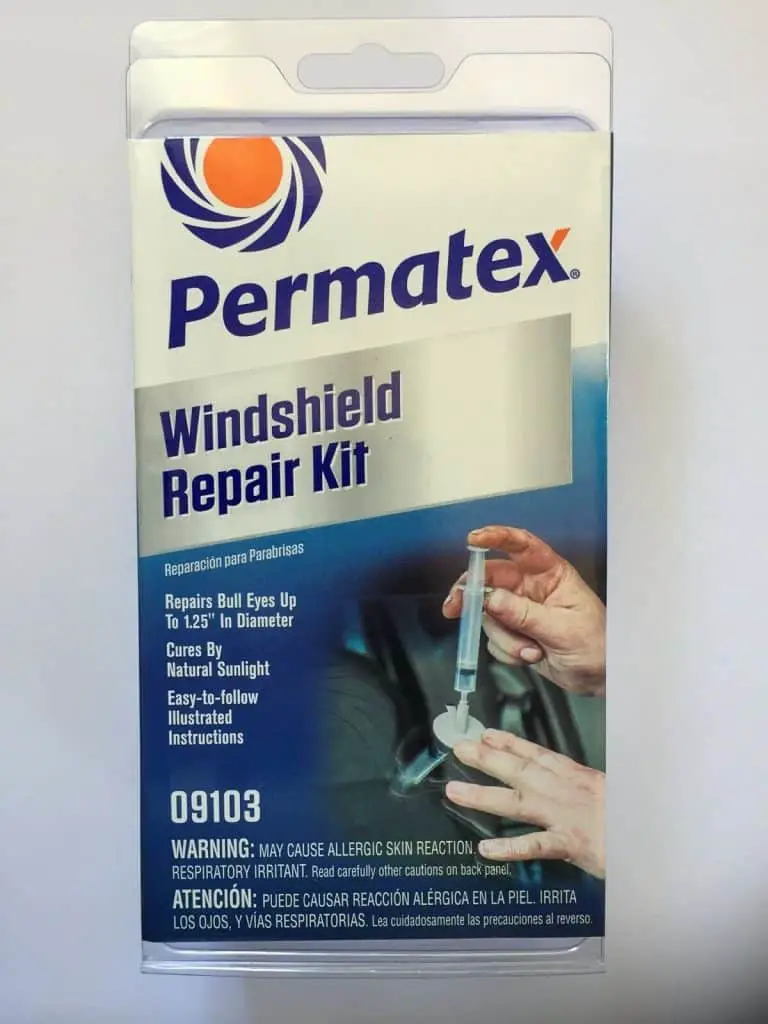 This windshield repair kit from Permatex is specifically designed to repair bullseye and star damage. It can be used on damage up to 31mm in diameter. The DIY kit comes with a repair syringe and plunger.
Many windshield repair kits come with enough product for multiple repairs but this one tube is enough for one repair only. The solution takes a few minutes to apply and cures in sunlight.
For ease of use, the instructions come with photos and there is a video demo available online too. There is also no mixing required as the solution is ready to use straight from the pack. However, this repair process is multi-step and isn't as straightforward as other options so we recommend taking the time to read the instructions fully before getting started.
The benefit of the extra time and effort that goes into applying Permatex is that it creates a barely visible and completely air-tight repair. This is a great windshield repair kit for professional results.
The RainX Windshield Repair kit is simple to use and can be used for multiple repairs. It uses an advanced resin formula that only cures when exposed to UV light. The formula can be used to repair all types of laminated windshields.
This repair kit comes with a 1g bottle of resin repair, a repair device, curing strips, a sleeved razor blade and an instruction sheet. It is best to use this glass repair when the damage is fresh.
The resin formula can be applied in minutes and is designed to stop chips and cracks from spreading. After applying the resin only needs 5-10 minutes in direct sunlight before the strips can be removed and excess resin can be scraped away using the razor blade.
This windshield repair kit works by removing air from the break and filling it with resin making it stronger and less likely to break further. It can be used on round damage up to 25.4mm (1 inch) and cracks up to 304mm (12 inches).
This windshield repair kit is low cost, practical and easy to use.
It comes with 1 bottle of repair resin, 1 cutter, and 5 cure strips. The kit is straightforward to use and is recommended for application between 15 – 32 degrees C.
The repair works for star, bullseye and half-moon chips as well as cracks up to 200mm long.
Windscreen Chip Repair Kit Comparison Table
| | | | | | | | |
| --- | --- | --- | --- | --- | --- | --- | --- |
| Windscreen Chip Repair | Our Verdict | Check Price | Chip Diameter | Crack Length | Multiple Repairs? | Applicator? | Curing Time |
| Ufixit | Best Overall | eBay, Motoquipe | >30mm | >100mm | Yes | Yes | 5 minutes |
| Permatex | For Professional Results | Kogan, eBay | >31mm | N/A | No | Yes | 20 minutes |
| RainX | User-Friendly | Amazon | >25.4mm | >304mm | Yes | Yes | 5-10 minutes |
| Kelebin | Budget Option | Amazon | Not Listed | >200mm | No | No | Not Listed |
Windscreen Chip Repair Kit Buying Guide
A DIY windshield repair kit is a low-cost, simple alternative to getting your windscreen professionally repaired. However, a repair kit is only worthwhile if it is high quality and comes with all of the tools you need. When comparing windshield repair kits, consider the following factors.
Included Tools
Without the right tools, there is no point in trying to repair your windshield at home. Each kit should come with a resin syringe, an applicator and curing strips. Many come with a razor so you can scrape away excess resin after it has cured. You may also receive wipes for cleaning the area of dirt and debris.
Resin Quality
The base of any auto glass repair kit is the resin. This needs to be of high quality. A high-quality resin is thick and dries clear. Lower quality will often have a yellow tint and you will be able to see where the repair is.
Amount
Some windshield repair kits come with enough resin that they can be used more than once while others have enough for one use. If the windshield damage looks like it would need multiple repair kits then you should get the glass replaced or the chip/ crack fixed professionally.
Temperature Sensitivity
Each windshield repair kit will list the best temperature range for using their product. This is very important as the drops of resin need to properly cure. Most resin will cure in direct sunlight but it's important to follow the instructions to prevent further damage to the windshield.
Types of Laminated Windshields
Standard laminated windshield – this is two sheets of glass with a sheet of polyvinyl butyral (PVB) in between. These materials are fused using high heat to create a glass that will not shatter in the event of a collision.
Solar control glass – this glass has a high iron content to absorb and reduce solar energy getting in the car.
Infrared-cut windshield – this has infrared absorbent material within the plastic interlayer. This helps to reduce heat by absorbing infrared rays.
PET windshield – this is a laminated windshield made with an optically clear polyester (PET) substrate.
Tempered windshield– Most door windows and rear windows are made from tempered glass rather than laminated glass. Tempered is single-ply and is heated and rapidly cooled. This process means that the glass will break into pebble-like pieces that are not sharp.
Windshield repair kits can be used to fix small chips and cracks in laminated glass but tempered glass (side/ rear windows) need to be replaced.
Repair Vs Replacement
If you're not sure whether the chip or crack can be repaired with a windshield repair kit consider these factors:
Age of the damage – a new chip/ crack is easier to repair than older damage. The longer the damage is there the more dirt and moisture gets inside and the more chance of the damage spreading. If the chip or crack happened a while ago then your best bet is to replace the windscreen.
Size – one of the key factors that are listed on each windshield repair kit is the size of the damage it can repair. This is often around 25 -30mm/ one inch in diameter for a chip and around 100 – 300mm in length for a crack. This is because DIY auto glass repair is kind of like a plaster for your car, it can help heal small areas of damage but is not going to be enough for a large chip/ crack.
Location – if the issue is on the driver's side of the windshield then it's best to get it replaced as any damage can affect the driver's view. If the damage is on the passenger side then it can probably be repaired at home. Another consideration is how close to the edge the crack is. If it is near an edge or a corner then the crack is more difficult to repair.
Legalities – when it comes to windshield damage there are legal factors to consider too. There are restrictions on the types of windshield damage that can be repaired. This usually relates to the driver's view and is worth double-checking before you try to fix damage that actually calls for a glass replacement.
Top Brands
It's a good idea to choose a trusted brand when buying a windshield repair kit. These have been tried and tested and contain high-quality resin.
Rain-X
Rain-X is a leading brand that has been manufacturing aftermarket glass care products for over 40 years. Their product range includes windshield repair kits, headlight restoration kits, wiper blades and more.
Permatex
Permatex is a trusted brand that has been creating maintenance products for Automotives since 1909. They offer everything from repair kits to cleaners and lubricants.
Windscreen Chip Repair FAQ
Can you drive with a chipped windscreen?
You can if the chip is small and on the passenger side but it is best to fix it as soon as possible. You should never drive with large cracks and chips on your windscreen, it may even be illegal depending on the location and severity of the damage.
How much does it cost to repair a chipped windscreen?
A DIY repair using a windshield repair kit will cost between $20 – $40, a professional repair will cost around $100 and a windscreen replacement can cost between $500 – $1500.
Can I repair a chipped windscreen myself?
Yes, it is simple to repair a small chip using a high-quality windshield repair kit.
Are windscreen repair kits any good?
For small surface damage, a windscreen repair kit works perfectly. The repair will be long lasting providing you have accurately assessed the situation, selected a good repair kit and followed the instructions carefully.