A quality underseat subwoofer offers a full sound experience without requiring tricky, technical installation or taking up much space inside the vehicle. These compact systems are a perfect way to improve your car's audio system and make the most of the available space.
There are lots of subwoofers on the market, some are higher quality, more convenient and easier to use than others. In this article we take a look at the best underseat subwoofers available so you can enjoy deeper bass in no time.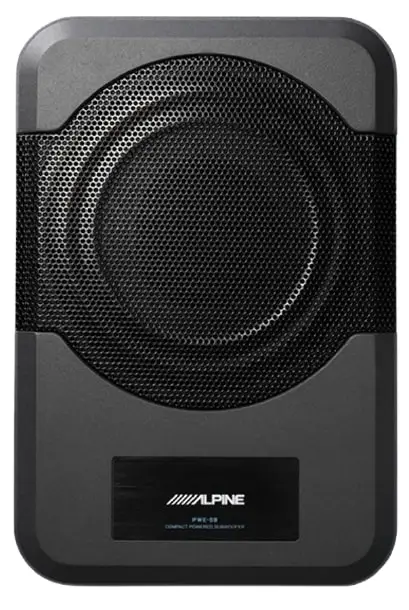 This compact 8″ subwoofer fits comfortably under or behind a seat in virtually any vehicle. It is a stylish option with a built-in 120W amplifier and it delivers deep accurate bass.
The cast metal construction makes it a durable and long-lasting model. The side panel provides easy access to RCA and auto-sensing speaker inputs for fast installation. The panel also provides access to the phase, gain, LP crossover and remote sub level controls. For added convenience, there is an input for a wired remote so you can adjust the bass level from the driver's seat.
This Subwoofer has a frequency response of 25-152Hz, a variable low pass crossover of 80-200 Hz and a variable phase control of 0-180 degrees. This means you can set each variable to suit your preferences. Everything you need to install the Alpine PWE-S8 Subwoofer is included in the pack.
The Blaupunkt 200W Subwoofer is ideal if you are looking for a space-saving way to bring some bass to your music system. It offers great value for money producing excellent sound and rich bass.
At 10 inch wide and 2.5 inch tall this compact unit can fit under the car seat out of the way. Despite its small size, the subwoofer has a built-in MOSFET monaural amplifier. It offers 120W output (200W max) and has RCA level inputs.
This unit has built-in variable crossover control from 50-150Hz and a low pass filter so you can regulate the bass being produced. The aluminium diecast heatsink offers thermal protection, helping to keep the subwoofer cool to ensure it continues to run smoothly even during extended periods of use.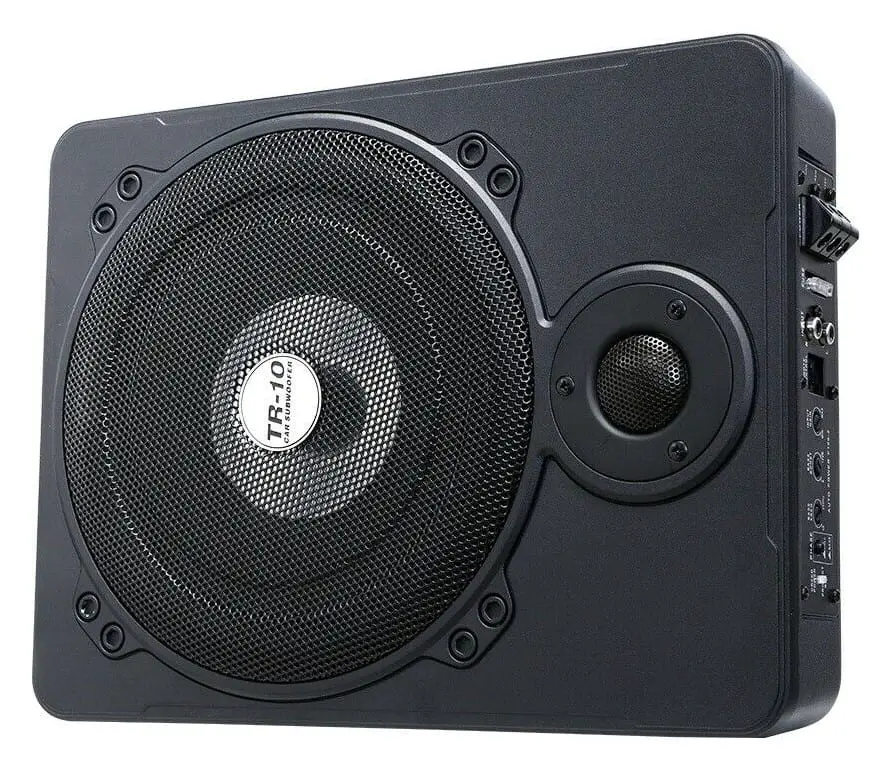 This underseat subwoofer features two-way configuration to drive low-frequency sound and a tweeter to drive high-frequency sound. The combination of subwoofer and tweeter provides full-range sound quality with excellent results.
You can customise the sound with the controls. Adjustment options include mode selection, bass boost and a variable low pass filter. The 10 inch subwoofer also has a built-in amplifier and the aluminium enclosure is durable, corrosion-resistant and dustproof so is perfect for sitting underneath the passenger seat. This unit includes low level RCA line inputs and has circuit protection to prevent short circuiting, overheating and overloading.
The included remote control makes it easy to adjust the settings as needed. The frequency range of this model is 30Hz – 150kHz. This subwoofer is inexpensive, easy to install and comes with a 1-year warranty for peace of mind.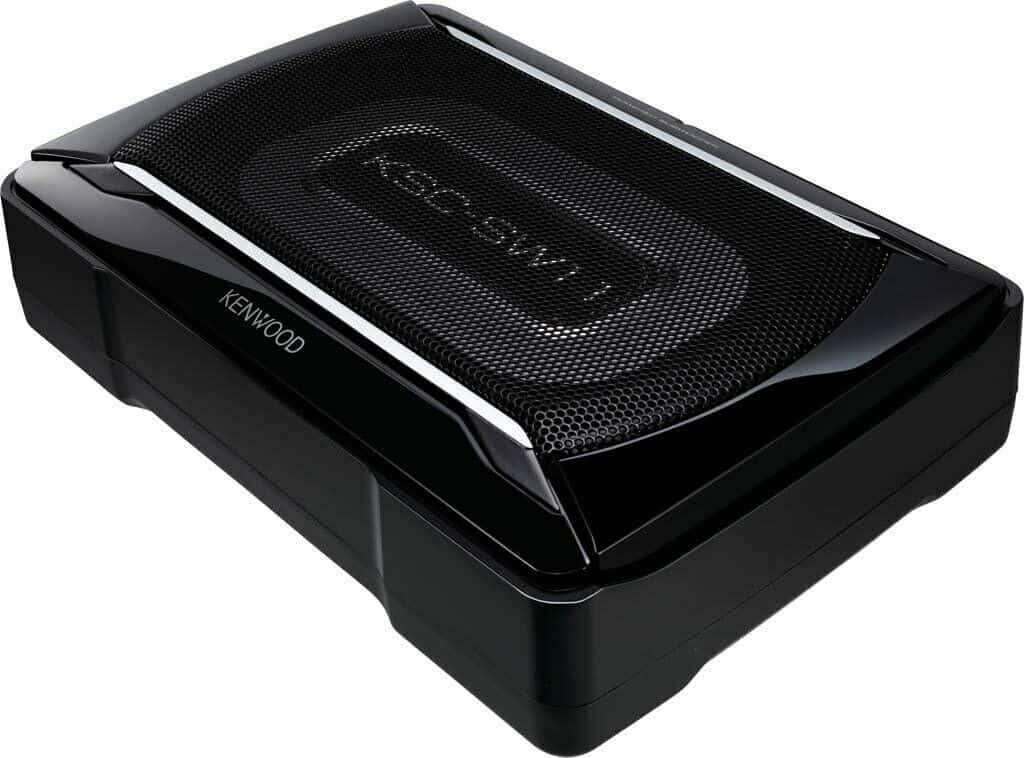 This underseat subwoofer delivers 150 watts peak power and offers a range of features to help you get the best sound experience.
The aluminium die cast frame is robust, offers thermal protection and looks smart. The system has a wired remote control that lets you control the level, frequency and phase with ease. For ease of installation, this subwoofer has RCA and speaker level inputs.
This active subwoofer system includes a built-in amplifier with a low pass filter and phase inverter. This is a compact, lightweight sub that is user-friendly and won't waste any space in your vehicle.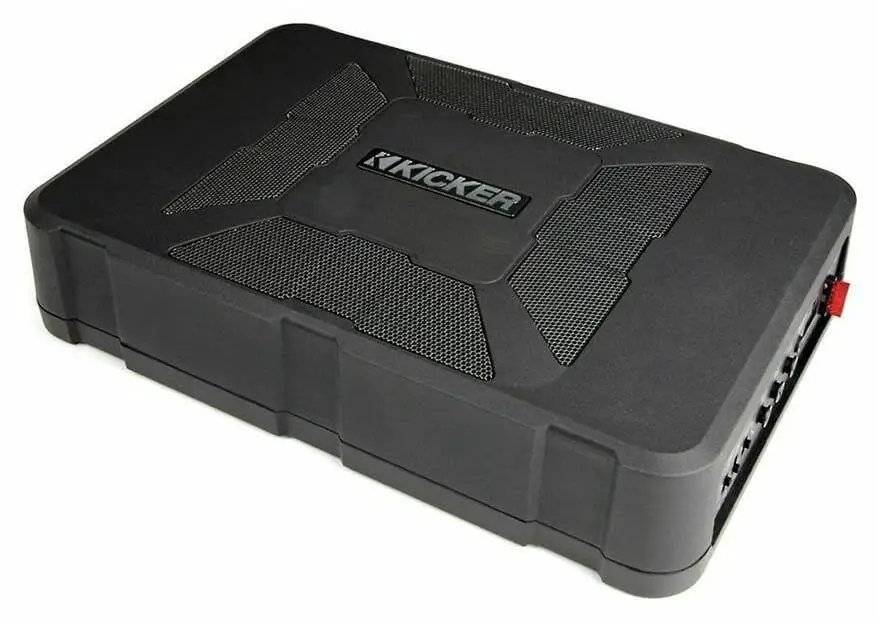 The Hideaway Compact Powered Subwoofer from Kicker is 8″ and just over 3″ tall meaning it can fit under seats and in storage areas with ease. Despite the small size, this subwoofer still packs a punch with its 150 watt built-in amplifier.
You can enjoy strong, deep bass without even knowing the subwoofer is tucked away, hidden under the seat. The kit comes with a remote control so you can adjust the settings and sound on the go. For quick and easy installation, there are Nylon straps and velcro fasteners to mount the sub in position and it comes with a quick disconnect harness too.
This is a specifically designed heavy duty subwoofer, it is simple to set up, quick to remove, and takes up very little space. The frequency response is 25-120H and the unit has 95dB sensitivity. This 8 inch subwoofer automatically turns on and has a variable low pass filter so you can adjust it as needed.
The Pioneer TS-WX130DA is a 8″ subwoofer that offers excellent value for money. It includes a built in Class D amplifier and a 160 watt active subwoofer.
This unit includes deep and dynamic listening modes, adjustable gain and digital bass control that improves performance by tailoring the frequency response. The wired remote has clearly labelled gain, frequency, phase and bass mode controls.
This subwoofer looks smart, is quick to install and can handle high and low input signals making it suitable for original factory fitted stereos and aftermarket audio systems too. The audio sounds great and produces rich, defined audio. The deep listening mode offers 20Hz – 200Hz frequency response.
Under-Seat Subwoofer Comparison Table
| | | | | | | |
| --- | --- | --- | --- | --- | --- | --- |
| Subwoofer | Our Verdict | Subwoofer Size | Power | Dimensions | Remote | Check Price |
| Alpine PWE-S8 | Best Overall | 8″ | 240W | 34.0 x 23.0 x 7.5 cm | Yes | Amazon, eBay |
| Blaupunkt | Best Value | 10″ | 200W | 38.1 x 27.9 x 7.6 cm | No | eBay |
| TR-10 Subwoofer | Budget Option | 10″ | 600W | 34 x 26 x 8 cm | Yes | eBay |
| Kenwood KSC-SW11 | Most Compact | 6.75″ | 150W | 27.9 x 19.1 x 7.0 cm | Yes | eBay |
| Kicker HS8 | Also Great | 8″ | 150W | 35.2 x 23.8 x 7.9 cm | Yes | eBay |
| Pioneer TS-WX130DA | Also Great | 8″ | 160W | 39.4 x 24.9 x 11.2 cm | Yes | Amazon |
Underseat Subwoofer Buying Guide
The best underseat subwoofers offer a combination of value for money, excellent build quality and impressive sound quality. There are lots of options to choose from and finding the best unit requires some research and knowing what to look out for. This buying guide will help you find the best underseat sub so you can enjoy rich bass without spending a fortune on a whole new audio system.
Size
An underseat subwoofer needs to be compact and easy to install. Generally you will find 8 inch – 10 inch models offer the most versatility when it comes to installation in cars. This small size can fit under most car seats as well as in other small spaces within the vehicle.
You'll also want to consider the height of the sub, as they can range from low profile to taller in design.
It's best to compare the size of the sub to your under seat measurements before buying to ensure the sub will slot into the space without an issue.
There are lots of subwoofers available in a range of different sizes so shop around if you haven't found the right size yet.
Frequency Range
The frequency range refers to the range of sound the subwoofer is able to produce. Low frequency range is best for enjoying clear sound.
Car subwoofers may go up to around 150 Hz but low frequencies are best as subwoofers are designed for reproducing lower frequencies.
As this is just one of a number of important features, don't base your choice on the frequency range alone. While a broader range may be tempting, it may result in a less pronounced and softer bass.
Built-in Amplifier
Car speakers generally aren't the best for delivering quality bass so an amplifier is needed to support the subwoofer. Choosing a powered subwoofer is the best option as it provides oomph for the subwoofer without needing to sacrifice additional space in your vehicle for an individual amp. A powered subwoofer is effective for mid-range frequencies too.
The other option is an underseat amplified subwoofer that uses external sources as opposed to powered subwoofers that have the amplifiers built in. An underseat amplified subwoofer is a good budget option but it is important to ensure the amplifier and the subwoofer are compatible. This system can be harder to install and connect up as you need to connect the subwoofer, amp and car audio together, it will also require more space in the car.
Power
There is two main types of power rating to look out for:
RMS Power – the RMS power is the average power produced by the subwoofer. This is the amount of power that is being used on a continuous basis.
Peak Power – this is the maximum amount of power possible with the subwoofer. The peak power is the amount of power that is being used during a short, high power burst.
The power is measured in watts and the RMS value is going to be lower than the peak level but it's the one to focus on. The amount of power being used translates to how loud the music can play. As such, a more powerful subwoofer can play music louder than a less powerful option.
Pass Filters
Low pass filters and high pass filters help to block out unnecessary frequencies. They help to produce high quality bass with minimal disturbance. Some filters are variable meaning you can adjust them to suit your preferences. If the pass filter is not variable there will be a pre-set value and frequencies above or below that value will be filtered out/ blocked.
Sensitivity
The subwoofer should have a high level of sensitivity. This is important for producing quality sound and is also a parameter for how loud the sound can go. In essence, the sensitivity rating tells you the volume you'll get with a certain amount of power. 88dB is an average sensitivity measurement, measurements higher than this are better and measurements of 92+ are often considered very good.
Casing Design & Material
The subwoofer's design and the material it's made from not only impact its look but also make a difference to the sound quality. An aluminum enclosure is the best option as it stays cool, can provide high load performance and reduces vibration when driving. Aluminium is the best material for underseat subwoofers and aluminium units are available in any price range.
There are sealed and ported options. Sealed means there is no free airflow so more power is needed but the bass is rich and impressive. Ported produces a shallower bass but is more convenient, offers more volume and promotes airflow with larger casing. Both options has pros and cons and each has a lot to offer when properly installed and tuned.
Installation
It can be difficult to install a subwoofer under car seats due to the limited space. However, a slim design combined with easy access, side panel power inputs helps to make installation as easy as possible. The best underseat subwoofers make connecting it to the car audio simple and straightforward. Most car subwoofers come with the relevant materials needed to secure them in place.
Ease of Use
Underseat subwoofers need a remote control for easy access. Having a control allows you to adjust the frequency, gain etc. without needing to bend down to reach the subwoofer unit. Auto turn on is another helpful feature that makes the subwoofer easier to use.
Subwoofer FAQs
Are underseat subwoofers any good?
Yes, underseat subwoofers are great for anyone wanting to improve their car's sound system with ease and convenience. They are compact, easy to install and make the best of limited space. An underseat subwoofer is an all-in-one solution that improves bass and sound quality to elevate car audio to the next level.
Can I use a sub without an amp?
You can but it's not recommended as without an amp the output won't be so intense and the sound won't be as enjoyable as it could be. The sub is used for bass reproduction and the amp makes the signal stronger to produce louder output, the two work hand in hand to produce the best results.
How do I increase the bass on my subwoofer?
You can increase bass by adjusting the pass filters, gain, subsonic filter and bass boost. You will want to make adjustments until you find the sweet spot in between volume and dynamics. Focusing just on cranking up the volume can result in a lack of bass definition so take a look at the adjustable settings.
Do shallow mount subwoofers sound good?
Shallow mount subwoofers can sound good but as they are smaller, lighter and more portable they often don't offer the same audio quality as larger options. This is a great option for use in smaller cars where space is an issue.