If you are travelling in a remote area then a UHF radio is a non-negotiable that you need to have as part of your kit. Offroading in Australia often means being out of phone reception and if you have no UHF radio on board this can turn a bad situation a lot worse. A UHF radio ensures you're able to communicate with others across considerable distances.
A UHF radio isn't just an emergency communication device, it is also an essential tool for keeping connected to your convoy as you travel. A direct line to the rest of your group lets you discuss plans, agree on stop locations and warn each other of hazards or difficult tracks that are coming up even when there is no mobile phone reception in the area.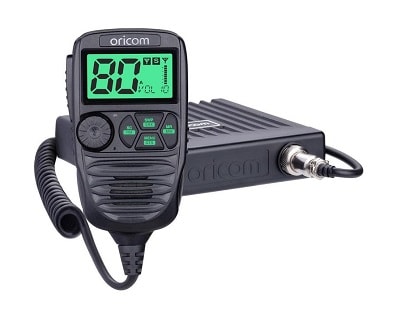 The Oricom DTX4200X is a 5W 80 channel UHF radio that has a dual receive function. This is one of our favourite functions as it allows you to listen to 2 channels at the same time. You will transmit to the channel shown on the screen and by pressing the swap button you can switch to transmit on the second channel (while still listening to both). You can also set the volume levels for each channel differently or turn off the dual receive to use it as a single channel radio.
This UHF radio has an IP rating of 54 so it is dust and splash resistant. This is the updated version which is louder with improved audio quality, has a larger screen and has an updated professional-grade mic that's larger and heavier so is more ergonomic. The control knob lets you change the channel, adjust the squelch settings and turn the channel volume up or down too. Some users have advised that turning the treble setting to 0 helps remove any sound distortion to produce clear audio.
The main unit can be installed out of sight as you can control it with the handheld. The set comes with a 2m extension cable giving much more freedom when it comes to positioning. There is also a 3.5mm audio jack allowing you to run an extension speaker from the main unit if required (this may be a good idea if you have an older, louder vehicle). Unfortunately, the instruction manual isn't very detailed but there is plenty of installation advice and information online if this is your first time installing and using a UHF radio.
Another great feature of the Oricom DTX4200X is the large, backlit display that is easy to read. The light intensity and colour of the backlit screen can be adjusted too so you can ensure it isn't too bright during night drives. This is a higher-end unit which is reflected in its current price tag of $449. It comes with warranty coverage for 5 years.
Runner Up Fixed Mount: GME TX3100
The GME TX3100 is a compact 5-watt starter kit that comes with everything you need to get a UHF radio system set up and in use. Its small size makes it easy to install anywhere in the vehicle and offers impressive volume, clarity and ease of use. It does have an external speaker socket if needed too.
The controls for this unit are front-mounted on the main body. It has up and down arrows to control the channel selection and the volume level as well as a light button with 4 levels of intensity, a scan button to scan 80 channels in around 4 seconds and finally, a squelch button.
For additional mounting options, the TX3100 has a display flip capability meaning you can install the radio upside down and flip the controls as well. This UHF CB radio kit currenty costs $289 and comes with a 5-year warranty.
This starter kit is well suited to all experience levels, it is ideal if you're new to CB radio setups and want an all-in-one entry-level solution. It comes with an AE4018K2 antenna which is a fibreglass co-linear antenna with 6.6dBi gain.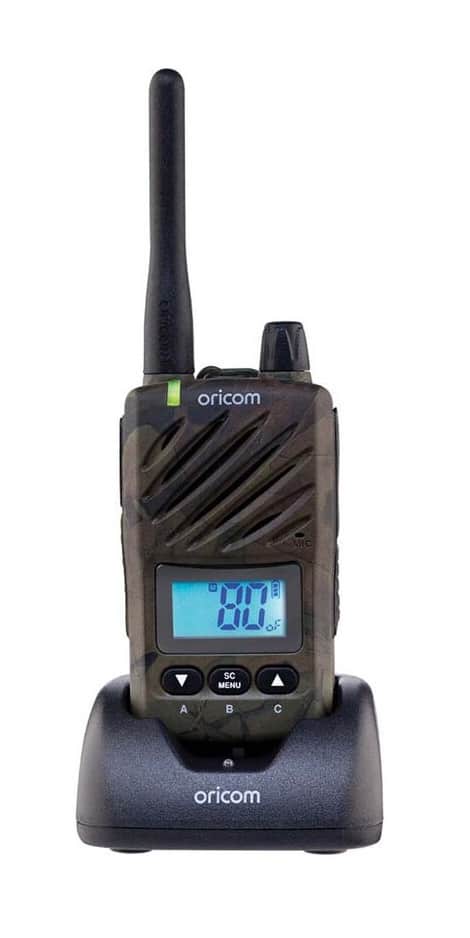 This handheld UHF radio from Oricom is a high-quality option that is ideal for everyday use whether you are walking or driving. It is robust with an IP rating of 67 meaning it is waterproof and dustproof. It also has a secure metal chassis ensuring it can handle the wear and tear of an offroad adventure.
One of the interesting features of this radio is the switchable RF power. The power can be adjusted from 1 watt to 5 watts depending on the power and range required. The sound clarity and coverage of this UHF radio are excellent, even in bad weather. The system has a duplex feature meaning it utilises repeaters to increase the signal range when needed.
The Ultra550-1C is lightweight and compact making it easy to travel with. Despite the small size, it has a large backlit display that is easy to read during the day and night. It is an 80 channel system and users can program in 3 channels for instant access. The unit also has open, instant and priority scanning modes for ease of use.
There is no auto-off option so remember to turn the radio off when not in use to help save battery power. It offers fast charging with 12V and 240V adapters and when fully charged you can expect up to 30 hours of usage time.
The Oricom ULTRA550-1C currently costs $249.99 and comes with warranty coverage for 3 years.
The UHF390 is a compact option with a transceiver that can fit in the palm of your hand, this makes it an ideal option for use in vehicles with limited space. All of the controls are located on the handheld microphone which means a head unit isn't necessary.
The mic includes a large, easy to read LCD display that has 3 colour options (red, green and orange). The plastic build is sturdy but it doesn't feel as high quality as other options, however, it's good for the price and is still durable.
The Oricom UHF390 is straightforward to install making it perfect for at-home DIY installation. For ease of use, it features automatic level control to give consistent audio levels. This is an 80 channel UHF radio with duplex and open/ priority scanning modes. It also has a dual speaker system (one in the transceiver and one in the mic) and it has an external speaker jack too.
This unit is currently avaliable for $299 and comes with warranty coverage for 5 years so is ideal if you need a low cost set up that is built to last and doesn't require much space in the vehicle.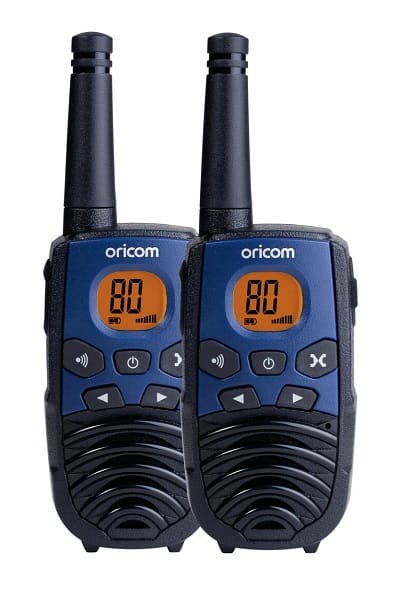 This twin pack of 1W handheld radios is ideal for use in a convoy or when hiking around a campsite. These are 80 channel radios and they also have FM radio so you can listen to music or tune into sports while on the go.
The radios can communicate within a 7km range but in practice, they only tend to offer a range of a couple of km. If you are travelling on flat terrain with no obstacles and a clear line of sight you will be able to get more from them but they are best suited to communication across a short distance. If the communication is lost then the radio will beep, this sound cannot be turned off so can become annoying if your convoy is coming in and out of connection a lot.
These radios are small, lightweight and deliver clear sound. They offer good features and the backlit LCD is clear and easy to read. These radios are charged via micro USB and the set comes with 2 car chargers and 2 charging cables so you have everything you need to get going. Although you should charge them for 10-12 hours before the first use.
This is a great value for money option when you need to stay in comms within a few kilometres. The duplex extender helps with establishing a strong connection and the channel scan and busy indicator are useful too. This set costs $129.99 and comes with an included warranty of 3 years.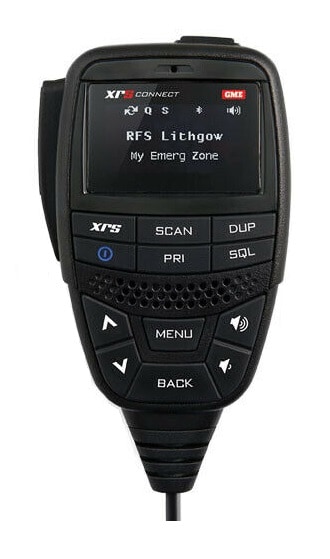 The GME XRS-330C is a hideaway unit that is packed with features. The compact size of the unit makes it easy to store it in the glove box, under the dashboard, under a seat or down the side of the footwell area. The microphone has all of the control buttons and the OLED display is clear and anti-glare ensuring you can see the channel and settings in all conditions.
This radio is easy to use, has super-fast scanning and also has customisable buttons so you can adjust the functionality to suit your requirements. The 2W speaker in the mic produces clear sound so you will be able to hear it even in a noisy vehicle. This UHF radio is durable and made in Australia for harsh and varied Australian conditions.
This 5W, 80 channel GME radio is unlike many other options as it is being continuously improved with software updates. The latest software update allows XRS Connect voice playback so you don't miss any calls as well as a location feature that lets you send, receive and display your location, track users and store mapping in an area with no cell coverage.
Other updated features include dual watch to monitor two channels, auto shut down to increase usage time and an end of transmission acknowledgement called Roger Beep. This is a highly functional unit and is currently available for $416.85 with a 5-year warranty. There is also a GME smartphone app that gives you access to 20,000+ registered frequencies and can also be used as an additional radio screen.
The UHF310 is small in size meaning you can install it anywhere around the dash. It is a great choice if you don't have much room in the cab but don't want to lose out on any UHF features. This is a 5-watt radio with the standard 80 channels.
The radio has a backlit display with 7 colour options and for ease of installation it can be mounted either way and the display can be flipped to suit the way it has been mounted. The features include automatic level control to produce consistent audio levels, duplex for extended range and open/ priority scanning.
The mic is heavy duty and has a channel controller for quick switching. It would be good if the controls for the channel and squelch settings were separate but it is easy enough to adjust and move between the settings. This is a low-cost unit that comes with warranty coverage for 5 years.
UHF Radio Comparison Table
| | | | | | | | |
| --- | --- | --- | --- | --- | --- | --- | --- |
| Model | Our Verdict | Type | Channels | Watts | Warranty | Features | Check Price |
| Oricom DTX4200X | Best Overall Fixed Mount | Fixed-Mount | 80 | 5 | 5 Years | Dual receive function, backlit display on hand unit | Kogan, eBay |
| GME TX3100 | Runner Up Fixed Mount | Fixed-Mount | 80 | 5 | 5 Years | Compact, starter kit includes antenna | eBay, Amazon |
| Oricom ULTRA550-1C | Best Handheld | Handheld | 80 | 5 | 3 Years | Portable, waterproof and dustproof with large backlit LCD display | BCF, eBay |
| Oricom UHF390 | Best Value | Fixed-Mount | 80 | 5 | 5 Years | Small size, controlled via handheld microphone unit | Amazon, BCF |
| Oricom UHF CB Radios | Best Twin Pack | Handheld | 80 | 1 | 3 Years | USB charging, backlit display, up to 7km range | BCF |
| GME XRS-330C | Best Features | Fixed-Mount | 80 | 5 | 5 Years | Hideaway unit, OLED display, customisable buttons, dual watch, software updates | eBay |
| Oricom UHF310 | Best Compact Unit | Fixed-Mount | 80 | 5 | 5 Years | Compact, backlit screen with 7 colour options, flippable LCD display | eBay |
UHF Radio Buying Guide
A UHF radio is an essential piece of kit when you are going on a remote, offroad or 4WD trip. They are necessary for safety, communication and for requesting assistance in emergencies.
Fixed Mount UHF Radios
A fixed mount radio is well suited to long-distance touring and 4WD trips when communicating across long distances is necessary. These radios are mounted inside the vehicle and are powered by the vehicle battery. They usually require an externally mounted antenna to work. Fixed-mount systems come in a range of sizes and different products offer different features. No matter which one you choose it should provide a strong, reliable signal.
The downside to a system that is mounted in the vehicle is that it is limited to being used inside the vehicle and it relies on the vehicle's battery to work. If the battery fails on the vehicle it means the radio will not turn on either. Some of the key differences between fixed mount options include the location of the controls and the size of the unit.
Handheld UHF CB Radios
Handheld radios are portable, lightweight and convenient, they are ideal for hiking and travelling as part of a convoy. They are also extremely useful when needing to communicate outside or around the vehicle (e.g. guiding someone across some difficult terrain). These radios are low cost and don't require any vehicle modification.
They offer similar features to fixed mount radios and they often have high and low wattage options to help save battery life. The run time and range tend to be quite limited which is why they are only recommended in certain situations. The antenna on a handheld radio is short which is why it usually covers a smaller area than a fixed unit.
RELATED: Best Throttle Controllers
Installation Tips
You can install your UHF radio anywhere. It's common to install it on the lower section of the dashboard or the side panel. It's best not to install the radio under the seat if you tend to drive through water as this will expose the system to water damage (unless the system is waterproof). Most UHF radio systems come with a mounting bracket making them easy to install in the vehicle.
Watts
Watts are basically the radio's transmission power. The more power, the stronger the signal will be. The legal limit on a UHF radio is 5 watts. Some radios have different wattage settings so you can conserve battery life by only using the signal that is required. Some handheld radios are just 1 watt which is good for short-range but higher power is needed for tougher terrains.
Antennas
Some kits come with the necessary antennas included but often the antenna needs to be purchased separately. The best antenna for your set up depends on your use and the terrain you will be covering. For close range, short antennas are all you need but for long-range longer antennas with larger gain are needed.
When looking at antennas consider where you will be driving. Remember to choose a flexible antenna if you are likely to be driving underneath or near obstacles. Rigid antennas are much more likely to snap as you pass by obstacles such as low branches.
Gain (dB)
Gain is measured in decibels and related to the reception and transmission of the antenna. High gain means the signal is tightly focussed in a horizontal line so will travel further but is also more susceptible to interference from rocks, foliage, hills etc. A low gain antenna projects the signal in a round shape. This doesn't travel as far but its performance isn't as likely to be impacted by the terrain.
The most common places to mount an antenna for 4WD are the bull bars and the roof rack.
Choose A Reliable Brand
As a UHF radio is essential for communications it's important to select a product from a reliable brand. Popular brands in Australia include Oricom, Uniden, and GME.
Choosing a cheaper alternative may be tempting to save a bit of money but this also means compromising on performance and quality as well as losing out on accessories, warranties and after-sale support. A radio from a trusted brand has been tried and tested and will have ACMA approval ensuring it is legal for use in Australia.