Different tyre shines produce different results but sometimes we don't have the time or money for trial and error. To help you in your search, we've analysed the most popular tyre shine products and assessed them against a range of criteria including ease of use, application type and durability. Use this comparison to quickly and easily find the best shine for your car tyres.
Tyre Shine Comparison Table
| | | | | | | | |
| --- | --- | --- | --- | --- | --- | --- | --- |
| Tyre Shine | Our Verdict | Application Type | Size | Apply to Wet or Dry Tyres? | Contains Polymers? | Features | Check Price |
| Autoglym | Best Overall | Spray | 500ml | Either | Yes | Easy to use | Amazon |
| Aero Cosmetics | Best Matte Finish | Spray | 950ml | Dry | Yes | Water-based | Amazon |
| Optimum | Most Versatile | Gel | 236ml | Dry | Yes | Water-based | Amazon |
| Meguiars | Best Wet Look Shine | Spray | 710ml | Dry | Yes | Adjustable spray nozzle | eBay |
| Mothers | Best Adjustable Spray | Spray | 710ml | Dry | Not listed | Spray evenly and leave to dry | Amazon |
| Michelin | Best Anti-Static | Spray | 650ml | Dry | Yes | Produces a natural sheen | Amazon |
| Turtle Wax | Great For Gloss | Spray | 680ml | Dry | Yes | Suitable for trim and vinyl | Amazon |
Autoglym is known for producing high-quality detailing products and the Instant Tyre Dressing doesn't disappoint. This tyre shine comes in a spray bottle so is very easy to use. Although we love the spray we find it is better to apply the product onto a cloth or brush rather than directly onto the tyre wall to avoid overspray and spraying the alloy wheels.
Unlike all the other products discussed in this comparison, the Autoglym dressing can be applied to wet or dry rubber. This dressing contains polymers and protectants which work together to produce a shine. The finish can be gloss or satin depending on what you prefer.
This dressing works best when the tyre walls are completely clean with no old product on them. Applying the spray to clean tyres will help ensure the like-new shine is long-lasting.
This tyre shine spray is water-based so it is a great option if you are looking for an alternative to oil-based products.
One of the things we love about this dressing is that it doesn't leave car tyres looking overly shiny, instead, it leaves them with a matte/ satin finish. This doesn't attract dirt so helps keep the car looking clean for longer.
You do need to leave the product on the wheel for 30 minutes before wiping it away so it is not as quick to apply as some other options that have no wait time. Also, some users find the spray application quite weak and it can't be adjusted which is disappointing.
This Aero Cosmetics formula is made to aircraft-grade and can be used on rubber and plastic. The polymer formula works very well on car, truck and RV tyre walls. It forms a protective barrier that helps protect the material from UV rays.
The Optimum Opti-Bond Tire Gel is a water-based solution that produces a high gloss shine. This is a versatile product that can be used on both rubber and vinyl meaning you can apply it to wheel wells, tyres, exterior trim, interior trim and dashboards.
This gel is free from petroleum distillates and produces a shine without any grease. Once applied, the tyre walls have protection against UV and environmental damage.
Although this is a gel, it is more watery than you may expect. It should be applied onto dry rubber using a sponge applicator but be careful not to use too much product, you only need a small amount for each tyre. Even though you only get 236ml in a bottle which is less than the other options listed, this will go a long way when used properly. If you prefer a spray, you can create this by diluting the formula 1:1.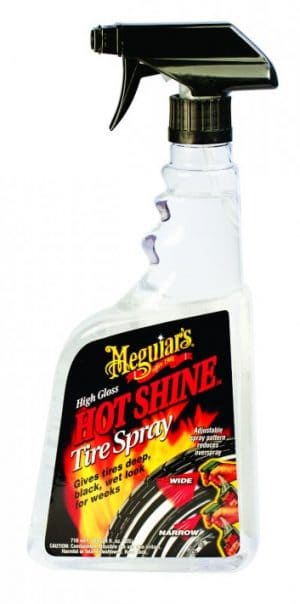 One of the things we love about this spray is that it is adjustable. You can set the nozzle to narrow or wide meaning there are fewer drips and you can reduce overspray.
This formula is designed to produce a high gloss finish. It makes the tyre colour richer and keeps the rubber black for longer. Once applied, this tyre spray helps to protect the tyre and prevent cracking and browning.
This is an excellent choice if you want your tyres to have a wet look finish. However, driving in the rain seems to dull the shine so this product may be best applied during a spell of good weather so you can enjoy the full effect.
This black tyre shine from Mothers offers both durability and protection. It leaves tyres with a rich shine and forms a long-lasting protective barrier that helps keep tyres looking good for longer.
This is a spray bottle and like the Meguiars spray, the nozzle is adjustable. This is very helpful for reducing how much mess and overspray there is when applying it to your car.
This is very easy to apply, you simply spray it onto the tyre wall and leave it to dry, making sure you only wipe off excess overspray from the wheels. If you don't want a high shine finish, just wipe off the excess after a few minutes until you achieve the preferred look.
This tyre dressing spray from Michelin is simple to use and makes tyres look new. Its effects don't last as long as some tyre shine products but we love the natural finish it produces.
It has a pre-compression trigger so the spray comes out strong and properly directed to avoid spills. The liquid should be sprayed onto an applicator and then applied to the tyre wall rather than applied directly to the tyre.
The formula is designed to help reduce static charge buildup and one 650ml bottle provides enough product for up to 40 tyres. The finish produced by this spray gives a natural sheen.
The final product on our comparison is Turtle Wax Wet'n Black Ultra Wet Tire Shine. It is a high shine option that gives tyres a wet look that lasts.
The mix contains UV inhibitors that help to protect the wheel from sun damage such as fading and cracking.
This tire shine is versatile and can be used on black bumpers and hard vinyl trim. The glossy shine it leaves lasts a few weeks but some people have found it leaves streaks or looks patchy so care must be taken when it is applied.
Tyre Shine Buying Guide
Types of Tyre Shine
Water-Based
Water-based is the preferred option as it can be wiped away without damaging the vehicle's paintwork. These shine products tend to be less greasy and produce a satin look.
Oil-Based
Oil-based are stronger and effectively repel water. They tend to produce a high gloss shine that lasts longer but does contain stronger additives which some people choose to avoid.
Application Type
There are three main methods of application:
We have focused on sprays but also included a high-quality gel dressing in our comparison. Generally, we prefer the sprays because they are very user-friendly, easy to apply and don't leave your hands greasy as some gel products do.
No matter which type you choose, it is best to use an applicator pad to put the product onto the tyre rather than spraying it directly onto the wheel. Using a pad gives you more control over how much product is being used and how it is being applied. Some products can be applied directly but just be careful of overspray and drips, particularly when it is windy and you are outside.
RELATED: Best Spray Paint for Rims
Durability
As you will be driving your car frequently in different weather conditions and situation you want to use a shine that will last. A durable car tyre shine will be able to withstand various environmental factors and will act as a protective layer that prevents the tyre from becoming dry and cracking as a result of UV exposure. All tyre dressing products have a lifespan but you don't want the sheen or gloss to disappear after it rains or after a couple of drives.
RELATED: The Best Wheel Cleaner
Finish
Different car tyre products produce different results. Some say you can choose whether you want a glossy or satin look and adjust the way you put the product on to get the result you want. Others are specifically designed to give a certain sheen or appearance. For example, Turtle Wax Wet'n Black Ultra Wet Tyre Shine has been designed to make the rubber look wet and shiny while Michelin Anti-Static Tyre Shine has a new but not overly glossy appearance.