A Tyre Pressure Monitoring System (or TPMS) makes it easy to keep an eye on your car's tyres in real-time without using a pressure gauge.
However, with a market full of good and bad options, shopping for the best one for your vehicle can be challenging.
In this article, we explore 5 of the best car tyre pressure and temperature monitoring systems available in Australia. They're all excellent options, and each is best suited for a different need.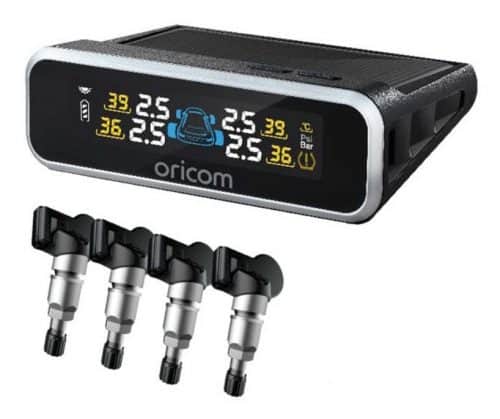 The Oricom TPS9I Tyre Pressure Monitor is our pick for the best TPMS on the market.
Besides the quality you know you are getting from a trusted name like Oricom, this is because of the internal installation of the TPS9I, meaning sensors are fixed directly inside the wheel instead of being screwed onto the tyre valve stem. This means they are kept out of sight, giving them an anti-theft quality.
Besides that, those sensors come with an impressive battery life of approximately five years.  To put that into context, the batteries on other leading TPMS units generally last about two years.
These high-tech sensors provide real-time pressure and temperature monitoring as well as alerts for low battery and sensor failure.
The sensors aren't the only things that are impressive on the TPS9I. The display sits neatly on your dashboard and can run on two different power sources: solar and USB. This means you never have to worry about powering the unit, and your cigarette lighter stays available for other uses.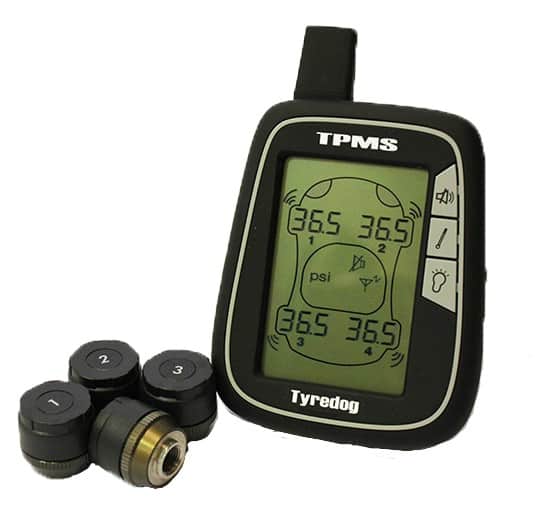 4×4 owners are some of the biggest users of TPMSs because of the importance of tyre pressure in the varying conditions of Australia's remote bush or desert.
The Tyredog TPMS is our top pick for 4x4s because the display, which plugs into the lighter, can be removed and carried around as needed, which adds extra versatility.
You can have the display right in your hand while reducing air pressure to precisely where it needs to be. This flexibility isn't found on most TPMS models, as the monitors are designed to remain inside the vehicle.
Unlike the Oricom model earlier, this and all the following models on this list are external monitoring systems. That means the sensors screw directly onto the tyre valve stem and measure the pressure that way.
The Tyredog monitor includes all the features you'd expect from a high end TPMS including high/low pressure and temperature alerts along with low battery warnings.
This model comes with four sensors, each of which can run for 1 year before needing a battery change. This appears to be the main drawback for the Tyredog, considering most models have at least double that.
The 'solar' in the name of this TPMS refers to the display unit, which has built-in panels to stay charged like several other models in this review. Still, you can also use a USB port as an alternative source of power if needed.
This model comes with four sensors (but you can use the monitor with up to seven), and they each have a battery life of  2 years.
But what makes Tymate stand out is that the LCD monitor. Yes, it's on the larger side compared to some models on this (like the smaller ones by Tyredog and B-Qtech).  However, the text on the Tymate's LCD screen is easy to read regardless of external lighting conditions, thanks to the automatic backlight.
If you're in the market for a budget-friendly TPMS solution, the B-Qtech could be your best bet.
Besides the four tyre sensors, the package also includes a display that plugs directly into your car's lighter. This might seem like a drawback as it occupies the lighter as a power source. Yet, the monitor also comes with a built-in USB outlet, so you can still use it to charge your phone or other devices.
There is one potential drawback that you must be aware of before choosing this pressure monitoring system. The monitor isn't connected to the cigarette lighter by a cable. Instead, the monitor itself sticks into the power source.
On top of that, the display position isn't adjustable. So, depending on your car layout, you might have a hard time reading the pressure or temperature readings on the display, especially while driving.
Drawbacks aside, this B-Qtech monitoring system still gets the job done and falls into a price range that almost anyone can afford no matter what car they drive.
In our opinion, this is a great budget-friendly choice that works well as a starter sensor for first-time users. Further, the manufacturer provides a warranty of one year on this product.
Besides going off-road, many Australians love going cross-country in caravans and RVs. And in these situations, you may often have more than four wheels to monitor. When it comes to these types of vehicles, we'd recommend the Blueskysea TPMS.
This TPMS comes with six tyre sensors with the standard 2-hour battery life we've found on most sensors. Like the Tymate and Oricom models earlier, the monitor is dual-powered using solar power and a USB connection. So, rain or shine, this TPMS will always be on and helping you keep an eye on all six of your tyres.
The reason that this would work particularly well with recreational vehicles is the pressure range. While most systems can sense an average range of 80+ PSI, the range on this model goes all the way up to 130 PSI. In simpler terms, this TPMS is excellent for heavier vehicles like campervans with much higher tyre pressure.
Still, one challenge with a TPMS and a recreational vehicle is that some tyres are pretty far from the monitor. Some drivers might worry that the sensor's signal won't be strong enough to get a real-time reading.
If the Blueskysea 6 meter range isn't sufficient, you have the option to purchase the brand's optional signal repeater to close the gap. You also get a one-year warranty on this system.
TPMS Comparison Table
| | | | | | | | | | | | | |
| --- | --- | --- | --- | --- | --- | --- | --- | --- | --- | --- | --- | --- |
| TPMS | Our Verdict | Sensor Type | Sensor Battery Life | Monitor Power Source | Maximum PSI | No. of Sensors | Warranty | High/Low Pressure Alarm | Temperature Alarm | Sensor Failure Alarm | Low Battery Warning | Check Price |
| Oricom TPS9I | Best Overall | Internal | 5 years | USB & Solar | 99 | 4 | 1 Year | Yes | No | Yes | Yes | Amazon |
| Tyredog | Best for 4×4 | External | 1 Year | Cigarette lighter | 80 | 4 | 1 Year | Yes | Yes | No | Yes | eBay |
| Tymate | Also Great | External | 2 Years | USB & Solar | 87 | 4 | 1 Year | Yes | Yes | No | Yes | Amazon |
| B-Qtech | Best Budget TPMS | External | 2 Years | Cigarette lighter | 51 | 4 | 1 Year | Yes | Yes | No | Yes | Amazon |
| Blueskysea | Best For RVs and Caravans | External | 2 Years | USB & Solar | 130 | 6 | 1 Year | Yes | Yes | Yes | Yes | Amazon |
TPMS Buying Guide
There's no debate about how far tyre pressure monitoring systems have brought us since the days of the old-fashioned tyre pressure gauge. To help you sort the good from the bad, here are the top five things you'll want to consider when shopping for a TPMS.
#1 Internal vs External Sensors
These systems use either external or internal sensors to measure tyre pressure.
With an internal monitoring system, the sensors are installed within the tyres themselves. This lends an anti-theft quality to the sensors because they're kept out of sight and are more challenging to remove. Plus, they often have a higher degree of accuracy when reading a tyre's pressure and temperature.
Of course, internal units have their fair share of drawbacks. Most notable among them is that they require more time and effort (and therefore money) to install in the first place.
External units are very easy to install. All you'd have to do is screw them onto the valve stem on each of your tyres and connect the monitor to a power source inside the car. You'll be getting pressure readings almost immediately.
#2 Sensor Battery
Even though the pressure display can connect to a power source, the individual sensors are battery-powered. Typically, each sensor uses a button cell (or 'coin cell') like the CR1632, the type you'd often find in watches or small remotes.
These batteries will eventually run out of power and require a replacement. That's why you'll want to choose a monitoring system that doesn't need frequent battery changes. On average, most high-quality monitoring system sensors will go for two years before needing a change.
#3 Alarm Modes
Besides telling you what your tyre pressure is in real-time, a high-quality TPMS will also sound alarms and flash a warning light when tyre conditions are harmful or dangerous. For starters, all TPMSs should alert you when tyres have too high or too low pressure.
Still, those aren't the only alarm modes that you can find on good TPMS models. Other critical alarms or alerts you should look for on a TPMS include:
Slow Leak and Fast Leak: A high-quality TPMS should monitor for air pressure changes, especially while you're driving. A Fast Leak pressure alarm could be lifesaving, especially if you're driving and your sensor detects sudden pressure drops coming from the wheel.
High-Temperature: Overheating tyres can also pose a massive safety risk while you're driving because the heat increases the tyres' PSI.
Sensor fault: For the TPMS to correctly sense a tyre's PSI, its parts must be in good working order. If that's not the case, the TPMS should alert you to inspect for possibly faulty sensors.
Sensor battery: With a battery change required only once every few years, it's easy to forget to do. Thankfully, many systems can automatically let you know when that change needs to happen.
#4 Monitor Power Supply
Generally, there are three ways to power a TPMS monitor:
Car cigarette lighter.
USB port.
Solar power.
As you've seen from the reviews above, most top TPMS brands will design their monitors to use more than one power source. That increases the system's reliability, particularly when one power source becomes unavailable.
#5 Monitor Size and Indicators
When shopping for a TPMS, keep in mind that it's not all about the sensors. You'll want a monitor that is large enough for you to see clearly on your dashboard along with all the crucial indicators informing you of your tyres' health.