Tyre pressure gauges are essential in any vehicles tool kit. They help you make sure the air pressure in your tyres is as it should be. This may sound simple but it is vitally important for safety, vehicle handling and tyre wear. We've reviewed the best pressure gauges available so you find the right one for your car, bike, truck, RV or trailer or caravan.
If you're still not sure what type of air pressure gauge is best for you, take a look at the buying guide after the reviews.
This compact digital gauge from Michelin is a multifunctional tool that reads both tyre pressure and tread depth. It is user-friendly, reliable and gives precise readings.
The large display makes it easy to see the measurement and the tread depth measurement can be switched between inch and mm to suit international use.
This Michelin gauge has a range of 5-99 PSI, 0.35-6.80 BAR and 35-68 kPa and tread is measured to 1/32 inch. This is a high-quality pocket-size gauge that is ideal for use on the go.
RELATED: The Best Tyres for a Mazda 3

This tyre pressure gauge is perfect for offroad adventures. The gauge measures in psi, bar and kPa and is powered by replaceable batteries.
The gauge has a deflation monitor meaning it displays the current pressure while the tyre deflates. This allows you to stop at exactly the pressure you need rather than guessing and over-deflating the tyres.
There is a bright LED torch and an easy to read LCD screen so you can always see what you are doing. No matter where your offroading takes you, this makes getting the right tyre pressure simple and straightforward.
The AstroAI digital tyre pressure gauge shows you accurate readings instantly. The nozzle forms a seal and the readings are given in 0.5 increments so there is no need for guesswork.
This tool has 4 settings including PSI, Bar, Kgf and KPA. It has a backlit LCD display and a light on the nozzle to ensure ease of use in dimly lit areas.
This tool has an on/unit/off button and automatically turns off in 30-40 seconds to save power. The ergonomic design and non-slip texture of this pressure gauge make it comfortable to hold and use. This is a versatile, portable device that makes it simple to check the pressure of your tyres.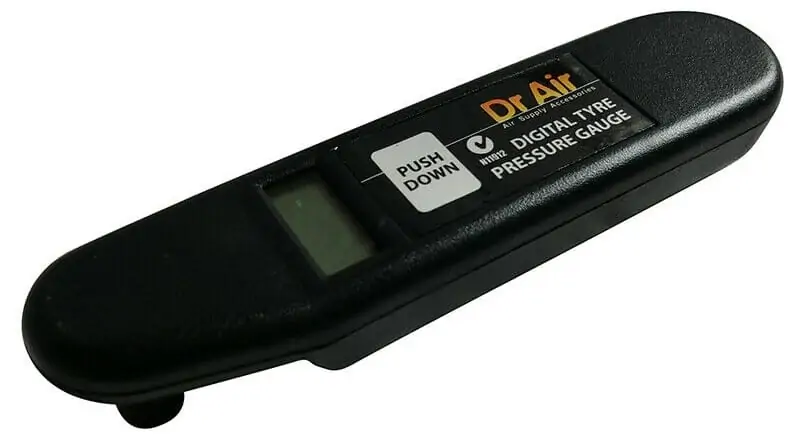 If you're looking for a lightweight pressure gauge for offroading, this product from Dr Air is a great option.
This pressure gauge works with a 3V lithium battery, it automatically switches off and has a low power consumption to prolong its use with each charge.
The accurate digital display is large and easy to read. This pressure gauge is compact, user-friendly and gives an accurate reading between 2-100 psi/ 0.15-7.00 bar range.
RELATED: The Best Portable Air Compressor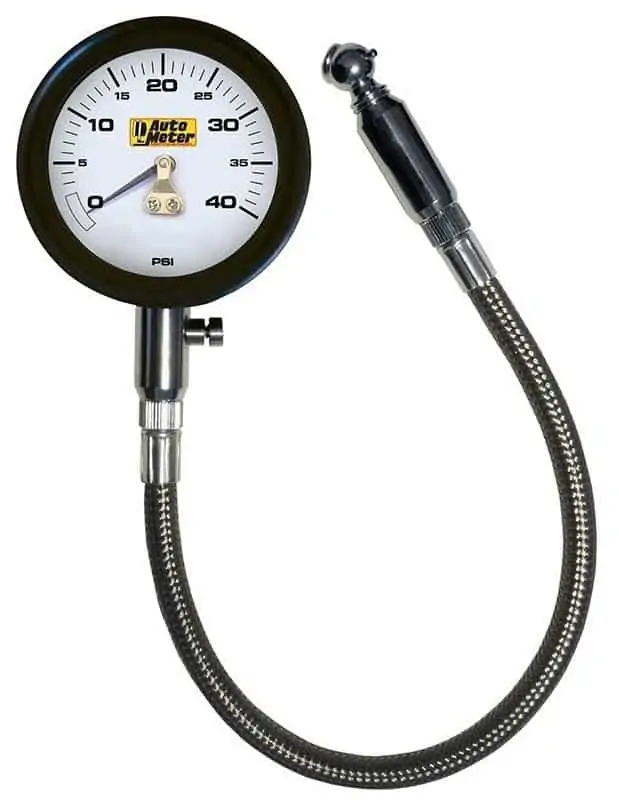 This professional-grade tyre pressure gauge is rugged, reliable and designed to be user-friendly. This is AutoMeter's signature racing dial design and measures up to 40PSI.
It has a large dial face that is easy to read and provides accurate measurements. This gauge is mechanical and displays readings accurate to 1 PSI.
The kit comes with a specially designed stainless braided line and a durable brass nozzle. The housing is shock-dampening and easy grip and the tyre gauge comes with a protective case.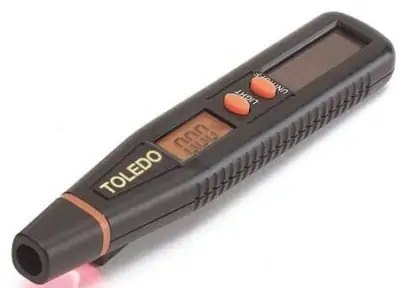 This simple and accurate pressure gauge is perfect for keeping in the glove box for use any time of day. It measures between 5-150 PSI so is suitable for most tyres and is able to show units in PSI, Bar kPa, kg/cm2.
This unit is dual powered, it has a 3V lithium coin cell battery and a solar panel so you will never be left without power. The gauge automatically shuts off after 25 seconds to help save battery power.
The LCD screen has a backlight and there is an LED light so you can still safely check your tyre pressure in the dark.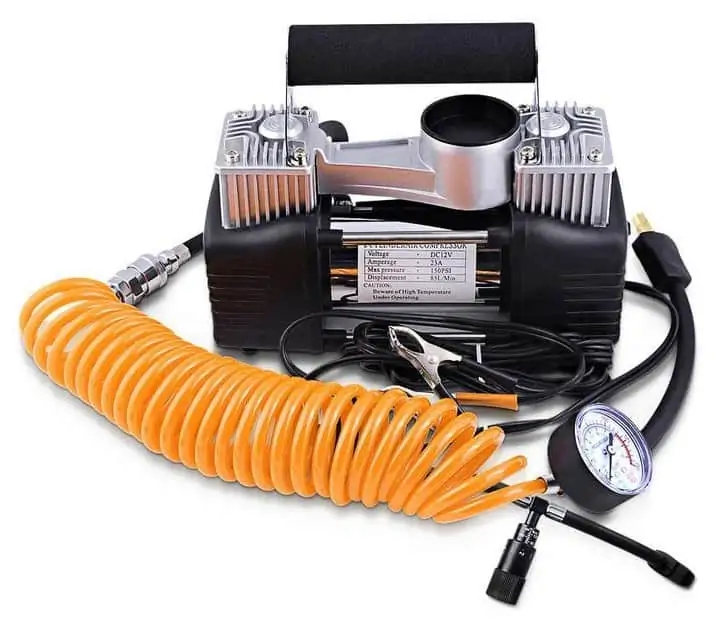 This 2-in-1 tyre gauge and deflator is an all in one system perfect for offroading. It allows you to instantly check tyre pressure and easily deflate tyres. The gauge is able to show tyre pressure in 5 measurement units.
This is a user-friendly option that requires no additional tools to quickly deflate tyres. This deflator is durable and built to last, it features rust-resistant brass, a braided hose and a tough rubber protective gauge covering.
This set is one of the best accessories for any offroading adventure as it is durable and gives everything you need in one package.
If you're looking for a reliable tool that does not require battery power to work, this gauge is ideal.
The steel and brass gauge features a large 2″ dial that accurately displays the tyre pressure. It has a 360-degree swivel chuck so you can easily read the pressure clearly from any angle.
The NUZAMAS pressure gauge also has a 44cm air hose making it easier to reach awkwardly located tyre valves. This is a compact, durable and reliable tool.
Tyre Pressure Gauge Buying Guide
Before you buy a pressure gauge, it is a good idea to compare different products by looking at the features and seeing what best suits your requirements. This buying guide discusses the three types of pressure gauge available and the most useful features you may appreciate when driving long distances.
Digital Vs Analog Vs Pencil
Digital
Digital gauges are popular with many because they give you an accurate reading on an LCD display. This means checking the pressure is quick and simple. These pressure gauges are the most accurate option, they are also durable and resistant to dirt/ dust. Many digital gauges are backlit so they can be used at any time of day. This is also the better option if you struggle to read the face of a manual dial.
Pros
Accuracy
User-friendly
Durable
Cons
Requires batteries to work
Limited pressure range
Analog
Analog, or dial gauges, are the most common of the three tyre pressure gauges. The manual gauge features a round face with a needle that points to the pressure. Dial gauges come in a variety of sizes but the larger dial faces are easier to read (but will also take up more storage space in your vehicle). Some more advanced gauges have covers, glow in the dark dials and 360-degree swivel chucks to make it as easy as possible to use and read.
Pros
No batteries required
Easy to read
Best for professionals
Cons
Can be bulky
More easily damaged
Pencil
The other type of tyre pressure gauge is a pencil or stick gauge. A pencil gauge is compact, easy to store and is perfect for use on family vehicles. The pencil gauge makes it easy to check the pressure of tyres but it can be more difficult to interpret the reading than digital gauges. This is not as popular as the other gauges but makes a great option when space is limited.
Pros
Small in size
Often includes a deflator valve
User-friendly
Cons
Limited range
Measurement is not as clearly displayed as the others
Durability & Ease of Use
The right pressure gauge is going to be durable and reliable. Professionals often go for a heavy duty dial gauge because it is durable and does not require a battery to work.
No matter which type of gauge you choose for your vehicle, it should fit nicely in your hand and be easy to connect to the valve. The reading should be accurate and easy to read. Consider a gauge with a light to make checking tire pressure in the dark straightforward too.
Pressure Range
When you are trying to find the best product for your needs, make sure you check the pressure range. Some gauges are limited to 60PSI which isn't going to be a suitable option for someone driving an RV with tyres that should to be inflated beyond 60 PSI.
RELATED: The Best Tyre Pressure Monitoring Systems (TPMS)
Size
The best tyre pressure gauges can fit in your car glovebox or seatback pocket. This means taking them with you wherever you go is not a problem and ensures the gauge is on hand whenever it is needed. However, some gauges are larger and would need to be stored in the car boot or in a garage. These options may be heavy-duty but if you plan to take it with you when driving it can be frustrating to have a gauge that takes so much space.
Vehicle Type
The vehicle you are driving will also impact the gauge you choose to buy. A compact digital gauge is likely the best option for a motorcycle while a gauge with a long line will be best for larger tyres such as RVs and trucks. Consider how portable the gauge needs to be, the size of the tyres, the compatibility of the valve and the pressure range required in accordance with the tyres your vehicle has.
Other Factors To Consider
Accuracy – This is important but differs between products, look for options that offer readings with accuracy within the region of +/-0.1 PSI to +/-0.5 PSI. A gauge with 1 PSI increments is going to give you a much more accurate measurement than a gauge with 5 PSI increments.
Multifunctional – Different gauges are able to help you with different tasks. Most commonly they are able to check tire pressure and deflate tires. However, there are also options that feature a safety light, seatbelt cutter, safety hammer etc.
Measurement Units – Some tyre pressure gauges give you an accurate reading in all four of the tyre measurement units (PSI, BAR, kPa and kg/cm2) while others will only give you one unit reading. Check which units you require for measuring your tyres air pressure.
Built-in Compressor – If you check the tires and they require more or less air then the built-in air compressor/ inflator can be used to get the tires to the recommended pressure without needing to go to a garage.
Valve Compatibility – Before you buy the product, it is important to check the gauge is compatible with the valve of your vehicle.
Lights – A light on the nozzle of the gauge could be helpful during low light situations. This is a fairly common feature.
Warranty – You can generally expect a good gauge to come with at least a 1-year warranty.
How To Check Tyre Pressure
Check tyres when cold – air pressure should be measured when the tyres are still cold. It is best to check when the car has been stationary for at least 3 hours or when it has been driven for a very short distance (1.6km). Using the gauge on tyres that are not cold can impact the accuracy of the reading.
Check the manufacturer's recommended pressure – when you are checking the tire pressure, compare it with the recommended amount for your car. This is usually located just inside the driver's door. The front and back tires may need to be different pressures. Always find out the recommended pressure before making changes.
Use the gauge to read the pressure – this can be done by removing the valve stem cap and attaching the gauge. The dial or screen will then display the reading.
Adjust the tire pressure – now you can fill the tyres to the recommended pressure. Once done, use the gauge to check again. If the reading is now too high (the tyres have been overfilled) you can let some air out to get to the right reading.
Put the gauge into a storage case – now you've finished measuring the tire pressure you can safely store the gauge away so it is ready for its next use. A case can help prevent the gauge from getting damaged in between uses.
Check at least monthly – measuring the tire pressure isn't a one-off. Make sure you put time aside each month to check the tires and ensure safety when driving. Over- or under-inflated tyres can impact vehicle handling and can result in tire damage.