A stolen trailer rarely finds its way back to its rightful owner so it's best to take a few simple steps to prevent theft.
An inexpensive trailer lock can be enough to keep your trailer safe from potential thieves. There are a few different types of locks available and knowing the best features to look out for will help you choose the right one for you.
Check out our reviews of the best trailer locks on the market:
This coupler lock is fully adjustable and easy to use. It offers a universal fit meaning it can fit most pressed steel and cast towbars. The lock is made from hardened steel and is brightly coloured so acts as a visual deterrent too.
The lock is quick and easy to install, it comes with two keys for effortless unlocking and removal. To enhance security and help protect against someone towing your trailer away this coupler lock has an advanced searching mechanism.
This is a great low-cost option for caravan and trailer security. It is reliable and feels heavy and secure when in position. This universal coupler lock is rust and corrosion resistant and offers great value for money.
This wheel clamp from Atem Power is heavy duty and perfect for trailers. It is designed to fit 13-15″ steel wheel hubs and has protective rubber wheel clamp tips to prevent damaging tyres.
This clamp is durable, weather-resistant and impact resistant. The steel is anti-corrosion with a galvanized finish. This means you can rely on the Atem Power Wheel Defender Lock Clamp for a long time, whatever the weather. The lock is convenient, quick to set up and is portable so can simply be stored away when not in use.
The clamp can be used on tyres with a width of 195-235mm. Although it is a bit fiddly to get into position, this wheel defender lock clamp is adjustable, secure and comes with 2 keys.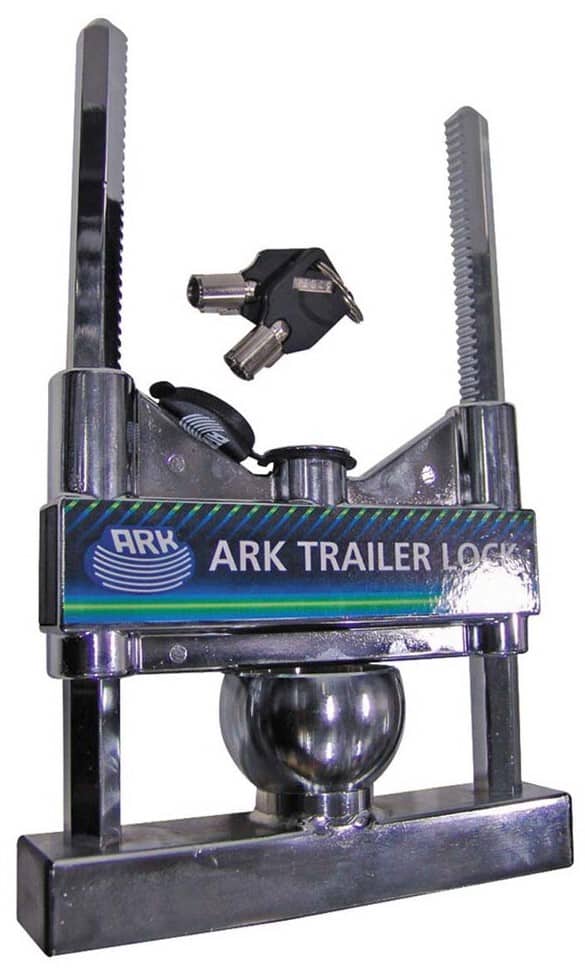 The ARK Heavy Duty Trailer Lock is reliable, dual-locking and is ideal for securing a trailer, boat, camper or caravan. This lock is chrome finished and looks tough and secure.
Conveniently, the ARK trailer lock can be used when the trailer is attached or unattached to a vehicle. This allows you to keep your trailer secure in any situation. The lock is fast to install and comes with 2 keys for easy removal.
This keyed lock is effective, easy to install and is available at a great price point. It is built to be tough and is one of the most secure options out there.
If you're looking for a GPS tracker that lets you keep track of a vehicle or trailer The Defender is the one to choose. It is small, lightweight and sends real-time data in seconds.
This tracker provides accurate location coordinates and updates the location on the app every 30 seconds. You can view up to 90 days of history, create a virtual boundary that alerts you when crossed and set an overspeed alarm that lets you know when a certain speed is exceeded.
This tracker is quick and easy to use as it comes pre-configured so there is no complicated set up. It connects to the vehicle battery and has a 400mAh backup battery built-in too. This is a great device that lets you instantly know where your car/ boat/ trailer is.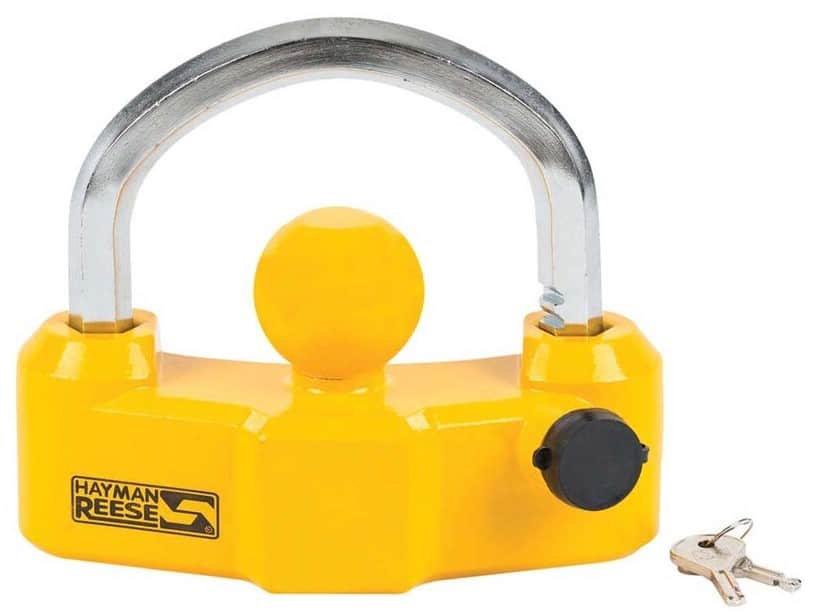 This coupling lock from Hayman Reese is robust, highly visible and easy to attach. It's a great option for keeping your RV or caravan safe when parked.
The lock is virtually pickproof and comes with a lock cap to keep water and dust out and prevent damage to the internal mechanism. It also comes with 2 keys for added convenience.
This coupler lock is adjustable and can suit 50mm – 1 7/8″ couplings. It has a 15mm solid steel lock bar ensuring it is strong and reliable.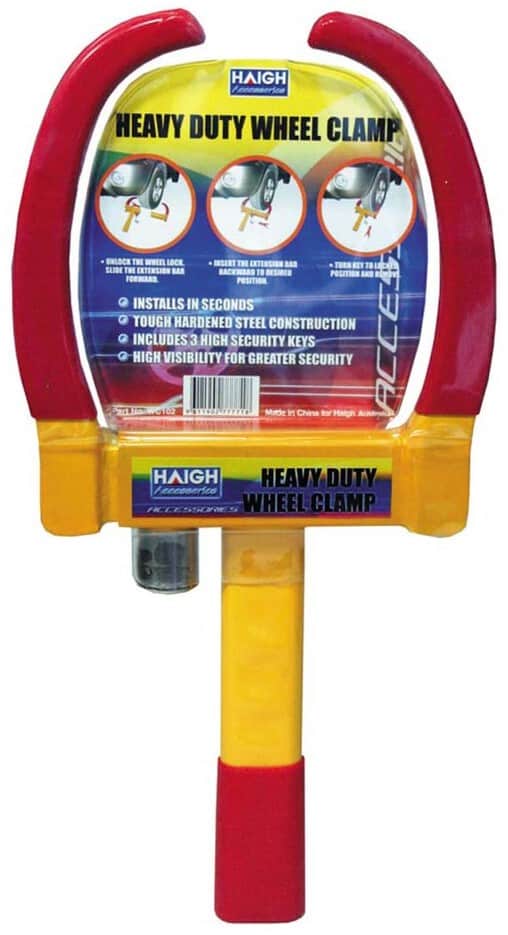 If you're looking for a high visibility wheel clamp that is easy to fit, the Haigh adjustable clamp is a great option. This clamp takes seconds to install and can be used on wheels from 155-265mm wide.
The high level of adjustment means this is a great lock for everything from small boat trailer to 4WD vehicles, caravans and motorhomes.
The high vis colour acts as a visual deterrent and the clamp is strong and reliable. This is a good quality option that comes with 3 keys.
The X-Bull Coupling hitch lock is a 2 stage lock made from zinc-coated hardened steel. It has 2 locking positions so it can fit with a range of tow couplings.
The set comes with a padlock and 3 keys, but some users replace the padlock with a larger option to give them peace of mind. This is a low-cost kit but it is long-lasting, corrosion-resistant and high temperature resistant.
The trailer coupler lock is portable and comes with a 1-year commercial warranty.
---
Types of Trailer Locks
A trailer lock is a relatively inexpensive piece of equipment that is quick and easy to install and prevents your trailer from being connected to a vehicle and stolen. A lock acts as a strong deterrent and goes a long way in protecting your property. There are a couple of different types of trailer lock that are worth considering:
Coupler lock
A trailer coupler lock is user-friendly and can be used if your trailer is unhitched. This type of lock prevents access to the hitch meaning your trailer cannot be towed away.
The lock attaches to the ball part of the coupler to make it impossible to anchor until the lock is removed. This means this simple U lock with a ball-shaped top can stop your unhitched trailer from being hitched and towed away by someone else. A coupler lock is usually "push to lock" or locked with a key and needs to be unlocked using a key.
Pin Lock
A pin lock is a basic locking mechanism that securely locks the hitch coupler in place. The pin goes through the tow bar hole and a lock fits on one end to prevent removal. It has a barbell locking mechanism and the lock usually comes with a cover to make it weather resistant.
Used alone, this isn't a complete security solution but it can buy you more time to react and make it more difficult for a criminal to achieve their goal. This lock can be used to secure the trailer to your vehicle securely. A hitch pin stops the coupler from being able to wiggle loose so can be used for safety as well as security purposes.
Wheel Clamp
A wheel clamp focuses on stopping one or more of the wheels from moving to secure the trailer in position. Trailer locks that secure the trailer wheel are a great option as they are a strong visual deterrent as well as a physical one. Most wheel clamps are quick and easy to fit and fold up for convenient storage too. There are lots of wheel clamp options available, it's best to find ones that also protect your tyre from being removed.
---
Trailer Security Tips
The best way to deter thieves is by securing your trailer using strong, visible locks. Ideally, the trailer should be left somewhere that is well-lit and secure but we understand this is not always an option. These tips will help you keep your trailer safe and secure:
Choose High-Quality Products
High-quality locks may cost more but the security of your trailer is only as strong as the weakest link. Paying more for heavy-duty steel is worthwhile if it means would be thieves can't cut through the locking mechanism. The size is important too, choose thicker hardened steel or alloy to make the lock even harder to cut through.
Hitch Size Is Important
If you are looking at a hitch lock, make sure it is designed to work with your trailer hitch. There are 5 classes of trailer hitch and each class is designed to accommodate certain vehicles, towing weights and receiver sizes.
A lot of negative reviews come from people who have chosen a device that does not properly fit their trailer hitch. If the hitch lock doesn't fit well it may not work effectively.
Consider High Visibility
Choosing a highly visible lock as your trailer security can be an effective theft deterrent. A bright lock lets potential thieves know that it's not going to be easy to steal your trailer before they have even reached it.
Combine Security Techniques
Combining security techniques creates a multi-layered security system that is considerably more effective. The reality is that using just one of the locks alone may not be enough so it's best to have a hitch lock and a wheel lock rather than just one or the other. If possible, it's a good idea to add a heavy-duty chain to attach your trailer to an immovable object. This provides multiple layers of protection making the system more effective as a whole.
Maintenance
Trailer security such as a hitch lock requires basic maintenance to ensure its longevity. The stainless steel construction is designed to be durable but keeping it clean and protecting the locking mechanism from dust and moisture can help keep it in top condition. If you are storing your trailer long term then it is best to move the lock every now and then to prevent it from seizing.
Keys
Most keyed locks come with two keys so you can have one with you and the other stored away for safekeeping. Keeping the keys safe is essential but in some cases, the manufacturer may be able to produce a replacement key on request if you lost the original.
Security For All Situations
Some locks are designed to be used when the trailer is disconnected from your vehicle while others work to secure your trailer to your vehicle. Some can handle both situations. Keep in mind when you will be using the lock so you can invest in the best option for your needs.
Securely Lock Camper Trailer Doors
The locks we have discussed help to prevent your trailer from being moved or stolen but if you're trying to secure a camper, you need to consider that some thieves will try to break in to steal what's inside. If you want to keep your camper trailer and belongings safe remember to invest in a good door lock or padlock too. A strong, heavy-duty padlock can be enough to put a stop to people breaking into the trailer.
Insurance
It's worth contacting your insurance company to find out if they have any specific security requirements or if they will reduce your insurance costs with the new security measures fitted.
Other Considerations
Finally, consider installing an alarm to alert attempted theft and a GPS tracker that lets you locate your trailer if it were to go missing. Protecting a trailer from being stolen often requires a couple of protection techniques to be most effective.