Towing mirrors are without a doubt one of the most important accessories when towing a caravan. They ensure you can see what is happening around the vehicle and help you travel safely. Towing mirrors are often relatively inexpensive and are easy to clip or strap onto your vehicle. It's important to choose towing mirrors that are durable, stable and properly fit with your car or van.
Finding the best mirrors can be intimating as there are so many different types to choose from. To make the search easier, we've reviewed some of the best towing mirrors in Australia.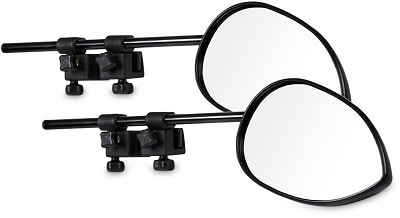 These extra wide mirrors from Milenco are one of the best options and are ideal for use with an 8-foot wide caravan. The long arms make sure you can clearly see both the van and the road.
These popular mirrors have been designed to be balanced and vibration free when you drive. They have also been tested at speeds of up to 255kph so you know you can rely on them in a range of conditions. The convex chrome safety glass is durable and the fittings are made from stainless steel and brass so will not corrode.
The clamping system is versatile, removes the need for straps and works with almost any rear view mirror shape meaning these towing mirrors can fit most vehicles. The Milenco extra wide towing mirrors comply with international regulations and pedestrian safety laws.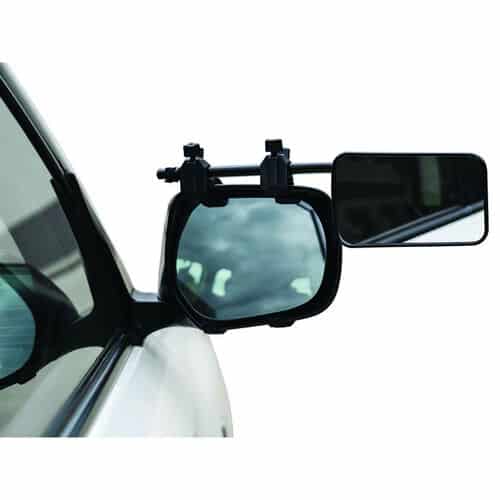 These high quality towing mirrors are suitable for a wide range of uses including caravans, boats, and trailers. They feature a universal clip-on design so can fit almost any vehicle, and are sturdy thanks to their design that includes straps that run down the front side of the mirror housing.
These mirrors feature flat glass, which provides a true reflection of what is behind your vehicle. This is in contrast to our top pick, the Milenco Aero, which feature convex glass and will therefore provide a larger field of view but with slight distortion.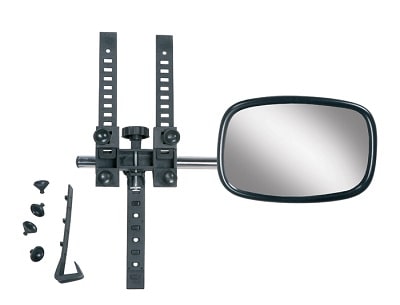 If you're looking for convenience, these fully electric towing mirrors from ClearView are worth a closer look. They can be fitted with indicators and adjusted using the existing mirror controller in your car or van. This makes them quick and easy to adjust from inside the vehicle as you drive.
The clear view mirrors are large in size and feature a top flat mirror and a bottom convex mirror to help eliminate blind spots. The black finish looks smart and you get a 12 month warranty included for added peace of mind too.
When you tow your caravan, you can extend the mirrors out to improve your view. The mirrors are also able to manually fold inwards or outwards so can be folded away when parked in tight spots.
RELATED: MSA Mirrors vs Clearview
These clip-on mirrors are ideal for quick and easy fitting without the need for tools. To give the best rear vision, this extension system is designed to work with factory mirrors without interfering with the original mirror.
The housing finish is textured black and they blend in with the vehicle design making it look seamless and smart.
The pair comes with a driver and passenger mirror extension. For ease of use, the mirrors can be folded in without the need to unclip the extensions. When you do take the extensions off, there is a handy storage bag for keeping them safe until the next time they are needed.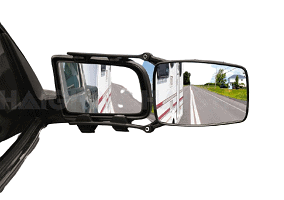 These large towing mirrors are a low-cost solution for towing caravans. They fit over the existing mirrors to improve rear visibility when towing.
The mirrors are large in size and have a universal fit allowing them to clip-on to most side mirrors. The extension does not obstruct the existing mirror and it is fully adjustable so you can arrange it exactly as it is needed.
These caravan towing mirrors attach by clipping on to the existing side mirrors meaning no tools are needed.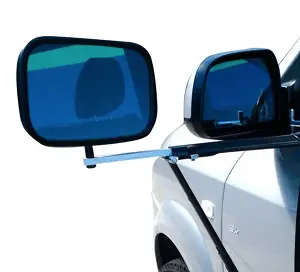 If you are looking for a low cost mirror that is securely mounted onto your door, the Coast Door Mount Mirror V2 is a great option. It is simple to install and can be adjusted to suit the vehicle.
The mounting pads are rubber to protect the paintwork on your car and the ratchet T bar provides a firm, snug fit.
This mirror can be extended up to 470mm if needed. If you have a thicker door type, the included larger bracket and strap ensures you can still mount this towing mirror without a problem. This door mounted option may be best suited if you need a system that can work with cars of varying sizes and doesn't rely on the existing mirrors for stability.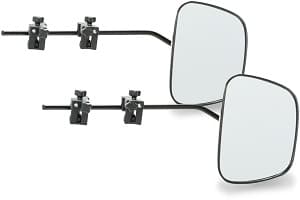 The Milenco Grand Aero 3 Towing Mirrors are designed to fit most vehicles and have a flat mirror. The flat safety glass used provides a smaller field of view than a normal car mirror but some people prefer it as it does not distort the distance.
These mirrors have extra wide arms making them ideal for use with narrow vehicles or wide caravans. They are designed to be balanced and as they use a clamping system rather than a tie down system they are vibration free.
The Milenco Grand Aero 3 offer a quality option that is affordable and complies with the relevant international regulations and pedestrian safety laws.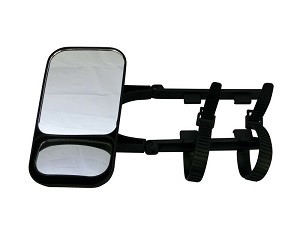 This clip on towing mirror has a universal mount that can be clipped to any size mirror making it suitable for all vehicles including larger SUVs.
It clips onto your existing mirror without damaging it or obstructing your view of that mirror. It is fully adjustable so you can position it to suit your preferences. As this is fitted using clamps and straps there are no additional tools needed.
This pack only comes with one mirror so two packs are needed unless you are looking for a single replacement for an old or broken towing mirror.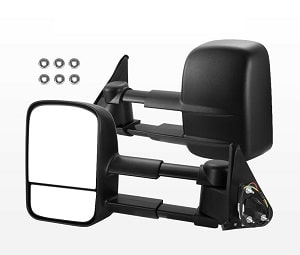 These extendable towing mirrors are engineered for use with a Nissan Patrol. They feature plug and play wires for quick installation and a flat mirror that can be adjusted using electric controls.
These extendable mirrors are made of sturdy ABS and are strong enough to withstand harsh weather and tough conditions. To prevent damage, the mirrors can be manually extended and can be folded inwards as needed.
There are two types of mirror used, one part is flat to provide an unobstructed view and the other is convex to eliminate blind spots.
Towing Mirror Buying Guide
Towing mirrors are essential for being able to see what is going on around your vehicle when you are towing a caravan or a trailer. They help keep you and your family safe and are a legal necessity.
There are many types of caravan towing mirrors available and the best ones for you will depend on your vehicle, requirements and budget.
This guide will help you find good quality mirrors to give you a clear view when on the road.
The Law in Australia
If you are towing a caravan or a large trailer, the chances are you will need caravan towing mirrors in order to comply with the law. This is to ensure you have a clear vision of the road behind the vehicle and along the sides of the caravan/ trailer.
When driving in Australia, remember that your mirrors need to be compliant when you are no longer towing a caravan too. This means removing or retracting the caravan towing mirrors as necessary.
If you are using permanent towing mirrors such as clearview you should ensure they are retracted and properly positioned before setting off without a tow.
RELATED: The Best Caravan Antennas
Types of towing mirrors
Mirror-mounted
This is one of the best options as the towing mirrors can be secured onto the existing side mirrors with a simple but sturdy strap or a clamp.
This design is the most popular portable towing mirror because they tend to be very quick and easy to attach. The majority of mirror-mounted towing mirrors are universal meaning they can be fitted to almost all vehicles.
Suction
There are not many suction mirrors available but they are a low cost option suitable for occasional use. These caravan towing mirrors offer easy installation and as they stick to the existing side mirror it means electronic adjustment will move them too.
However, they are not the best as they do reduce visibility on the cars original mirrors and stability can be an issue on the lower quality models too.
Door mounted
Although not as popular as mirror-mounted, a door-mounted towing mirror provides additional stability to reduce how much turbulence and vibration is experienced.
They take a bit more time to install and come at a higher price but they are held in place well while you tow.
Clearview Mirrors
Clearview mirrors are a permanent solution that replaces your current mirrors.
As the clearview mirrors are in position at all times, they are the best solution if you spend a lot of time towing. They are always ready for towing and they can be extended to increase visibility.
There are higher-end permanent clearview mirrors that can connect to your car to allow for electronic adjustment too.
RELATED: The Best Baby Car Mirrors
Convex Vs Flat
Car mirrors are usually convex, this means the image is wide-angle but slightly distorted (the scene looks further away). Flat mirrors show the scene without distortion but provide a much smaller field of view.
Choosing between the two depends on personal preference but we'd recommend using convex mirrors because of the extra field of view.
Some design options include a convex top half with a smaller, flat mirror underneath which are great to give you a more complete picture with minimal blind spots.
Durability
A pair of good towing mirrors should last you a long time. As they are built to last, it is often a good idea to choose a set that can be mounted/ attached to a range of different vehicles as this helps them to be compatible in the future if you change cars.
Stability
One of the key issues experienced with mirrors when towing something behind the vehicle is turbulence and stability. The installation method and design can impact how stable the mirror is.
It is very hard to know how the mirrors will hold up during a drive just by looking at the description online so always take a look at user reviews and comments to find out more.
People often leave helpful comments and reviews about their own experiences and this may be useful to look at when trying to find the right mirrors for your travels.
Other Features
Electronic
Buying high quality towing mirrors that can be electronically adjusted makes it much easier to position the mirrors exactly as they are needed. Some products also offer electronic extension and fold in features for ultimate driver convenience.
Indicator Connection
There are some options that include turn signal indicators, this provides extra functionality that can be helpful for the driver and other road users.
Blind Spot Monitor
This is usually a small dot on the glass that illuminates if it detects there is something in the driver's blind spot.
Storage Bag
As you will only need to use the towing mirrors when you are actually towing something, a storage bag will keep the pair of mirrors in good condition during storage.