How does a throttle controller work, do you actually need one, and which is the best option for your vehicle and driving style?
To help you in your search, we've analysed the most popular throttle controllers on the market and assessed them against a range of important criteria including features, ease of installation and ease of use.
This review and comparison can help you find the best model for your vehicle.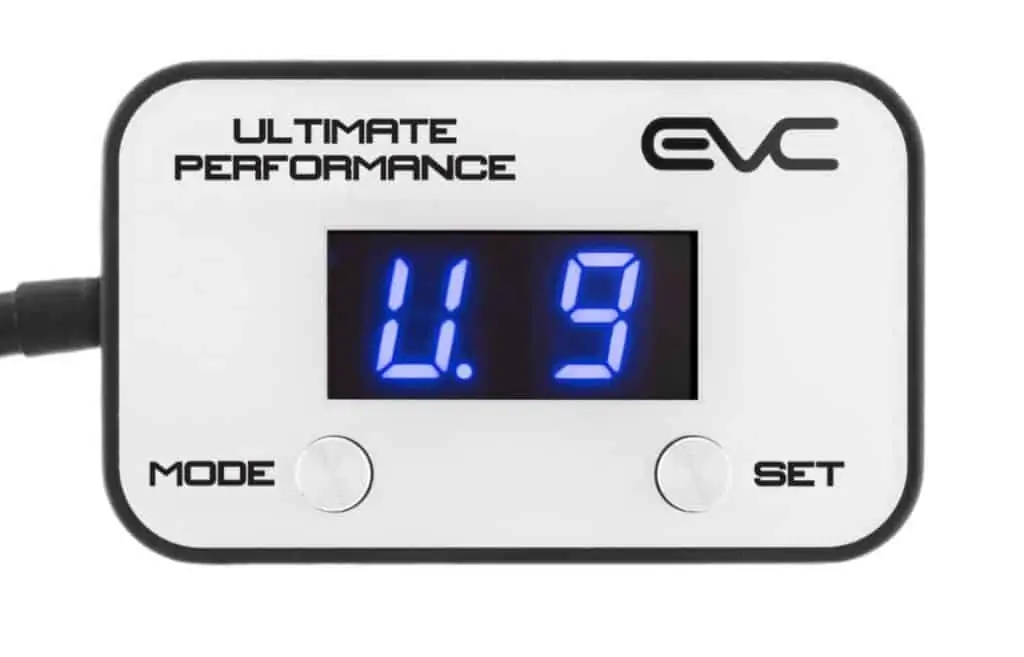 The Ultimate 9 EVC throttle Controller is one of the most popular options in Australia. It is an incredibly user-friendly unit that is 100% plug and play so all you need to do is connect it to your throttle cables and then position the control unit on your dash.
The control unit is extremely compact so you will be able to fit it anywhere on your dash without it getting in the way. However, one of the downsides of the Ultimate 9 is that the display brightness cannot be adjusted but this shouldn't be too much of an issue with careful positioning.
This EVC throttle controller offers four driving modes and 20 adjustable settings so you can tune it to find the ideal response for the terrain and situation you are in. The mode and sensitivity can be set using the control panel and the display shows you a letter and number that indicates the chosen mode (U = Ultimate, E = Economy, AC = Automatic Control and — = Normal) and throttle response setting.
If you want a controller that offers automatic control then look at the Ultimate 9 and the HikeIt X9 as these are the only ones listed that offer this feature.
The Ultimate 9 doesn't offer quite as many settings as the other units listed but we love how easy it is to use, control and install. It also comes with a 30-day money-back guarantee and a lifetime replacement warranty.
The Hikeit X9 is one of the newest throttle controller models on the market and it is packed with fantastic features.
This controller offers 6 different modes; Eco, Sport, Cruise, HikeIt High Performance, Auto and Normal. Eco, Sport, Cruise and High Performance each offer 9 adjustment levels, while Auto can access all of these levels and will select based on your driving behaviour and situation and Normal will return the car to factory settings.
The automatic mode is impressively smooth, this is thanks to a combination of intelligent software and lots of adjustment settings to move between.
In addition to all of these settings, you can press and hold the mode button to turn on overtake mode. You can also choose the face plate colour of the control unit (white is standard or select between black, red or blue for $5 extra).
The HikeIt X9 offers a few useful features that are unique to HikeIt. It has an anti-theft mode that won't let the car accelerate until it is unlocked and the control panel has a sensor that automatically adjusts the brightness to suit the ambient light.
This system uses a dual 32bit chipset, a more advanced version of the standard 16bit that is often used in throttle controllers. This one costs slightly less than the Ultimate 9 making it excellent value for money.
The Hikeit X5 Throttle Controller is essentially the little brother of the X9 reviewed above. It is a lower-cost version with the key differences are that it offers 4 modes rather than 6 and 30 driver settings rather than 36. This still offers more adjustability than the Ultimate 9 but not quite as many as the X9.
The options are HikeIt, Sport, Economy and Normal. That means it doesn't offer an automatic mode and it also lacks the one-touch overtake mode that is seen in the X9.
The X5 has the anti-theft mode and the automatic brightness adjustment on the control panel.
This unit is the one to choose if you are looking for a lower cost option that offers plenty of manual adjustment options. If you plan to use your controller in an automatic mode then go for the X9 instead.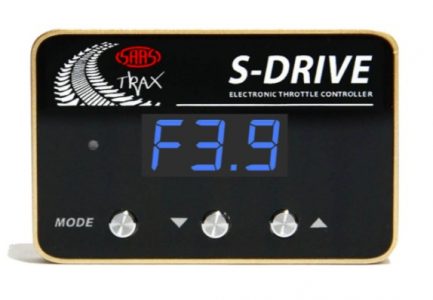 The final throttle control we looked at is the SAAS S-Drive. This device is easy to install and requires no wiring as it is all set up for you.
There are 5 modes available; Comfort, Sports, Racing, Normal and Eco Fuel Saving. Each setting offers 9 adjustment options (aside from the normal which simply reverts back to factory settings). This means it offers a total of 36 adjustment levels, the same as the HikeIt x9.
The control panel is 53 x 53 x 8mm so is compact and easy to position. It also has a light sensor that adjusts the backlight automatically ensuring it isn't too bright at night or too dim in the middle of the day.
This unit is suitable for use with all types of transmissions, manual and automatic, and petrol and diesel engines. They are designed for specific vehicles so make sure you choose the correct model for your car before installing.
As with all the models listed in this review, the SAAS S-Drive also comes with a lifetime warranty.
Throttle Controller Comparison Table
| | | | | | | | | |
| --- | --- | --- | --- | --- | --- | --- | --- | --- |
| Throttle Controller | # of Modes | Modes | Adjustment Levels | Anti-Theft Mode | Display | Display Brightness | Warranty | Check Price |
| Ultimate 9 | 4 | Ultimate, Eco, Auto & Normal | 20 | No | LED | Not adjustable | Lifetime | eBay, Outback Equipment |
| HikeIt X9 | 6 | Eco, Sport, Cruise, High Performance, Auto and Normal | 36 | Yes | LCD | Automatic | Lifetime | Kogan, eBay |
| HikeIt X5 | 4 | Eco, Sport, High Performance & Normal | 30 | Yes | LCD | Automatic | Lifetime | Kogan, eBay |
| SAAS S-Drive | 5 | Comfort, Sport, Racing, Normal & Eco | 36 | No | LCD | Automatic | Lifetime | My Deal, eBay |
Throttle Controller Buying Guide
There are many great throttle controllers available and choosing between them can be confusing. When comparing the top brands here in Australia keep in mind the following features to help you choose the best controller for your vehicle.
Do You Need A Throttle Controller?
A throttle controller is a fantastic tool that can help you either sharpen or dampen the throttle response of your vehicle to suit the situation you are in. An aftermarket throttle control plugs in between the ECU and pedal and works by adjusting the voltage signal from the fly by wire pedal.
You will be able to choose the driving mode and you will notice that when you push the accelerator the car will feel more responsive and you will be able to reach 100% without needing to push the pedal all the way down.
Before investing in a throttle controller, check your vehicle doesn't already have different driving modes such as sport and eco that can achieve the effect you are looking for.
Power Settings
A quality throttle control will offer around 4-6 different driving modes. This lets you quickly and easily tune the system to the type of response that is needed for the situation.
You will want a different type of acceleration when overtaking compared to when driving in soft sand and the settings of the throttle control help to achieve the desired pedal response and acceleration.
Eco Mode
For example, an economy mode is particularly useful for 4×4 vehicles as when driving along difficult 4×4 tracks. In this situation, you will need the throttle to be less responsive to your foot so you can keep a steady pace and gentle control. The economy mode dampens the response of the accelerator to help these situations.
Sport Mode
On the other hand, sport mode will increase the throttle response so you can quickly accelerate when overtaking a caravan or give you a more aggressive start so you can pick up speed when towing.
This is why having different options is so important. Consider the type of responses you regularly require from your vehicle so you can ensure the throttle control you select has these input options.
RELATED: The Best Oil Catch Can
Adjustment Levels
Within each mode, there are adjustment levels so you can fine-tune how aggressive the pedal and engine power response is. These levels are numbered and will increase or decrease the responsiveness allowing you to find the sweetspot that works for you. It won't take long for you to find your favourite inputs for everyday situations.
Some models such as the Ultimate 9 and HikeIt X9 offer an automatic mode that will select the setting based on your driving style. This removes the need to manually play with the levels and some people choose to use their throttle controller in auto mode all the time.
Ease of Installation
One of the best things about these units is the straightforward installation. The throttle controller unit will plug in between the fly by wire foot pedal and the ECU. This can be installed quickly and easily at home.
The unit you buy should have a cable that plugs into the accelerator pedal and a socket that lets you plug the factor cable into the unit. It's that simple.
You then need to mount the display in your preferred location. Most options will have some kind of tape or mount adhesive so that it is just as quick to position the display.
If the unit you choose has an auto setting, you could mount the unit lower down or out of the way rather than up on the dash.
Price
Most throttle controllers cost around $200 – $300. As long as you select a unit that is compatible with your vehicle and choose a tried, tested and reliable brand you can't go wrong.
Throttle Controller FAQ
Do throttle controllers really work?
Yes, throttle controllers help to improve the rate of acceleration, give greater control when driving, and make the vehicle more responsive to the accelerator pedal.
Are throttle controllers worth the money?
Yes, particularly for 4×4 vehicles, towing, and other situations where you want to increase the accelerator pedal response to suit your driving style and the terrain.
Does an iDRIVE throttle controller use more fuel?
Generally, a throttle controller does not use more fuel. This is because it doesn't use more power but gets the existing power more quickly.
Are throttle controllers bad for your car?
No, throttle controllers are not bad for your car or engine. They don't override the vehicle's safety functions and simply act to remove the throttle lag to give you complete control over the throttle response when you push your foot down on the accelerator pedal.