The best steering wheel cover can transform your driving experience. Quality covers are heavy-duty, heat resistant, and are ergonomically designed to feel good in your hands. On the other hand, low-quality covers are often slippery and don't last long. This is one of the best accessories for your car and it is something you will be coming into contact with a lot so use this as an opportunity to bring a touch of luxury to your daily drives.
This microfiber leather steering wheel cover looks smart, provides good grip and feels expensive despite the low price tag. Microfiber leather is wear-resistant, breathable, heat and cold resistant and long-lasting.
This cover doesn't just protect your steering wheel, it also looks great with a modern feel. There are 11 colours to choose from and each design provides just enough colour without being over the top.
This microfiber leather steering wheel cover can be used with most standard car steering wheels up to 15 inches. It is easy to install and features a rubber inner side as well as anti-skip veins to give you better grip and control of the steering wheel.
This steering wheel cover from Motor Trend is designed for all vehicles with steering wheels up to 14.5 inches, easy to install and airbag certified. It is made using synthetic leather with secure stitching which is durable and stylish.
This is a great steering wheel cover if you hate your palms feeling too cold or sweaty, the cover is breathable and insulates your hands from hot and cold weather to provide comfort while driving.
The Motor Trend cover features traction to provide you with a good grip and it feels smooth to touch to make turning the wheel easy too.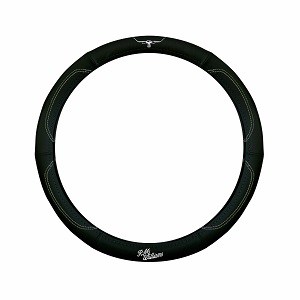 If you're looking for a high-quality leather steering wheel cover, this one from Australian brand R.M.Williams is a great choice.
This is a genuine leather cover with contrast stitching. It looks smart and is great for the weather in Australia as it minimises heat absorption.
This is suitable for steering wheels with a 15 inch diameter. The cover can be left in the sun for 20 minutes before fitting to soften the leather and make it easier to stretch over the steering wheel.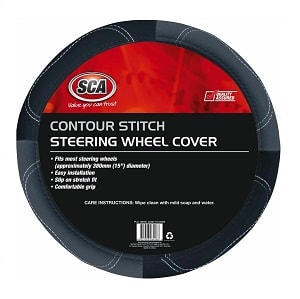 If you want a cover that can easily stretch onto the steering wheel this is a perfect option. It fits steering wheels of approximately 15″ diameter so can be used with most cars.
This steering wheel cover is made from suede velour fabric and is designed to be effortlessly slipped into position.
The fabric feels comfortable, provides grip and helps to keep the steering wheel cool while also protecting it from sun damage.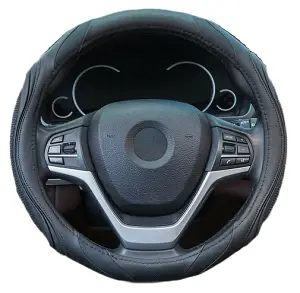 The Zatooto leather steering wheel covers are high quality, breathable and vibrant. The leather prevents your grip from slipping and has a massage design to help relieve fatigue and release stress by massaging tired hands.
This non-slip cover can be used on steering wheels with a diameter of 14. 5 inches – 15 inches. Installing this steering wheel cover is easy too, it is recommended you warm the leather with a hairdryer or in the sun before installing it as this makes it easier to handle.
This is an anti-slip, odourless cover that is made to be thinner and lighter than many competitors products to ensure it feels comfortable to drive with rather than bulky and clumsy.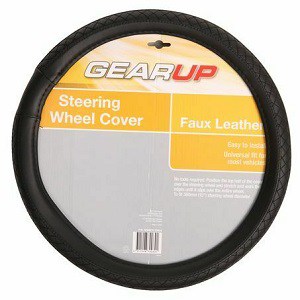 If you're looking for a steering wheel cover that will protect the steering wheel but doesn't cost too much this faux leather one from Gearup is ideal. It is low cost, practical and has a leather look.
The cover offers a good grip and can be installed quickly and easily without the need for anything else. You simply pull half of the cover over the steering wheel and then slowly apply the rest until it is in position. As this is faux leather it is much more pliable than genuine leather.
This faux leather steering wheel cover offers a universal fit so works with most car models.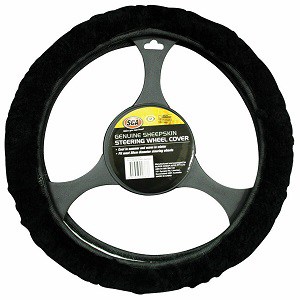 This steering wheel cover form SCA is made from natural sheepskin making it a suitable alternative to leather and faux leather. The natural sheepskin fibres are able to keep the steering wheel warm in winter and cool in summer so you can drive comfortably whatever the temperature.
The cover also protects the steering wheel from sun damage and keeps it cool on hot days.
This sheepskin steering wheel cover has a diameter of 15 inches and will fit most vehicles. The material slips on and stretches to make installation as straightforward as possible.
If you're worried about the steering wheel feeling hot or sticky in your hands, this suede cover is a great option. The cover is made from premium suede fabric that is soft but protective and durable.
The charcoal grey colour of this steering wheel cover looks smart and will fit with most car interiors.
This steering wheel cover is 15″ so will be able to fit with the majority of car steering wheels. This is a low-cost option that is one of the easiest to install too.
Steering Wheel Cover Buying Guide
Steering wheel covers come in a range of style and materials. The best ones give steering wheels better grip, stop them from getting too hot or too cold and look stylish with the interior of the car. But how can you differentiate between a quality steering wheel cover and one that is nothing more than ordinary? This buying guide will help you find the best options available.
Material
Leather – Genuine leather steering wheel covers are the most expensive type but are also offer the best quality. Leather is soft, durable and feels comfortable when driving. This material is also breathable, resistant to temperature changes and offers excellent grip making it an excellent choice. The downside to choosing a genuine leather cover is the high price tag and the limited colour range.
Synthetics – The most common steering wheel covers are made from synthetic materials such as polyester. Synthetic materials are often the most affordable options and they come in a wide range of colours and designs. The downside to a synthetic material is that it doesn't last as long as leather or other materials.
Microfiber Leather – A microfiber leather steering wheel cover is made using a high-quality synthetic leather that has similar characteristics of actual leather. Some people may prefer this material to leather as it is more resistant to creasing, heat and chemical abrasions and it doesn't have an odour. However, if you choose a microfiber leather steering wheel cover make sure you choose a high-quality one.
Other Options – Other less common options include suede and sheepskin. These also have their pros and cons and offer suitable alternatives to leather.
Steering Wheel Diameter
When choosing a new steering wheel cover for your car it is essential you check the size carefully. The vast majority of steering wheel covers cannot be stretched over a steering wheel that is too big and if the steering wheel is too small the cover will bunch up when you are steering. Always measure the diameter of your steering wheel before you buy a product.
The best steering wheel covers fit snugly. It usually takes a bit of effort to get the cover onto the steering wheel but once it is in the right position it will offer excellent grip. If the product says it offers a universal fit, double-check your steering wheel measurement falls within their product dimensions range. Most of these options fit steering wheels of around 14. 5 inches – 15 inches in diameter and they usually don't work with "D" shaped steering wheels.
If you choose a leather steering wheel cover it can help to warm up the leather before trying to put it onto the steering wheel as the heat makes it a bit more pliable.
Durability
The chances are you want a cover to protect your steering wheel from the sun and to enjoy a more comfortable driving experience. It's important the cover is heavy-duty and weather resistant. A heat resistant cover makes driving on hot days much more pleasant. The best steering wheel covers feel cool on the hands no matter what the weather conditions are.
Grip
A steering wheel needs to have excellent grip so the cover you put on should be anti-slip. Leather steering wheel covers often offer the best grip but as long as the option you choose has a rigid grip with contours or texture it will give you effective grip without being uncomfortable to hold. Slippery grip can mean you lose control when steering so this is one of the most important features.
Other Features
Padding – Soft and thick steering wheel covers are the most comfortable, particularly if you will be driving for a long period of time. Comfort is important and you don't want a cover that is too hard and causes your hands to become sore.
Odour – Many materials are odourless but leather and rubber covers can come with a smell. A rubber cover may also pick up smells over time. If you are concerned about odours find products that are odourless or easy to clean.
Style – the best steering wheel cover combines all of the features above with a style that reflects you and your car. You can have fun with this as there are many colours and designs available. When choosing a style that suits you make sure you don't compromise on quality. If you're looking for a cover that is sophisticated for example, a black leather cover with a smart colour stitching would look sleek.