Painting your rims can bring them back to life while also adding a layer of protection. To help you select the best option for your wheels, we've analysed the most popular spray paints on the market and assessed them against a range of criteria including durability, ease of application, and dry time. Use the reviews and comparisons below to find the best paint for your rims.
Rim Paint Comparison Table
| | | | | | | |
| --- | --- | --- | --- | --- | --- | --- |
| Spray Paint | Our Verdict | Colour Options | Size | Dry Time | Coats Required | Check Price |
| VHT Wheel Paint | Best Overall | 5 + Clear Coat | 312g | 30 min | 3 (within 1 hour) | eBay, Amazon |
| Dupli-Color | Best Metallic Finish | 8 + Clear Coat | 340g | 30 min | 3 – 4 | eBay |
| CarJoy | Easiest To Remove | 7 + Lacquer | 314g | 1 hour | 2+ | eBay |
| Rust-oleum | Best Against Rust | 3 + Clear Coat | 312g | 15 min | 2+ | eBay |
| Dupli-Color Caliper Paint | Best For Brake Calipers | 6 (4 available as kits) | 226g | 1 hour | 2 – 3 | eBay |

This popular wheel paint can be used on standard and custom wheels. It not only offers excellent colour depth but also forms a protective barrier against oxidation. This paint is resistant to chipping, fading and cracking meaning it looks new for longer.
There are 5 colours to choose from in the VHT Wheel Paint range as well as a clear coat if you are looking to provide additional protection. The best things about this paint is that it provides a high level of protection, will help avoid rust, and is tough enough to withstand brake dust and sand abrasion.
In just 1 hour the wheels will be painted and dried. It is recommended you apply 2 light coats followed by 1 medium coat in that time. If you find the wheel rims need another coat then wait 48 hours before applying as this gives the paint time to cure.
The paint dries in just 30 minutes but you should wait for an hour before handling it. The acrylic-enamel formula is tested and effectively restores the appearance of the rims.
This is a great paint for aluminium wheels, steel wheels, wheel covers and classic hub caps. This paint can handle intermittent temperatures of up to 121 degrees C.

Dupli-Color is a name synonymous with automotive paint and they offer a selection of metallic finish wheel paint colours that are durable and easy to apply. It requires 3-4 coats including the base coat but this is quick and easy as you don't need to wait for more than a few minutes between each coat.
This paint coating can be used on all types of wheel coverings and wheels (including aluminium, steel, and plastic). You can use it to restore the wheel appearance or restyle it completely. The paint produces a strong metallic finish that can stand up to the elements without fading or cracking. The smooth finish is resistant to chemicals and brake dust.
Just like the VHT paint, the Dupli-Color paint will dry in 30 minutes and can be handled after 1 hour. This paint can be used on wheels and accessories and can be applied in temperatures between 16-35 degrees C.
One thing we particularly like about the Dupli-Color paints is that they can be wet sanded and buffed to produce a glossy finish. This can be done a day or two after the paint is completely dried and also means you could buff it at a later date to restore shine rather than having to repaint the rims completely.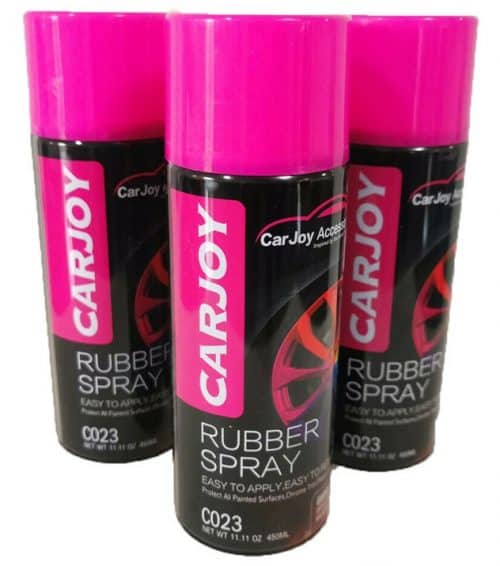 If you are looking for a spray paint that is easy to remove, this rubber spray film is ideal as it produces a durable finish that can also be peeled off with ease. This is perfect if you haven't painted the rims before and you're concerned about how the paint job will look or you want an easy way of changing the colour or re-doing the paint when it is needed.
The CarJoy Plasti Dip paint protects wheel rims against corrosion, abrasion and moisture. The paint is weather-resistant and flexible so will not crack in extreme weather, and has been tested in temperatures from -34 to 93 degrees C.
This is a multi-purpose spray that can be used on a range of surfaces. This set of 3 cans of paint is enough to apply 4 coats on 4 x 16-17″ rims.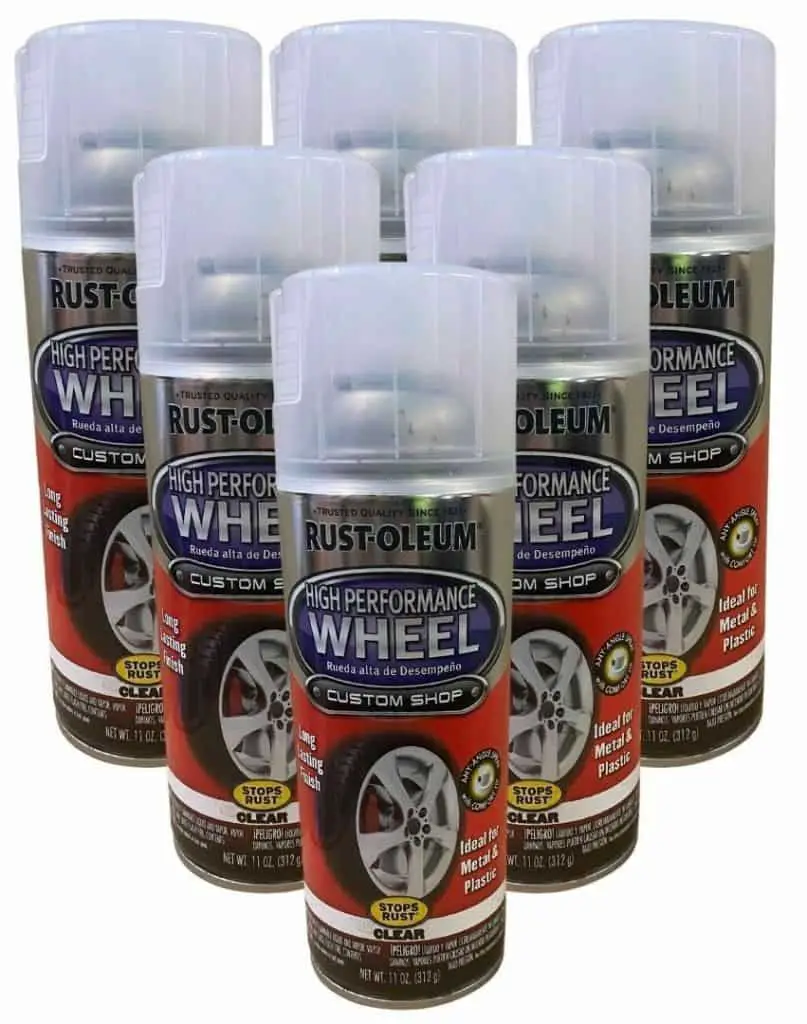 This rim paint from Rust-oleum can be used on metal and plastic so can be used on plastic hubcaps as well as aluminium or steel wheels. This paint offers excellent value for money, and can bring older rims and wheels back to life.
It is highly durable and has been specially formulated to stop rust. If rust is an issue and you are trying to restore and protect your wheel rims then Rust-oleum is the coat of paint you'll benefit from most.
This is an oil-based spray that is easy to apply. It comes with a comfort tip so you can easily spray the wheel coating from any angle. A couple of coats are required to give a professional finish.

If you want to paint your brake calipers, rotors or drums this is the paint to choose. This Dupli-Color kit comes with everything you need to clean and paint 4 calipers. It comes with caliper cleaner, paint, an application brush, a stir stick, masking tape, and instructions.
The paint itself is enamel with ceramic which can withstand temperatures of up to 260 degrees C.
The aerosol spray can be used to apply the paint when the brake calipers are removed from the vehicle and the brush on kit can be used when they are not removed.
This paint forms a protective coating on calipers that is resistant to brake dust, automotive chemicals and chipping. Although it says this paint dries in 60 minutes, in practice, it seems to be slower and may remain tacky for a couple of hours so it is best to leave the paint to dry overnight.
Wheel Paint Buying Guide
Buying paint for wheels is about more than picking a colour and spraying it on. This guide will help you find the best spray paint for your rims so you can refresh your car with professional results at home.
Colour
While silver is the most popular colour for rims, this isn't the only option out there. There are many rim paint colours available so you can customise your wheels to suit your style. You will find everything from gold to black wheel paint. All of the brands listed offer at least 3 colours with Dupli Color offering a choice of 8 colours.
Finish
In addition to considering the colour you want the wheels, also think about the finish. For example, do you want high gloss paint for aluminum rims? Or would you prefer a flat or satin style? The finish can enhance the overall look of the wheels. If you're not sure, the best finish to choose will be the one that will complement the paint on your vehicle.
What Materials Can I Use Wheel Paint On?
You can use wheel paint on most common metals and finishes including aluminium rims, chrome rims and alloy wheels. Many of these paints can also be used on plastic too.
Durability
Wheel paint is going to be exposed to all weather conditions, heat and debris. The paint needs to be durable enough that it won't chip when debris hits it or crack on hot days or long journeys.
It's important to let the paint dry fully before you put the wheels back on or go for a drive. The drying time will depend on the paint you are using. The fastest drying paint in our comparison dried in just 15 minutes and the rest were dry in 30-60 minutes. However, it is highly recommended you wait for around 24 hours before going for a drive.
Capacity
Check how much paint you get in each can. As a rule of thumb, you can expect a 310g (11-ounce) can to cover 2 rims. However, this will vary depending on a few factors including the size and condition of the wheels you are painting and the finish you want to achieve.
Value For Money
Some brands offer kits or bundle packs that include multiple cans of spray paint or a paint spray and a clear coat spray. If you need multiple paints or application tools, looking for a bundle pack can help save you money.
Application
We've reviewed aerosol paint sprays as these are extremely beginner-friendly and easy to use. They require minimum prep work and clean up but they can be messy so make sure you consider this before you start painting.
A spray makes it easy to apply an even coat. Generally, a spray is the best choice for painting car components when they have been removed from the car. If you try to spray while the parts are still on the car it can be untidy.
RELATED: The Best Tyre Shine
Liquid Paint
Another kind of paint you may see is liquid paint. This is different from spray paints as the paint needs to be brushed on. This is a good option if you have a larger area to cover or you are painting something inside the vehicle.
There are also touch up paints that are usually in the form of paint pens and are designed for small imperfections.
Applying Wheel Paint
Before you apply paint to your alloy or aluminum wheels you need to clean, degrease and lightly sand the surface. The cleaner your wheels are at the beginning of this painting process the better the results are going to be. This step by step guide will help you apply the spray paint with ease:
First, remove the wheels from your car. This may sound like extra effort but, trust us, it needs to be done. If you leave them on and get the spray paint for rims on your car then it will be very difficult to clean up and the results are going to look messy.
Start with a degreasing wheel cleaner or rubbing alcohol that will remove the buildup of grease that is commonly seen on wheels.
Now use some sandpaper to buff away any imperfections of the rims and get the surface of the wheels looking sleek. If there is old rim paint that is a bit stubborn you can use a wire brush to remove it.
If there are imperfections on the wheels then you might want to use a primer to fill these in and help achieve a professional finish. Cover the valve stem before applying the primer to prevent it from clogging up.
Paint with the spray of your choosing.
Once you have applied the colour of your choice it is a good idea to apply a clear coat that will help seal and protect the paint and give a gloss finish