It's common for cars or other metal items to develop different types of rust over time. If left untreated, rust can cause a lot of damage as it continues to eat away at the metal, reducing its integrity.
An effective rust remover can tackle rust and restore the metal to a like-new condition. To help you find the best option for your needs, we've analysed the most effective rust removers and converters on the market and assessed each of them against a range of important criteria including ease of application and effectiveness.
This is a soak rust remover, so a rusty item needs to be fully submerged in the diluted formula. This makes it best suited for use with smaller items such as car parts and tools.
This is one of the best rust remover products available thanks to its non-toxic, acid-free and environmentally safe features. It is also non-corrosive and biodegradable.
Evapo-Rust is also one of the most user-friendly rust removers on the market. It is much more pleasant to work with as there are no fumes or bad odours to deal with and it is safe on skin.
This solution will only remove rust and will not damage the metal underneath. This means it is safe to use on all metals and is suitable for removing rust from cast iron cookware, antiques, tools and more. It will not damage other materials such as plastic, Viton, most paint and PVC.
While not the quickest rust remover, this formula is highly effective when items soak for 1 – 12 hours.
This biodegradable rust remover from Evapo-Rust is non-toxic, non-corrosive and reusable. Being reusable makes this excellent value for money. It is easy to use and is safe on skin and eyes.
After use, you can reuse the solution. By first separating the used solution and the black rust sediment you can then keep the evapo-rust for future use. Store this in a cool, dry place and you will get plenty of use out of it. This mixture doesn't have a shelf life so no need to worry about that either.
This is a gentle formula that is free from acids, solvents, bases and VOCs. It is completely safe to use and won't damage steel, aluminium, brass or iron. This is great for auto parts, antiques, grill grates, clocks and more.
POR15 is a rust dissolving water-based solution. The solution is fast-acting and can work in 20 minutes for lightly rusted items. As with the Evapo-Rust formulas, submerge the rusted item for the best results.
This is a safe, biodegradable solution that won't damage unrusted surfaces. It is safe for plastic, PVC, Viton and most paints. This produces high-quality results without requiring scrubbing or sanding. This is ideal as it means you are less likely to damage the items.
This formula is easy to use, environmentally friendly and is odourless too. It is also reusable making it great value for money. It's an effective option for automotive parts, boat parts and tools.

This rust converter spray is for use on metal, body filler and fibreglass. It is easy to use and only takes an hour to dry, but wait 24 hours before applying a topcoat.
This is a clear spray that turns to a black metal-protecting coat as it dries. As the spray remains clear at first you can see where you have already sprayed it and which areas need the product.
We like the spray of this product, as it is consistent and the can doesn't need too much shaking to give good results. The spray nozzle is a good size and doesn't clog up either.
The finish is smooth and even but is suitable for sanding if required. This spray isn't the best choice for heavy rust. However, it does work well on light rust and is much quicker and easier to use than many competitor products.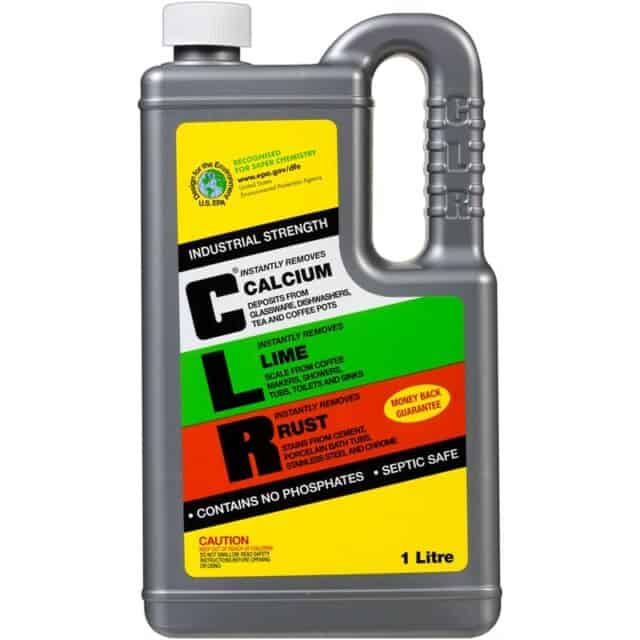 This is a versatile rust remover that can also tackle calcium and lime issues. It comes in liquid form and is ready for use. It can be full strength or diluted depending on the task.
Unlike the products we have looked at so far, CLR is suitable for surface application or soaking. This flexibility makes the formula suitable for a wide range of uses.
CLR contains no harsh chemicals, is biodegradable and can be cleaned away with a sponge. It is septic safe and doesn't contain phosphates. CLR is suitable for use on everything from coffee pots to dishwashers and stainless steel.
This Australia made rust remover is also anti-bacterial and kills 99.9% of germs. CLR has a pleasant citrus scent which is a welcome change from the usual chemical smell rust removers have.
WD-40 is a familiar multi-use product that is ideal for use in tight spots. It removes rust, drives out moisture and protects against corrosion. One of the great things about WD-40 is how versatile it is. It is fantastic for professional, home, garden and automotive applications.
The spray specialises in squeaky hinges and loosening rusted bolts. It cleans by getting under the rust and then protects the metal surfaces from moisture and corrosion.
This is a larger spray making it more affordable and well suited to bigger jobs.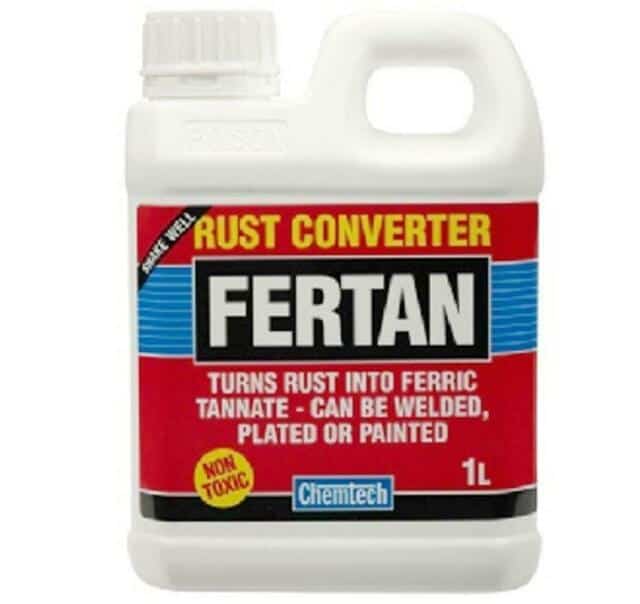 Fertan Rust Converter is an effective way to treat rust. It gives the same effect as shot blasting without damaging the material and it doesn't require much effort. You apply it to the rusty surfaces and then leave it for 24 hours before rinsing away.
This is an efficient rust converter that turns rust into ferric tannate. This is ideal for big jobs where you plan to weld, plate or paint the area.
Rust is removed and prevented from re-forming for up to 6 months which gives you plenty of time to paint the surface. Applying the solution to bare metal will help prevent rust rather than causing any damage.
This is a water-based, non-toxic solution that has an unlimited shelf life. Fertan is one of the best rust remover solutions for heavy duty rust stains.
This paint and rust stripper disc works with a standard household drill so it requires very little elbow grease. The disc can be used on wood, metal or fibreglass and quickly removes rust.
As this disc utilizes an abrasive web it won't rust or splinter as a wire brush might. The design of the disc also means it's suitable for all surfaces and it will contour to suit the surface.
This is a great option for removing rust while avoiding chemical solutions and sprays. It's not ideal for big jobs as the pad can wear down but is very effective and efficient for smaller tasks. It leaves the surface smooth and ready for painting.
Rust Remover Comparison Table
| | | | | | | | | |
| --- | --- | --- | --- | --- | --- | --- | --- | --- |
| Rust Remover | Our Verdict | Check Price | Size | Type | Ready To Use? | Application Time | Non-Toxic? | Biodegradable? |
| Evapo-Rust Acid-Free | Best Overall | Amazon | 1L | Soak Formula | Requires Dilution | 1-24 hours | Yes | Yes |
| Evapo-Rust Biodegradable | Environmentally Friendly | Amazon | 1L | Soak Formula | Requires Dilution | 1-24 hours | Yes | Yes |
| POR15 Rust Remover | Most Efficient | Amazon | 946ml | Soak Formula | Yes | 20 minutes + | Yes | Yes |
| Vht Rust Converter Spray | User-friendly | Kogan | 290g | Spray | Yes | 1 hour (dry to touch) | Not Listed | Not Listed |
| CLR Calcium, Lime & Rust Remover | Most Versatile | eBay | 1L | Soak or Surface | Yes but can be diluted | A few minutes | Yes | Yes |
| WD-40 | Best for Odd Jobs | Amazon | 560g | Spray | Yes | A few minutes | Not Listed | Not Listed |
| Fertan Rust Converter | Best For Big Jobs | eBay | 1L | Pour on Surfaces | Yes | 24 hours | Yes | Not Listed |
| Scotch-Brite Stripper Disc | Chemical-Free Option | Amazon | 1 Disc (101mm) | Scrubber | Yes | Immediate | N/A | N/A |
Rust Converter / Remover Buying Guide
When dealing with rust there are a few important considerations to make. The best rust remover will be safe, effective and fast-acting. This buying guide can help you find the best option for your uses.
Application Method
The two most common rust remover applications are soaking and spraying.
Rust Remover Soak – this is when the rust needs to be fully immersed in the solution. This is great for tools and parts but is more difficult if you have larger items to treat. Heavy-duty applications should sit overnight but a rust remover soak can take anywhere from 1 to 24 hours to be effective.
Rust Remover Spray -a rust remover spray is quick and easy to use. The only downside is that the solution can drip down. This can make it difficult to apply the product evenly.
Application Time
Each product will list its application time and some offer a variety of times to suit different uses. The amount of time rust removal products take to work varies from a few minutes to a whole day.
Toxicity
Many products use harsh chemicals and acids to remove rust, avoid these. There are plenty of non-toxic, environmentally safe options available. Evapo-Rust is a good example, this does the job without the use of oxalic acid or other chemicals.
Odour
Rust removers can have a strong and unpleasant odour. for a better user experience, Look for ones that are odourless or have only a mild odour.
Effectiveness
Of course, you want the rust removal to be effective in a single application. This is why choosing a powerful, reliable rust remover is essential. Make sure you give the solution enough time to work otherwise you may need to reapply it.
For added convenience, some products leave a protective layer to prevent further corrosion. This offers long-term protection and reduces the need for further treatment. To prevent rust, steel should be dry and clean but as this is often not an option applying a protective coating is the next best thing. This is an excellent choice for use on car parts.
In short, rust converters are useful for rust you cannot remove while rust removers clean the rust away. Either way, the surface can be primed and painted afterwards. The best option for your use depends on the item and the location of the rust. Keep in mind that these are not the same products you would use for rust stains.
Rust removers work by separating the rust from the metal. The rusty item will usually need to be soaked in the formula and the formula will work to strip the rust away. A rust remover can be harsh and corrosive (often made with oxalic or phosphoric acid) so look for products that are safe and non-toxic.
Rust converters work by mixing with the iron oxide of rust and turning it into a black layer of ferric tannate. This stops corrosion and turns the rust into a stable layer rather than cleaning it. A rust converter is often a good choice for antiques and artefacts. It is also good for vehicles and sheet metals where manual cleaning is difficult. A rust converter is usually sprayed on like a paint.