Roof racks are ideal when you need additional space for luggage or large items that don't fit inside your car such as sports equipment.
No matter where your next adventure takes you, a roof rack is the best travel companion. They offer a convenient, easily accessible and simple to use solution that frees up space inside your vehicle.
The system you choose is going to depend on your vehicle's roof type and what gear you want to transport. Below we've reviewed some of the best roof racks in Australia so you can carry more wherever you go.
The Thule Wingbar is a quiet, aerodynamic and high-performance roof rack. It is one of the most popular Thule roof racks thanks to its strength and durability, ease of use, sleek appearance, and great features.
The aircraft wing inspired design increases its aerodynamic properties and reduces wind noise and resistance.
The aluminium Thule WingBar is available in 4 lengths so different roof widths are catered for. They also have full-length t-tracks that makes it easy to load accessories and utilise all of the roof space.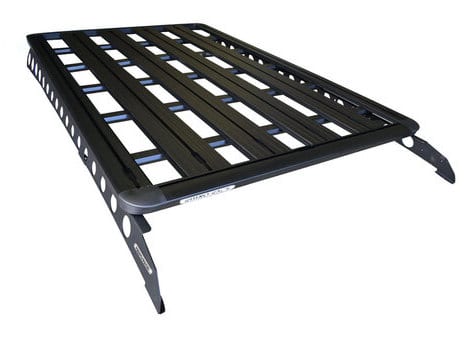 As seen on 4x4s and work vehicles across the country, the Rhino-Rack Pioneer Platform is the ultimate storage solution when it comes to durability, versatility, and ease-of-use.
Available in kits to suit a wide range of vehicles, these roof trays can also be customised to work with your roof setup, thanks to their modular design.
Constructed from powder-coated aluminium with re-enforced nylon corners, these racks are lightweight yet strong and durable.
Designed for adventure, the Pioneer Platform is compatible with a wide range of accessories, including integrated wiring capabilities for a light bar. Installation is made easy thanks to an integrated measuring strip while an included torque limiting tool allows for easy maintenance.
The Rhino-Rack Pioneer Platform comes with a 5-year warranty.
The Rhino-Rack Vortex Aero Cross Bar is a high-quality, stylish and aerodynamic bar. It is an ideal option for replacing a damaged bar, adding an extra bar to an existing rack or for building your own roof rack.
This aluminium vortex Rhino-Rack comes with Secure Core end caps with locks to deter theft of mounted accessories. It also has rubberised strips across the top channel to help disrupt airflow when traveling.
This crossbar requires a Rhino-Rack leg kit and Fit Kit to be installed (unless you already have a Rhino-Rack installed and are using this as an extra or replacement bar).
This Rooftop Cargo Carrier from RoofBag is a waterproof, heavy-duty option that can be installed on any vehicle (even if the vehicle does not have a rack). The kit comes with a carrier and 2 straps.
The carrier is durable and features double-coated, abrasion-resistant vinyl. It is built to withstand extreme temperatures, snow, and sun exposure. The cargo carrier has an aerodynamic shape so journeys should be quiet and fuel-efficient.
This is a suitable solution for transporting belongings safely no matter what vehicle you have. It is particularly helpful if you have multiple vehicles, change vehicles often or want something you can easily remove. The Rooftop Cargo Carrier is made in the USA and is free from BPA and toxic chemicals. It is also fire resistant and comes with a 2-year warranty.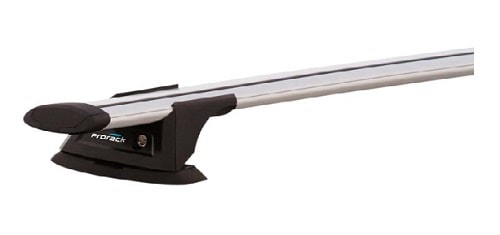 The Prorack S-Wing roof racks are 120cm in length and have a 75kg carrying capacity so you don't need to leave anything behind.
The racks are simple to install, straightforward to remove, and can be adjusted to suit your car too. These are very adaptable and have a smart-foot design that makes it more likely for you to continue to use the Prorack S-Wing even when you upgrade your car.
The S-Wing racks are strong and feature an aerodynamic design meaning they are silent even at fast speeds. The side covers are lockable to prevent removal and the self-sealing T-slot design allows quick installation of a range of accessories. This product does require a Prorack fitting kit which is sold separately.

This Roof Rack from Thule is a complete universal kit including feet and rails. The SmartRack is quick to install and requires no other tools to set it up.
This aluminium rack is user-friendly and comes with a rubber-coated steel strap that securely attaches the foot to the rails. The rubber lining on the rails helps to protect them from scratching, keeping it looking smart for longer.
The maximum load capacity of the SmartRack is 75kg.
The Bullet Pro Universal Cargo Rack is perfect for outdoor adventures, road trips, and camping. It is a durable steel basket that gives plenty of space to carry extra luggage.
The mounting system is universal so is able to accommodate all vehicle types. The design of this cargo basket is rugged and functional, it has a mesh bottom that offers convenient tie-down points and it features a wind deflector to eliminate wind resistance.
This roof rack basket can be assembled in a few minutes and has a load capacity of 70kg. It also comes with a warranty for buyers in Australia.
Roof Rack Comparison Table
| | | | | |
| --- | --- | --- | --- | --- |
| Roof Rack | Type | Size | Material | Check Price |
| Thule WingBar | Cross bar | 43″ – 60″ | Aluminium | Amazon |
| Rhino-Rack Pioneer Platform | Platform | Varies to suit vehicle | Aluminium | Outback Equipment |
| Rhino-Rack Vortex Aero | Cross bar | 41″ – 71″ | Aluminium | Amazon |
| RoofBag Cargo Carrier | Roof Bag | 11cf/311L | Polyester canvas | Amazon |
| Prorack S-Wing S16 | Cross bar | 47″ | – | BCF |
| Thule SmartRack | Cross bar | 47″ | Aluminium | eBay |
| Bullet Pro Universal | Luggage Basket | 102 x 12 x 123cm | Steel | Amazon |
Roof Rack Buying Guide
Comparing roof racks isn't as easy as it may first seem. There are a few different types available and there are some important details to think about such as the durability, load rating and ease of installation. This buying guide will help you find the best product for your vehicle and needs.
Types Of Car Roof Rack
Roof racks can be installed on any car but the type of roof your car has impacts which ones are compatible. The roof rack and fitting system you need depends on your vehicle type:
Bare Roof – If your vehicle has a bare roof (meaning it doesn't have any pre-installed attachment points) then you will need a system that attaches to the door openings such as clip fit, clamp or a tie-down system. These are racks with brackets that clamp onto the outer edge of the roof. A bare roof system is considered simple to install and can be used on a wide range of vehicles.
Fixed Point – If your vehicle has no rails but has removable tabs that reveal mounting fixpoints then this is a fixed point system. Rails that work with these fixed mounting points are easy to find.
Open Rail – If your vehicle has fixed roof rails that run from the front of the roof to the back and have a small gap between the top of the roof and the bottom of the rail this is called open rail. Open rail is usually the easiest type of roof to fit a roof rack to as you already have a sturdy base to work with.
Closed/ Flush Rail – If your vehicle has parallel rails but there is no gap between the roof and the rail it is a closed rail or a flush rail. This type can support a roof rack easily, you will just need a base system that works with the rails on your vehicle.
We recommend checking your car and confirming the type of roof/rails you are working with before looking at products.
Load Rating
Every rack comes with load rating information so be sure to check this before you buy. The load rating is how much the rack can hold and is usually between 60-100kg depending on the individual rack.
In addition to the cargo load rating (the amount of luggage that can be put on the rack) there are three other load ratings you may want to keep in mind:
Static (the rating when the vehicle is stationary)
On-Road (the rating when driving on sealed roads)
Off-Road (the rating when driving on dirt, unsealed or uneven roads)
As well as checking the load rating of the product you should check the weight limit for the roof of the vehicle too. Roof racks can often hold much more weight than the car is actually made to withstand. The vehicle's roof load rating varies depending on the vehicle but for 4x4s it's generally between 50-100kg.
Don't forget to check the weight of the product itself and take this into consideration too (try to find one that is strong but not heavy).
Key Considerations
Material
The material of the roof rack and rails will impact price and durability. The two most common materials are aluminium and steel.
Aluminium – Aluminium is lightweight meaning it creates less drag and is more fuel-efficient when driving. The lighter weight also means installing, removing and moving the roof rack is easier. Aluminium is the best choice for regular use as the products are aerodynamic and often come with T track slots for a range of accessories.
Steel – Steel is extremely durable so you can expect the top roof racks to last for a long time. Steel roof racks usually cost less than aluminium but as it is a heavier material it creates more drag and uses more fuel. It's also more likely to make noise while driving.
You may also come across plastic products but these are flimsy, much less durable, and aren't really suitable for off-roading. The benefits of plastic include the low price and lightweight.
Bar Types
There are two types of bar: through bars and flush bars. Through bars stick out past the roof rails and offer more loading capacity while flush bars end at the leg of the roof rack. Flush bars look neat, giving the car a streamlined appearance and they are well suited to smaller vehicles.
Strength & Durability
The last thing you want is the roof rack to break and fail during your trip. The best way to prevent this from happening is by choosing a trusted brand that has a reputation for producing reliable racks.
Reduce Drag With A Low Profile
Choosing low profile options will not only make loading and unloading easier it will also reduce the noise, reduce the drag and increase your mileage. Choosing one that is not low profile (like a rooftop basket) will create more noise and will impact fuel economy.
Versatility/ Accessory Compatibility
When making your decision, consider what items you will be transporting and what accessories you plan to use with the rails. Make sure the new product is compatible with the accessories you may want to add.
Ease Of Installation
All roof bars come with installation information and instructions. Installation at home usually takes 15-30 minutes but it varies. Many manufacturers such as Rhino Rack recommend the products are fitted by a professional in the case of more complex set 4×4 setups.
Even if the product has been installed by a professional, always check the roof racks attachment points and bolts before each trip and every 1000km to ensure they are in position and secure.
Popular Accessories
Cargo Box – A cargo box is a great option for transporting a range of items. It is the best roof rack accessory for family trips and for protecting extra luggage or camping equipment from the elements. This accessory isn't suitable for larger gear but is a great solution for smaller items.
Rooftop Basket – Baskets are versatile, lightweight options that are good for everyday items. A rooftop basket is usually a low-cost solution. You may find baskets are not as durable or weather-proof as other options such as roof boxes.
Bike Rack – Bike racks will usually secure the wheel and frame of the bike so it remains upright throughout the journey. This is a convenient way of transporting bikes but it can be difficult to get the bike up on top of the roof in the first place (particularly if the bike is heavy or the car roof is taller than you).
Tips For Transporting Items On A Car Roof
Drive Slower – Roof racks will impact the vehicles aerodynamic drag which is why different products have differing maximum speed limits. If you drive faster than the products maximum speed limit you risk the items coming off of the vehicle so take care and be aware of the limits and capacity.
Remove When Not Being Used – As roof racks cause your car to be heavier and drag more it makes sense to remove them from the vehicle roof when they are not being used. This way your car will always be as efficient as possible. This is highly recommended even if the product you choose is lightweight.
Always Read The Instructions – While roof racks are often well made and straightforward to fit, each product is different so you should read the relevant information before getting started. That way you know exactly what you want to do and the tools that will be needed to do it.
Pack Smart – It's best to store light but large items such as tents or camp chairs on top of the roof and store heavier items inside the vehicle.
Secure Larger Items With Straps -If you are going to be travelling with large items, such as kayaks, add straps to secure the load to the car as well as the roof rack. This extra support helps to ensure the items stay attached when travelling. Large items create more drag and are capable of ripping away from your vehicle when travelling at speed so it needs extra security.