Need advice on finding the best roof box for your car? Simplify your search and make sure that you get the best model for your needs with our top-rated roof box reviews. We've researched and analysed the most popular models based on their capacity, ease of use, security and durability. Here's how to choose the very best roof box for your vehicle.
Roof Box Comparison Table
| | | | | | | |
| --- | --- | --- | --- | --- | --- | --- |
| Roof Box | Our Verdict | Capacity | Dimensions | Dual Sided Opening | Weight Capacity | Check Price |
| FE Active Cargo Rooftop Carrier | Best Cargo Bag | 428L | 112 x 87 x 44cm | Yes | Not stated | Amazon |
| Yakima Skybox 21 | Best High Volume | 595L | 233.7 x 91.4 x 45.7cm | Yes | 75kg | eBay |
| Thule Motion XP Alpine | Best Aerodynamics | 450L | 232 x 95 x 35 cm | Yes | 75kg | Vehicle Accessories |
| Yakima Rocketbox Pro 12 | Best Small Volume | 340L | 147.3 x 91.4 x 40.6 cm | Yes | 75kg | |
| Bullet Pro Universal Luggage Rack | Best Cargo Basket | n/a | 123 x 102 x 12cm | n/a | 70kg | Amazon |
Lightweight, durable, and very easy to install, the FE Active Cargo Rooftop Carrier is our top cargo bag pick. Why opt for this cargo bag over a roof box? The main advantage of this particular model over the others in our selection is that after use you can simply fold up this rooftop carrier and store it in your boot or even at home – ideal if you don't have a garage.
Weighing just 907g, it is feather-light compared to standard roof boxes which typically weigh around 20kg. Its lightweight makes it really easy to lift on and off your roof, ideal for occasional use and single-handed installation. With its eight wide straps, you get a good secure fit, complete with a waterproof zipper and extra Velcro reinforcements for easy access to all of the equipment you're carrying. 
Thanks to its highly resistant 500D PVC tarpaulin fabric, this cargo carrier will keep whatever you need to transport dry and safe. While its 428L capacity isn't the roomiest, it's still plenty big enough for weekends and short trips away. The fabric outer is treated with anti-mildew agents for a long lifespan and extra protection, even when used and stored in damp conditions. 
Obviously you won't get the same high protection levels as from a rigid cargo box, but here the main advantages are its ease of storage and installation, which makes it a great choice for occasional use.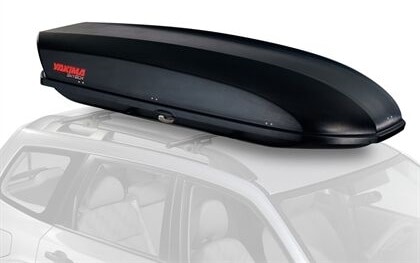 With its huge 595-litre capacity, the Yakima Skybox 21 is the best roof box to go for if you have a lot of gear to transport. Whether it's a family holiday or you're hauling gear for your camping trip with friends, the Skybox 21 has a maximum 75kg storage weight load and can even securely transport long objects and equipment up to 215cm in length, such as snowboards or skis. 
While it is a lot longer than the Yakima Rocketbox at 233.7 cm compared to 147.3cm, its carbonite aerodynamic lid has been designed to reduce wind noise and drag. So, you're not going to really notice such a huge difference to your drive compared to using any other of our top roof box picks. However, if you have a hatchback or a fairly small car, you will probably struggle to fully open your boot with the Skybox 21 in place.
Dual-sided opening makes for easy access, plus you can install and remove the Skybox 21 without the need for any tools, although you'll probably want a helping hand. Internal lid stiffeners ensure your gear is fully protected, while unlike the FE Active Cargo Rooftop Carrier, the Yakima SuperLatch helps keep your possessions safe from theft by locking your lid to the base providing excellent security.

The Thule Motion XT Alpine is another good option if you need to transport a lot of stuff. Like the Skybox 21, it is also capable of accommodating long objects, like your skis or snowboard up to 215cm.
While the Motion XT's overall volume is 450L, 145L less than the Skybox, its length and width are almost the same as the high-capacity Yakima. At 35cm, its height, however, is 10cm lower accounting for the reduced overall volume.
Despite its length, you're less likely to have problems accessing your boot thanks to the Thule's forward position on your vehicle roof. Combined with its lower height, this makes the Thule Motion XT a much more aerodynamic choice without compromising too much on capacity. It is also easy to install thanks to its quick-mounting system, while its SlideLock allows you to verify that the top is securely closed at a glance.
For easy access, loading and unloading, this high-capacity roof box features supportive lid-lifters and easy-grip handles. Easy to fit and optimized for maximum storage space without compromising your vehicle performance on the road too much, the Thule Motion XT is by far one of the very best roof boxes around hence its fairly elevated price.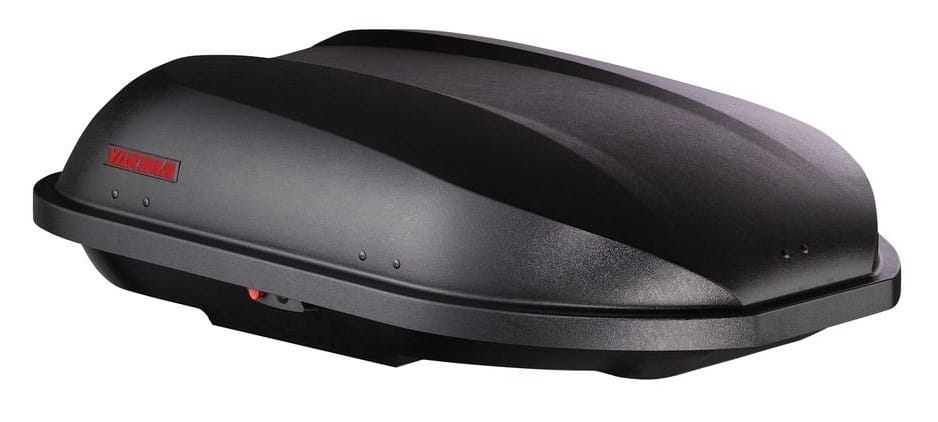 Whether your car has a short roof or you're just looking for a more compact roof box, the Yakima RocketBox Pro is definitely a top model to consider. Its 340-litre storage space means you'll have plenty of space for a weekend trip to the mountains – its 147.3cm length can accommodate skis up to 135cm long. Yakima's shortest roof box, you shouldn't have any issues opening your hatchback's boot with this model.
Not only is the Yakima affordable, it is also compatible with almost all types of roof bars thanks to its universal mounting hardware. At 40.6cm high, it is similar in height to the Skybox with streamlined shaping to reduce drag. Dual-sided, easy push-button opening makes loading and access extra easy, while the same-key-system security locks ensure your gear stays safe when you stop off en route.
While some minor tool-free assembly is required, given its decent capacity and much more manageable size than our other top-rated box carrier models, we think the Rocketbox Pro 12 makes an ideal cargo box for city dwellers with smaller cars looking to free up boot and rear seat passenger space for short trips away. Plus, it's also a great buy for the money.
If you need an easy-to-store solution to transporting your bags or outdoor equipment, the Bullet Pro Universal Luggage Rack is your best option. Compared to other luggage baskets on the market, it's available at an affordable price and unlike bulky cargo boxes, at just 12 cm high, you can tuck it away easily when it's not in use. 
With a 14 kg weight, 123cm length and 102cm width, it's manageable and easy to mount single-handedly. Made from high-quality steel, this rooftop cargo rack can support up to 70kg, putting it on par in terms of load with the other rooftop cargo boxes in our reviews. While the wind reflector helps to reduce drag, you may want to invest in a waterproof cargo bag to improve aerodynamics and protection.
Some assembly is required, although you'll find that this cargo basket mounts very easily and comes with a simple yet effective universal u-bolt attachment system. Note that cross bars are not included. If you regularly go camping or enjoy a lot of cross country adventures, this rugged, sturdy luggage rack is the best storage option for strapping on your bulky gear and hitting the road.  
Roof Box Buying Guide
Stuck trying to decide which is the best roof box for your needs? Make sure that you consider the following factors when choosing between different models of cargo carriers.
Value 
Even if you're on a tight budget, you can still pick up an affordable roof box. While you're not going to get all of the features and durability of high-end models such as the Thule Motion XT, you can still pick up really good rooftop cargo carriers for under $500. This includes conventional, more compact roof boxes, such as the Yakima RocketBox, as well as more budget-friendly rooftop luggage baskets and carrier bags.
Our advice – if spending more is an option, think about just how often you're going to be using your roof box and what you'll be transporting in it. For regular use, it's well worth spending the extra dollars, even more so if you'll be travelling long distances with a lot of equipment. For shorter, less frequent trips, a lower price cargo carrier is going to be better value for money.
Durability
Obviously, you'll be looking for a long-lasting roof box that won't need replacing anytime soon. While roof rack baskets tend to be extremely durable, double check that they are sufficiently well coated or consider respraying to ensure the framework won't rust or corrode – basically just how you would care for a metal bike rack.  
Rooftop carrier bags should be made from a waterproof fabric with a high denier to ensure that your gear doesn't cause any fraying and that everything makes it to your destination clean and dry. Look out for cargo carrier bags that have been treated with anti-mildew agents to keep your possessions clean and your cargo carrier in use for longer. 
For standard roof boxes, structural integrity, hinges, and weather resistance are all areas that can degrade with time. While roof boxes are generally a good choice for protecting valuable equipment, make sure that any roof rack mounts are fully weatherproof as some cheaper units use a combination of u-bolts with a variety of pre-drilled holes to ensure universal mounting. Unused holes can allow water to enter your box.
Ease of use
Cargo carriers with dual-sided openings make it much easier to load and unload, as well as quickly accessing your gear. You should also take into account how easy your roof box will be to mount onto your vehicle. If you have two cars, verify that your cargo box is compatible with both roof racks. 
While models like the Thule Motion XT have systems that mount in just minutes, you may want to avoid u-bolt systems if you are going to be regularly taking your carrier on and off, or switching it between two car roof racks. Also, consider if you'll be mounting your roof box alone or with help. More compact roof boxes such as the RocketBox are much easier to get onto your roof and installed without assistance.
Security
Aside from ease of use, security is another key factor when choosing between roof boxes. While determined thieves will find a solution to break into any secure cargo box, by choosing a lockable cargo box you'll be able to stop off to eat or shop en route without having to worry about any opportunists making off with your valuable gear. Obviously, a rigid walled model securely attached to your roof bars is going to be a better choice for carrying more valuable equipment than a carrier bag or basket with easy-to-cut straps.