Reversing cameras are low-cost, easy to install and make a world of difference when it comes to reversing and maneuvering a vehicle. There is a wide range of reversing cameras on the market so you no longer need to rely on the limited view of the rearview mirror.
In this article we've rounded up the best reversing cameras in Australia and analysed them based on a range of key metrics. These cameras work with all vehicle types and offer a compact solution that increases safety when driving, parking or backing up.
Reversing Camera Comparison Table
| | | | | | | |
| --- | --- | --- | --- | --- | --- | --- |
| Reversing Camera | Screen size | Parking Assist | Wireless | Power source | Waterproof rating | Check Price |
| Garmin BC 40 | Not included | Yes | Yes | 2 x AA batteries | IPX7 | Amazon |
| Garmin BC 30 | Not included | Yes | Yes | Reverse light | – | Amazon |
| AUTO-VOX M1 | 4.3″ | Yes | No | 12 Adaptor | IP68 | Amazon |
| Yada Digital | 4.3″ | Yes | Yes | Reverse light | IP67 | Amazon |
| Elinz | 5″ | Yes | Yes | Reverse light | IP67 | Catch, Elinz |
If you're looking for a reversing camera that is compact, wireless and straightforward to install the Garmin BC 40 is one of the best available. It comes with a mount that you attach to your license plate so installation couldn't be easier.
This hardy, weatherproof camera is powered by AA batteries meaning it doesn't have to be hard-wired to the car. This makes it quick and convenient to set up the camera yourself. With average use, the batteries last up to 3 months so the camera remains low maintenance.
The Garmin BC is compatible with any vehicle but it requires the Garmin navigator in order to work. Once the camera is set up you can use voice commands to operate it. When on, the camera produces a clear wide-angled video so you can see behind the vehicle.
The Garmin BC 30 is a long-range wireless backup camera that can be installed on any vehicle. It is sleek and compact while giving you wide-angle (up to 140-degree) views so you will quickly spot anything behind the car before you reverse.
Up to 4 of these cameras can be used together to provide additional coverage for a range of angles. This system can wirelessly send the video up to 45ft. As with the Garmin BC 40, the BC 30 also requires a compatible Garmin GPS system.
As this camera needs to be connected to a power source (the rear lights is a common choice) it is best to get it professionally installed. You can install it yourself if you feel confident but it may take some time to connect up. The camera can be mounted to the back of the vehicle and is designed to be able to handle all weather conditions.
If you're looking for a low-cost camera system that is durable and offers quality images the Auto-Vox M1 is worth a closer look. This reversing camera is user-friendly, simple to install and uses just one wire. The wired connection makes sure there is no interference or lost connection when you are reversing.
Unlike many other systems, the Auto-Vox M1 uses the same wire to power both the monitor and the camera. This is convenient and removes any confusion when it comes to installation. This system comes with an adhesive bracket mount for attaching the monitor to the windshield or dashboard. This securely holds the monitor in place and can be removed when no longer needed.
This durable kit includes everything you need. The camera is waterproof and has night vision to ensure you can always see what's happening no matter what the conditions are. It also has a quality parking assist system so you can back up with confidence.
If you need a reverse camera that works well in low light conditions the Yada Digital Camera is one of the best. This is thanks to the built-in night vision capabilities of the camera. This kit also includes a monitor so you don't need anything else to get started.
The camera needs to be installed over the license plate and the image is sent to the monitor wirelessly. This kit is simple, effective and offers great value for money.
To help with reversing and parking, the monitor also shows parking assist lines so you can more easily gauge the distance between the car and any obstacles/ hazards. As the wireless transmission is strong there is little/ no interference between the camera and the monitor and you can see the sharp, high-quality image in real-time.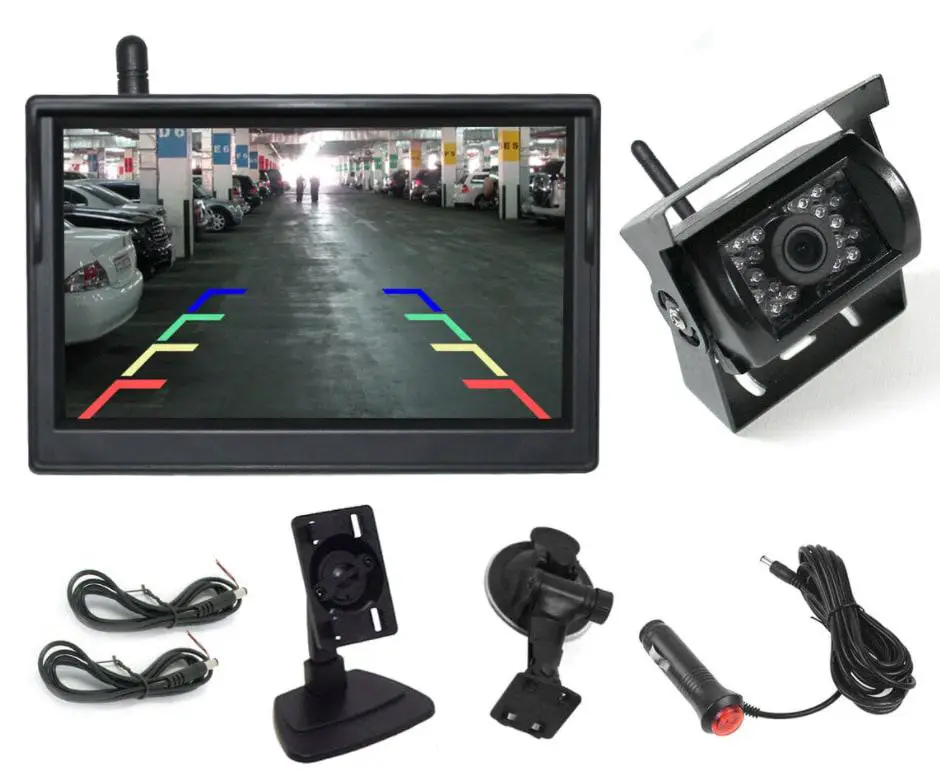 This wireless reversing camera from Elinz offers an impressive range of 30 metres making this a great choice for trailers and trucks as well as cars.
The camera has a wide-angle view and night vision so you will clearly be able to see what's happening behind the vehicle no matter what time of day it is. The signal between the camera and the monitor is strong so the pictures are clear and easy to see.
In addition to the monitor and the camera, the set includes a car charger so to install it all you need to do is plug the monitor into the car's cigarette lighter. The monitor will automatically turn on and display the rearview camera when you put the car into reverse. You will also see parking assist lines on the 5" LCD colour display to help you gauge distances.
Reversing Camera Buyer's Guide
Not all cars come with a reversing camera built-in but that doesn't mean you need to miss out on the convenience and safety of having one. There is a range of models to choose from varying in size, installation requirements and features so there will be one to suit your needs.
This buyer's guide takes a look at which features are the most important so you can quickly and easily compare different reversing cameras.
Is A Wireless Reversing Camera Better?
There are advantages and disadvantages to having a wireless reversing camera. They are great for easy installation and for having minimal wiring around (and inside) the car. Both the camera and the monitor will need to be powered independently and the required power source for the camera will depend on the model you choose (some are battery-powered while others need to be wired to the car lights).
The downside to wireless backup cameras is the signal strength and quality. As the signal needs to be sent wirelessly between the camera and the monitor, the quality is reduced and there may be interference. If you are towing a caravan or driving a large vehicle such as a truck you are more likely to experience signal interference than if you are driving a small car.
A wired camera will take more time to set up and install but you will have the benefit of high-quality images and no connection drops or interference.
RELATED: The Best Android Auto Head Units
Choose A Wide Angle Camera
To get the best view of what is happening behind the car choose a reversing camera that uses a wide-angle. The viewing angle is usually noted in the specifications and lets you know how much you will be able to see.
With a good viewing angle, you will see the side of the vehicle as well as directly behind the vehicle. This helps to remove blind spots and gives you a more complete view.
Does The Reversing Camera Use Parking Assist?
Not all backup cameras come with parking assist guidelines. These are lines that are shown on the monitor, they help you manoeuvre safely by indicating distance and direction. There are two types of parking assist guidelines a reversing camera may use:
Dynamic – these lines will move to indicate the path of the rear wheels. This is helpful when parking as you can see where you are reversing as you move the steering wheel. Dynamic parking assist is the most popular choice for people who lack confidence when reverse parking.
Static – these lines do not move as you move the steering wheel. The static lines help to give you an idea of distance and can help you park straight.
RELATED: The Best Dash Cams
Where Should A Reversing Camera Be Installed?
Reversing cameras can be positioned above or below the license plate or can replace the reversing light or the boot handle. The best position depends on the individual camera. Mounting the camera near the license plate is easiest but positioning it in place of the reversing light makes the camera far less visible and produces a smart, seamless finish.
The position of the monitor will depend on the system, some will work with the existing car screen or with your sat nav while others will come with their own monitor. A separate monitor can be mounted to the windscreen or dashboard and should come with a suitable mount.
Some reversing camera kits also offer a small screen that can be added to your rearview mirror, this is great if you don't want an additional screen on your dashboard or require something that will sit seamlessly with your car's existing interior.