High quality remote control cars are a thrill to drive but the market is flooded with different makes and models. This makes choosing one that offers a combination of speed, performance and value for money a challenge if you don't know where to look.
To help you in your search, we've analysed the best RC Cars on the market and analysed them against a range of important criteria including design, application and power.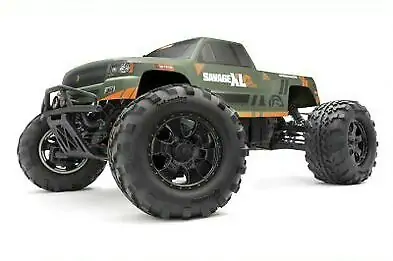 The X 4.6 monster truck is the updated HPI Savage and it is made to be durable, powerful and innovative. This remote control car is made to a 1/8 scale and is powered by Nitro.
This RC Truck has been upgraded to offer better handling and an improved 2.4GHz radio that automatically prevents frequency conflicts. These upgrades make the HPI Savage X 4.6 easy to control and a lot of fun to drive.
This is one of the most popular 4WD monster trucks and it's clear to see why. The beefy suspension can handle all terrain and the way the skid plates and bumper have been bulked up helps the HPI Savage X 4.6 survive considerable crashes as well as tough jumps. This is an RC Truck that can handle whatever you throw at it.
When we look at power, the F4.6 Big Block engine offers nearly 3 horse power. This translates to top speeds of over 45mph.This is not the fastest of the RC cars listed (take a look at the Traxxas X01 if you are looking for speed) but it is still a strong, durable tuck that is an absolute blast to control.
The Savage X 4.6 has an electric start system that uses a 6-cell stick battery part and normal charging plug. The kit comes with everything you need to charge the system.
This 4×4 RC vehicle measures 534 x 427 x 254mm, it has a 336.5mm wheelbase and 159 x 85.5mm tyres. It's one of the larger, heavier trucks and it is ready for off-road adventures.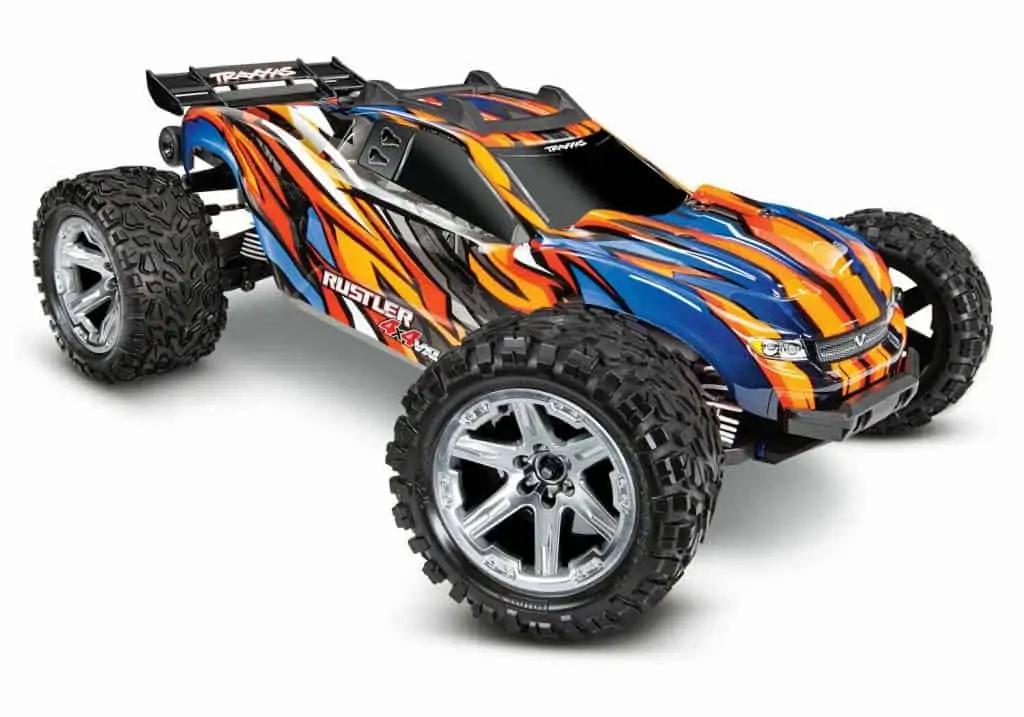 The Rustler is an aggressive looking RC car, it has a wide body, big wheels and it sits close to the ground. It is arguably one of the most recognisable of remote control cars.
This Traxxas car uses a brushless motor and offers a top speed of 65+mph. There are 3 driving modes; training mode, sports mode and race mode. We definitely appreciate the training mode for getting to grips with this fast and responsive RC car.
The chassis of the Rustler is longer than what you get with the 4×4 Stampede, this results in better handling and improved stability. The built in Stability Management system also helps with better driving control too and this can be turned off if you don't want to use it.
Some other features we love about the Traxxas Rustler 4×4 VXL includes its ability to self-right when it ends up upside down and the small wheels on the rear spoiler that help to prevent the car from flipping back when doing wheelies. These small features make a huge difference for the driver.
The Rustler 4×4 VXL is powered by 7.4v lipo batteries or 11.1v lipo batteries (with TRX connector). However, the battery is not included as this allows you to select the battery and charger best for the skill level and speed you want.
The Aspung Remote Control Car is a fun low-cost stunt car for kids. It has a 360-degree design that means it can spin, flip and tumble and can even flip over and continue to be driven upside down.
This car is made from strong ABS plastic that can handle collisions without damaging. The bright colours ensure you don't lose sight of your stunt car and it can be controlled from up to 60m away. The large tyres are heavy duty, anti-shock and anti-skid so the car will go along all types of terrain without issue.
Unlike some RC cars, the Aspung comes with the 2 AA batteries needed for the controller and the 2 rechargeable batteries needed for the vehicle. This means the set comes with everything you need to get the stunt car working so you don't need to spend any extra on the battery and charger like you do with some other RC cars.
This RC stunt car uses a brushed motor that produces speeds of up to 7.5mph. This doesn't come close to the Traxxas Rustler's 65mph but is perfect for family games. This is one of the smaller and lighter options weighing less than 1kg and measuring 295 x 180 x 85mm, making it a manageable option for youngsters.
Best for Customisation: Tamiya tt02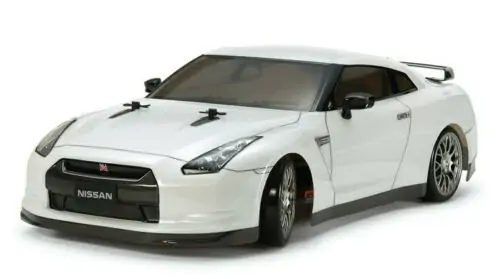 The Tamiya TT02 is a versatile shaft-driven chassis. It is the replacement for the popular TT01.
This is easy to maintain and can be used for a number of vehicles from off-road buggies to rally, drift and road race remote controlled cars.
The endless customisation and add-on options make the Tamiya TT02 a great choice for everyone from first time users to experienced users. The TT02 can be set with a long or short wheelbase and the wheels track width can be changed too.
This remote control car is great for general onroad and rally uses.
The Traxxas X01 boasts top speeds of 100+mph. This is an incredible radio controlled car that has been designed to offer top performance.
It is a 1/7th scale but is quite large in size and is one of the heavier cars too. However, its aerodynamic design its weight doesn't slow it down. The high power is delivered by a Traxxas Big Block Brushess electric motor.
One of the great things about the Traxxas X01 is that it offers good steering wheel control even at high speeds. The steering servo is hooked up to the servo saver and the Traxxas Stability Management system helps to keep it under control.
This is a lot of fun to drive but its not an entry level car. As it is so fast, it is unlikely you'll be able to experience the true potential of the X01 unless you have a lot of track for it.
The Traxxas X01 is a durable high speed ready to run RC car and it's the one to choose if you are looking for an on-road, high performance model.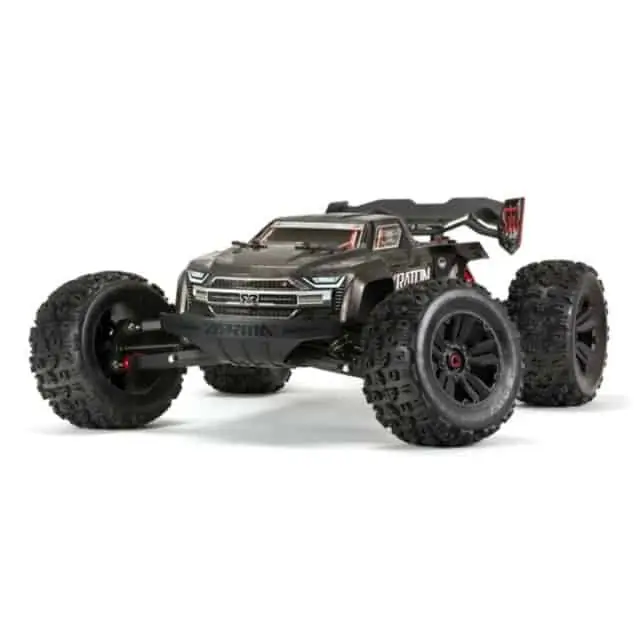 The Arrma Kraton RC car offers a blend of power and performance, it can handle high speed bashing across all terrains. Like the Traxxas remote control cars listed above, the Arrma Kraton uses a brushless motor power by LiPo batteries.
When it comes to maintenance, this car is straightforward with easy to access diffs. This 4 wheel drive monster truck has an extra bulky suspension and comes with a range of heavy-duty features including steel turnbuckles, hinge pins and arms with aluminium strengthening. This truck is also water resistant, something only a few RC cars offer.
This is a great looking machine that isn't too big or too heavy. It is built to a 1/8 scale and can take big hits and drives with style and control. The Arrma Kraton RC is a great choice for anyone wanting a fast-paced thrill with minimal risk of complication or damage.
The Eocean remote control drift car is designed to be able to perform a 360-degree rotation in place, it can go in any direction and can flip back when it gets stuck near a wall or obstacle. This drift car is fun for kids and adults but the remote control does take a bit of getting used to.
As the design and capabilities of this stunt car are unique we like that there is a demo mode so you can see what the Eocean can do.
The tyres are actually made of multiple rollers rather than single tyres and this RC car offers 4 wheel drive making it able to drive across a range of terrains including grass and sand.
This car has red and blue flashing LED lights on the front, it looks cool but we would've liked to see a way of turning this off too. This is a fun drift car available at a good price point. It makes a great gift for kids.
Remote Control Car Comparison Table
| | | | | | | | | | |
| --- | --- | --- | --- | --- | --- | --- | --- | --- | --- |
| RC Car | Our Verdict | Check Price | Size | Weight | Scale | Wheelbase | Tyres | Power | Top Speed |
| HPI Savage X 4.6 | Best Nitro 4WD | eBay | 534 x 427 x 254mm | 5kg | 1/8 | 336.5mm | 159 x 85.5mm | Nitro Car Fuel | 45+mph |
| Traxxas Rustler VXL | Best Electric 4WD | eBay | 477 x 329 x 161mm | 2.32kg | 1/10 | 295mm | 71mm | Lipo batteries | 65+mph |
| Aspung RC Stunt Car | Best Budget 4WD | Amazon | 295 x 180 x 85mm | 0.75kg | – | – | 80mm | 4.8V 700mAhnickel-cadium battery | 7.5 mph |
| Tamiya TT-02 | Best For Customisation | eBay | 361 x 185mm | 1.28kg | 1/10 | 251 or 257mm | 66mm | 7.2v battery | 80+mph |
| Traxxas X01 1/7th | Best For Speed | My Deal | 686 x 127.5mm | 4.67kg | 1/7 | 404mm | 109 x 50mm | Lipo batteries | 100+mph |
| Arrma Kraton | Also Great | eBay | 590 x 470mm | 4kg | 1/8 | 378mm | 169mm | Lipo batteries | 60+mph |
| Eocean | Most Unique Design | Amazon | 160 x 150 x 75mm | 640g | – | – | 75mm | 3.7v rechargeable batteries | – |
RC Car Buying Guide
Ready to Run
Entry level remote control cars are ready to run "RTR". This is definitely something to look out for if you're new to RC cars as actually building them is completely different from getting one to race around.
RTR RC cars may still need to have their receiver installed, batteries charged and have their engine "broken in" but all of this is straightforward and will be detailed in the instruction manual.
Types of RC
On-Road
The standard scale for on-road RC cars is 1/10 and some offer a 1/8 scale too. These cars are built for speed and can be used for road racing. An on-road remote control car needs a smooth, even surface such as a pavement or road to drive along. These come in nitro and electric versions.
Off-Road
Off-road RC cars are designed for rough terrain. They are incredibly rugged and can handle most situations from jumps to sand. You can find two wheel and four wheel drive off-road RC cars. These aren't the quickest cars but they are built to handle challenging terrain with ease. As with the on-road models, you will find off-road cars and trucks powered by electric and nitro.
RC Car FAQ
How fast does the Traxxas Stampede go?
The Stampede can go 30+mph when maxed out with a 7-cell battery and 21-tooth pinion gear.
Which is better Traxxas Slash or Rustler?
For most users, the Traxxas Slash is the best of the two. It offers better handling over a range of terrains and is more durable. However, it is also more at risk of turning over which means the Rustler is slightly easier to drive.
What is the top speed of the Traxxas Rustler?
The Rustler 4X4 VXL can go up to 65+mph with 3-cell LiPo and 20/54 gearing.
Which Traxxas model is the best?
The best Traxxas model depends on what you want from your RC car, the Rustler, Stampede, Slash and Maxx are all popular choices.
What is the best Tamiya model?
The Toyota Yaris WRC Gazoo, Subaru WRX and Mercedes AMG GT3 are all extremely popular Tamiya RC cards that feature the durable TT02 chassis.
When did the Tamiya tt02 come out?
The Tamiya TT02 came out in May 2013 but there have been many variants including the TT-02T that came out in February 2015, the TT-02RR that was released in December 2018 and the TT-02FT that was released in July 2021. There's currently a total of 11 variants of the TT-02.
What is the difference between Tamiya tt01 and tt02?
The two designs are similar but the TT02 has a better prop shaft, thicker chassis and lower centre of gravity. The TT02 gives improved access to the differentials as well as more gearing ratio options. As the TT02 is the newer release it features a more modern and improved design overall.
How can I make my RC car more powerful?
The best way to increase the power of your RC car is to upgrade the motor and batteries. If this isn't an option you can reduce the weight, change the tyres and change the gear ratio to help increase the speed.