The right pressure washer should take the pain out of cleaning your vehicle or deck and last many years without any trouble. To help you in your search, we've analysed the most popular pressure washers on the market and assessed them against a range of important criteria including pressure, flow rate, pump quality, and ease of use. Use this comparison to find the right electric pressure washer for your needs.
Pressure Washer Comparison Table
| | | | | | | | |
| --- | --- | --- | --- | --- | --- | --- | --- |
| Pressure Washer | Our Verdict | Pressure (PSI) | Weight | Flow Rate | Hose Length | Warranty | Check Price |
| Gerni 5000 | Best For Most People | 1885 | 8.7kg | 5.8 – 8.7 L/min | 8m | 2 years | eBay |
| Kranzle K2160TST | Upgrade Pick | 1740 | 39.5kg | 11 L/min | 15m | 2 years | My Generator |
| Jet-USA RX525 | Best Value | 1800 | 9.5kg | 6.5 L/min | 5m | 1 year | Amazon, MyDeal |
| Karcher K3 Premium | Most Accessories | 1950 | 6.3kg | 5.5 – 6.3 L/min | 8m | 3 year | Kogan |
| Bosch EasyAquatak 120 | Budget Option | 1740 | 5kg | 5.83 L/min | 5m | 2 year | Amazon |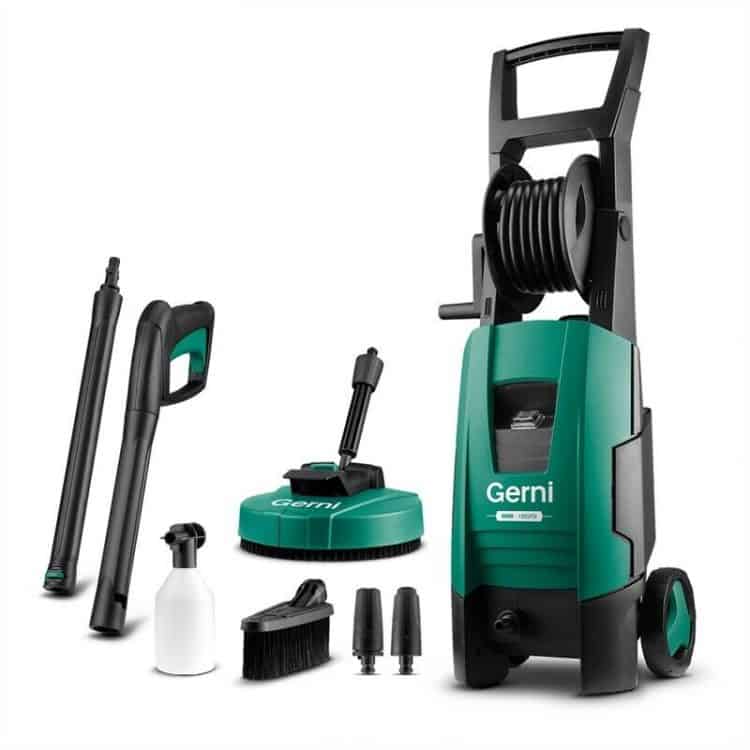 The Gerni 5000 is the best all-rounder, it is available at a great price and offers an excellent balance between pressure, flow and weight. This means it can handle tough stains as well as general cleaning, which is further helped by the adjustable spray that makes the unit efficient for each cleaning use.
This is a high-performance washer with a pressure power of 1885psi. This pressure is on the higher end of the models reviewed here, putting it in a good position for handling small jobs while also being capable of performing larger jobs and more frequent use.
The set comes with a soft-bristled wash brush for when gentle cleaning is required and also comes with a selection of accessories to suit a range of different cleaning jobs from decks to cars and motorbikes.
One of the accessories is a foam sprayer which is great because it lets you use cleaning products with the washer. It also comes with 2 spray nozzles so you can switch them as needed.
The aluminium pump makes the Gerni 5000 durable and long-lasting. Another thing we like about this pressure washer is how easy it is to use, the built-in swivel on the handle can be rotated 360-degrees making it effortless to manoeuvre and spray in the direction required.
This comes with an 8m hose and hose reel. This is the best option for most people as it is durable, efficient and user-friendly.
This German-made pressure washer is high quality, robust and efficient. The K2160TST features a 10 amp slow running motor which makes it very quiet, means it can run for longer and it will have a longer life.
One of the great features of the Kranzle units is the total-stop system that saves power by automatically turning off the motor when the gun is stopped and starting again when the trigger is pulled to continue spraying.
This set comes with 15m of high-pressure steel braided hose giving lots of flexibility and plenty of hose to move around. This is the longest hose offered by all of the units we reviewed and the hose reel keeps it wrapped up so it won't get in the way.
It also offers the highest flow rate at 11L/min and offers a pump pressure of 1740psi which is only slightly less pressure than the Gerni 5000. One of the downsides to this model is how heavy it is, weighing almost 40kg. It is built to be robust and reliable but this weight makes it a lot less portable too.
This is not the pressure washer to go for if you are looking for a low-cost option that you will use on rare occasions but it is a fantastic choice if you need an efficient washer for regular use to clean all vehicles including larger 4x4s.
The Jet-USA is an excellent pressure washer for home use. It offers continuous pressure of 1800psi, comes with a selection of attachments and weighs 9.5kg making it easy to manoeuvre.
The weight and small size make this a compact option that can easily be stored away with all of the attachments neatly hooking to the machine so they don't get lost in between uses. The attachments aren't universal so you can only use them with Jet-USA pressure washers.
The hose reaches 5m which is one of the shortest offered, it is also quite stiff so you may have to move the unit around as you clean your car. If needed you can easily use a longer garden hose to attach the machine to the tap giving more space to move.
We like that this pressure washer has a soap tank so you can clean efficiently and with continuous water pressure. The detergent bottle can hold 0.45L so you won't need to constantly be adding more product.
This is a great choice for general cleaning and the accessories (including spray tips, a brush, soap dispenser and an angle head) help to make different cleaning tasks easy to complete.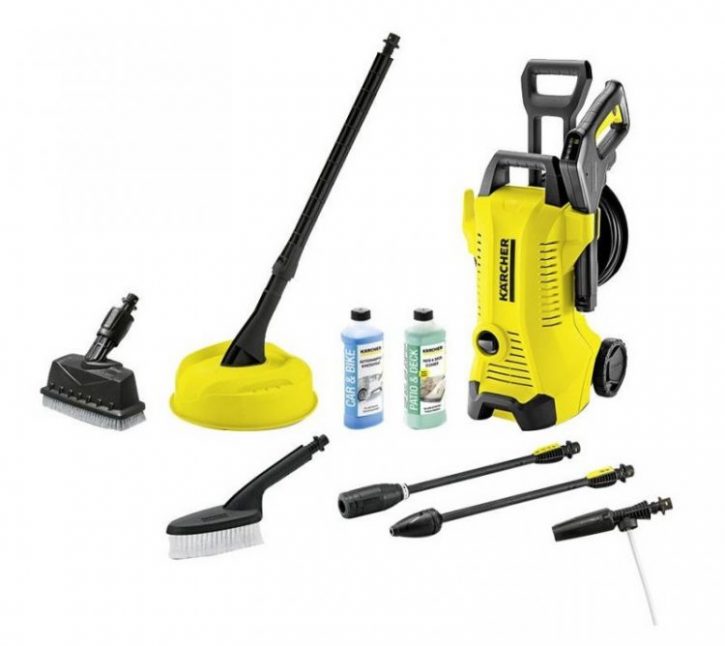 The Karcher K3 Premium Car and Deck pressure washer is another popular option. We like this model as it combines high water pressure (1950 PSI) with being very user-friendly and manageable (weighing only 6.3kg – one of the lightest of this list).
This set comes with a car kit including a foam jet, rotating wash brush and a drying cloth. It also comes with half a litre of car shampoo so you don't need anything else to get started.
The pressure washer also comes with surface cleaning and Patio & Deck shampoo reminding us that it can clean more than just the car. It also features a detergent tank that is ideal for using the included efficiently.
For ease of use, the spray handle is retractable and the body of the washer has storage hooks for keeping everything neatly together in between uses. Another thing we appreciate about the Karcher K3 Premium is the 3-year warranty. This is the longest warranty of all the models listed.
If you're looking for a pressure washer that is available at a low price, is good quality and is easy to move around then the Bosch EasyAquatak 120 is for you. It is a great option for light home use.
The design of this unit is shorter with a much broader base to add additional stability and ease of carrying. The size and shape also make storage easier. Included with the accessories that come with this pressure washer is a detergent tank which is handy for getting jobs done quickly.
The EasyAquatak is the lightest unit we've looked at but it also offers a low – average flow of 5.83 L/min and the lowest PSI pressure (along with the Kranzle) at 1740 PSI. This is still a strong spray that is efficient with most cleaning jobs but it will struggle to tackle grime that is baked on.
One of the key benefits of the EasyAquatak 120 is that it doesn't make a lot of noise when in use. It is energy efficient and has a self-priming pump that automatically draws up water.
The hose it comes with is 5m so you may want to buy an extension hose to make it easier to move around your vehicle without needing to move the unit as well. All in all, this is a great low-cost option that will handle all light cleaning efficiently.
Pressure Washer Buying Guide
A pressure washer is ideal for washing cars and cleaning outdoors but every pressure washer is different so you need to take a look at the specifications before purchasing. This buying guide will help you figure out exactly what to look for when choosing a power washer for your car, patio, outdoor furniture etc.
Understanding the Measurements
PSI
This is the measurement used when discussing water pressure and means pounds per square inch.
The PSI pressure you require depends on the application. Washing a car doesn't need as much pressure as cleaning a patio or driveway does. In fact, a super-powerful PSI can cause damage when washing the car as it could cause paint to chip away.
Flow L/min
This lets us know how many litres of water are being used in one minute.
The water flow rate is important because a high rate is needed to remove and wash away dirt. An entry-level pressure washer tends to offer around 5L/min while a higher-end machine can offer more power by using around 10L/min.
Each pressure washer will have good pressure and water flow ratio. The right power for you will really depend on what you are washing and how much stubborn dirt there is.
Which Attachments Do You Need?
Most pressure washers come with at least one additional attachment. The most common quick-connect attachments include:
Fan nozzle – nozzle tips are easy to switch and they adjust the water spray to suit the application. Fan nozzles create a wide spray which is great for light cleaning.
Rotary nozzle – this nozzle is perfect for heavy-duty cleaning as it creates a circle of high-pressure water.
Foam nozzle – this is a useful nozzle to have when washing cars. It offers an excellent way of applying detergent as it turns it into a thick foam that will apply evenly and hold onto surfaces better.
All in One – Some pressure washers will have an adjustable nozzle rather than a selection of replaceable nozzles. This lets you set the required spray type without needing to physically switch nozzles.
Rotary brush – as well as spray tips you may also get brushes. The rotary brush is great for cleaning patios as it makes the water gentler while also brushing the area.
Extending hose – this will add length so you can use a long hose when working further away from the tap. This will generally add more flexibility and make the unit easier to use.
Hose Length
The length of the hose is an important factor for ease of use. A longer hose lets you move around and clean a car or patio without needing to move the pressure washer unit around. This is useful for two reasons:
1) Many pressure washers are heavy and moving them around requires effort.
2) A longer hose means you don't need to worry about being restricted by the power cord of the unit.
Cord Length
The power cord length needs to be enough that you can comfortably plug the unit in and have it positioned in the area you need it. You should never use an extension cord with a pressure washer so make sure the power cord is adequate.
Detergent Tank
A detergent bottle is basically a soap dispenser that is attached to the pressure washer. It makes using soap quick and easy and is extremely helpful when cleaning cars as you don't need to stop the pressure washer to apply the soap, you can do it all at once.
Warranty
It's always worth checking what the warranty coverage is on the pressure washer you are considering. The warranty is usually between 1-5 years so finding one with a longer cover period can help you get the most from your purchase.
Sometimes models that don't have a long warranty coverage do have easily available replacement parts that can be bought online at low prices. This helps keep the pressure washer maintained and in good condition for longer.
Finding The Right Pressure Washer
All of these models have a pressure of under 2000 PSI. This falls in line with the power of a domestic electric pressure washer. You don't need more cleaning power than this for most cleaning tasks.
If you have a lot of heavy-duty or even industrial-grade cleaning then you might want to move away from electric power and look at gas-powered pressure washers instead. These can offer a much higher pressure than an electric pressure washer and are more heavy-duty too.
You will be able to find intermediate and professional gas-powered pressure washers offering 2000 – 4000 PSI.
Electric Vs Gas Pressure Washers
You will come across electric power and gas power washers. There are several differences between the two and we'd recommend an electric pressure washer for cleaning a car at home. If you're not sure which is better for your requirements, take a look at the pros and cons below:
Electric Pressure Washers
Electric washers are most common for domestic use as they are easy to use and simply plug into the mains electricity.
Pros
Lightweight
Quiet
Minimal maintenance requirements
Compact
Lower price
Cons
Lower water pressure
Less sturdy
Limited by the power cord
Gas Pressure Washers
Gas units are more powerful and more expensive so are often used for heavy-duty use.
Pros
High pressure
Able to clean large areas quickly
Durable
Cons
Heavy
Noisy
Need maintenance
Higher price