A portable air compressor is a lightweight, convenient and easy to use tool that simply connects to your car's battery or cigarette lighter and lets you check, maintain and adjust your tyres pressure as needed.
Using an air compressor to make sure your tyres are the correct pressure can improve safety, handling and fuel economy. Below we've reviewed some of the best compressor pumps available.
To help you in your search, we've rounded up the most popular air compressors on the market and assessed them against a range of key metrics, including flow rate, PSI, warranty, and of course reliability and ease-of-use (based on user reviews).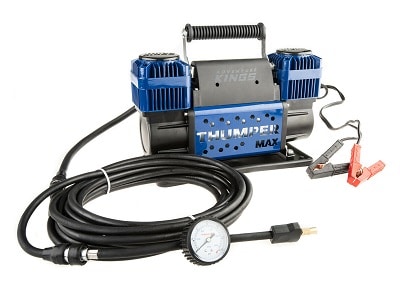 There's a reason this is one of the most common air compressors used by 4×4 owners. The Thumper Max MkII is a fast, convenient and easy to use air compressor that offers 300L/min of high-pressure air.
To make checking your tyres even faster the kit includes a quick connect tyre chuck, quick connect hose and quick connect gauge.
The 12 volt Thumper Max also comes with safety features including a built-in circuit breaker, automatic thermal cut-off and 2 stage air filters for each cylinder. It also has a rubber-mounted, shock-absorbing base. This is an air compressor that is able to rise to the challenge.
RELATED: XTM vs Kings Thumper
This complete kit is ideal for inflating and deflating tyres to suit all your needs. This is one of the best air compressor sets for 4×4 offroading, caravans, towing and touring.
The trigger system makes it easy to use the compressor without needing to turn it on and off. This 12V portable compressor offers a flow rate of 72 LPM and is backed with a 5 year warranty.
This is an option that you can rely on wherever your travels take you. The kit also includes two battery clamps so it attaches directly to your car's battery with clamps that are designed to handle the amperage required to run the compressor. For safety, the clamps have an in-line fuse to ensure there are no voltage drops or blown fuses.
The AstroAI 12V makes it quick and easy to safely fill tyres to the exact pressure required. For accuracy, the compressor is professionally calibrated to give you a reading within 1%.
For safety, this portable air compressor pump has an integrated in-line fuse that prevents overloading and overheating. The compressor can be used for a maximum continuous operating time of 30 minutes.
The LED backlit display shows measurements in PSI, KPA, Bar and the set comes with a needle, built-in flashlight, spare fuse, valve caps and two cone adapters. This portable kit comes in a handy storage case so you can easily put it in under the car seat or in the back. The AstroAI 12 volt gives you everything you need for inflating car, motorcycle and bike tyres as well as sports balls and balloons.
This portable tyre inflator is perfect for topping up tyre pressure with ease. It is designed to be user-friendly and straightforward to use. The compressor has a digital display that is easy to read and is accurate to +/- 1 PSI.
The screen can display PSI, BAR and kPa measurements with a simple button that lets you switch between them.
This inflator is compact enough to fit in the glove box and it even has a USB socket for when you need to charge your mobile phone. This is a Michelin product which is a well known and trusted brand.
The Xiaomi Mi is an electric air compressor that has a digital display allowing you to detect and test tyre pressure at any time. The unit is charged to the preset pressure and then automatically stops so you can reach the right pressure without worrying.
The cylinder can be pressurized to 150psi for road bikes and can be used for cars, motorbikes, bicycles as well as footballs.
This is a small and convenient option that comes with a variety of nozzles. It is small enough to put in your car, motorcycle or bag. Unlike other air compressors, this one does not require an external power supply when in use. It can also be charged with a power bank for ultimate convenience on the go.
This lightweight, versatile and portable air compressor is turbo-powered so you can inflate everything from balloons to tyres. The set includes a ball pin, balloon pin and presta valve adaptor.
The digital pressure gauge is easy to read and has multiple modes including PSI, BAR, KPA and KGF. The compressor automatically stops when the perfect pressure is reached.
The power cable is 3.2m so it is easy to plug it into the 12V outlet in the car. As the Certa Big Wolf compressor is compact it can be easily carried and stored.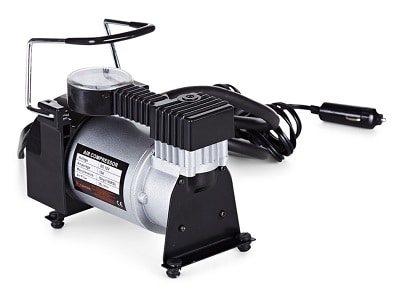 The Greenlund 12V air compressor offers a max pressure of 150PSI. This can inflate each tyre in just 90 seconds so you can get all your tyres sorted in less than 10 minutes.
This is a great option for use on-the-go. It is effortless to use, has an easy to read pressure gauge and comes with 2 nozzle adaptors. Simply connect the unit to a car accessory socket and get the job done within minutes.
The compressor has a convenient carry handle and has a 3m power cord so your movement won't be limited. This is a low cost option that is great for keeping in your vehicle.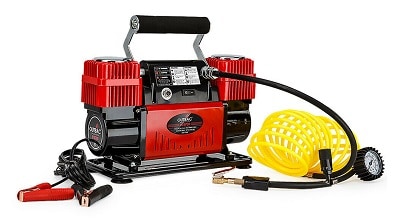 If you're looking for an air compressor kit for 4WD tyres, this kit from OUTBAC is perfect. It can inflate an average 4WD tyre in less than 45 seconds making it one of the fastest on-demand compressors available.
This means inflating all of your tyres will take just a few minutes with the power and speed of this compressor.
The kit comes with an Acu-flate deflation valve so you can accurately control your tyre inflation with ease. It also comes with a tyre plug kit for repairing small punctures so you will never be stranded.
OUTBAC is known for producing high-quality and reliable products and this portable air compressor comes with a 12 month warranty. This kit includes a fabric storage case that can be tucked behind or under the seat so it's always within easy reach when you need it.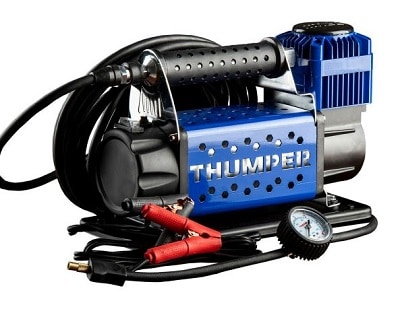 This powerful Air Compressor offers an impressive high-pressure output of 160L/ minute. It has a pressure release safety valve and an 8m heavy-duty high-pressure hose with a quick connect fitting and tyre chuck.
This is one of the best options for 4WD, caravans, bikes and camper trailers. You can also inflate sports equipment and air mattresses using the adapters.
This is a fast, heavy-duty and easy to use option that is able to inflate five 31in 4WD tyres in 11 minutes so there is no more waiting around.
Portable Air Compressor Comparison Table
| | | | | | | | | |
| --- | --- | --- | --- | --- | --- | --- | --- | --- |
| Air Compressor | Our Verdict | Power Source | Max Flow Rate | Max PSI | Hose Length | Digital Display | Warranty | Check Price |
| Kings Thumper Max | Top Pick | Car battery | 300 LPM | 125 | 8m | No | – | Adventure Kings, 4WD Supacentre |
| Bushranger 55X23 Max Air III | Runner Up | Car battery | 72 LPM | 120 | 9m | Yes | 5 Years | Amazon |
| AstroAI | Best Value | 12V | 35 LPM | 100 | 0.7m | Yes | 3 Years | Amazon |
| Michelin Digital Tyre Inflator | Most Compact | 12V | 10 LPM | 50 | – | Yes | – | Amazon |
| Xiaomi Mi | Best Battery Powered | Chargeable battery | – | 150 | – | Yes | 1 Year | Amazon |
| Certa Big Wolf | Best for Bike Tyres | 12V | – | – | – | No | 1 Year | Kogan |
| Greenlund | Best Budget Option | 12V | 35 LPM | 150 | – | No | 1 Year | eBay |
| OUTBAC | Also great | Car battery | 300 LPM | 150 | 5m | No | 1 Year | eBay |
Portable Air Compressor Buying Guide
A portable air compressor is a must-have in any vehicle kit. They are lightweight, simple to use and easy to store. Portable air compressors let you check and maintain your tyre pressure no matter where you are. There are a few different types so this buying guide will help you find the right one for your needs.
Why Invest In An Air Compressor?
Checking and properly maintaining the air pressure of your tyres is a simple job that can help improve safety, handling and fuel economy as well as the life span of the tyres. While the local servo will have an air hose, you often need to wait in line and this equipment tends to be worn, damaged and inaccurate.
How Often Should I Check My Tyres?
You should check your tyre pressure at least once a month.
Not sure what the PSI reading should be? Check the placard on the inside of the driver's door or inside of the fuel cap to find out the recommended pressure for your car tyres.
It's best to check your car tyres when they are cold as warm tyres will affect the reading so it's better to do it before you hit the road.
Air Compressors for 4×4
If you are 4-wheel driving, an air compressor is essential. Having the ability to check and adjust the tyre pressure whenever you need to will help you tackle specific conditions. Being able to reduce pressure for sand, mud, and snow will help improve traction and handling.
Once you are finished off-roading, it is important to increase the tyre inflation for normal roads as this will help to prevent damage to the vehicle and improve fuel economy. Changing the inflation of the tyres is an essential part of off-roading so you will want to have one of the best portable air compressors on hand.
Key Features To Look Out For
When looking for a 12V air compressor, there are lots of factors to consider.
Power Source
A portable 12V air compressor usually runs directly from the car 's battery using battery clips. Less powerful compressors can be plugged into a car cigarette lighter. Plugging the unit into the cigarette lighter is convenient but these options tend to be a lot slower. The kit should come with battery clips to safely connect the 12 volt unit to the car battery.
Common Terms
Pressure Gauge -The pressure gauge is what shows you the inflation pressure. Some options show the pressure on a digital display making it quick and easy to get accurate readings.
Flow Rate -This refers to how much air the compressor can pump. A compressor that offers air flow of 200L/min will be able to inflate a tyre twice as fast as a compressor that offers air flow of 100L/min.
Duty Cycle – The duty cycle is how long the air compressor can continuously run for and how long it needs to be off for before being used again. If the duty cycle is listed as 100% it means it can run continuously (within the reference conditions). This is good to know, particularly if you are regularly off-roading and plan to get a lot of use out of the compressor within a short time period.
Single vs Twin Piston
A portable single piston product is small, low cost and comes with a range of safety devices. The downside is it can take a long time to fill tyres but it is a good all-round option that won't cost much. With the right accessories, it can be used for inflating footballs and inflatable mattresses too.
A portable twin piston product is a larger option that is able to pump more air per minute than a single piston. This reduces the amount of time spent pumping up tyres. Twin piston air tools can be helpful for a range of other tasks too. As it is larger, it requires extra power and generates more heat. The ARB twin has two fuses that draw 68.6amp so this means you will need to keep the engine running while you use it.
If you are looking for a twin piston, choose a model that uses twin motors so the unit will still work if one of the pistons stops working.
Tyre Deflator
Some units have a button on the air hose that allows you to deflate the tyre while the valve and nozzle are attached. Others have a separate turning collar that locks over the tyre valve to keep it open to let the air out.
Safety Features
Safety features such as a thermal safety cut-out are important to prevent overheating when working with compressed air. Some portable air compressors include a built-in LED light, this is something you will definitely need if you find yourself using the pump in dark conditions.
Warranty
Air compressors can cost a few hundred dollars depending on the model you choose. To ensure you get the most out of the product it should come with a warranty. Most options come with a 1 year warranty but you may find one that comes with a three – five year warranty too.
Choosing The Best Compressor For Your Vehicle
When selecting the best option, consider the following factors and how they relate to your vehicle and intended use.
The litres per minute compared to the size of your tyres
The length of the hose (make sure it will be able to reach all sides of the vehicle easily)
Size – is it easy to lift and store?
Duty cycle
How many amps it uses