The days of sports cars being the toys of the rich and famous are long gone. Today, even the most budget-conscious enthusiast can get into a vehicle offering great fun and ability at any speed, on the road or the track.
However, a car is often only as good as the tyres on it, and so it rings true that the better the tyre, the better the driving experience.
Buying tyres requires research beyond just the price, so we've done some of the legwork for you with a list of high-performance tyres well worthy of consideration. After the list of tyres we've included a comparison table to help you compare the specs of each.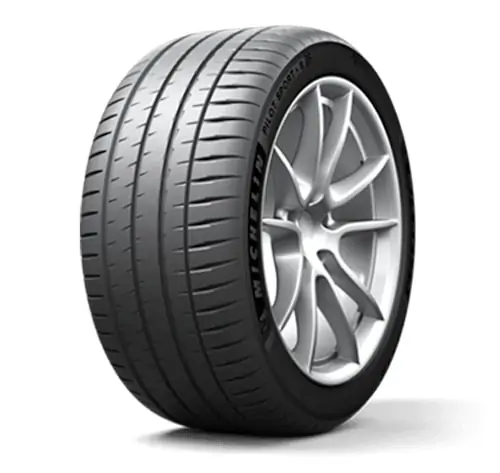 One of the best ultra-ultra-high-performance (UUHP) tyres on the market, the PS4S has continued to dominate the competition years after its release thanks to its ability in both wet and (especially) dry conditions. Its combination of breathtaking handling and feedback makes it a natural choice for most enthusiasts.
The PS4S has a more aggressive tread pattern with a lower void ratio than the (slightly) more conservative PS4. While this reduces wet handling somewhat, the trade-off is greater ability in the dry which is arguably more useful to enthusiasts in Australia.
Available in over 150 sizes from 18″ through to a super-performance SUV-fitting 23″, the PS4S has few equals. Its only real drawback is its price relative to many other tyres, but if you're looking for a champagne tyre sometimes you've got to have more than a beer budget.
Pros:
Dry performance
Driver feedback and confidence
Cons:
Slightly reduced wet performance
Expensive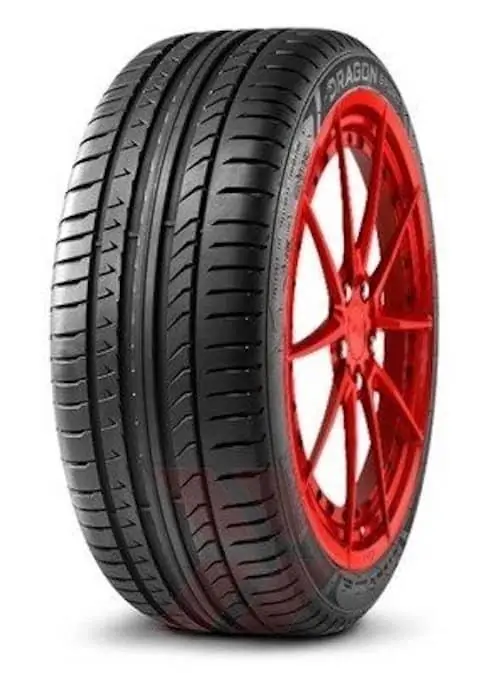 Pirelli developed the Dragon Sport specifically for the Asia-Pacific market to combine all the best traits of its range into one product; dry and wet handling, comfort, noise, and mileage. A high-performance touring tyre is probably the best way to describe it.
The Dragon Sport is more comfort-oriented than the PS4 and Eagle F1 Asymmetric 5, offering a more supple ride and much less road noise. On Australia's less-than-perfect road surfaces, this might be a deal-breaker in the Pirelli's favour.
Ultimately, the Dragon Sport is a very popular tyre capable of good mileage and excellent noise and comfort levels, without sacrificing too much in terms of outright handling and grip.
Pros:
Cons: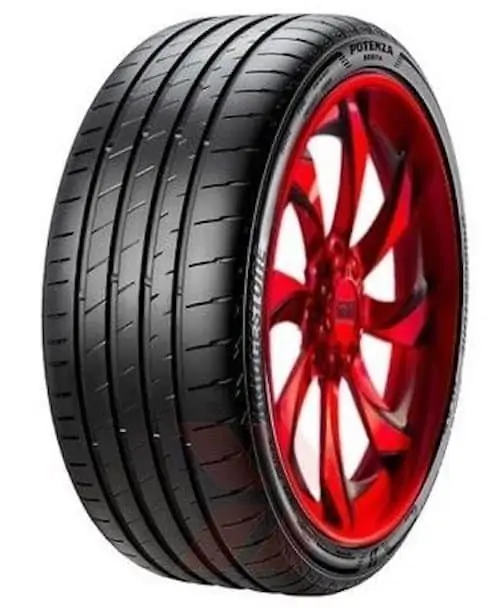 The Potenza S007A is a performance tyre and prioritises dynamic ability above almost all else. Designed to offer the very best for a performance car, the S007A improves on Bridgestone's S001 in every way; increased cornering, stability, and braking performance.
As with most UHP tyres, it has a speed rating of Y, indicating a safe maximum speed of 300kph. Its low treadwear rating also indicates greater traction and grip, at the sacrifice of tyre wear.
Kevlar construction helps stiffen the sidewall to improve response, lateral stability, and ultimately speed around a track if that's your go.
The S007A range starts from 17 inches and goes up to 20 inches, in keeping with most tyres here.
Pros:
Dry performance
Steering feel and feedback
Cons: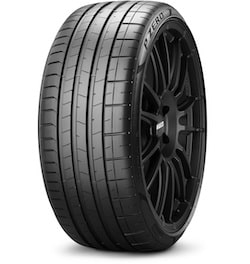 The P Zero label is synonymous with motorsport (and Formula 1 no less), so the expectations are high with each new model from Pirelli. Thus, the PZ4 from Pirelli has big boots to fill.
This latest generation is two slightly different tread patterns, one for luxury cars (original equipment fitment only) and one for sports cars (OE and aftermarket fitment).
The outer tread blocks are larger on the sports pattern for better grip. Pirelli targeted rolling resistance, noise, and weight while pushing further with an increase in braking and handling ability.
Available in limited sizes from 17 to 18 inches, the bulk of the Pirelli PZ4's high-performance offerings are from 19 to 23 inches, with a speed rating range between V and Y.
Pros:
Cons:
High rolling resistance
Average aquaplaning resistance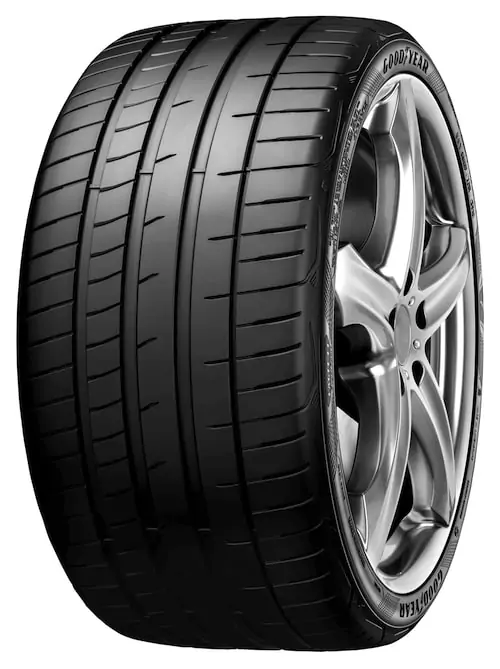 Finally, a tyre to compete with Michelin's mercurial PS4S; the Supersport from Goodyear is their first of three UUHP tyres. Capable of tenacious grip at any speed, the F1 Supersport is an amazing high-performance tyre for any sports car and driving enthusiast.
With a stiffer sidewall and more aggressive tread pattern than the Asymmetric 5, the Supersport has the edge in terms of outright pace on dry roads and feedback. To maintain some wet weather ability, Goodyear has utilised a multi-compound construction where the outside of the tyre is dry-optimised, and the inner section wet-optimised.
With its focus on outright performance, comfort and noise levels aren't the best here, but most will happily take that trade-off for the many driver-focussed positives.
Pros:
Dry performance
Steering feel and feedback
Cons: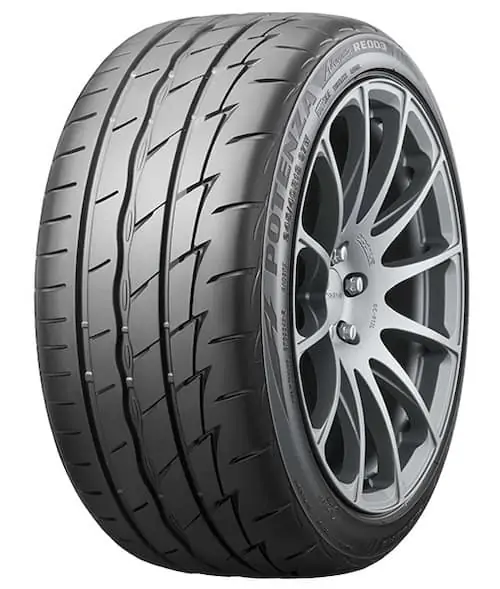 Bridgestone has long catered for enthusiastic drivers and the RE003 tows that line. With its aesthetically pleasing tread pattern, Bridgestone says the steering response is sharpened along with traction and handling, especially in dry conditions.
While there is a clear focus on dry performance, some concessions have been made to handle wet weather with the main wave-like groove intended to help reduce aquaplaning.
The RE003 is a worthwhile upgrade from standard rubber, especially for owners of hot hatches in smaller-diameter sizes.
Pros:
Dry handling
Steering feedback
Cons:
RELATED: Michelin Pilot Sport 3 vs. Bridgestone Adrenalin RE003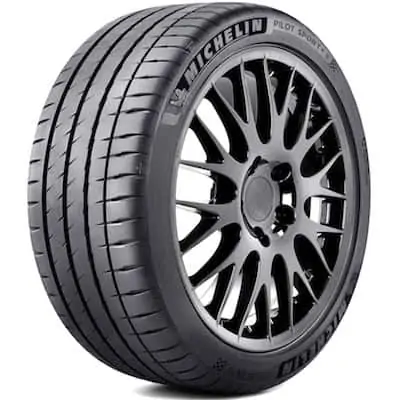 We have spoken elsewhere about the Michelin PS4 and how it manages to thread the needle of offering both excellent dry and wet weather performance. More than five years on and it is still a darling in the industry.
Class-leading results in wet and dry handling time again in tyre tests highlights how a tyre doesn't necessarily need to be a one-trick pony.
The Asymmetric 5 from Goodyear and Continental's PremiumContact 6 dance to the same tune, but the Michelin arguably does it best.
Pros:
Wet handling
Aquaplaning resistance
All-round performance
Cons: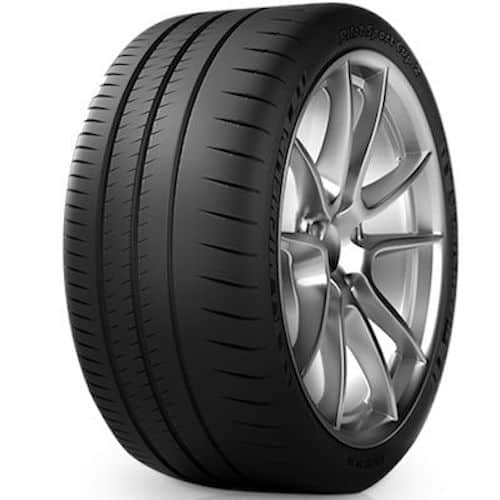 The Pilot Sport Cup 2 shares the title of being the most extreme performance tyre here with Yokohama's AD08R by being a track-focused semi-slick tyre. With the obvious wet-weather shortcomings expected from a tyre designed to squeeze out every last tenth of a second on a racetrack, you can be sure no other tyre will get close in terms of dry handling.
The Cup 2's aggressive tread pattern has a very low void ratio, which maximises traction and grip but, thanks to the deep circumferential grooves and the outer "features" cut into the tread, water is still able to be evacuated efficiently so wet grip isn't completely compromised.
Fun fact: these "features" cut into the tread are not always the same distance apart; the widths and distances vary to increase the range of noise frequencies and thus reduce the amount of tyre drone.
The Cup 2 is standard fitment on several high-performance vehicles like the Porsche 911 GT3 and BMW M4 CS. For use on a car that is also driven to and from a track day, few tyres can match it.
Pros:
Dry handling
Steering feedback
Cons: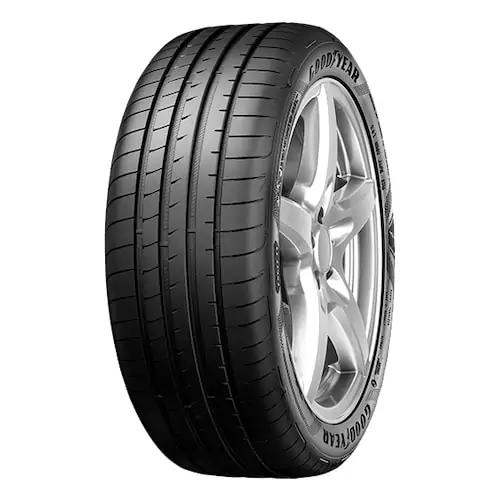 Goodyear has worked hard to produce a tyre capable of eclipsing the mighty PS4. The Eagle F1 Asymmetric 5 is every bit as good as its French competitor and can match the performance in both dry and wet weather while offering similar driver feedback.
Wet and dry, the Goodyear tests as one of the best tyres on the market for its ability and control on the road. It is resistant to aquaplaning, while still offering high performance in dry conditions. While raw numbers say a lot, how a tyre feels is also a factor and this is where the Goodyear excels. It has a very sporty feel, direct and offering good feedback through the steering wheel.
The Asymmetric 5 comes in sizes from 17 to 19 inches and offers as good, or better, performance than its competitors.
Pros:
All-round performance
Predictable handling
Cons: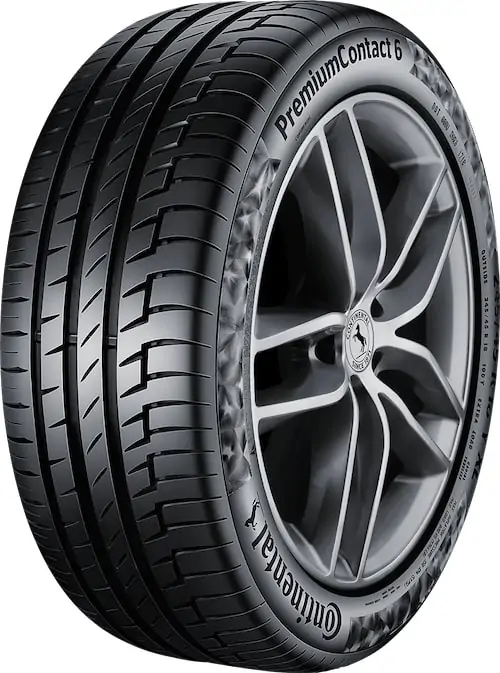 The Continental PremiumContact 6 is unique amongst most competitors in that it offers a true high-performance option at sizes smaller than 17 inches. Normally reserved for the budget and mileage-conscious, Continental recognised that enthusiasts also drive smaller, practical cars.
The Continental splits its abilities between dynamic and touring traits, despite it being aimed at the touring class of rubber. Braking performance is better than average regardless of the weather, unfortunately at the cost of an increase in drone.
The Continental also offers better than expected tyre wear from its, highlighting its touring characteristics and proves that a tyre can be both fun and economical.
Pros:
All-round performance
Wear
Cons: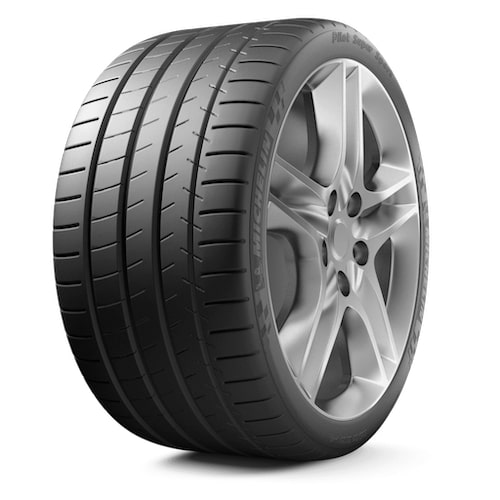 Despite being an older design, the Michelin Pilot Super Sport is still very competitive today and continues to be standard fitment on some new vehicles, like the BMW M2. It set the standard before the PS4S came to market and continues to receive a higher rating than many other tyres.
With what the French brand calls Variable Contact Patch 2.0, contact with the road is supposed to be maximised and, given the high levels of both lateral stability and traction, the claim can be believed.
Arguably a better tyre in dry conditions than even its mighty replacement, the PS4S, any sports car would benefit from using the Michelin Pilot Super Sport.
Pros:
Dry handling
Steering feel
Cons: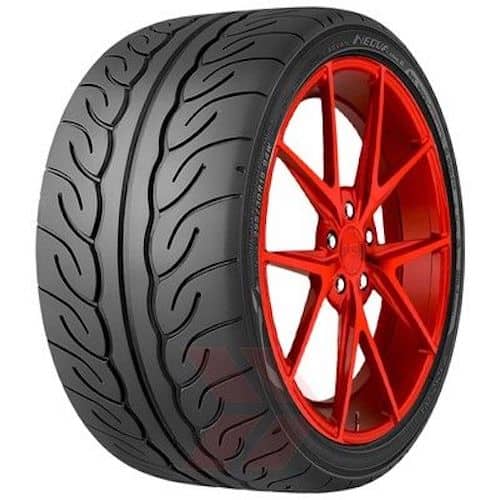 A favourite amongst track day drivers is the Yokohama AD08R. Like most track day rubber, ability in wet conditions is not a strong point and with that in mind, fitting it to a daily commuter might not be wise (although the AD08R does rate better than many competitors in wet weather).
With that caveat, you can be certain when pushing on the AD08R will respond well on a race track; it doesn't overheat much which is a boon for circuit work. Great lateral grip and control right up to a very high limit make up for what will no doubt be a tyre with average wear.
Fitment for hot hatches and larger sports cars is catered for with tyre sizes ranging from 15 inches to 19 inches.
Pros:
Dry performance
Limited overheating
Cons: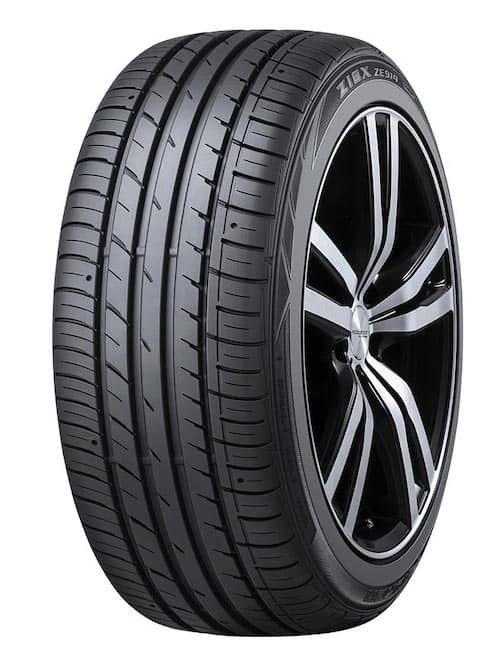 The Ziex ZE914 ECORUN is a high-performance model from the Falken brand with a focus on running costs and is aimed at competition like Pirelli's Dragon Sport.
The tread incorporates four circumferential grooves, pointing to a focus on wet-weather performance, especially reduced aquaplaning (something the tyre is frequently complimented for).
Drivers who clock up high miles will be most interested in what the Falken has to offer; thanks to a low rolling resistance compound, not only is wear reduced but also fuel consumption. Criticisms centre mainly around increased road noise and ride comfort.
Available between 14 and 18-inch diameters, the ZE914 also has a limited range of run-flat options in 16s and 17s. Uniquely in this group, higher-profile SUV sizes are also available.
Pros:
Aquaplaning resistance
Wear
Cons:
Performance Tyre Comparison Table
Note: Refer to speed rating table for maximum km/h
What to consider when choosing performance tyres
Tyre manufacturers have the unenviable task of producing tyres to please as many consumers as possible; after all, if they don't sell, then there's no point. Despite this, car tyres generally can be broken down into three distinct categories: performance, touring, and economy. Various tyres blur the lines of the above thanks to greater research and improvements in design and compounds.
Drivers need to take a realistic look at the type of driving they do and the conditions that will be tackled, because after all, fitting a track-day tyre like the AD08R to a Camry that does 40,000km a year is non-sensical.
Mileage
Mileage normally comes at the expense of grip; generally, the higher the treadwear on the tyre, the less grip it has but the more durable it is. High-performance touring tyres like the Dragon Sport and ZIEX ZE914 ECORUN are ideal.
There are easy things the driver can do to improve tyre wear, like monitoring air pressure and a good wheel alignment. Not only does this increase the life of the set of tyres as a whole, but it also helps with stability at speed.
Tyre rotation around the vehicle can also help increase tyre life (not always possible, especially with more cars that have staggered sizes front and rear), as does removing unnecessary weight that might be lugged around when not in use.
Weather
Australians are lucky in that many need only think about summer tyre selection, but driving in Perth and driving in Melbourne over a year is a vastly different experience. Tyre compound and tread design dictate largely how a tyre performs in wet and dry conditions.
A low void ratio (less tread and more tread block surface) is an indication of increased dry performance; a high void ratio points to a tyre more capable in the rain. The tread design will help remove water from the contact patch to increase grip and reduce aquaplaning for better braking and steering response.
Driving Style
Most of the tyres here are aimed at the enthusiast; those of us who drive not just for the commute but also for the enjoyment of getting from A to B. That doesn't mean a set of tyres should be well worn after less than a year, but most here prioritise attributes like grip and traction, vehicle control, driver feedback, and steering response.
Aggressive driving is the norm for those who frequent (or dream of) the race track, and even greater attention is paid to areas like feel and outright grip.
Sedate drivers can also benefit from the abilities dominant in performance rubber; better braking performance and directional change mean higher margins of safety (think lateral swerve and avoid manoeuvres or emergency stops).
RELATED: Bridgestone Potenza S001 vs RE050A
Cost
The bottom line when buying a new set of tyres probably plays too big a role for most people; given they are the only thing keeping your vehicle on the tarmac, the unpopular opinion of buying the most expensive tyres you can afford should be a rule given more air time.
A set of tyres from the ones above like these can range in price by over $500 from cheapest to dearest. Some drivers will easily justify the added expense by being rewarded with a tyre that boasts better control, traction, and steering response than cheaper options.
The many tyre tests published today show a narrowing of the gap between a premium brand and a budget one, so saving money isn't necessarily throwing caution to the wind like it used to be.
The cost of tyres shouldn't be the priority; performance tyres are designed just for that; performance, and putting anything less than that on a sports car is a disservice.
Speed rating
This has less bearing in Australia than in Europe, but it still deserves some thought.
High-performance tyres are rated for use at higher maximum speeds. Tyres are required to display on the sidewall the maximum speed that can be safely driven on them; below are the symbols used for each speed rating and the corresponding maximum speeds allowed for each:
| | |
| --- | --- |
| Speed symbol | Max speed (km/h) |
| N | 140 |
| P | 150 |
| Q | 160 |
| R | 170 |
| S | 180 |
| T | 190 |
| U | 200 |
| H | 210 |
| V | 240 |
| Z | 240 |
| W | 270 |
| Y | 300 |
performance tyre FAQ
How long do Michelin Pilot Sport 4 last?
30,000km shouldn't be unusual, but a lot depends on how aggressively the car is driven. Over 40,000km has also been reported, which is impressive for a UHP tyre.
What is the difference between a Pilot Sport 3 and 4?
The Pilot Sport 4 is the replacement for the Pilot Sport 3 in most sizes and offers improvements across the board in terms of control, comfort, and of course performance. The Pilot Sport 4 builds on the strength of the Pilot Super Super Sport but with a greater focus on wet handling.
Is Michelin Pilot Sport 4 noisy?
No. Among its competitors in the UHP class, it consistently ranks as one of the top 3 or 4 in terms of road noise.
How good are Potenza Tyres?
The Potenza range encompasses both aftermarket and OEM-specific applications and has been a high-ranking tyre in many tests over the years.
Is Pirelli P Zero a run-flat tyre?
Yes, the Pirelli P-Zero is available in a range of sizes for run-flat applications.
Is Pirelli P Zero good for winter?
While winter tyres aren't a high priority for most Australians; the Winter Sottozero is designed specifically for cold weather and snow use in mind.