Oil catch cans are often installed as part of the engine's crankcase breather system, with the role of stopping oil vapour and other contaminants from reaching, and building up in the engine's intake system.
They are a worthwhile modification to both standard and modified vehicles, with petrol or diesel engines. They have the potential to improve both performance, efficiency, and reliability.
Choosing the right catch can for your application and budget can be a tough task. To help you find the best option for your needs, we've evaluated and compared the most popular catch cans on the market in Australia.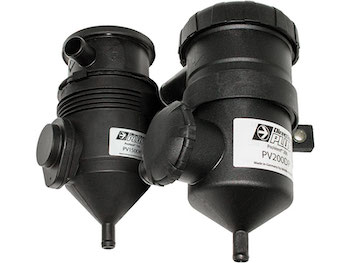 In our view, the ProVent 200 is the best oil catch can on the market. Manufactured by Germany's Mann & Hummel it is a very highly-regarded catch can for use on petrol and diesel engines up to 250kW.
With a compact design made from robust plastic, it has a design that effectively and reliably reduces the amount of recirculated oil vapour reaching the air intake.
How good is the Provent 200? This real-world test found the Provent filtered 6.5 times more oil than the direct-competitor HPD oil catch can for a 2016 turbo diesel-engined Isuzu D-Max. Yes, it is just one test and not in fully-controlled conditions, but on face value, it seems hard to go past this high-quality oil catch can that is the result of over 80 years of development in filtering systems.
The Provent 200 comes with an optional by-pass valve (to divert the possibility of oil overflow), and a compact design that will fit into virtually any engine bay.
Its 200mL capacity should mean many months of driving before being concerned with needing to drain it. The filter element needs intermittent replacing, but given its effectiveness, it is a small price to pay.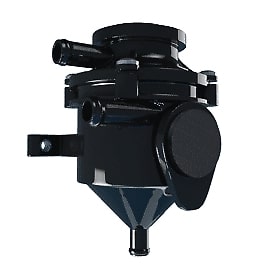 Australian company Flashlube is famous for its additives to prolong the life of engines running on both LPG and diesel.
In the interests of further reliability enhancements they've also gone on and developed their own catch cans to filter engine oil vapour before it becomes sludge and carbon build up inside the air intake and inlet manifold.
Flashlube's catch can utilises a replaceable filter element, and while the element has a life of approximately 20,000km, they are reportedly much more effective than the stainless steel mesh alternatives commonplace in other catch cans. It will give most drivers a year of use before replacement, and can be replaced as a matter of course every time the vehicle has an oil change.
Flashlube claims its catch can is designed with unique safety valves to not result in an excess of pressure within the crankcase, and can flow up to 230L/min.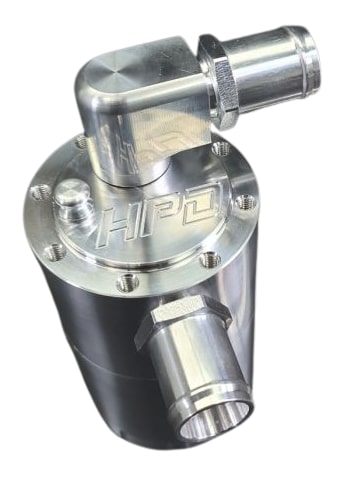 High Performance Diesel is an Australian company intent on capturing the 4×4 diesel market with their high quality aluminium catch cans.
The looks cannot be faulted; the billet CNC-machined catch cans are included with vehicle-specific kits to make a DIY install a breeze. They come with the required mounting bracket, hoses and hose clamps (along with the appropriate screws to fix it all together).
The catch can itself has stainless steel mesh filters (that are completely washable), a dipstick for checking the amount of oil, and it can be easily unscrewed from the base to drain the oil within.
It is completely compliant with Australian Design Rule (ADR) regulations because it doesn't vent to the atmosphere, and while very much a secondary consideration its fitment in any engine bay is an aesthetic enhancement.
Even though it may not have filtered as well as the Provent 200 above in some tests, it is still a very effective product and worth considering.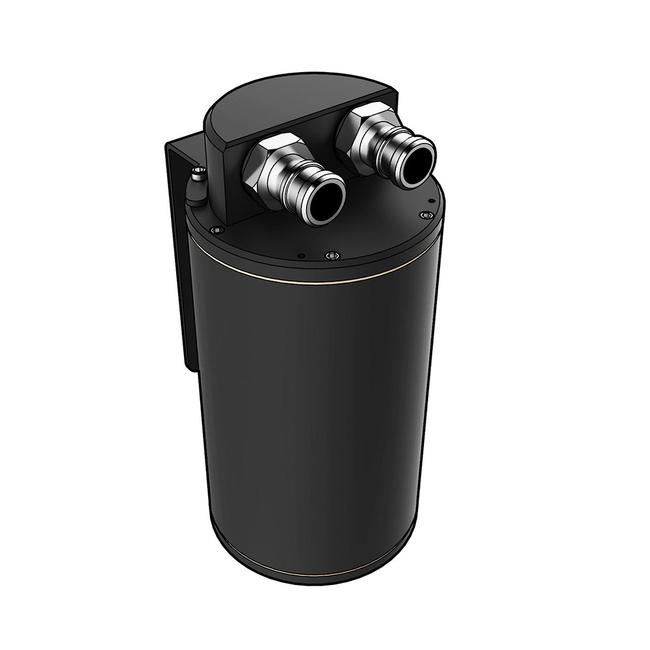 While many options are marketed for vehicles with a diesel engine, petrol engines also benefit greatly from the installation of an oil catch can.
SAAS has designed a catch can with baffles to ensure the oil particles remain in the bottom of the can, allowing just air back into the intake (after passing through a 40-micron bronze filter). This particular model is made from billet aluminium with a height of 180mm, so it is a little taller than most.
Its large size does mean the tank capacity is a generous 500mL, ensuring servicing requirements are much less onerous.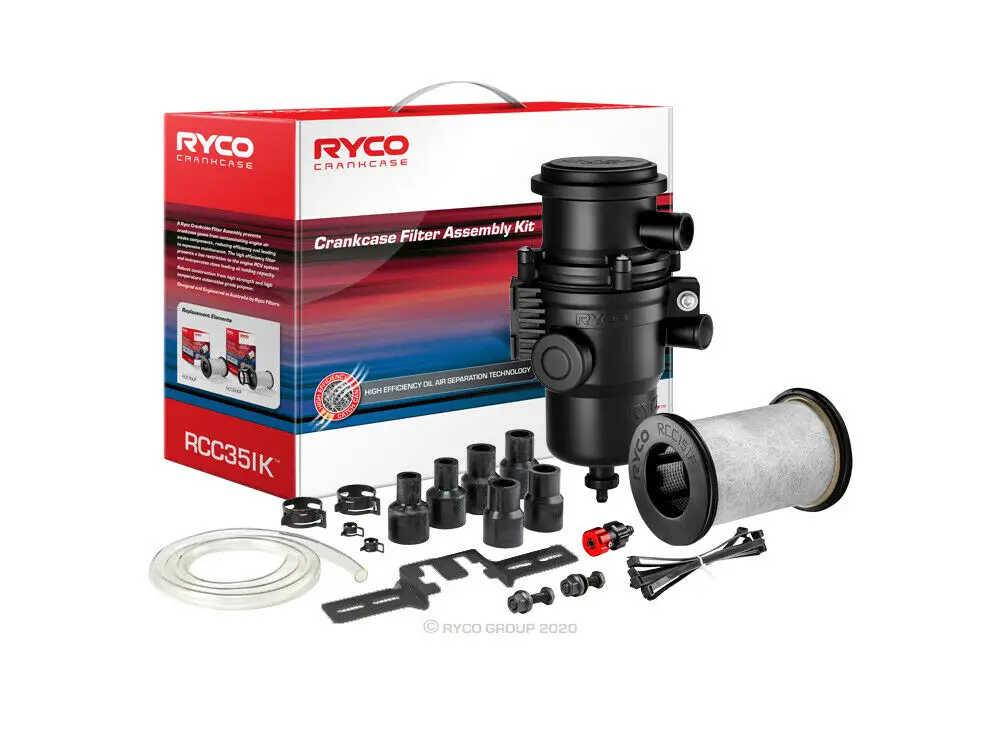 Another Australian company, Ryco, began manufacturing filters during the Second World War. Their crankcase ventilation system is a filter-based product.
How effective? Well, Ryco says their products filter down to a tiny 1 micron. The washable metal-based filters will not get close to this level of filtration.
The RCC351K featured here has a large 310mL capacity, and filter replacement intervals are as much as 40,000km. Naturally, it can be sold as a kit for mounting to specific vehicles as well, simplifying the install significantly.
While the (small) price of a replacement filter might be a consideration for those looking at installing this kit or similar, its greater filtering ability (and, as such, the cleaner the air being sent back to the intake) than a metal filter should easily justify the extra cost.
If you have very specific or unique requirements, the Proflow universal aluminium catch can (also available in anodised black) might just be what you're looking for.
Measuring 178mm x 76mm, it comes with six AN6 ports to provide great installation flexibility.
It can be used as both a vented or fully-sealed system (you'll need to buy the breather air filter separately), and Proflow sell a wide range of fittings and adaptors for various automotive applications.
Some of the options detailed above will be much easier to install, as hose length, brackets, and the catch can's size are normally all taken care of.
Oil Catch Can Comparison Table
Catch Can Buying Guide
What is an Oil Catch Can and how does it work?
An oil catch can is part of the engine's crankcase breather system; it prevents oil and fuel vapour from entering the intake system for an engine. Without it, over time an intake manifold is subject to oil and carbon deposits coating the surface which in turn leads to a drop in fuel economy, engine performance and, in the extreme, a drop in reliability.
Going backwards, what is the crankcase breather system? Well, during the combustion process, blow-by gases from inside the engine cylinders seep past the piston rings into the crankcase (which is normally also connected to the oil sump).
To ensure pressure does not build up to dangerous levels, the crankcase is vented to the atmosphere (on much older vehicles) or plumbed back into the vehicle's induction system. A catch can is installed in this portion of the system.
A catch can works as the name suggests; it catches the oil and fuel vapours that passed by the piston rings and into the crankcase (the blow-by gasses).
Through the use of filters and/or baffles, this oil mist is separated to reduce as much as possible the amount of oil being fed back into the vehicle's intake. This helps keep the air clean and contaminant-free, and maintains efficiency by limiting carbon and oil build up on inlet manifolds, inlet valves, and turbo components.
Any vehicle can benefit; petrol, diesel, and gas-converted cars included. If the intake system is clean, then the engine is able to run at an optimal level, and less trouble in the future.
RELATED: Safari Snorkel V-Spec Vs Armax
What to look for when selecting a Catch Can
The means by which blow-by gas is filtered is the most important function of a catch can. Cheaper catch cans rely on simply slowing the flow of air (often by passing through a series of baffles) so the fine oil particles join together (in a process called coalescence) to form bigger droplets, that simply drip to the bottom of the tank before the (cleaner) air returns to the intake.
More expensive setups will also utilise a form of filtration, with either a washable metallic filter (something as simple as a stainless steel mesh, or a higher-grade bronze material), or a serviceable composite membrane that is capable of filtering down to a minuscule 1 micron. These systems are the best, but frequent replacement of the filter element is required for the best performance.
While even the cheapest setups will offer benefits, the more expensive items will have better filtration systems, and when you consider it is a one-off purchase (replacement filters excluded), spending a bit more can be easily justified.
Do catch cans really work?
Even the cheapest, most basic setup can offer some benefit. One of the reasons they are not installed on most vehicles is cost; another is simply because it is just another item to check (and honestly, these days there are cars not fitted with an engine oil dipstick).
Since it is perfectly legal and reliable to simply plumb the crankcase ventilation system back to the air intake, without reducing short-term performance (it will happen in the long term), it makes sense manufacturers do this.
So, even though manufacturers justify not mounting them in the engine bay of a vehicle they produce, the benefits far outweigh the small financial loss and if optimal performance and improved reliability interests you, install a catch can.
Any vehicle owner with some DIY interest can do it, and with the myriad kits available for specific cars, it couldn't be easier.
Oil Catch Can FAQ
Are catch cans illegal?
Catch cans are only illegal if the catch can (or its breather) is allowed to vent to the atmosphere. If a sealed kit like the examples above are installed correctly and as intended, then their use is legal because the filtered crankcase air is plumbed back into the engine's intake manifold to go through the combustion process (and either through the exhaust or once again as blow-by gases).
Is a vented oil catch can better?
Technically yes, but only marginally, as it is another way to reduce how much oil and contaminants makes it back to the intake. Since venting to the atmosphere is illegal, it isn't recommended here.