Since the mid-1990s with the US-mandated installation of an on-board diagnostics (OBD) port, the automotive industry has seen an uptake in a wide range of uses for this little-known plug hidden away under your dashboard.
From various error codes to software updates, engine tunes and live data scanning, the wide range of uses utilising the OBD2 port (or OBD-II standardised hardware interface) has led to a plethora of products being made available to vehicle owners and workshops alike.
An OBD2 scanner or OBD diagnostic tool can help car owners avoid lengthy waits and potentially expensive bills by reading any error codes that cause a check-engine light (CEL) or other warning, and give the user an opportunity to find a solution before making that expensive trip to a workshop or dealer.
Additionally, many phone-based applications exist now where you can stream live data from your car's systems directly to your phone, ideal for tuners and track day drivers as some examples.
In this article we've rounded up the best OBD2 scanners on the market and analysed them against a range of key metrics, to help you narrow down your search.
The AD410 OBD scanner is an excellent and easy to use tool that will read, and clear, the most common engine fault codes you can expect to see. If it's a faulty oxygen sensor or coil pack, the ANCEL will be able to diagnose the specific fault and, once the faulty part has been replaced, clear the codes on the car.
It will read and clear most codes that result in a check engine light, however one common error code the AD410 won't read or clear is the SRS airbag light; you'll need to buy the next model up. It also won't read nor clear ABS and transmission-related codes.
There's no need for batteries as it is just powered through the OBD2 port, it offers a graphing function for some real-time data logging (throttle position, RPM, mass-air flow to name a few), and all this in a sturdy, convenient size.
The AD410 has several language options, a 2.4″ colour screen, and Ancel claim it is so easy to set up with your vehicle you don't even need the instructions. For the serious amateur mechanic, you also have the ability to print out diagnostics reports.
Finally, free software updates are available directly from Ancel, effectively future-proofing this capable OBD2 scan tool.
Veepeak's bluetooth OBD2 scanner, the OBDCheck BLE allows the convenience of almost any Android or iOS device, such as your mobile phone, to be a scan tool.
Suitable for use on petrol cars from 2006 and diesels from 2007, the Veepeak is compatible with a wide range of diagnostic apps, including but not limited to OBD Fusion, DashCommand, BimmerCode, and OBD Auto Doctor. Some apps are free, but the better ones normally come with a small one-off purchase price.
Bluetooth is ideal, and in some respects better than Wi Fi, as it doesn't require a long range nor a lot of power. One cool feature is the ability to display gauges on compatible Android head units showing the live data being scanned (with the app Torque Pro for example). Be warned as Veepeak do not guarantee this compatibility across all Android head units.
With the appropriate app, once you're connected via bluetooth, both generic and manufacturer-specific trouble codes can be read and cleared (which will at least temporarily clear any check engine light depending on the error code).
OBDLink claims their MX+ scanner works with any OBD2-equipped vehicle, no exceptions. The large selection of apps available now mean there is almost no limit to what it can read, diagnose, and clear; CELs, ABS, SRS airbags, among others.
OBDLink offer their own free software which has an easy to use interface with sections for diagnostics, data logging, a dashboard with gauges, and settings for software updates and user preferences.
Additionally, it has a sleep mode so it won't draw any power when your car is turned off and parked. All this via bluetooth means you just plug it in, open the app, and away you go. Pricey, but very capable.
The Ancel AD310 is a back to basics OBD scanner that does the basic OB2 scanning concerning anything that will cause a check engine light. With a black and white screen, it isn't so pretty to look at, but it is fair for the price.
Engine diagnostics, vehicle-specific data like VIN and CID (calibration ID) can be scanned, as well as real-time live data like RPM, speed, and voltage but again any other systems like SRS and ABS can't be accessed.
For car owners who just want to dip their toe into the water and self-diagnose any problems, this is a good OBD2 scan tool to start with.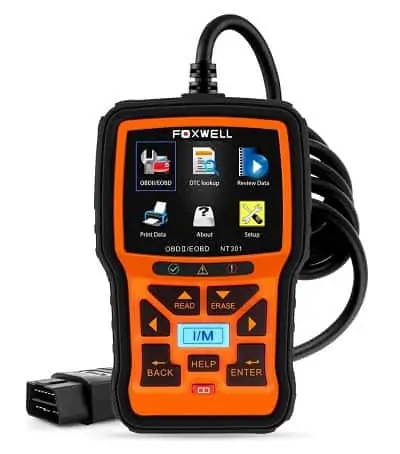 The easy to use, compact NT301 scanner tool is a great addition to any toolbox. Live data is easy to read, English instructions are included along with a cable for easy connection, it is easy to use with its 2.8″ colour screen, and reads and clears most engine-related error codes.
The NT301 is compatible with most vehicles (though no trucks nor electric vehicles). It is generally a well-reviewed unit, with just a few complaints concerning vehicle compatibility issues (but that is the biggest potential problem with most of these consumer-level code readers and scan tools).
It won't read nor clear ABS and SRS-related codes, and to take advantage of any updates it has to be plugged into a Windows PC; Mac users are out of luck.
Another entry-level option, the CR3001 is a hand-held code reader ideal for vehicle owners new to diagnostic work.
It will read the most common faults that pertain to the running of the engine, like exhaust gas recirculation (EGR) system, exhaust O2 sensors, and clear them to remove the check engine light.
It will also display live data, freeze frame data, read on-board monitoring and evaporative emissions systems, and the peace of mind of a 3 year money-back guarantee means it will either meet your expectations or you get to return it, no questions asked.
Modern cars are more or less fully controlled by various computer systems, from the locks to the ventilation and everything in between. An OBD2 scanner like the CRP909 is capable of scanning all these systems, along with ones you probably haven't even considered.
OBD2 was originally envisaged to interrogate just the ECU, but with a more-advanced OBD scanner like this one, almost every module on a vehicle can be interrogated and read, and there are a lot of them.
They include ABS, SRS, transmission, diesel particulate filter (DPF) regeneration, type pressure monitoring system (TPMS), parking sensors, electric windows, new battery registration, and even more. The step up in terms of system integration is staggering compared to the more basic scanners.
There are a few variations of the CRP909; the 909 is recommended as it is compatible with more vehicles (before 2019) than the similar 909E and 909X (however these are compatible with the latest models up to 2021), but the capability is barely diminished compared to the other two.
Of course, for such capability in general you pay not only a higher initial purchase price, but with the base 909 there is no annual subscription (though there is for the 909E). Those updates are done via Wifi.
That said, if you want more or less full control over what is going on in your car, and the ability to reset everything if need be, then it is hard to ignore the benefits of an OBD2 scanner like the CRP909. These advanced scan tools are the ultimate diagnostic system assistant.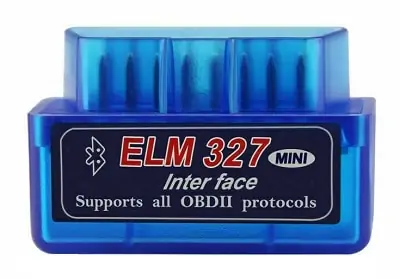 The OBDResource bluetooth OBD2 scanner is the cheapest product here, and while it can do the standard vehicle information, freeze frame data and engine-related code reading, battery health and so forth, it comes with some connection caveats. It only supports bluetooth 4.0, or BLE, which means older devices will not be compatible with this bluetooth dongle.
The manufacturer suggests for Android to use the app Torque Pro which is not a free app (but at less than $10 it isn't expensive). Also, while Torque Pro is highly rated, the flexibility of utilising other app services is part of the reason bluetooth scan tools are so popular, so that might frustrate some potential customers.
OBD2 Scanner Comparison Table
OBD2 Scanner Buyer's Guide
Does my car have an OBD2 port?
In Australia and New Zealand, it became mandatory for manufacturers to install OBD2 ports in all cars from 2006 for petrol, and 2007 for diesel.
But this doesn't mean your pre-2006 car won't have an OBD2 port; European regulations mandated OBD2 from 2001 (for petrol cars, and 2004 for diesel) and USA-delivered cars from 1996, so just check under your dash near the steering wheel or near your centre console and see if you can find it.
Why buy a scanner in the first place?
OBD2 is a standardised, 16-pin connector within reach of the driver's seat. Since it is standardised, virtually any scan tool or code reader should work and read most typical trouble codes or faults.
It is only once you get into vehicle-related specifics, and in fact unique or infrequent fault codes, that it becomes more important to do your research on the OBD2 scanner you are about to buy.
Buying a scan tool or code reader like any of the devices above can potentially save a lot of money in the long run, as most car owners who have one will attest. If you have a check engine light, most people will make a call to their local mechanic or dealer and the outcome will probably be a bill even before the problem is repaired or the faulty part replaced.
You can plug in your OBD2 scanner (or bluetooth dongle), fire it up and scan away. Within seconds, a list of fault codes should come up and you can acknowledge and clear the codes.
What's a trouble code or error code?
Data from the engine's ECU is accessed from the OBD port, so when a malfunction of a part or an error occurs, the resulting code is stored and, normally in the form of a warning light (like the check engine light), displayed for the driver to see.
These trouble codes or anomalies are often not serious; while it might indicate a failed part, it might be something trivial like an O2 sensor in the exhaust or a secondary air pump, or something more serious like a coilpack that causes a misfire.
ABS, SRS, transmission systems
Not all OBD2 scanners are able to read all codes. Most of these basic ones only read engine and engine-related information. You can buy OBD2 scanners that can read a trouble code from these systems, but they are more expensive.
Intended Function
Before going out and buying the first scan tool you see, think about what you actually plan to use it for. If you're just trying to clear diagnostic trouble codes or figure out why your car isn't running as it should, a basic hand-held diagnostic tool will probably be perfect.
For those with a greater interest in the running of your vehicle, a bluetooth OBD2 dongle would be ideal as they can be left plugged in and, depending on the app, view the live data being streamed to the OBD, along with the other benefits a scan tool provides like reading and clearing various trouble codes.
Dedicated hand-held scanner
These devices will have a screen and an OBD2 cable, and come with inbuilt software and various buttons to work through the interface. They should come Wirth a USB cable to take advantage of various updates, too.
These scan tools have some benefits over the Bluetooth dongles; for one, it's a hardwired connection so there's no stressing about power or reception. They're generally faster, too, and the robust design of the vast majority means they are tough.
Bluetooth scanner
The obvious advantage of the bluetooth dongle is practicality; they're small and connect to your phone, which is more than likely on your person. Because they don't require a lot of hardware (thanks to your mobile device being utilised as the sophisticated hardware component), they can also be very cheap.
After the initial purchase though, the operation is largely dependent on the software or app you wish to use, and the range out there today is vast to say the least.
Uses
What you can do with these OBD2 scanners is normally limited by your budget. The cheaper units will generally only read engine-related information, so almost anything concerning the running of the engine (air, ignition, exhaust, and ancillaries), as well as accessing vehicle-specific data like VIN and associated manufacturer-specific codes.
Most OBD2 scanners can also freeze frame the data when the error occurs.
The live data streaming from your car is an excellent utility because it allows you to attempt to replicate certain conditions that might cause the car to throw a trouble code, for example certain throttle applications or engine speeds.
Many apps have taken advantage of this ability to put together packages that display much of the engine (and car) data to the benefit of curiosity or, in more marketable cases, racing and track day analysis.
Smog test
Something that comes up a lot when researching for an OBD2 scanner is the "smog test", or smog check, which is largely concerning the USA and their emission laws. If a vehicle has a check engine light it is an automatic fail of this smog test.
OBD2 apps
For the vehicle owners who choose one of the various bluetooth scanners, there is an equally-large range of apps to support them. Many are free, some have a one-off fee, and some are a subscription-based service. Additionally, be mindful of the type of OS as some are Android or iOS-specific.
There are a number of car manufacturer-specific apps available, like Carly for BMW, GM-LAN and Ford MS-CAN, to better integrate with their respective systems and code databases.
Some apps like BlueDriver are capable of enhanced diagnostics, reading and resetting codes from systems like ABS and SRS.
There are many racing-related apps on offer, and these take GPS information to monitor lap times, corner speeds, and acceleration, while also recording data from the car like throttle position, fluid and air temperatures and so on.
OBD2 Scanner FAQ
How do I choose a good OBD2 scanner?
Do your research. Find out if the OBD scanner you are considering is compatible with your vehicle and capable of doing what you need done. If it is simply clearing a check engine light, all of the above products are probably going to fit your needs.
How do you use an OBD2 scanner?
Most of them these days are incredibly user friendly and are more or less plug and play. Plug the cable or the bluetooth dongle into the OBD port, power up the tool or open the app (after connecting the appropriate way to it with your phone), and let the scan tool interrogate the car's system. After that, you're probably going to want to scan for any error codes or trouble codes that resulted in a warning light, which is probably why you bought a scanner in the first place.
Where do you plug in an OBD2 scanner?
In the OBD port. Most laws mandate they be within reach of the steering wheel, so look under the dash or in the centre console. The bluetooth dongle or cable can only be plugged in one way, and it is a snug but comfortable fit. Some older cars have an OBD port in the engine bay but that is likely to be the older style ports (many of them are round 20-pin ports).
How can you get OBD2 codes without scanner?
On some models of vehicles with digital odometers, it is possible to read OBD codes on the display. It often requires turning the key from position O to position II (without starting the engine) a number of times, depending on the manufacturer. Do a search and see what is specifically required for your car, and how it will display the information.