A motorcycle phone mount is a secure way to keep your smartphone or GPS on hand when you ride. They provide easy access to your device but for safety and ease of use it is important to choose the right mount for the job. We've reviewed some of the best phone mounts available so you can easily find a high-quality option that suits you.
Phone Mount Comparison Table
| | | | | | | | |
| --- | --- | --- | --- | --- | --- | --- | --- |
| Phone Mount | Our Verdict | Phone Compatibility | Handlebar Compatibility | Mounting Options | USB Charger | Grip Type | Check Price |
| RAM Tough Claw & X Grip | Best Overall | 1.89 – 3.23″ width | 0-38mm | 1 | No | X Grip | eBay |
| Motopower | Best Value | Up to 6″ | Universal | 2 | Yes | X Clips & Band Wrap | Amazon |
| Grefay | Most Sturdy | 3.5 – 6.5″ | 22-32mm | 1 | No | X Grips & Silicone Belt | Amazon |
| Quad Lock | Most User-friendly | Any with Quad Lock case | 22, 25, 28, 32mm | 2 | No | Dual Stage Locking | |
| RAM X-Grip Brake/ Clutch Reservoir | Best Brake Mount | 1.875 – 3.25″ width | 12.7- 31.75mm | 2 | No | X Grip | eBay |
| Roam | Best Universal Mount | Up to 3.5″ width | 19.8 – 31.75mm | 1 | No | Side Grip & Silicone Net | Amazon |
The RAM Tough-Claw is simple, user-friendly and versatile. It is reliable, your phone is firmly held in place and nothing is obstructing the screen. Of all the motorcycle phone mounts, we feel this one is the most secure and reliable. It is made of high strength composite and stainless steel, is rustproof and comes with a lifetime warranty.
You don't need any tools for installing or removing it and it works with all rails and bars regardless of the shape. The clamping range is 16-38mm for round rails and 0-29mm for flat surface meaning it is well designed for use on motorcycle handlebars.
The set comes with an X-grip phone holder that expands and contracts to hold the device tightly and this works whether the device is in a case or not. The X grip style is one of the more popular grips seen on motorcycle phone mounts as it is secure and holds smartphones without obstructing the screen.
This mount fits phones from 48mm-82mm in width which offers a lot of range making it compatible with a large number of phones. One of the good things about how this claw holds the phone is that it remains functional and accessible. The device tether is an excellent feature that adds an extra layer of security when out and about.
The tips of the holder are rubber coated to hold the device firmly in position without damaging it. The rubber tips also help to dampen vibrations making it easier to see the screen when using maps and navigation tools. The ball socket design allows for angle adjustment so you can position the phone for the best view for you.
This universal mount can be used on any motorcycle and can hold devices up to 6 inches wide. One of its unique features is the 5V USB port for charging on the go. This is ideal for longer trips and the USB port has an on/off switch so no power is wasted.
This handlebar mount has an adjustable grip and can be rotated to any angle or position within 360-degrees. When in the holder, the device, buttons and ports are all accessible so you don't need to remove your phone from the holder to use it.
Similar to the RAM Tough Claw, the Motopower also has X clips to hold the device securely. For additional safety and stability, this phone mount also has silicone belt grips that wrap around the corners of the cell phone.
There are two mounting options available with this bracket, it can be installed on the handlebar or can be positioned on the stem of the rearview mirror. Having additional installation options offers flexibility and helps you to find a suitable position on your motorcycle.
The Grefay phone mount has a minimal design that looks smart on any bike. It holds a smartphone securely so you can ride with confidence. It does this without covering the screen or requiring extra straps which helps keep the phone mount looking professional and high quality.
This handlebar mount features a clamping arm, the clamp automatically shrinks to secure the phone in position. This helps to ensure the device does not fall even during bumpy conditions. The auto shrinking clamp is one of several 2021 updates of this smartphone holder, others include the stainless telescopic arms and the mechanical lock that can be used for additional security and as a quick release.
The adjustable mount is suitable for almost all smartphones and can fit 3.5-6.5 inches wide devices. The phones are supported at the corners to reduce vibration and improve security. It's best to remove this holder if you are riding without a device as it can vibrate quite noisily without a phone mounted. If you will only be riding with your phone in the mount occasionally it may be best to choose one of the other mounts as they don't vibrate as much as this one when empty.
No tools are required to attach this to the motorcycle handlebar. Similar to the Motopower holder, this also offers a 360-degree adjustable rotation. All in all, this is a robust and reliable smartphone holder that is made of stainless steel and is built to last.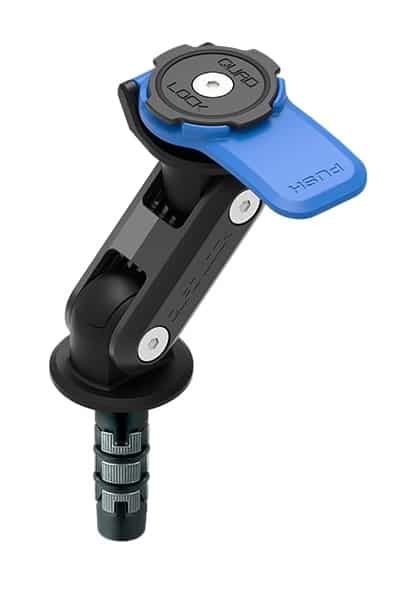 If you already use a Quad Lock phone case this is a great option as it is compatible with all of their cases (the mount doesn't come with a case so this needs to be purchased separately). The mount also works with the Quad Lock Universal Adaptor if you have a smartphone that they don't currently make a specific case for.
One of the benefits of being designed specifically for use with Quad Lock phone and universal cases is that the mount can use a quick and convenient attachment method. This is much easier than the usual clamp design like the X grips that are seen on most handlebar phone mounts. You can securely attach and remove your smartphone in seconds and you can do it with just one hand.
This bike mount is small in size making it discrete and easy to position, it also comes with multiple mounting options. It has a 360-degree rotating arm and comes with an extension arm for extra clearance if needed. The mount fits with bars that are 22mm, 25mm, 28mm and 32mm. This is a compact motorcycle mount that is quick and easy to use so is ideal for active people who are always on the go.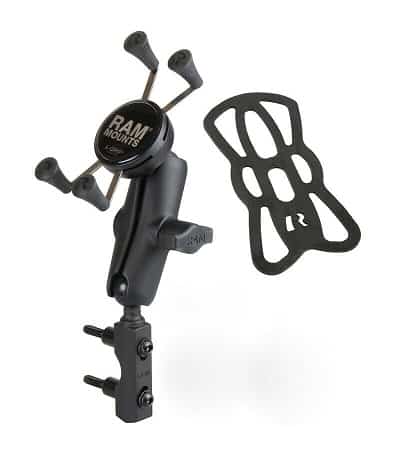 This RAM X-Grip is designed to be able to be mounted to brake or clutch reservoirs or rails of 0.5″ – 1.25″ (12.7mm – 31.75mm) in diameter. The mount makes use of the existing reservoirs making it easy to install. This is smaller than the RAM Tough Claw and features a double socket arm that is adjustable at both ends.
The motorcycle mount features the same 1″ rubber ball and socket system and X-grip that are seen on the Tough Claw. This ball allows you to move the mount to suit your viewing needs. The spring-loaded grip allows you to fit your smartphone in securely.
The mounting hardware includes standard and metric mounting bolts to suit different threads. The cradle is made with marine-grade aluminum, marine-grade stainless steel and high strength composite so you can ride knowing the cradle is durable and secure.
The optional tether is included and is ideal for outdoor applications to keep your phone safe.
This universal mount from Roam works with any phone up to 3.5″ wide. It can be used on motorcycle handlebars between 7/8″-1-1/4″ in diameter. It is great for large and small handlebar sizes but isn't the best choice for use on sport bikes.
This mount features a premium hard plastic grip and a silicone net, this secures each corner of the smartphone to the mount so it will not come loose.
The plastic material is durable and long-lasting and the silicone net can stretch up to 4 times without breaking. This makes it suitable for keeping your phone secure while you are riding in any conditions.
The Roam universal mount also comes with a lifetime warranty and a money-back guarantee if there is an issue.
Motorcycle Phone Mount Buying Guide
As you may have noticed, there are a lot of motorcycle phone mounts available and each one has something slightly different to offer. This guide can help you find the right phone mount for your motorcycle adventures.
Mount Type
Handlebar
Handlebar mounts are basically clamp based phone mounts, they are easy to install, sturdy and very popular. These usually feature a rubberized grip that holds your phone in place. Some also include silicone bands or a silicone net that helps secure the corners of the phone.
Clutch and Brake Mounts
These mounts are great because the installation makes use of the existing mounting opportunities on your motorbike. This means you are basically bolting the mount to your bike making it incredibly durable.
Phone Compatibility
When comparing motorcycle phone mounts be sure to check the mount is the right size for your phone.
Most holders can carry many of the popular phone models including iPhone and Android models but always check. To give you an idea of compatibility, iPhone models vary in width from around 2.31 inches (58.6mm) to 3.07 inches (78.1mm)
There is a wide range of smartphones available and they vary considerably in size so check the system can adjust to suit your phone and phone case.
RELATED: The Best Motorcycle Helmet Cameras
Handlebar Compatibility
As well as the phone compatibility, check the mount can be installed tightly onto the handlebar of your bike. Check the minimum and maximum diameter to ensure it will work with your handlebars. Make sure the mount will work with the shape of bar your bike has as some only work with round handlebars.
Durability
Phone mounts are commonly made of aluminum, stainless steel, plastic or silicone. They need to be able to withstand constant vibration as well as the elements. The motorcycle phone mount should be waterproof.
Go for aluminum or steel if you experience a lot of harsh weather and will be using the phone holder a lot in all conditions.
RELATED: The Best Motorcycle Locks in Australia
Ease of Use
One of the key things to consider when choosing a phone mount is whether you can attach and remove the phone easily. The screen should not be blocked by the grip or clamp and the angle should be adjustable to suit your viewing angle.
Shock Absorption Features
Look for a phone mount that can handle the vibration of each bike ride. Rubber grips and silicone bands are popular shock absorbers that help absorb some of the vibration. This is very important when using the phone as a GPS as if it is vibrating and moving around it will be impossible to see.